Nestled at the foothills of Blue Ridge Mountains, Bavarian Helen is the perfect trip to take in any season. Just be sure you do a little planning and you're sure to have a fabulous time.
With an average of 3 million visitors a year, Helen is a great tourist destination with much to offer its guests. Take your pick of diverse accommodations and adventure activities. Or choose from dozens of eateries, ranging from authentic German fare to pub food to numerous sweets and treats shops. And don't forget to visit the wineries on the nearby Unicoi Wine Trail or try the imported and exported beer offered at most restaurants near Helen.
One of the hardest parts of planning a trip to Helen won't be deciding whether you should go or not. It'll be what to do, see and eat once you get there. So we put together this handy list of frequently asked questions that will make building your itinerary on your trip to Helen a little easier.
How expensive is a trip to Helen?
As with any tourist destination, you can choose the luxury route or the economical route. Some tourists choose to tent camp, some choose a small hotel room and others rent out an entire 4-bedroom cabin.
Once you choose your daily travel budget, it is possible to stick with it. You can go the high-end route by staying at Valhalla Resort and experience its relaxing spa treatments and scenic golf course. Or, you can go the economical route by booking a small Airbnb or a room at Unicoi State Park's lodge for less than $200 a night.
If you're looking for authentic German fare, be prepared to shell out some cash, but most travelers agree it's worth the price for a delicious meal. To save money, go out for a big lunch as your main meal of the day and snack on German pretzels or sandwiches for dinner.
Activities in Helen also span a large range when it comes to pricing. Ziplining, horseback riding, ATV excursions and the like can eat into your budget quickly. You'll need to narrow down your favorite activity options that fit within your budget, then fill in the rest of your time by referencing these posts about the best FREE things to do in Helen and the best CHEAP things to do. And of course, hiking and visiting nearby state parks are great inexpensive activities that give you a first-hand view of the beauty of this area.
Where can I stay in Helen?
Despite its small size, Helen offers visitors an array of accommodation options—ranging from downtown hotels, entire mountain cabins, Airbnb/VRBO rentals, RV campgrounds and even tent camping options. You're sure to find the right place to lay your head each night within your budget.
Hotels in downtown Helen can range from nearly $400 a night in peak season in the fall to around $250 a night in late winter and early spring. Many visitors who attend Oktoberfest each fall choose to stay within walking distance of downtown to make transportation easy and traffic a moot point.
If you want more of a mountain trip, you can book a full log cabin near Helen for around $2,000 for the week if you have a larger group to accommodate.
There are also several great campgrounds near Helen. Unicoi State Park offers tent camping for less than $40 a night, RV sites from $78+, lodge rooms under $200 and barrel cabins from $190-$240 a night depending on size.
If you're interested in a glamping experience, but don't own an RV yourself, consider a service like JenEric Adventures, which rents out campers to guests in the North Georgia mountains and will even deliver them to your campground of choice. (Find the company on Facebook and Instagram.)
You can also find local Airbnb and VRBO rentals that come in at less than $150 a night if you expand your search to within 15 minutes of downtown Helen.
How long should I stay in Helen?
Many visitors to Helen stay for the weekend or even a long weekend—typically two to four nights. That offers enough time to explore downtown, eat at a few German restaurants, experience nearby outdoor adventures and go on a few hikes.
Depending on the season in which you're traveling, check out some of our articles for ideas on how to plan your trip's itinerary:
When you arrive into town, consider stopping by the Alpine Helen Visitors Bureau to grab a map of downtown and brochures for restaurants, attractions and accommodations throughout Helen. You can also ask the friendly staff any questions, such as which restaurants are dog friendly, for example.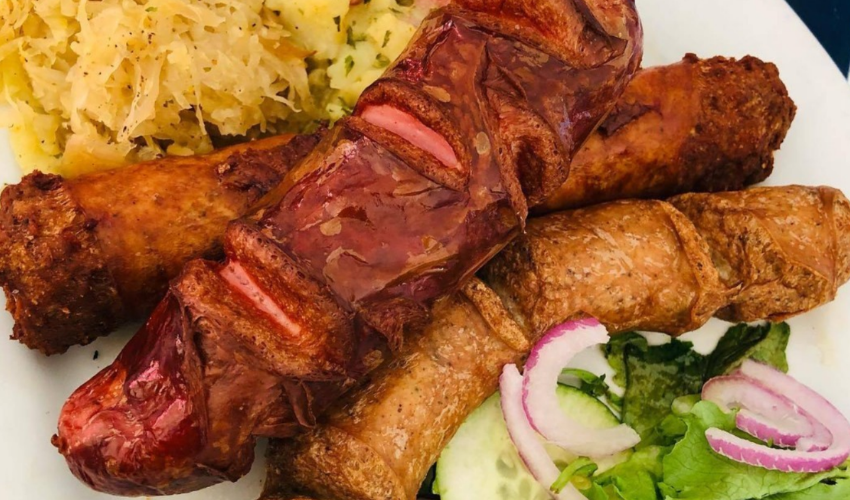 What are the best German restaurants in town?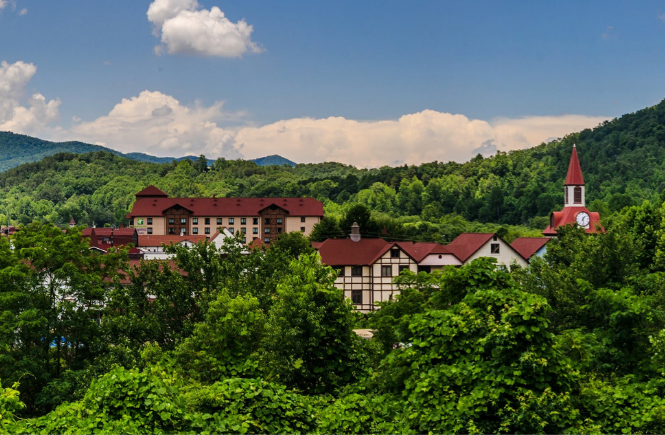 What time of year should I take a trip to Helen?
Undoubtedly, fall is Helen's busiest tourist season, between Oktoberfest and the highly anticipated changing of the leaves in North Georgia. Fall is also the ideal season for hiking around Helen to witness the spectacular fall foliage.
But if you're interested in vacationing in the summer, Helen has a lot to offer its hot-weather guests. Between Bavarian Nights of Summer at the Festhalle, tubing down the river and swimming at the bases of nearby waterfalls, you'll find it easy to stay entertained in the summer.
Helen's early winter season (late November and December) is also a magical time to visit. The city is transformed into a Christmas village by a Christmas Parade, the Lighting of the Village and the famous Christkindlmarkt, a traditional German market that is typically held in the first two weekends of December. Early winter is also a great time to hit the hiking trails before inclement weather has the chance to develop later in the winter.
When spring rolls around in Helen, it offers many activities to soak up the sun in the great outdoors while everything around you is blooming.
What is the weather like in Helen?
Nestled at the foothills of the North Georgia mountains, Helen is in the perfect spot to offer a cool break for Florida visitors, while offering a reprieve of extreme cold for those traveling from the Northeast of the country.
Summer: Summer temperatures average in the high 80s, with heat indexes in the 90s—perfect for tubing and swimming.
Fall: Cool and crisp fall temperatures range from an average of 75 degrees during the day in late September and early October, but can drop to the mid 40s at night, especially as the fall season progresses. Late in the fall, daily temperatures will peak in the mid-50s.
Winter: Daytime temperatures range from 50 in December to high 30s in January and February, and the area typically gets a few light snow showers each winter.
Spring: When spring enters the scene, daytime highs range from 50 degrees in early spring to mid 70s in May.
How close are North Georgia wineries?
Though there are several dozen well-reputed wineries and vineyards in North Georgia, those on the Unicoi Wine Trail are closest to Helen, including Habersham Winery, Serenity Cellars, The Cottage Vineyard, Yonah Mountain Vineyards, CeNita Vineyards and the Sylvan Valley Lodge & Winery. Apart from the Unicoi Wine Trail, there are several other wineries that are less than 25 minutes from downtown Helen, making them the perfect places to visit on your trip to this one-of-a-kind Bavarian town. Find out more about the best wineries less than 30 minutes from Helen.
Is Helen family friendly?
Even during notoriously rowdy celebrations such as Oktoberfest, Helen is still a family friendly town that caters to all ages. Kids can experience Oktoberfest in the Festhalle during the afternoons and have fun on their own dance floor.
There are also plenty of casual eateries, ice cream shops and candy stores kids will love. And if your kids need to let out some energy after all that sugar, take them to Unicoi Park downtown or take a family walk down the paved Helen to Hardman Heritage Trail. Check out our list of the best things to do with kids in Helen.
Is Helen pet friendly?
Yes! The Alpine Helen Visitors Bureau offers these lists of pet friendly restaurants and places to stay—and you'll be amazed at just how many businesses will welcome your pets. Many fall visitors with pets even dress them in tiny lederhosen!
Where can I hike nearby?
Nearby hiking is one of the most inexpensive, yet soul-filling activities you can do while you're visiting Bavarian Helen. The six state parks near Helen all have well-kept hiking trails, with many of them offering easy, scenic hikes that are even great for kids.
Free hikes near Helen:
$5 parking pass hikes:
Where can I learn about the history of the area?
If your idea of a great vacation includes weaving in aspects of local history, Helen is a great place to visit. Just a 5 minute drive east of downtown Helen, stop by the Sautee Nachoochee Center to learn about the iconic Indian mound, as well as the history of how Helen became an Alpine town. The center has launched the Heart & Heritage of the Northeast Georgia Mountains app, which offers self-guided driving tours of the region, with 16 notable stopping points along the way and interesting historical information about each landmark and landscape.
Stop by the adjacent Folk Pottery Museum of Northeast Georgia to experience a mix of history and art. Enjoy an educational film about how pottery was made before modern technology by perusing the fascinating exhibits that focus on generations of family potters.
The Helen Arts & Heritage Center also boasts a newly renovated history museum, along with an art gallery for local artists with all sorts of options such as art work, pottery, glass art and handcrafted jewelry.
Preserved as a state historic site, Hardman Farm is a 173-acre property featuring a main house built in the 1870s and a dairy barn that was operational from 1910 until the mid-1920s. Take a guided tour of the property to learn how milk was processed and transported during this time period, as well as get a look into the house and former horse barn.
What can I do if it rains during my trip to Helen?
The wettest time to visit Helen is from June through mid September, peaking in July at a 51% chance each day. But many summer rains come down hard and fast, then leave quickly. If that's the case, the sun and heat will dry up the ground quickly and you can get back to your scheduled itinerary.
But if you come to visit Helen when it rains a few days in a row, there are some great indoor options for entertainment. Check out our list of the best rainy day activities to do in Helen.
What is parking like in Helen?
Most hotels offer parking and there are also a few parking spots along Main Street. Other than that, be prepared to use a pay lot near downtown. Some lots require cash given to parking attendants, while others have self pay kiosks that take credit cards.
What are the transportation options in Helen?
Visitors coming from larger cities are often used to the convenience and timeliness of the transportation platforms of Uber and Lyft. Though Lyft has not made a presence in Helen, Uber has a couple drivers in the area who often get more business than they can handle.
Thankfully, you also have the option of a local taxi service and a reputable transportation service in the area. But keep in mind that these services stay busy, especially during peak tourist season in the fall. If you can plan out parts of your trip ahead of time, you should try to book these services in advance if possible. See our list of the Best Taxi, Uber and Shuttle Services near Helen.
Is there a nearby grocery store or pharmacy?
The nearest pharmacies to Helen are located 15 minutes south in Cleveland. There, you'll find an Ingles Markets Pharmacy, Walgreen's Pharmacy, Walmart Pharmacy and Cleveland Drug Company.
But if you're looking for a grocery store, you can simply stop by Betty's Country Store, an old fashioned country store in downtown Helen that has a little bit of everything. Betty's has an amazing selection of fresh produce, deli items, beer and wine, fresh meats, candy, books, bakery items and more.
What should I pack for my trip to Helen?
More than likely, you'll experience an array of activities during your trip to Helen, so you'll need to make sure to pack your bags accordingly. Here are some of the most important items we tell travelers to pack:
And it's a good rule of thumb to let your credit card company know you're traveling so they don't get suspicious and try to suspend your account.
Go Visit Helen
Bavarian Helen offers so much for its visitors, it's no wonder more than 3 million people come to this small, but unique town each year. There's plenty to see, do, eat and drink in a German town that is just over 2 square miles. So book your next trip to Helen soon and starting narrowing down what fun activities will fit within your budget.