Regardless of your budget, you can show biblical hospitality at Christmas with these festive inexpensive ideas.
The Christmas season is upon us, and as the hearts of believers are overflowing with joy, many of us long to share that jubilation with others. Some of us with extra means may sponsor a child or family for Christmas or even participate in Operation Christmas Child by filling some red shoeboxes.
But between a quiverful of kids, extended family, holiday traveling and special Christmas events, not all of our budgets will leave ample room to bless others this Christmas.
Thankfully, God's love and our obedience to biblical hospitality aren't constrained by a budget or other temporal things.
Consider the innkeeper in Bethlehem (Luke 2). He wasn't able to offer a room to Joseph and laboring Mary, but he offered them what he had—a stable—instead of turning them away.
God is molding my heart to think of biblical hospitality in this way. I'm learning not to focus on my viewpoint and what I have to give, but instead to focus on His viewpoint and what He's given to me to give. This may sound like a simple shift in semantics, but actually, it's a huge shift in perspective.
Biblical hospitality isn't about welcoming others to a clean organized home, the perfect Pinterest menu or well-kept, well-behaved kids. Instead, it's about willingly offering what God's entrusted me with in my provisional sphere.
In some seasons, I have more to offer, and in some seasons, I have less. But obedience to God's mandate of biblical hospitality requires offering whatever I have—and doing it cheerfully (1 Peter 4:9).
Just as the innkeeper made room for the birth of Jesus, we must make room for others in our own stables, even if they're drafty, rugged or weathered. Why? Because biblical hospitality is about making room for others because God made room for us.
Through the birth, death and resurrection of Jesus, God made room for us at His table, welcoming and loving us so that we could have a seat with Him in eternity. And the beauty of it is:
'There is still room for more.'

Luke 14:22
This banquet table is exactly why we practice biblical hospitality. Because of God's graciousness, there is room for more of us sinners at His table.
So we welcome, serve and love others—even non-Christians, especially non-Christians—to begin forming authentic relationships and building bridges (not walls). Oftentimes, we are simply sowing seeds of faith. We may never witness the harvest of our efforts in our lifetime, but we can absolutely follow through with the first step of planting.
Admittedly, that was an extra long introduction to a few tips about inexpensive ways to show hospitality during the Christmas season. But it's important to remember why we do what we do, despite the season, our budget or our busy calendar.
Host a Christmas Decorating Contest
Invite your kids' playmates, your nieces and nephews or the neighborhood kids over one afternoon for a Christmas decorating contest. It's true: kids love competition nearly as much as they love sweets.
Buy all the fixings so they can make gingerbread houses out of graham crackers (icing, sprinkles, gumdrops, etc.). Or keep it simple by hosting a Christmas cookie decorating contest, where they ice and sprinkle simple round sugar cookies or gingerbread men.
Just be prepared to come up with several prize categories so that no one feels left out: Most Colorful, Most Unique, Most Creative, Most Realistic, etc.
Share the Burden of Grief
For some people, the holidays is a tough time of year as they experience waves of grief from loved ones who have passed away. There is only so much you can do to provide comfort for them, but simply acknowledging their grief is a great place to start.
Write a note to a friend or acquaintance who has lost a loved one and is experiencing a first or second Christmas without them. Acknowledge their grief, be supportive ("We're praying for you") and let them know they're not alone this season. And if you have a special memory of the deceased person, share the story in your note, as that fond memory could be the greatest gift they receive that holiday season.
Pay It Forward
One of the most surprising ways to show hospitality to others is to pay for the person's order behind you in a drive thru. If you're on a budget, don't feel bad letting the drive thru employee in on your plan so you can ask about the total of the next order. Some patrons spend $5 for a cup of coffee while others may spend $35 on a meal for their whole family.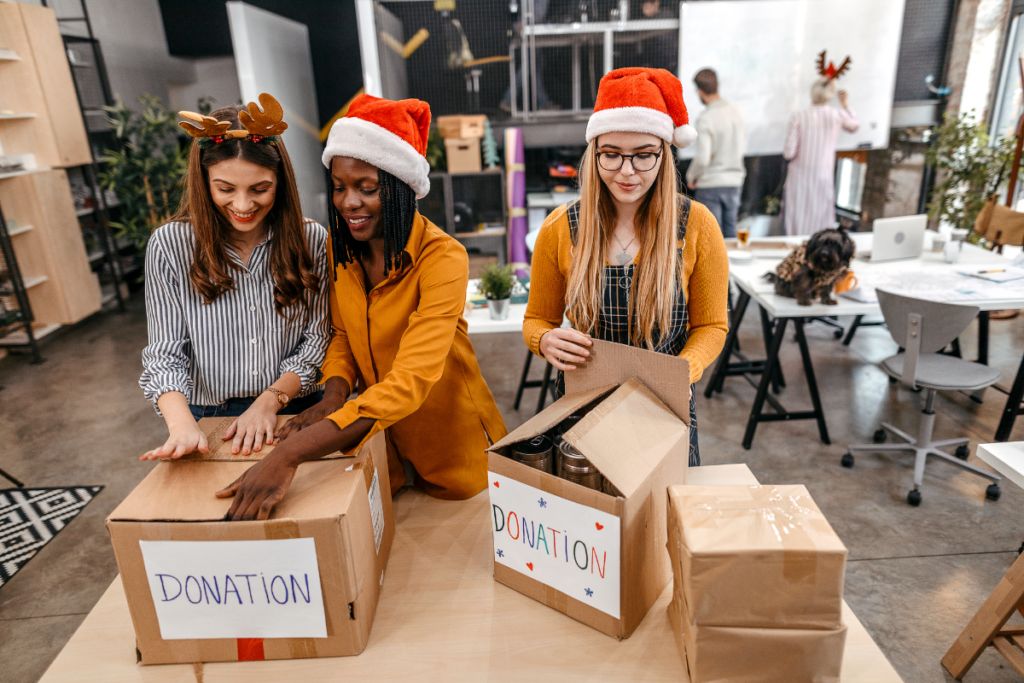 Volunteer Locally
Large or small, most every city or town has ample volunteer opportunities around Christmastime. Think soup kitchens, homeless shelters, hospitals, nursing homes, food banks, Toys for Tots and Operation Christmas Child locations, as well as countless local organizations that collect gifts for the needy such as churches, fire stations, police departments, schools and more.
Volunteering during Christmas is an affordable way to show hospitality that fits all budgets and only requires your time and cheerful attitude.
Gift a Mason Jar Cookie Kit
I remember getting mason jar cookie kits from neighbors as a child and they still hold such a nostalgic place in my heart. If you're looking for a unique gift for your neighbors, a mason jar cookie kit is inexpensive and customizable. Here are some easy recipes to use:
Be sure to attach the cookie recipe to the top of the jar and consider adding your favorite Christmas Bible verse (Isaiah 9:6) or a warm invite to your church's Christmas Eve service.
Invite to Local Christmas Events
One inexpensive but meaningful way to show biblical hospitality is to invite others to local Christmas events. Is your church hosting a Christmas Eve celebration, candlelight service, Christmas concert or children's Christmas musical? This is the perfect opportunity to welcome those outside your church inside its open doors.
Sometimes, people are reluctant to step inside a church. I've met several families who simply say they aren't church people. Don't let that deter you from showing biblical hospitality. Thankfully, you can still welcome them with an invitation to meet up at your towns' annual Christmas parade, tree lighting ceremony, breakfast with Santa event and other local Christmas celebrations. Humans crave connection and community, and those are things you can offer them with or without four walls.
Host a Cookie Swap
For all of us with a sweet tooth, this is the classic hosting celebration that keeps on giving. Host a Christmas cookie swap with neighbors, new family friends or book club members (that's who is coming to my cookie swap this year.)
Cookie swaps are fairly easy and inexpensive to host because you only have to provide a batch of cookies and some drinks. With other attendees pitching in to help, cookie swaps are fun and affordable for every budget. Here are some tips for hosting your own cookie exchange.
Schedule a Christmas Movie Night
Everybody loves Christmas movies, which makes hosting a Christmas movie night one of the easiest options for hosting a holiday celebration in your home. Consider inviting the neighborhood kids to watch a Christmas movie in your basement, complete with festive popcorn and fun drinks. Or, if you've got the capacity to project a movie outside, invite whole families to snuggle up at dark to watch a Christmas classic. Have hot cocoa ready along with a couple extra blankets for sitting on.
Plan a Holiday Potluck
Friendsgiving celebrations are fun, but Christmas potlucks are just as festive. If you're looking to host a few families in your home around the holidays, simply ask them to all bring a dish to contribute to the festive meal. Consider a brunch or even brinner (breakfast for dinner) and make easy affordable classics such as quiche, breakfast casserole, French toast, scrambled eggs and more. When everyone chips in, not only is hosting an event easier, it's also more affordable.
Go Christmas Caroling
If you've got confidence, a good singing voice or a small gaggle of kids to drown out your own voice (wink), Christmas caroling around your neighborhood is a fun way to show hospitality and hope-filled expectancy during Christmastime. Choose a mix of fun children's Christmas songs, but make sure to add in classic Christmas carols that offer messages of joy, hope, peace and God's love for humankind.
Deliver a Homemade Coupon Book
Make showing hospitality a family affair by creating a homemade coupon book. Whether your neighbors range from elderly to middle-aged with kids to newlyweds, there are acts of service that your family can provide them, such as:
Cut the grass
Rake and bag leaves
Spreading mulch
Walk the dog
Babysit or be a mother's helper one morning
With a little creativity and a heart for hospitality, there are many ways to be hospitable to others this Christmas season, regardless of how much you're able to spend.
What is your favorite affordable way to show hospitality at Christmas?