Try one of these short hikes near Helen (2.5 miles or less) during your next trip to this Bavarian town.
If you love outdoor adventure, Helen, Georgia, is the perfect vacation destination for nature lovers. This charming mountain town is surrounded by forests, state parks, lakes, rivers and historic sites. Nestled at the foothills of the Appalachian Mountains, Helen is less than two hours from the Atlanta and Greenville, S.C., airports.
Though there are a few dozen amazing hiking trails near Helen ranging from easy to hard and from 1 mile to 43 miles, sometimes you simply want a short and sweet hike. Maybe you're short on time; maybe you want to hike with young kids; or maybe your fitness level fits best with short hikes. Whatever your reason, Helen has a variety of short hikes within a 30-minute drive that clock in at 2.5 miles or less.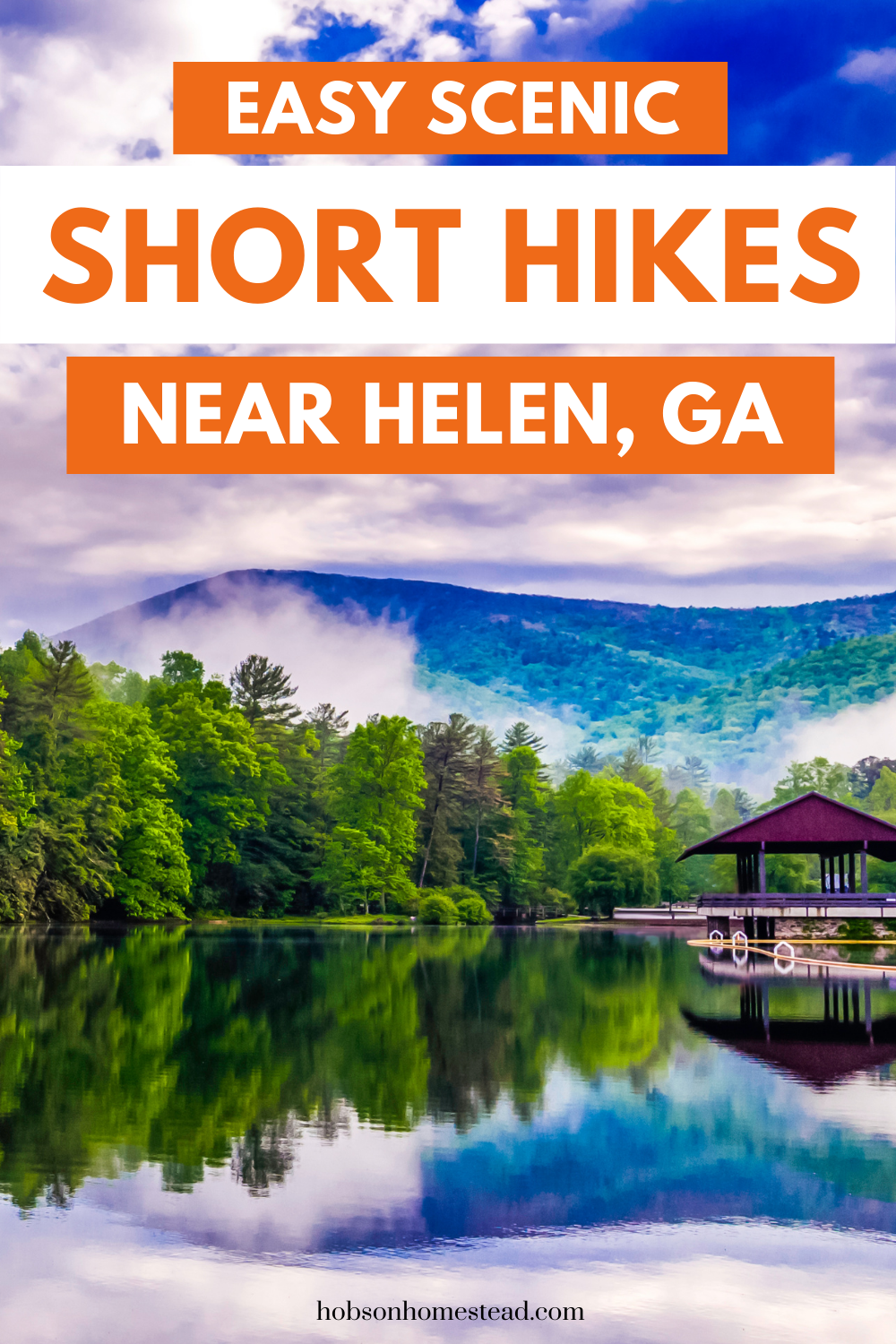 These short hikes near Helen are all rated as easy, making them great options for even amateur hikers. Nearly all of these hikes include water features, from scenic waterfalls to rushing creeks to peaceful lakes. So pack your leashed dog, your hiking shoes and your adventurous attitude as you soak up the beauty of the Appalachian foothills on these short hikes near Helen.
DeSoto Falls Trail
DeSoto Falls Trail is a 2-mile heavily trafficked out and back trail located near Dahlonega, Georgia, that features a waterfall and is good for all skill levels. Just under a 30-minute drive from downtown Helen, you can bring your leashed dog on this trail and even enjoy one of the dozen picnic tables near the trailhead. Parking is $5 (cash only) per car and there are bathrooms next to the parking lot.
The Desoto Falls Trail offers an Upper Falls hike, which is 2 miles, as well as a 1/4 mile hike to the Lower Falls that you can add on if you're feeling ambitious. Much of the Upper Falls hike parallels the scenic Frogtown Creek. In warmer months, there are plenty of places for your kids to dip their toes in the creek.
Related: Read my more in-depth post on DeSoto Falls.
Dukes Creek Falls Trail
Just a 10-minute drive west of downtown Helen, Dukes Creek Falls Trail is a 2.3-mile heavily trafficked out and back trail with three long switchbacks along the way. If you visit after a recent rain, you'll glimpse a raging 150-foot waterfall at the bottom of the gorge. If your kids are itching to get wet, there are a couple spots for them to hop over the wooden walkway and dip in the water.
Bathrooms are located at the trailhead and the parking fee is $4. Note that this trail gets busy on nice days.
Anna Ruby Falls Trail
Anna Ruby Falls Trail is located just 5 miles north of downtown Helen. To get to the falls, you must drive through Unicoi State Park. If you're only visiting the falls, you can skip the state park fee and just pay the $5 per person to see the falls. Luckily, kids under 16 years old are free. At the base of the falls is a small gift shop and restrooms.
You can reach the falls by walking the 1/2 mile paved trail to the top to two different lookout decks. Feel the pull of the inclines to the viewing platforms, but don't worry, the views are worth every step. The trees surrounding the falls are beautiful in the fall when the leaves change color, but the waterfall is magnificent any time of year.
Related: Best Free and Cheap Things to Do in Helen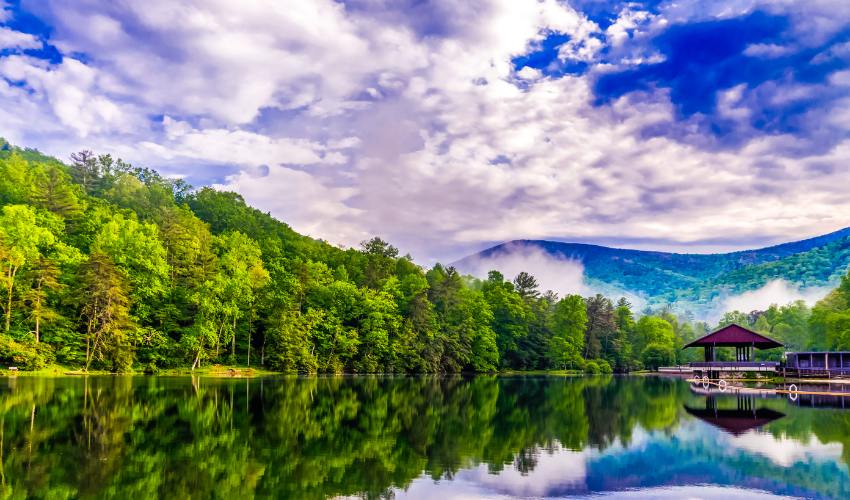 Lake Trahlyta Trail at Vogel State Park
Located within Vogel State Park, Lake Trahlyta Trail is 21 miles west of Helen in Blairsville, Georgia. The 1-mile lake loop is relatively flat until you descend to the falls. Get an up-close look at the cascading water from the viewing deck, which can even spray water on spectators on a windy day.
A Vogel State Park day pass costs $5, but a trip to this 233-acre park is worth a visit. After your hike, kayak or paddleboat in the spring. Swim at the sandy beach in the summer. The park also has two miniature golf courses and two playgrounds, as well as a General Store. The paved campground and cabin roads are also perfect for bike riding.
Unicoi Lake Loop
Just 5 minutes north of Helen, Unicoi Lake Loop Trail is a 2.2-mile trail around the 53-acre Unicoi Lake. Park at one of several parking lots close to the bridge before setting out on your hike. Pass by Unicoi's intriguing barrel cabins, traverse grassy marshland, cross the sands of Unicoi Beach and walk past the docks that hold kayaks and paddleboats. There are many points of interest along the trail and several lookout decks over the lake. Much of the trail is shaded with tree cover, making it a perfect short hike even on a hot summer day.
Laurel Ridge Trail Loop at Smithgall Woods
Laurel Ridge Trail Loop is a 1.6-mile loop trail fringed with wildflowers within Smithgall Woods State Park, just a 7 minute drive southwest from downtown Helen. As with all Georgia State Parks, the daily parking fee is $5, but the park has more to offer than varying levels of hikes. Roam the fields of wildflowers in the spring. Let your kids splash in the creek in the summer. Enjoy a picnic and a game of catch on the large lawn in the fall. Or spend time learning about local wildlife in the educational center in the winter.
Helton Creek Falls
Located 16 miles west of Helen, Helton Creek Falls Trail is super short 1/3 mile hike that packs a big punch. Make your way over roots and rocks on your way to the picturesque upper and lower falls. The lower falls are about 40 feet long as the water flows over a rock outcrop. As you continue along the trail, you'll soon arrive at the observation deck and the main attraction, the upper falls. These falls seem to come right out of the forest as they cascade roughly 50 feet into the pool below, which creates nature's perfect swimming pool. Wear a swimsuit in summer months to take a dip in this well-known swimming hole.
Though parking is free, finding a spot can be difficult on sunny or warm days, so your best bet is to arrive early in the day.
Helen to Hardman Heritage Trail
If you want a short hike without leaving the proximity of downtown Helen, then Helen to Hardman Heritage Trail is the trail for you. Along Chattahoochee River, this wide paved path is more closely associated with walking than hiking. It is one mile from end to end, so a great choice for all ages on a sunny day. The trail parallels the river and has a couple points of interest along the way. Interpretive panels explain the area's native plants and animals, Helen's heritage and the influences that have made this location attractive to people for more than 1,000 years. Parking is free at either end of the trail, but there is a fee to the entrance of Hardman Farms at one end of the trail. The other end of the trail is located at the edge of downtown Helen.
What to Pack for Your Short Hikes Near Helen
Even on short hikes, preparation is key for a great time. Consider these items depending on which season you are hiking near Helen:
Winter: gloves, scarves, warm hats, warm clothing layers
Spring: allergy medicine, light jacket
Summer: sunscreen, hat, bug spray
Fall: just a camera—this is perfect hiking season with the changing of the leaves
And, of course, water and food should be requirements to ensure everyone is a happy hiker. It's no secret that kids love snacks, so packing them a couple of snack options will earn you major points—even on short hikes. Some of my favorite hiking snacks for my kids include rice cakes, dried fruit, nuts and seeds, pretzels, granola bars and homemade trail mixes.
Related: Easy Hiking Snacks Your Kid Will Love
If you didn't come to Helen with snacks packed, you can stop by Betty's Country Store downtown for fun snacks and even more substantial food if you want to picnic. Grab a breakfast biscuit to fuel your day or pick up a chicken salad sandwich to-go for lunch. And Betty's giant cookies are always a crowd pleaser.
But how do you carry all these things on your hike? In a lightweight hiking backpack, of course! Our kids have their own hiking backpacks that we use to pack their snacks or lunches, water, extra socks, hats, gloves, etc. We've had these backpacks for more than a year and my kids love the independence it gives them. We also love that they spread the load so us parents aren't carting around all the items ourselves.
Make sure to leave no trace by packing back out any trash that you take on your hike. Simply stick it in your hiking backpack and dispose when you find a trashcan at the trailhead.
What are your favorite short hikes near Helen?