Taste the flavors of the Appalachian foothills by sampling wines from the delicious vineyards and wineries near Helen, Georgia.
Did you know that Georgia is home to more than 60 wineries, with the majority of those residing in the northern, more mountainous region of the state? When you mix Georgia red clay, gently sloped vineyard terrain, mountain breezes and the optimal mountainous elevation, you get high-quality wine grapes and a thriving wine production that now rivals those of California and Europe.
It's time you visit the new wine country of North Georgia.
On your visit to Helen, Georgia, make a point to stop by some of the area's wineries and vineyards. Soak up the scenic views of grape vines cascading in rows over lush green hills. Enjoy the backdrop with every sip, as most wineries near Helen offers breathtaking views of the mountains.
Most vineyards near Helen offer tours and tastings—or you can purchase wine by the glass or bottle to take home with you. Whether you prefer red or white wine (or even rosé or muscadine), North Georgia wineries offer an array of grape varieties for all palates.
So relish the mountain breeze as you sip from vineyard patios surrounded by the outdoor beauty of the mountains. Or sip and stroll through the scenic rows of grape vines as you take in the refreshing mountain air.
Though there are several dozen well-reputed wineries and vineyards in North Georgia, those on the Unicoi Wine Trail are closest to Helen, including Habersham Winery, Serenity Cellars, The Cottage Vineyard, Yonah Mountain Vineyards, CeNita Vineyards and the Sylvan Valley Lodge & Winery. Apart from the Unicoi Wine Trail, there are several other wineries that are less than 25 minutes from downtown Helen, making them the perfect places to visit on your trip to this one-of-a-kind Bavarian town.
BEST WINERIES NEAR HELEN
Habersham Winery
As one of the oldest vineyards in Georgia, Habersham Winery and Vineyards has been producing award-winning wines since 1983. Located at Nachoochee Village, the winery is only a half mile south of downtown Helen. As one of the largest wineries in Georgia, Habersham is open daily for complimentary tastings and self-guided tours. Its tasting room also has a well-stocked gift shop that carries everything you'll need for a picnic while you're there: Habersham Winery wines, imported cheeses and crackers.
With a prime location near downtown Helen, Habersham Winery is one of the few wineries with its vineyards at another location. Its Stonepile Vineyard in nearby Clarkesville, Georgia, houses 30 acres of grapes including Chardonnay, Seyval Blanc, Vidal Blanc, Cabernet Sauvignon, Merlot, Chambourcin—and most recently planted Traminette, Aromella and Chardonnel. Habersham's 5-acre vineyard in Mossy Creek is located south of Cleveland, Georgia, on the slopes of Skitt's Mountain and hosts Cabernet Sauvignon and Merlot grapes.
Sip your wine at Habersham Winery in outdoor areas and be sure to browse the rest of the historic Nacoochee Village, which offers a mix of food, beverages, retail stores and businesses.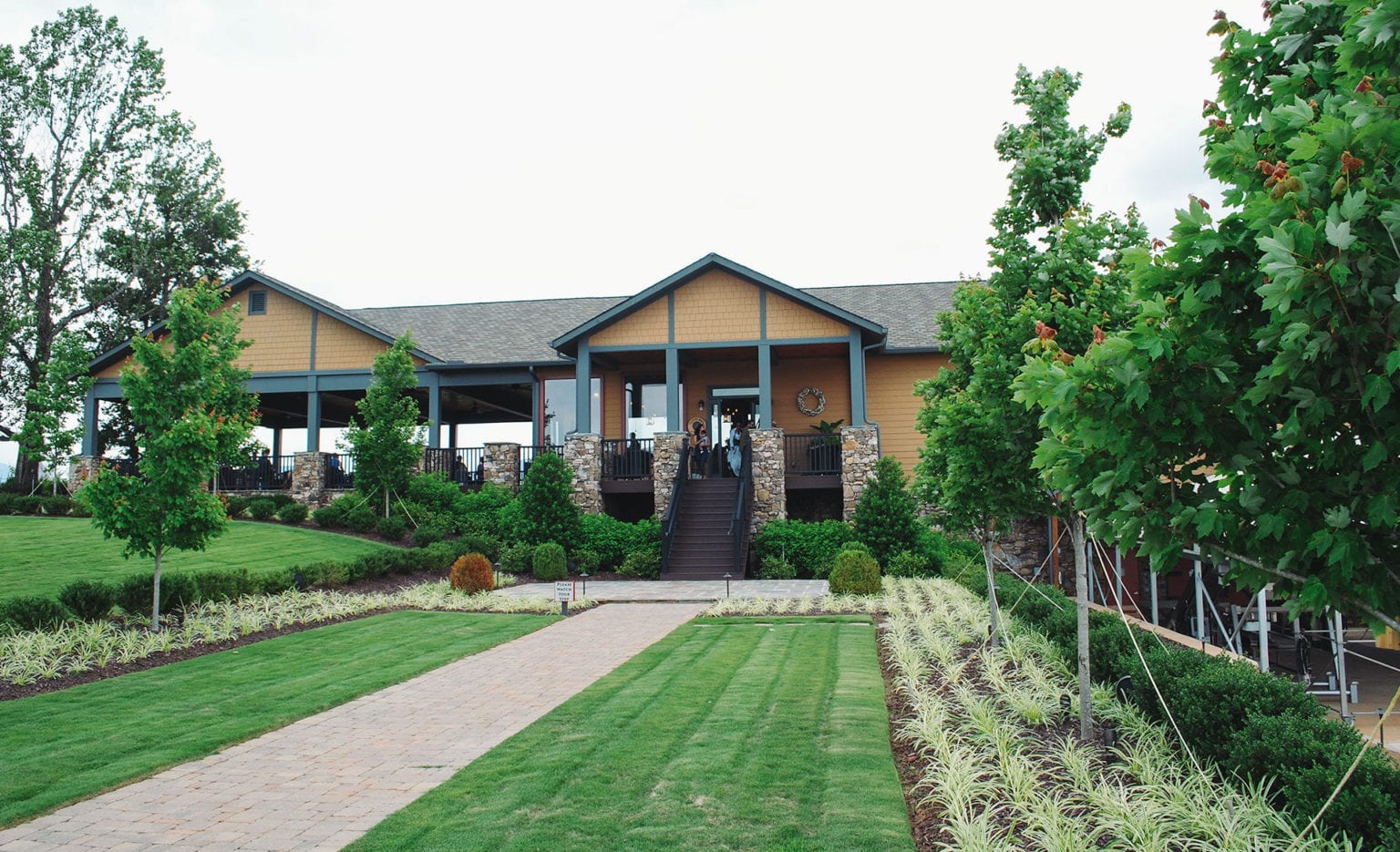 Kaya Vineyard and Winery
Kaya Vineyard and Winery is a rebirth of Blackstock Vineyards, which was one of the first and largest vineyards in the Dahlonega, Georgia, area. Situated 1600 feet above elevation, Kaya's tasting room is built atop a ridge that that gives visitors a panoramic view of the North Georgia mountains.
Stay for a wine tour (every Saturday and Sunday at 12:30 p.m.), choose 5 wines for a tasting or enjoy a light lunch on the covered patio while listening to live music. If you have more time, book at weekend at one of the vineyard's 3-bedroom luxury craftsman-style cottages.
All Kaya wines are made exclusively from the 30 acres of estate-grown grapes produced from the winery's 90-acre property. Kaya grows classic European, Italian and American varietals, including both whites (Chardonnay, Viognier, Muscat, Albarino) and reds (Touriga, Cabernet Sauvignon, Merlot, Sangiovese, Petit Verdo, Malbec).
Related: Best Things to Do on a Rainy Day in Helen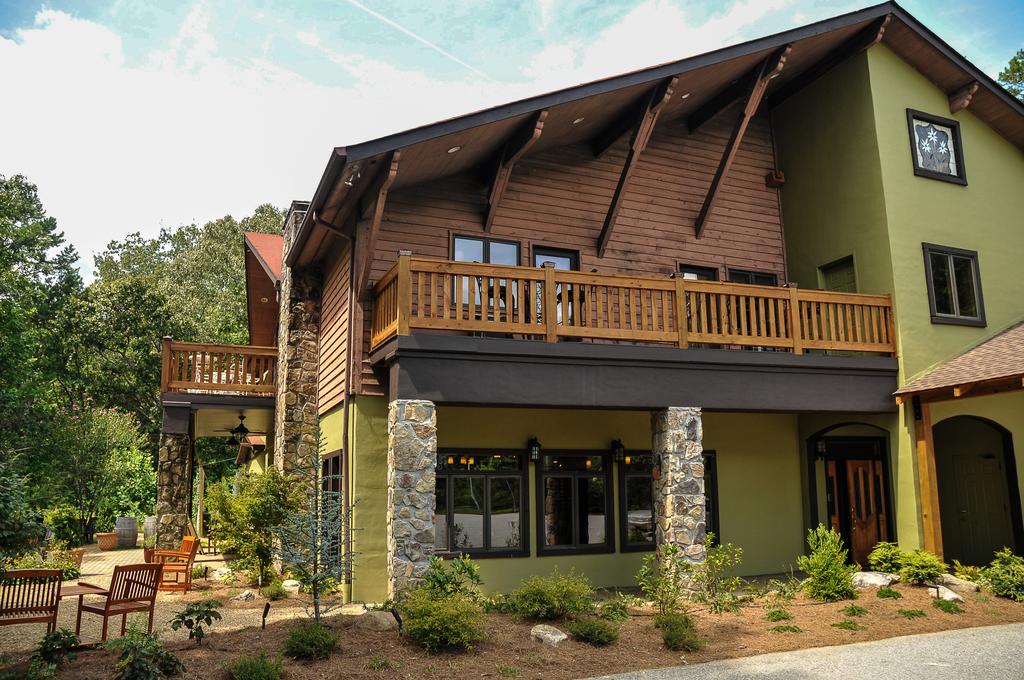 Sylvan Valley Lodge & Winery
Located in nearby Sautee Nacoochee, Georgia, Sylvan Valley Lodge & Winery is an award-winning winery that is less than 4 miles from downtown Helen. The property is reminiscent of a scene from the German countryside, with a view of the mountains at every turn. The winery, which also doubles as a full-service bed and breakfast, is best known for hosting rehearsal dinners and scenic weddings on the property.
Sylvan Valley Winery offers tastings of its renown Frolicking Faerie wines and a selection of meads, which are also available by the glass or bottle, along with craft beers, hard ciders and cheese and charcuterie plates for two—packed to go so you can enjoy them anywhere on the property. Call before you go to ensure the tasting room is open for visitors—or make an appointment for a tasting for your group. Also, be sure to inquire about scheduled wine dinners and jazz nights. Chef pairings of food and wine from Sylvan Valley Winery have great reviews.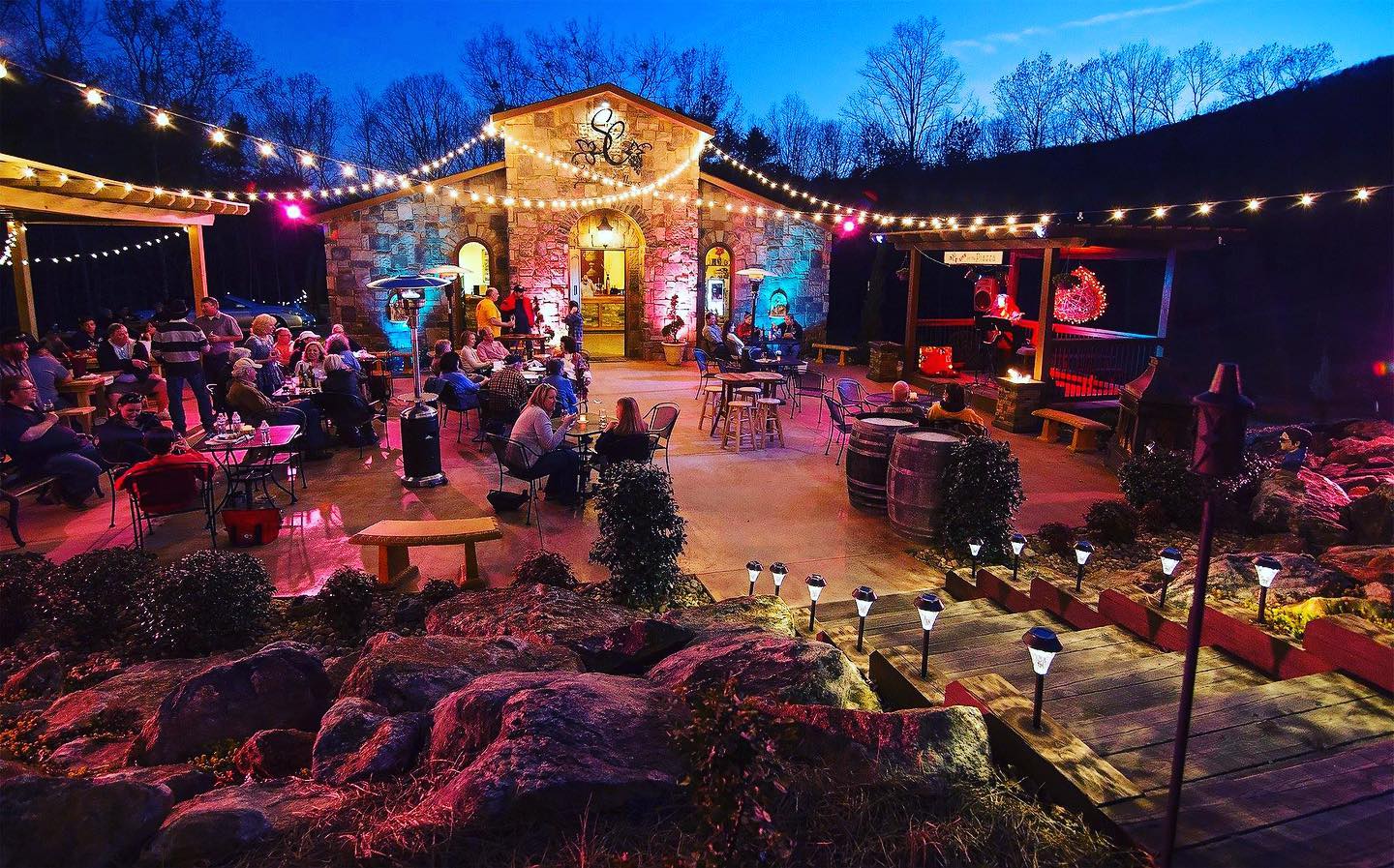 Serenity Cellars
Less than 10 minutes south of downtown Helen, Serenity Cellars is a small but super social family-owned boutique winery with a Tuscan feel perched on just under 10 acres. Stop by on a Friday, Saturday or Sunday for a wine tasting, and you'll most likely be there to enjoy the live music playing on the patio.
Bring your leashed dog to sit out on the patio with you and even circle round the firepit during cold weather. Enjoy the relaxing sounds of the fountain in the courtyard while soaking in the scenes of the rock garden, topiary and outdoor pizza oven. Serenity Cellars combines Old and New world wine making techniques, offering a mix of white, red and dessert wines.
CeNita Vineyards
Less than 15 minutes from downtown Helen, CeNita Vineyards is located on the other side of Yonah Mountain. As a family owned and operated winery nestled in the rolling foothills of the Appalachia, the CeNita property was once a dairy farm of the owner's grandparents, Cecile and Juanita. Hence, the name CeNita.
CeNita's tasting room offers wines from estate-grown grapes, including Cabernet Franc, Cabernet Sauvignon, Merlot, Chardonnay, Barbera, Vidal Blanc, Tramminett and Chambourcin. Relax outside sipping your wine in the friendly, casual atmosphere with a stunning view of the vineyard. Play a game of cornhole, recline in a hammock or learn more about wine from the tasting room staff.
Enjoy live music on most Saturdays and Sundays. Try the wine slushie in warmer months and let your kids and pets enjoy the fresh air and sunshine as well.
CeNita is also well known for its event space, which includes a 3,200-sq.-ft. open air building that is perfect for weddings.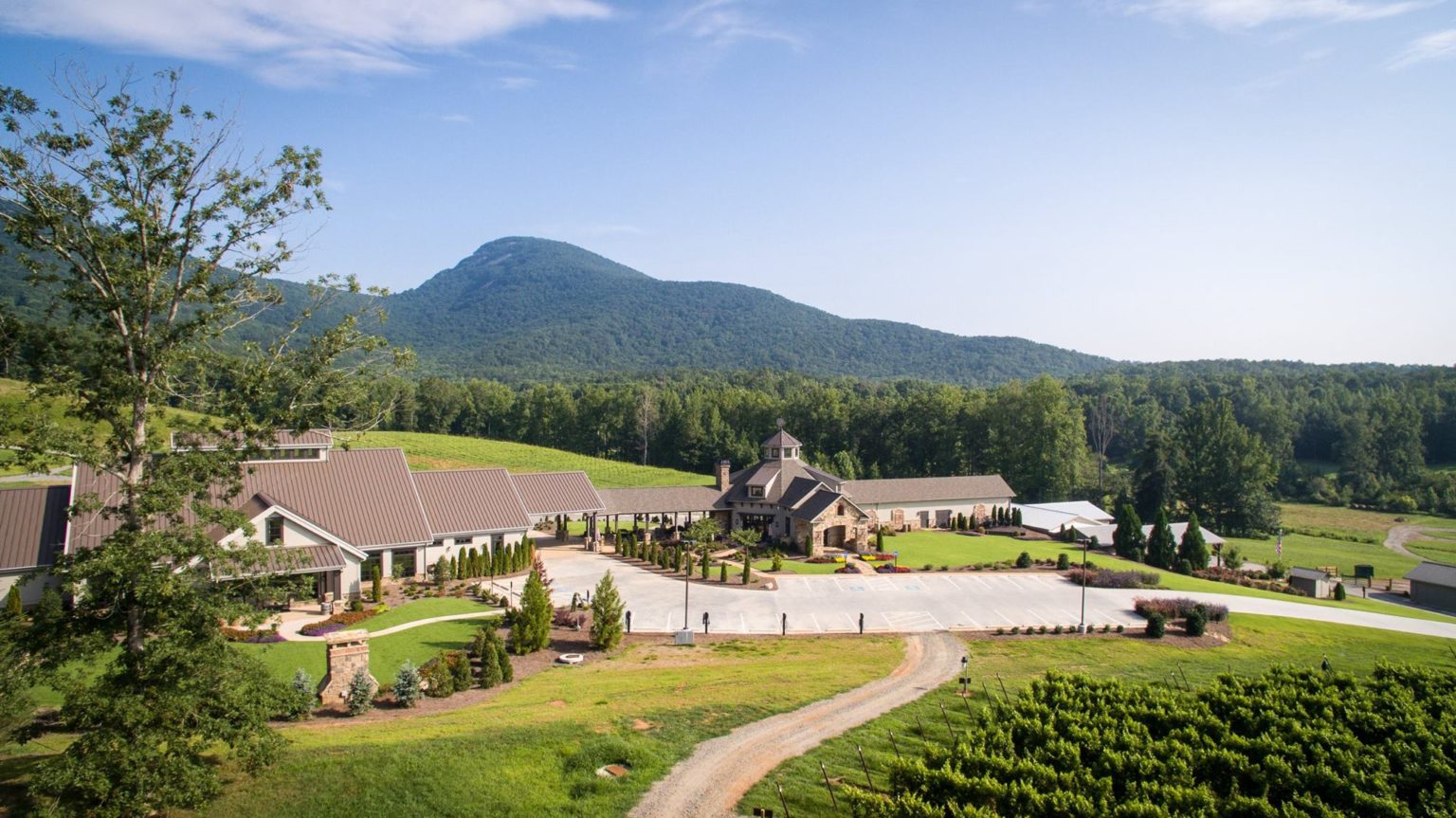 Yonah Mountain Vineyards
Located in nearby Cleveland, Georgia, Yonah Mountain Vineyards is situated on 200 acres at the base of scenic Yonah Mountain. Rolling hills and sandy soil make this property the perfect setting for the vineyard's 20 planted acres of Sauvignon Blanc, Chardonnay, Petit Manseng, Cabernet Sauvignon, Merlot, Cabernet Franc, Malbec and Petit Verdot.
One of the first things you'll notice about the property is the striking architecture and design. You'll be drawn to the airy, circular tasting room, which is open daily for tours. Yonah Mountain Vineyards offers tastings, flights and even special events such as Reserve Wine Tastings. Enjoy live music on Saturdays and Sundays and even go on a 90-minute walking tour of the winery, including a tour of the wine cave.
In an attempt to curb its carbon footprint, Yonah Mountain Vineyards is the first winery in Georgia to launch a total solar panel array to power the grounds and operation. To further support its sustainability initiatives, the vineyard also has 14 electric car charging stations that visitors can use.
Additionally, Yonah Mountain Vineyards has an event space that can hold up to 1,000 people. The property hosts scenic weddings as well as other meetings and events throughout the year.
The Cottage Vineyard and Winery
The Cottage Vineyard and Winery is perched on a scenic hill less than 15 minutes south of downtown Helen. Cozy up with a glass of wine on the outdoor swing that overlooks the mountains, including views of Yonah Mountain. If the weather is too hot or too cold, stay temperate inside the tasting room (with floor to ceiling windows) while still enjoying views of the 29-acre property.
All Cottage wines are made in the cellar on the estate. Currently, its estate-grown grapes include Chardonnay, Viognier, Syrah and Merlot, along with Pinot Meunier and Muscat. Try a tasting of a 5- or 8-wine flight or purchase your favorite wine by the glass or the bottle to enjoy on the property or to take home. The Cottage also serves craft beer and wine slushies, along with cheese and meat trays, pimento cheese, hummus trays and Italian sliders.
The Cottage is open seven days a week and often hosts Sunday worship, as well as live music most weekends. On your visit, soak in the sunset while reveling in the 360-degree mountain views.
Flyhawk Farm & Tasting Room
If you love wine and equine, then the 22-acre Flyhawk Farm and Tasting Room is perfect for you. Just 10 minutes east of downtown Helen, enjoy wines from Tiger Mountain Vineyards and The Cottage Vineyard from the oversized tasting deck with a view. Watch Flyhawk's 8 pedigree and performance horses roam the pastures or even feed them while enjoying gorgeous views of Yonah Mountain.
If the weather isn't cooperating, cozy up inside around the fire with a glass of wine or a mug of mulled wine. Or enjoy the fire pit outside during cold weather. Besides award-winning wines and horses, the property also boasts a small vacation rental for those who can't get enough of wine and equine.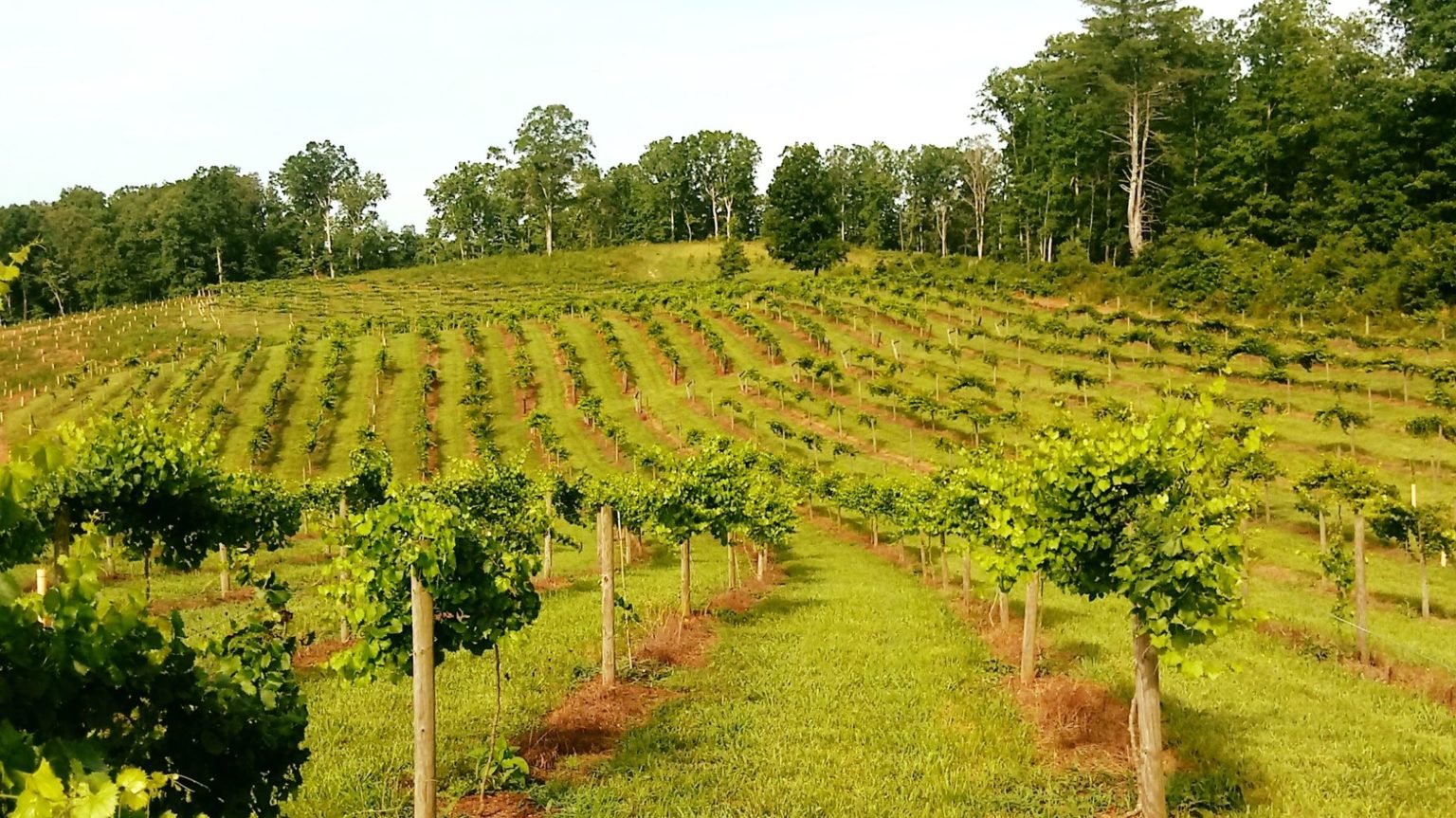 Testnatee River Winery and Meadery
Just 15 minutes southwest of downtown Helen, you'll find the new Testnatee River Winery and Meadery—open less than 2 years. Well known locally for Allison's Honey, owner Lloyd Allison partnered with winemaker Lane Williams to create a line of wines and meads (honey wines) solely using fruit grown on the property. Tesnatee River currently grows 17 acres of grapes, with plans to expand to 20, as well as apples, blackberries, peaches, blueberries and cherries.
This small boutique winery offers a casual atmosphere and complimentary artisan sourdough bread served with honey or jam at every tasting. You can also purchase farm-to-table jam, honey, seasonal fruit and charcuterie boards. Gather round the large outdoor stone table to sample a flight or sit and sip indoors if the weather isn't ideal.
Frogtown Cellars Winery and Vineyard
Situated halfway between the cities of Cleveland and Dahlonega, Frogtown Cellars was one of the forerunners of North Georgia wine making when it opened in 1998. The 57-acre property in North Georgia is only 20 minutes from downtown Helen, and has 44 acres of grape vines, producing more than 25 different grapes, including Cabernet Sauvignon, Chardonnay and Viognier. Frogtown produces more than 10,000 cases of estate-grown wine every year.
The tri-level gravity flow vineyard is specifically designed to produce more than 30 different wines from its own estate vineyards, from dry wines to muscadine wines and everything in between. The Frogtown tasting room is perched on the higher side of the property, offering views of of sloping hillsides overflowing with vines from the back deck. You can even get a glimpse of Yonah Mountain from the deck. Tastings are offered daily and lunch is available Thursday through Sunday. Enjoy a delicious Sunday Brunch as well as early dinners Friday through Sunday starting in the spring.
Three Sisters Vineyards
Less than 25 minutes from downtown Helen, Three Sisters Vineyards is a laid back winery situated on 184 acres between Dahlonega and Cleveland. Try an indoor tasting from a large cherrywood tasting bar, which features Southern folk art and pottery. Or relax with friends on the Crush Pad Deck while sipping estate-grown wine and listening to local acoustic folk and bluegrass. Feel free to bring along your leashed dog and even ask for special doggie treats behind the bar.
Three Sisters employs three different trellis systems to maximize growing quality and is also dedicated to sustainable practices in the vineyard and winery. Grapes grown on the estate include Cabernet Franc, Merlot, Chardonnay, Pinot Blanc, Touriga, Cynthiana Norton, Vidal Blanc and Pinot Noir.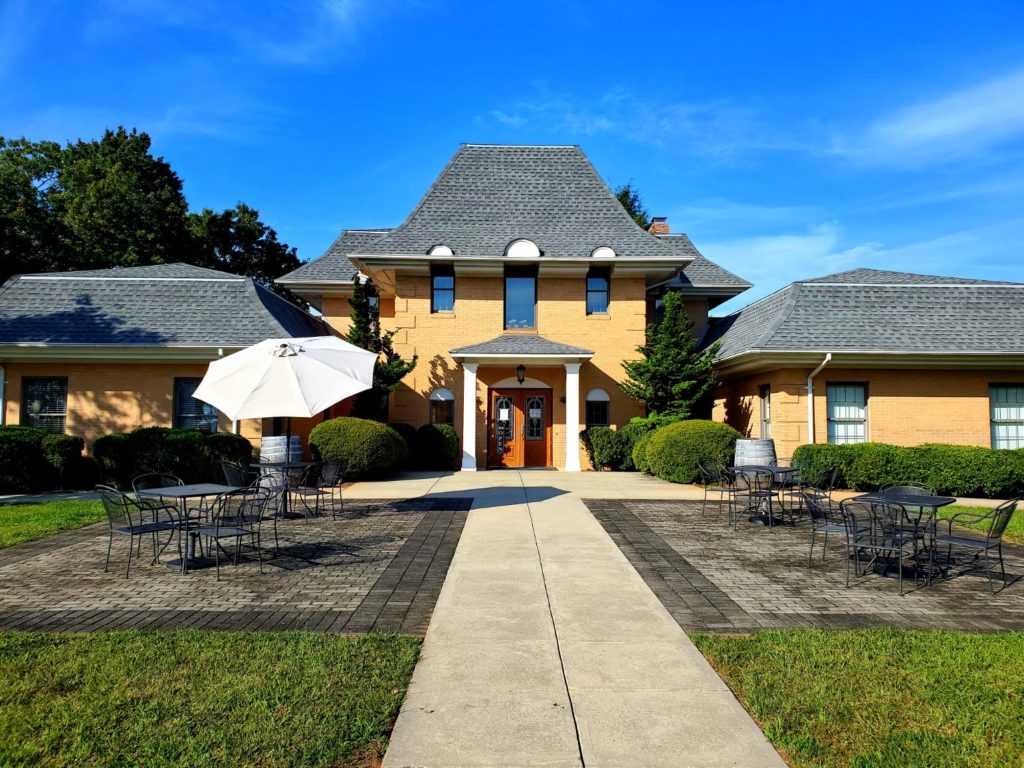 Creekstone Winery
Just half a mile past Hardman Farm Historic Site and 4 minutes from downtown Helen, Creekstone Winery is a recent branch off of Habersham Winery's popular premium Creekstone label. The winery occupies a French villa that sits on a ridge with 360 degree views, including a breathtaking view of Mount Yonah. Creekstone boasts a great patio with outdoor seating and optional shade umbrellas. Even dogs are welcomed if they are leashed. Creekstone currently serves Creekstone Wines, Habersham Wines and Southern Harvest Bubbly wines.
Tasting Rooms in Downtown Helen
If you're short on time and would rather visit a tasting room in downtown Helen, be sure to try the tasting rooms at:
Sweet Acre Farms Winery: tasting room at 8016 S Main St., Helen (vineyard in Alto, Ga.)
Fox Winery: tasting room at 8681 N Main St., Helen (vineyard in Social Circle, Ga.)
Go Visit the Wineries Near Helen
On your next trip to Helen, be sure to stop by some of these scenic wineries to get a taste of Georgia wines as you take in beautiful views of the rolling vineyards and Appalachian mountains. It's time you visit the new wine country of North Georgia.
What is one of your favorite wineries near Helen?