For $10 or less, you'll find a ton of fun, but cheap things to do in the bustling Bavarian town of Helen, Georgia.
If you love the outdoors and towns brooding with character, then you'll love all the fun, but cheap things to do in Helen. This Bavarian town has a host of activity options, ranging from free to pricey. But if you're on a budget and trying to fit in as many fun activities as you can during your stay, check out this list of the best cheap things to do in Helen. And the great news is: all these options are $10 or less.
If it's your first visit to Helen, stop by the Alpine Helen Convention and Visitor's Bureau to get local information, including a city map, parking info and coupons. The knowledgeable staff will also answer any questions you may have about your stay.
"Helen is the charm of Bavaria, in the heart of the Blue Ridge Mountains."
The only thing better than cheap is free. So if you're looking for a compilation of free things to do in Helen, check out my post about free activities.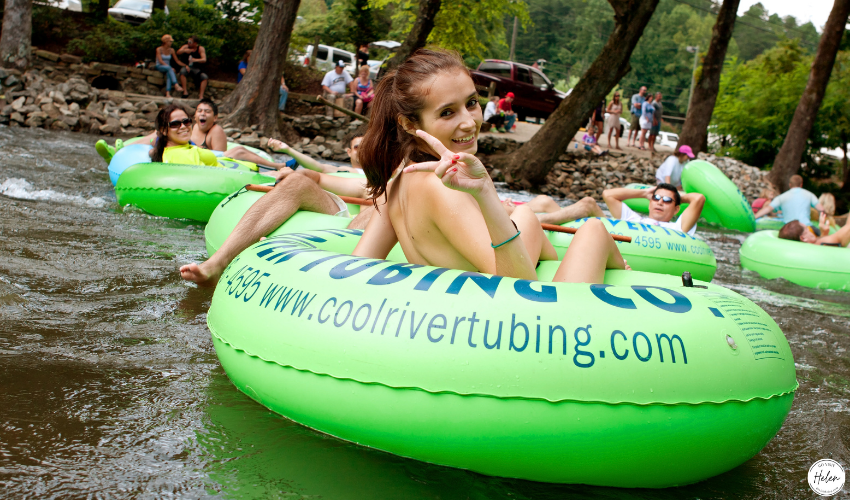 Cool River Tubing
If you have a flexible schedule, try tubing down the Chattahoochee River via Cool River Tubing for only $10 Monday-Friday. Choose the short ride from 1 to 1.5 hours or the long ride at 2 to 2.5 hours. Shoot the Hooch in a tube with or without a bottom—and choose a child sized tube for your kids. For $5, you can upgrade your tubing experience by purchasing a waterslide pass. About halfway down your tubing ride, you'll exit at the waterslide sign to slide as many times as you want before continuing on your journey down the river.
Helen Waterpark & Tubing
Helen Waterpark & Tubing also offers the discounted tubing rate of $10 per person Monday-Friday. The waterpark is open May through September, but is a bit pricier and ranges from $15 to $30 per person depending on height and day of the week. But the company routinely promotes back-to-school or afternoon specials starting in August on its Facebook page.
Horse-Drawn Carriage Rides
Carriage rides are one of Helen's big draws for visitors—and Alpine Carriage Company and Pegasus Horse Drawn Carriages are available in downtown Helen to cater to tourists. Take a romantic ride around downtown or go the historical route. These companies also offer special rides for weddings, as well as hotel and restaurant pick-up. Some buggies are handicap accessible and can hold up to 20 people. Carriage rides can be as low as $10 per adult and $5 per child.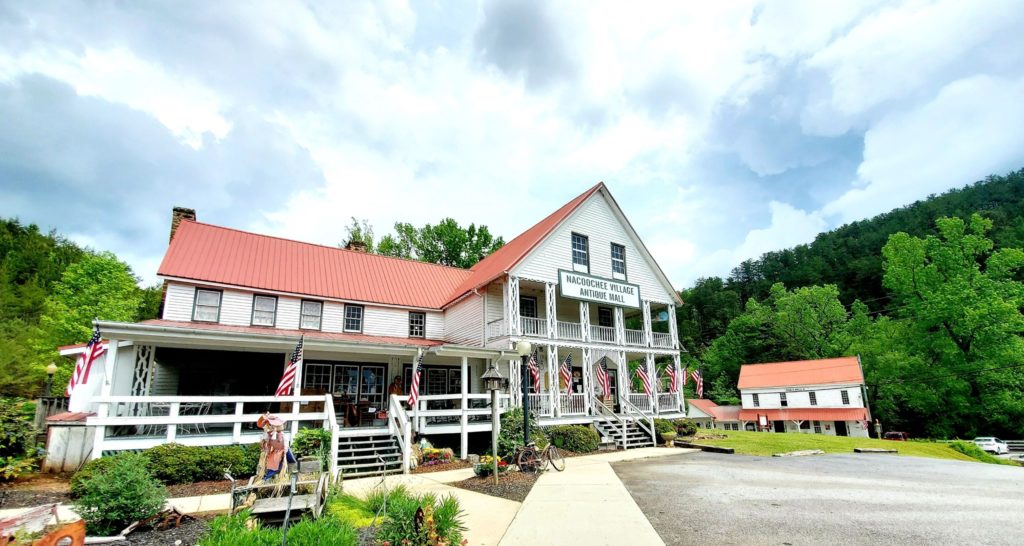 Nacoochee Village
Just half a mile south of downtown Helen, you'll find the historic Nacoochee Village, which offers a mix of food, beverages, retail stores and businesses.
Wine: If you love trying new wines, you can get wine 5 tastings at Habersham Winery for only $10.
Coffee: To get your caffeine fix, try the JumpinGoat Coffee shop, which also has a tasting location in nearby Cleveland. Cups are under $5 and you can catch live music on selected days/times. Check the Facebook page for details.
Window Shop: Stroll through the Nachoochee Village Antique Mall to see 50 antique dealers in 7,000 sq. ft. Or stop by the Nora Mill Granary and Country Store to witness an operational gristmill alongside the Chattahoochee River. Be sure to visit the country store to try a sample of the mill and store products.
Unicoi State Park
Unicoi State Park is nestled in the mountains less than 3 miles north of downtown Helen. There is a $5 parking fee unless you have a Georgia State park pass. Explore the trails around the 53-acre Unicoi lake or kayak it when the weather is warm.
Anna Ruby Falls
To get to Anna Ruby Falls, you must drive through Unicoi State Park. If you are only visiting the falls, you can skip the state park fee and pay the $3 per person to see the falls. Luckily, kids under 16 years old are free. You can reach the falls by walking the 1/2 mile paved trail to the top to two different lookout decks. If you're feeling adventurous, you can also hike the 4.6-mile Smith Creek Trail that connects the base of the falls to Unicoi State Park, but of course you have to double your mileage if you park at the falls to get back to your car.
Betty's Country Store
Before you head out on a full day of hiking or sightseeing, stop in Betty's Country Store to grab a breakfast biscuit to fuel your day, pick up a chicken salad sandwich to-go for lunch or snag a chicken pot pie to cook for dinner. And if you have a sweet tooth, try one of Betty's huge cookies, pastries or cakes. Need wine or beer? The store has that too. Enjoy the old fashioned country store displays as well as a live bee hive.
Candy and Ice Cream Shops
If you've got a sweet tooth, you can find lots of cheap treat options for less than $5 in one of downtown Helen's candy shops. Try Hansel & Gretel Candy Kitchen, Kopper Kettle Fudge Shop or Livi Lou's Sweets and Treats. Or if you're looking for some ice cream to cool off in the summer, try one of the many ice cream shops near downtown.
German Pretzels
You'd be remiss to visit Helen without grabbing a famous giant German pretzel. Many businesses in downtown Helen offer these pretzels, including Hofer's Bakery and Cafe, Hansel and Gretel Candy Kitchen, The Heidelberg, Old Bavaria Inn Restaurant—and more.
Tantrum Brewery
Located off Helen Highway in nearby Cleveland, Georgia, Tantrum Brewery is a less-than-10-minute straight shot from downtown Helen. Grab a beer or even a flight, and on some days you can catch a food truck and live music. Bring your dog with you to lounge outside the brewery while enjoying giant connect four, giant jenga, bucket ball, and corn hole. Kids are welcomed too, and you can even treat them with a King of Pops popsicle or ice cream sandwich.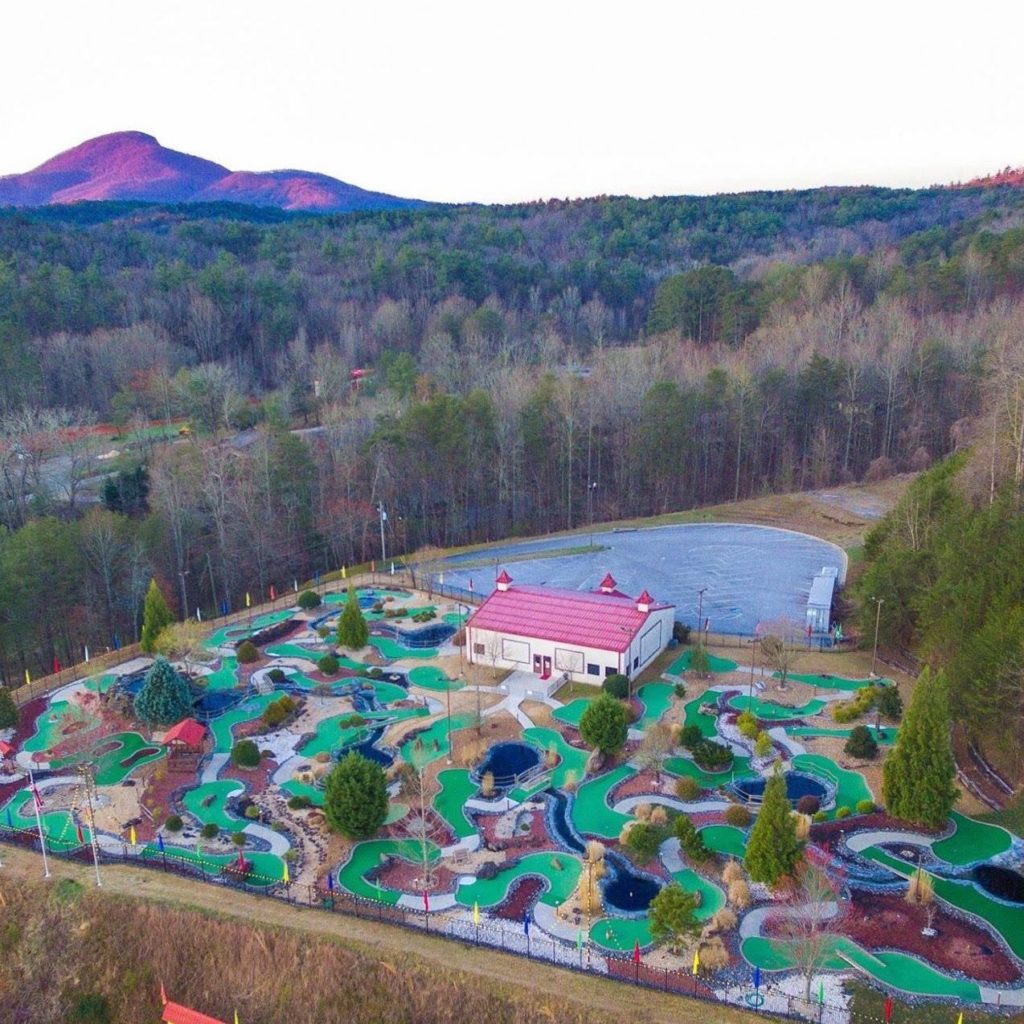 Miniature Golf
Mini golf is one of the best cheap things to do in Helen—especially if you have kids. Helen boasts three miniature golf courses all for less than $10 to play a round of 18 holes. Bavarian Mountain Miniature Golf and Arcade has a course atop an overlook of downtown Helen, making it the most scenic course. The Pirate's Cove mini golf course is located near the Oktoberfest Hall and is wheelchair- and stroller-accessible. Alpine Mini Golf and Scoop de Scoop Ice Cream Parlor is located at the far south end of downtown Helen.
Folk Pottery Museum of Northeast Georgia
If you love history and art, you'll enjoy the Folk Pottery Museum at the Sautee Nacoochee Center, just a 5 minute drive east of downtown Helen. Admission prices range from free (for military, teachers and kids 5 and under) to at most $5 for adults. Enjoy an educational film about how pottery was made before modern technology before perusing the fascinating exhibits that focus on generations of family potters.
Dukes Creek Falls Trail
Dukes Creek Falls Trail is a favorite for families, as even toddler can typically hike the whole way at their own pace. It's a moderate 2-mile out-and-back trail with some amazing falls. In warmer months, hikers even splash and swim in pockets of the creek. The parking fee is $4 and there are bathrooms at the trailhead.
Raven Cliff Falls Trail
If you're feeling adventurous, try the popular 5.8-mile out and back Raven Cliff Falls Trail located near Helen that features a waterfall and is rated as moderate. Even bring your dogs along if you keep them on a leash. Parking is $5, but be sure to arrive at the trailhead early, as this hike is popular during prime hiking months. This trail follows the river the whole way in, making for some great views.
Desoto Falls Trail
Desoto Falls Trail in Blairsville, Georgia, is a short and sweet 2-mile trail that is great for hiking with kids—even toddlers. This 1.9-mile out and back trail parallels Frogtown Creek part of the way. After a recent rain, you'll witness a gushing current. There is a $5 parking fee at the trailhead, along with bathrooms and nearby picnic tables. In the summer, you can let your kids splash in the shallow areas of the creek.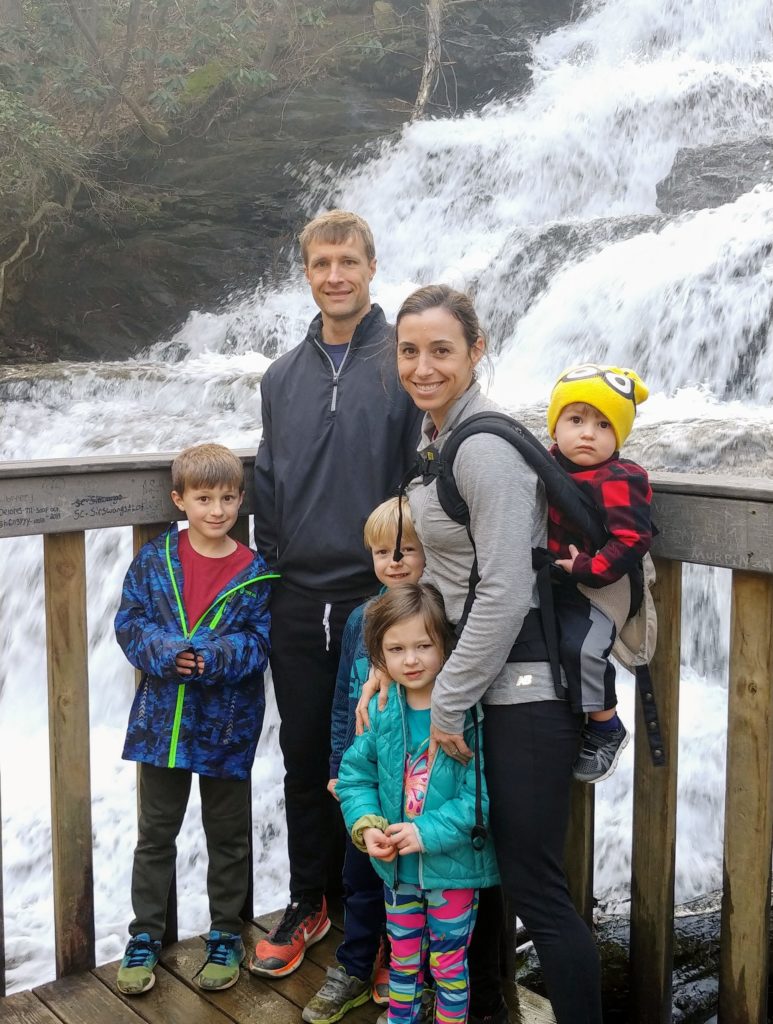 Vogel State Park
Purchase a $5 day pass or use your Georgia State Park pass to access the 233-acre Vogel State Park nestled in Blairsville, Georgia. Kayak or paddleboat in the spring. Swim at the sandy beach in the summer. Hike to the waterfall at the base of Lake Trahlyta or hike the 4-mile Bear Hair Gap Trail that overlooks the lake at the top. The park also has two miniature golf courses and two playgrounds. Vogel State Park is 21 miles west of Helen, but worth spending the day exploring.
Smithgall Woods State Park
Just south of downtown Helen, Smithgall Woods State Park has several draws for families who love the outdoors. Choose from several hike options—and be prepared with water shoes if you choose Ash Creek Trail. Roam the fields of wildflowers in the spring. Let your kids splash in the creek in the summer. Enjoy a picnic and a game of catch on the large lawn in the fall. Or spend time learning about local wildlife in the educational center in the winter. Pay $5 to park or use your Georgia State Park pass.
Brasstown Bald
For $5 per person for those over 16 years old, you can explore the Brasstown Bald visitor center and the summit between 10 a.m. and 5 p.m. daily. ($2 shuttle fee for seniors.) The Brasstown Bald Summit Trail, which connects the parking area to the Visitor Center and Viewing Platform, is a very steep paved foot trail just over 1/2 mile in length. You may take a shuttle service as an alternative to walking the trail.
Brasstown Bald is Georgia's highest mountain at 4,784 feet above sea level. At the top, enjoy the cloud-level observation deck with stunning 360-degree views of the Southern Appalachian Mountains and valleys. On a clear day, you can see four states. The unique circular building at the top is home to an 8,000 sq. ft. museum featuring interactive cultural and natural history exhibits.
What are your favorite cheap things to do in Helen?