Perched at the foothills of the Blue Ridge Mountains, it's no wonder Helen offers visitors 10 amazing waterfalls to behold ranging from a 5-minute to 1-hour drive from downtown.
If you're an enthusiast of the great outdoors, Helen, Georgia, is the perfect vacation destination for nature lovers. This charming mountain town is surrounded by forests, state parks, lakes, rivers and waterfalls.
Most people who enjoy the outdoors can agree that there's something magnetic and mesmerizing about waterfalls. In fact, many people set out on road trips to hit as many waterfalls in one area as possible when they travel to a new place. Whether you're a waterfall chaser or simply someone who enjoys natural beauty when you travel, we've got a great list of waterfalls near Helen that you need to consider during your next trip to the Bavarian town.
Related: Where to Find the Best Wineries Near Helen
TOP 10 WATERFALLS TO VISIT NEAR HELEN
To help you decide which waterfall hikes fit into your itinerary, we've listed them from closest to farthest. And wouldn't you know it, but the farthest falls, clocking in at a one-hour drive from Helen, also happens to be the highest falls in Georgia.
Dukes Creek Falls
Just a 10-minute drive west of downtown Helen, Dukes Creek Falls is just around the corner from Smithgall Woods State Park. The wide mostly gravel switchback path down to the falls accommodates lots of visitors to this popular waterfall. If you visit after a recent rain, you'll glimpse a raging 150-foot waterfall at the bottom of the gorge.
Because of the short length and ease of the hike to the falls, it's great for kids and dogs. And if your kids are itching to get wet during warmer months, there are a couple spots for them to hop over the wooden walkway and dip in the water at the base of the falls. Just remember that the return to the trailhead is a mile uphill–so pack your snacks and anything else you can use to entice them to finish strong.
Raven Cliff Falls
Raven Cliff Falls is a unique waterfall hike that parallels the Dodd creek throughout most of the trail. You'll crossover the creek using logs and wooden bridges while witnessing several decent-sized waterfall rapids along the out-and-back hike to the cliffs. The length of this hike and the amount of roots you have to step over crosses it off of our kid-friendly list, but it's a great hike for adventurous adults (or teens) with limited elevation change, most of which occurs climbing up the rocks to glimpse the waterfall between two towering cliffs.
Anna Ruby Falls
5.7 miles from downtown Helen
3455 Anna Ruby Falls Rd., Helen, GA
154-foot falls
$5 per person 16 years and older
Nearby places to visit: Unicoi State Park, downtown Helen
To access Anna Ruby Falls, you must drive through Unicoi State Park. But don't worry, if you're just seeing the falls, you can skip paying the $5 state park fee and head straight to the parking lot below the falls' visitors center.
Hikers can take the paved out-and-back path through the base of Tray Mountain to the viewing platforms of the twin waterfalls. The water cascading over the drop offs is created by two creeks: Curtis Creek falls and York Creek falls. The water conjoining at the bottom of the falls becomes part of Smith Creek, which flows into and forms Smith Lake (also known as Unicoi Lake) the centerpiece of Unicoi State Park.
High Shoals Falls and Blue Hole Falls
12.4 miles from downtown Helen
1333 Indian Grave Gap Rd, Hiawassee, GA 30546
50-foot falls
No

parking

fee
Nearby places to visit: Bell Mountain, Brasstown Bald
The road that leads to High Shoals Falls trail leaves you with two options: drive through a small creek in your vehicle or park before the creek and add an extra mile of hiking each way. Visitors to the falls have used both options and report that it is worth the sight of the magnificent falls either way.
On the slightly downhill hike that includes lots of water crossings and views along the way, you'll first come across the smaller 30-foot Blue Hole Falls, which offers a great swimming hole during warmer months. Farther along on the trail, the hike ends at the stunning 50-foot drop of High Shoals Falls, which has two areas for viewing the falls.
Desoto Falls
DeSoto Falls Trail is a heavily trafficked out-and-back trail that features the reward of a scenic waterfall at the halfway and is good for all skill levels (even toddlers). You can bring your leashed dog on this trail and even enjoy one of the dozen picnic tables near the trailhead. Parking is $5 (cash only) per car and there are bathrooms next to the parking lot.
The Desoto Falls Trail offers an Upper Falls hike, which is 1.9 miles, as well as a 1/4 mile hike to the Lower Falls that you can add on if you're feeling ambitious. Much of the Upper Falls hike parallels the scenic Frogtown Creek. In warmer months, there are plenty of places for your kids to dip their toes in the creek.
Hemlock Falls
Only a few hundred yards down the road from Moccasin Creek State Park, you'll find the road to Hemlock Falls trailhead. There is a small area for parking at the trailhead, or you can pay $5 to park inside the state park and add and extra mile to your hike both ways.
The trail to the falls has minimal elevation changes since it follows an old railroad bed, but wear your sturdy shoes, as the path does have its share of rocks, roots and water that crosses over the path. About a mile down the trail, you'll cross the river using a wooden bridge crosses the river before glimpsing Hemlock Falls with its great waterhole.
Trahlyta Falls
21 miles from downtown Helen
405 Vogel State Park Rd, Blairsville, GA 30512
50-foot falls

$5 daily parking pass or use your Georgia State Park Pass

Nearby places to visit: Desoto Falls, Helton Creek Falls
Located within Vogel State Park, Lake Trahlyta Trail is a 1-mile lake loop trail that is relatively flat until you descend to Trahlyta Falls. It's one of our favorite waterfalls near Helen for young kids since they can tackle the trail by themselves. Get an up-close look at the cascading water from the viewing deck toward the bottom of the falls, which can even spray water on spectators on a windy day.
Helton Creek Falls
16 miles from downtown Helen
Off Hatchet Creek Rd/Helton Creek Rd in Blairsville GA 30512
70-foot falls

No parking fee

Nearby places to visit: Vogel State Park, Lake Winfield Scott
A two-mile windy gravel road leads to the trailhead for the falls, but once you make it that far, the short hike to Helton Creek Falls is a great option for kids and it's dog-friendly, too. The easy, scenic trail leads you to a 30-foot lower falls before the 70-upper falls. Enjoy the large swimming hole at the upper falls during warmer months.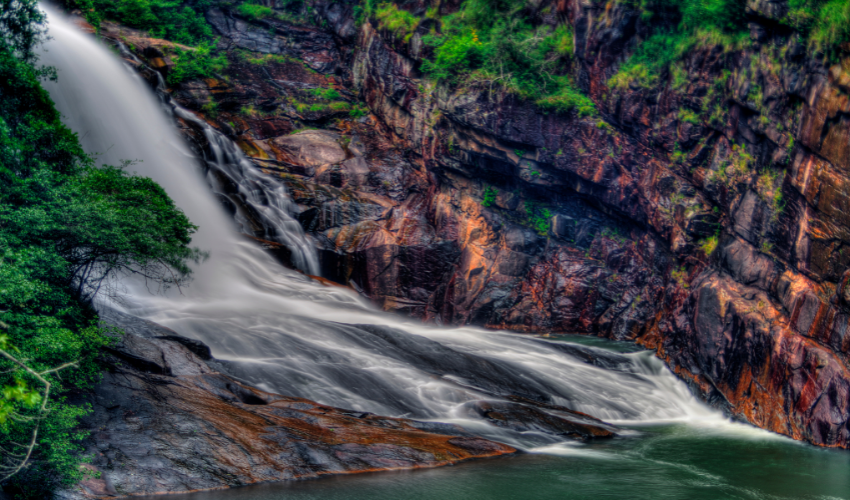 Tallulah Falls
27 miles from downtown Helen
338 Jane Hurt Yarn Rd, Tallulah Falls, GA 30573
varied falls heights
1.8-mile trails and more, moderate and hard
$5 daily parking pass or use your Georgia State Park Pass
Nearby places to visit: Goats on the Roof, Lake Rabun
One of the most spectacular canyons in the eastern U.S., Tallulah Gorge is two miles long and nearly 1,000 feet deep. Though Tallulah Gorge State Park offers several amazing hiking trails that give you unique glimpses into the gorge, we recommend the moderate 1.8-mile North and South Rim Loop Trail or the moderate 2.5-mile loop to Cascade Falls (pictured above).
Five spectacular waterfalls cascade through Tallulah Gorge: L'Eau d'Or, Tempesta, Hurricane, Oceana and Bridal Veil (Sliding Rock)—and all but Bridal Veil are visible from rim overlooks. A suspension bridge sways 80 feet above the rocky bottom, providing spectacular views of the river and waterfalls.
Amicalola Falls
42 miles from downtown Helen
418 Amicalola Falls State Park Rd, Dawsonville, GA 30534
729-foot falls
$5 daily parking pass or use your Georgia State Park Pass
Nearby places to visit: Edge of the World Trail, Burt's Pumpkin Farm
Likely Georgia's most popular waterfall and definitely its tallest, Amicalola Falls is an hour from downtown Helen, but well worth the scenic drive. Hike the 604 steps to the top of the falls or park at the lot in the middle of the falls for a less strenuous walk to the bridge overlooking the falls.
More Fun Adventures Near Helen
What is one of your favorite waterfalls near Helen?