If you're traveling to Helen this summer, here's everything you need to know about tubing or shooting the Hooch through this Bavarian town.
More than three million people visit Helen each year—and many of those visitors choose the rite of passage of shooting the Hooch between Memorial Day and Labor Day.
Tubing in Helen is one of the top tourist activities in the summer and it's even popular for locals. Not only is tubing family-friendly, but it's also budget-friendly. It's a great way to cool off and relax while soaking up the great outdoors.
On any given summer day, you'll see both tourists and locals parade down the river on brightly colored tubes. It's typically a battle of green vs. pink tubes, which represent the two tubing companies in Helen: Cool River Tubing (green) and Helen Tubing & Waterpark (pink). The river is full of an abundance of both colors, along with blue and yellow tubes, which indicate tubes with bottoms in them. (Don't be fooled; you will still get wet in a tube with a bottom!)
It's true that no Georgia mountain summer vacation is complete until you shoot the Hooch, so grab your bathing suit and towel and find out everything you need to know about tubing in Helen.
EVERYTHING YOU NEED TO KNOW ABOUT TUBING IN HELEN
Helen Tubing Options
Unless you are bringing your own tube and know the river well, your two tubing options in Helen are Cool River Tubing or Helen Tubing & Waterpark. They are located within 500 feet of each other less than a 5 minute walk from Main Street toward the Chattahoochee River to the north.
Whether you choose to tube with Cool River Tubing or Helen Tubing & Waterpark, everyone must sign a waiver. Adults must sign for anyone under 18 years old—and it's important to note that tubers must be 3 years and older to participate. You can download a waiver and bring it signed or sign it in person at each tubing location. (Cool River Tubing waiver | Helen Tubing waiver)
Traditionally, both tubing companies are open daily from Memorial Day to Labor Day, but call if you're interested in coming before or after these dates, as sometimes the companies open on weekends only before and after these holidays if the weather cooperates.
Both Cool River Tubing and Helen Tubing open at 9 a.m., so if you're tubing on a summer weekend, it's a good idea to get there early to beat the crowds and lessen the wait for the shuttle bus. Free parking is available at both locations.
Non-holiday weekday tubing is $12 per tube at both companies, while weekend and holiday tubing is $16 per tube. You can take advantage of a discounted group rate for each, which requires 20 or more people.
Both tubing companies offer picnic tables and pavilions for its guests, which are available first-come, first-served, but a nice touch for your to enjoy your lunch before or after your tubing adventure.
Related: What You Need to Know to Plan a Trip to Helen—18 FAQs Answered
Tubing Company Differences
Since both Cool River Tubing and Helen Tubing have thousands of raving reviews, how do you know which company to choose? There are subtle differences between each that may help you decide.
The biggest differentiator between the two tubing companies is the ride lengths. While both companies offer longer tubing rides, which last 2 to 2.5 hours, Cool River Tubing offers a short ride that takes 1 to 1.5 hours if you are short on time.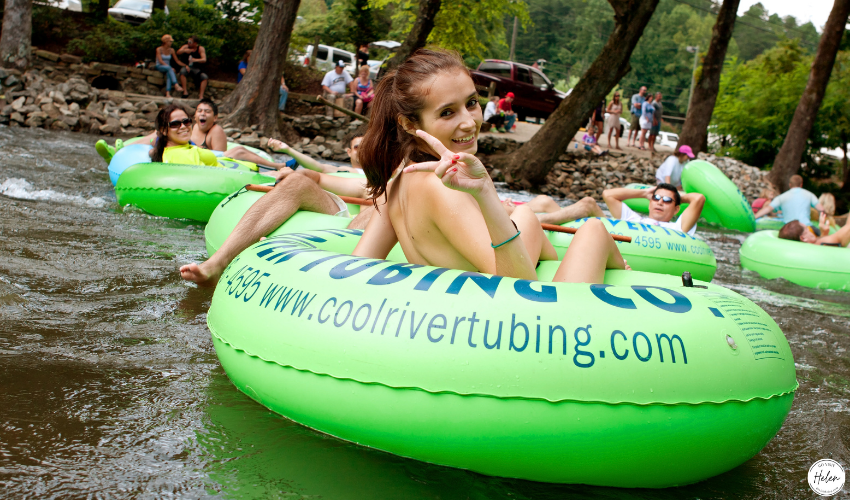 Also, Cool River Tubing offers a $5 waterslide upgrade to its tubing experience for tubers at least 42 inches. If you purchase a waterslide ticket, you'll get out of the river at Alpine Crest Resort midway through your tubing adventure to enjoy the pair of waterslides as many times as you want. Note that there is a lifeguard on duty.
After your tubing trip with Helen Tubing, be sure to check out nearby Helen Waterpark, which features the area's largest water slide, a 1000-foot lazy river, a 25-foot rock wall, children's area and more.
Rules of the River
The 430-mile Chattahoochee River starts as a spring just north of Helen in the Blue Ridge Mountains and flows all the way to Gulf of Mexico. Because Helen is near the headwaters, the water is cool (usually between 55 and 65 degrees) and clean, which means you won't have to worry about trouble with E.coli.
The portion of the Chattahoochee River that flows through Helen is relatively calm, slow moving and shallow, making it the perfect location for inner tubes to peacefully float through town. Most of the river is ankle to knee-deep, but some sections may be over a child's head.
The rapids in Helen aren't classed—and only a few swimming holes have water deeper than 5 feet. Anyone who can't swim should wear one of the provided life-jackets, and all kids age 12 and under are required to take a life-jacket.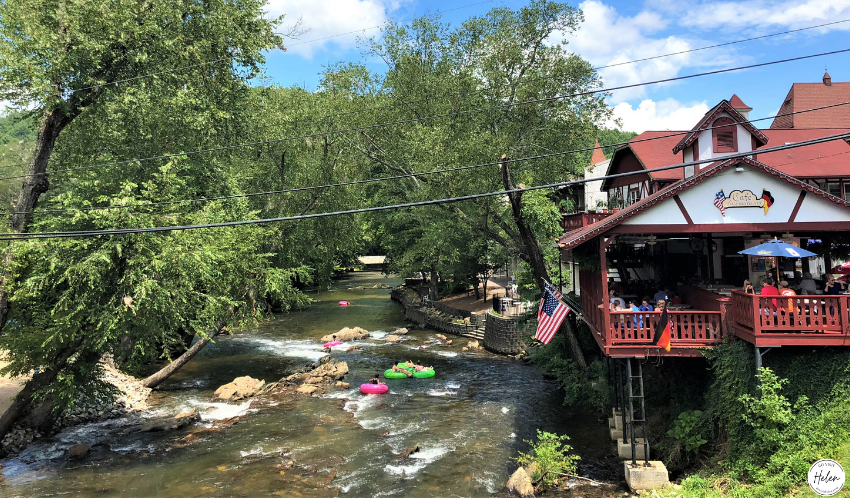 Though tubing in Helen isn't considered strenuous, if there hasn't been many summer rains, tubing may require a bit more work. The lower the water level of the river, the more work required to tube.
Before you buy your tubing tickets, ask about low water levels. If it's low and you're game for a slower ride down the river, use a push off stick to help you get unstuck from the rocks. Each tubing companies sell them for about $5 each.
Be sure to use the restrooms in at your chosen tubing company before entering the river, as there is nowhere to exit the river until the end. Remember that property along the river is private property.
What to Wear Tubing in Helen
Though some people decide last-minute to shoot the Hooch while they're in Helen, it's best if you can plan ahead so you aren't wearing street clothes.
Even if the river is low and even if you choose a tube with a bottom in it, be prepared to get wet. It's best to wear quick-drying clothes such as a bathing suit—and if you want extra coverage or protection from the sun, wear a dri-fit shirt with fast-drying shorts.
While many people prefer flip flops in the summer, these are not the best choice for the Chattahoochee River. Not only are flip flops hard to keep on when navigating the rocky bottom of the river, they are a large contributor to river pollution.
Ideally, you should wear securely fitting shoes with backs on them. Water shoes, aqua socks, hiking sandals (such as Keen, Chaco or Teva) or even old tennis shoes work great.
By the time you exit the river, you'll be wet and in need of a towel. You can leave it in your car and dry off after your tubing is over or you can rent a locker for a couple bucks. Both Cool River Tubing and Helen Tubing offer restrooms and changing rooms for their customers.
Related: The Best Cheap Things to Do in Helen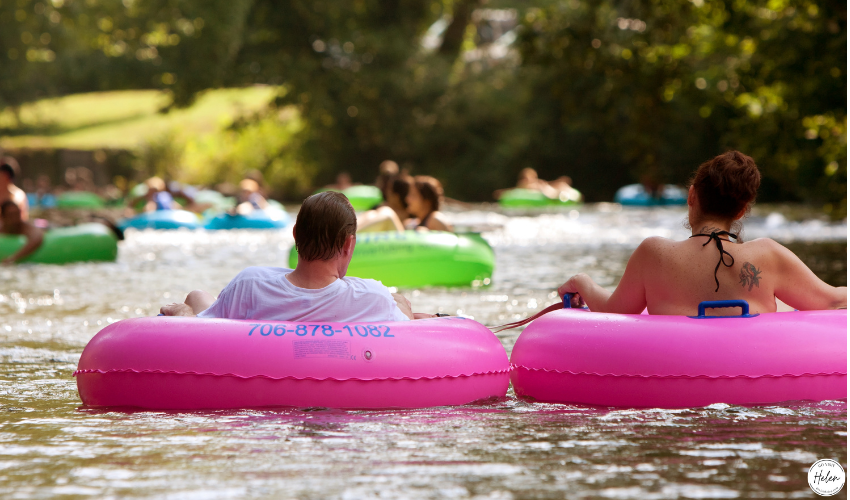 What NOT to Bring Tubing
One of the most important pieces of advice while tubing is what NOT to bring with you. Do not take your keys in the river with you or you'll likely be calling a locksmith after you shoot the Hooch. Instead, you can rent a locker for a nominal fee or both tubing companies will hold car keys for you for free with a photo ID.
You also cannot bring a cooler with you while you tube through Helen. You are allowed one plastic water bottle, but it may not contain alcohol. It is illegal to tube with alcohol within Helen city limits.
Another item you don't have to worry about bringing is tie straps, in case you want to tie your tube to someone else. Both Helen Tubing and Cool River Tubing provide tie straps for your tubing experience, though they advise against tying more than two tubes together.
What to Bring Tubing in Helen
Though many tubing experiences only last from 1 to 3 hours, most people want to take their cell phones along for the journey. And that's ok if you have a waterproof case for your phone. If you forgot your waterproof case, you can purchase one last minute from either tubing company before you hop on the shuttle. And in case you're interested, they also sell waterproof cameras.
Though some of the Chattahoochee River is shaded thanks to tree cover, much of it is still in the open. This means the summer sun will be blazing as you're floating down the river, even if you don't feel that hot because the water temperature is so cool. So be sure to apply your water-resistant sunscreen before you buy your tubing tickets. And in the dead of summer, hats and cheap polarized sunglasses that you don't mind losing in the river are also great ideas.
Depending on the water level of the Chattahoochee River, you may need a push off stick. This pole does exactly what the name states: it helps you push off rocks in the more shallow areas of the river without having to get out of your tube. Both tubing companies sell push off sticks for about $5, so you can decide at the last minute if the water level is low enough to warrant one.
If you're tubing with kids, keep in mind that all kids ages 13 and under must have a life jacket. Georgia law requires that all children under 13 years of age wear a US Coast Guard–approved personal floatation device while on board any moving vessel—tubes included.
While this rule may seem a bit extreme for kids who are good swimmers, there are short pockets of the river that can get as deep as 5 feet. You can bring your own approved life jacket for your child or choose one from either tubing company.
Though they aren't a requirement, you can absolutely bring your pets along to shoot the Hooch. They will require a tube, which is the same price as an adult tube, but dog people love having their furry friends strapped to a tube beside them. Just be sure to bring along a towel for the base of your dog's tube so that its paws don't puncture the tube.
Tubing Weather in Helen
In summer months, temperatures in Helen reach the high 80s (which may feel like the 90s) during day, making for the perfect tubing weather. But keep in mind that summer is also the rainiest season in Helen.
Related: The Best Rainy Day Activities in Helen
The wet season in Helen lasts more than three months, spanning from Memorial Day to after Labor Day. During this time, there is a more than a 34% chance of rain on any given day. The chance of wet weather peaks at 51% in late July. Thankfully, summer rains are typically short-lived and tubing companies are open for shooting the Hooch rain or shine.
Tubing does close during thunder and lightning, of course. If you find yourself on the river during a sudden storm, get out and wait at the nearest road. Company buses will follow the route of the river and come to pick you up.
Add Tubing to Your Summer Bucket List
Whether you've booked a summer vacation in Helen or are driving up from the Atlanta area for a day trip, shooting the Hooch should top the list as one of your fun seasonal activities.
What is your favorite part about tubing in Helen?