If you're looking for the best coffee in Helen, try out one of these delicious coffee shops for a cup of fresh-brewed joe.
If you're like most adults, coffee is a daily staple that is critical to your attitude and clarity of thought. Americans drink roughly 400 million cups of coffee every day, so it's no wonder most towns have a coffee shop on nearly every corner.
Helen is no exception. With two coffee shops downtown and a few more nearby, visitor's to the Bavarian town can get their fill of the caffeinated stuff from several reputable shops.
Though 35% of coffee drinkers consume their coffee black, there's hope for the rest of us who like a little pizzazz to our coffee—especially when we're in vacation mode. So check out these delicious coffee shops near Helen, ranging from basic fresh-brewed joe to flavored blends to frozen coffee treats. You're sure to find just the cup of joe you're looking for—and maybe even try something new that surprises your tastebuds.
5 AMAZING COFFEE SHOPS NEAR HELEN
Yonah Coffee Company
As you walk through downtown Helen, you'll likely be lured to Yonah Coffee Company as your senses perk up to the smell of delicious coffee. Once you walk through the doors, don't let the small space fool you. Yonah Coffee Company packs a big punch with its fresh coffee and tasty breakfast sandwiches.
Try a signature brew, such as The Yonah (raspberry and white chocolate), Sleepy Bear (dark chocolate, vanilla and honey) or Iced Cowboy (espresso mixed with cream, vanilla and shaken on the rocks).
Take your coffee to go as you meander through downtown Helen or take a seat at the window bar, which offers the perfect opportunity for people watching.
Related: Best Wineries to Visit Near Helen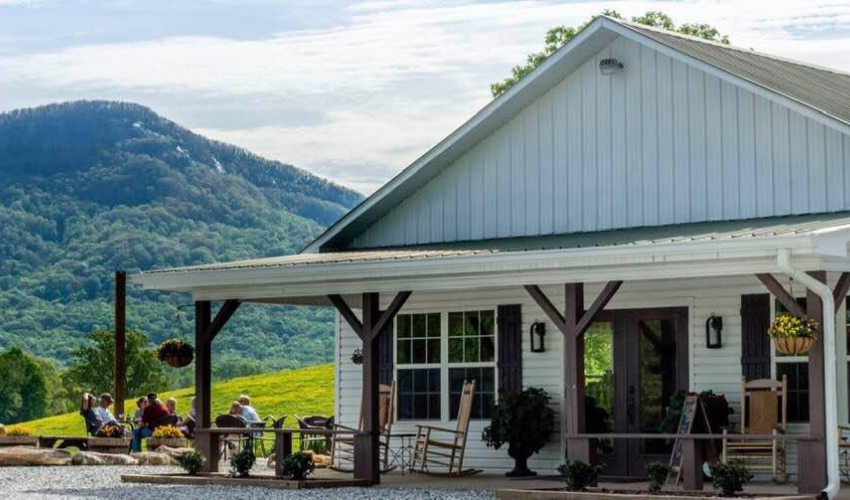 JumpinGoat Coffee Roasters
JumpinGoat Coffee Roasters began in 2008 and is known for its complex, rich coffee without any bitterness. The company boasts a retail store with a couple fresh coffee options located next door to Nora Mill Granary, less than a mile south of downtown Helen. It's the perfect place to buy roasted beans and specialty teas to take home with you after your trip to Helen.
But if you have the time to drive 5 miles south to the JumpinGoat Tasting Room in Cleveland, you're in for a real treat. After driving up a small hill, you'll be greeted by a quaint country shop with rocking chairs out front. Order a coffee of your liking from one of the baristas, then enjoy it outside while soaking in the view of the gorgeous North Georgia mountains. Also, enjoy live music on the weekends and even bring your dog to run around inside the fenced-in dog park
JumpinGoat offers 33 different coffee selections, as well as wine and mead tastings at its Cleveland location.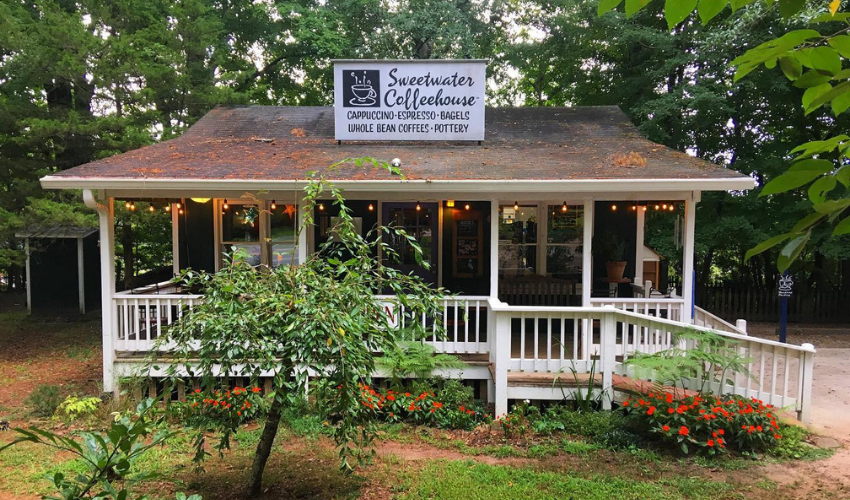 Sweetwater Coffee House
Founded in 1995, Sweetwater Coffee House is best know for serving organic, fair trade, shade grown coffee. Its shop is located in nearby Sautee Nachoochee, just a 5-minute drive southeast of Helen.
You know you've found a great coffee shop when it is frequented by both visitors and locals alike. Sweetwater owners are also local potters and the shop sells many unique pottery items by local artists.
The quaint atmosphere is the perfect place to cozy up with a cup of fresh coffee. But if the weather is great, Sweetwater also offers ample outdoor seating.
The Mason Jar Coffee and Gelato
The Mason Jar Shoppe recently launched its sister shop next door aptly named The Mason Jar Coffee and Gelato. Coming into town, the shop is located on Main Street just before you cross the bridge over the Chattahoochee River. Grab a delicious gelato during the summer or a hot specialty coffee in the winter. Or mix the two with amazing frozen drinks such as a Pumpkin Spice Frappe or a Salted Caramel Affogato.
The shop also sells bags of beans and an assortment of unique coffee mugs, including those from local artists.
Farmhouse Coffee
Farmhouse Coffee is a new business situated on the square of nearby Cleveland. At just a 15-minute drive south of Helen, many visitors to the area pass by the coffee shop on their way out of town.
Despite the small, shot-gun type retail space for Farmhouse Coffee, the owner-operator personalities are larger than life. Often, you'll see lines of people waiting out the door for a unique cup of their fresh-brewed coffee, coming out the door with seasonal favorites such as pumpkin pie lattes and s'mores lattes. Take your coffee to go or enjoy it outside perched on seating around the square.
What is your favorite coffee shop in Helen?