If you're looking for ways to keep your kids moving and entertained, check out this list of the 10 best outdoor summer toys for kids.
Considering that it felt like summer started in March (thank you Coronavirus!), I feel like I have a pretty good grasp of my kids' favorite outdoor toys. Not only do my big three kids (ages 8, 6 and 5) play with the 10 summer toys on this list often, they also fight over these toys far too often.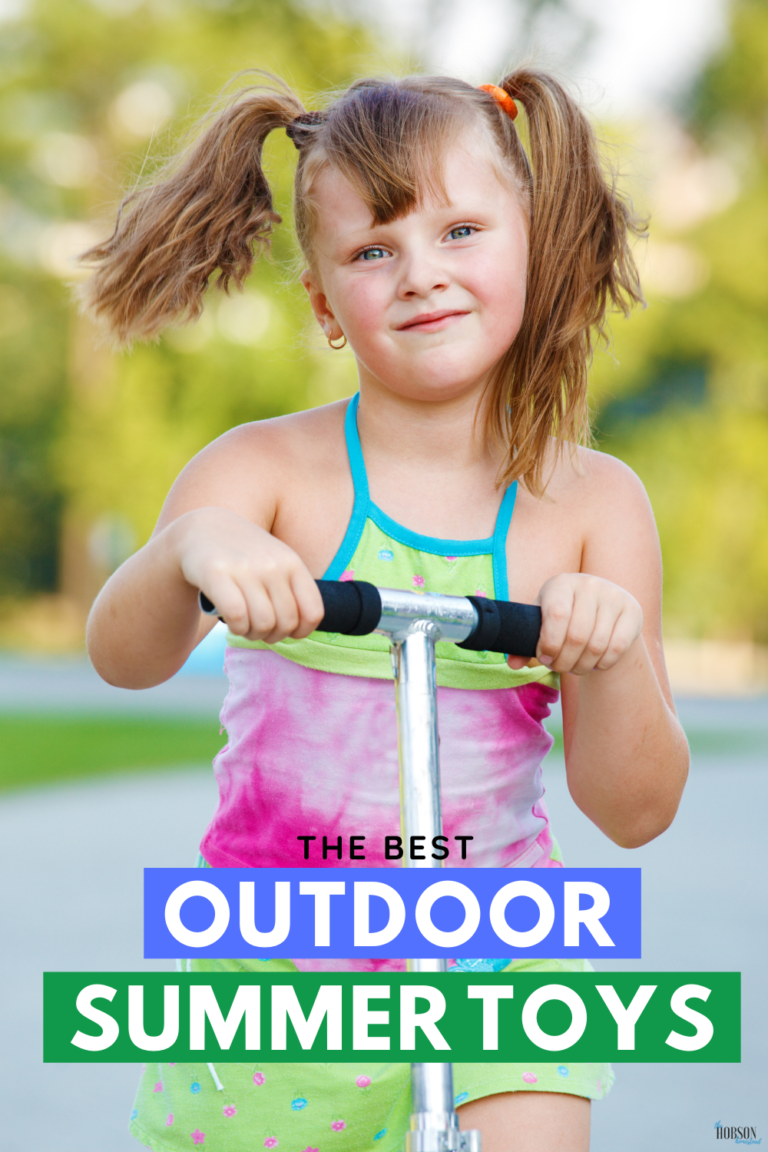 We have really curbed any buying or requests for indoor toys for our kids. They tend to break indoor toys more often and those toys rarely hold their attention for very long. Whether we're being active as a family or simply playing in the yard, my kids tend to thrive outside.
Related: How to Stay Active Outdoors While Social Distancing
With that being said, I do whatever I can to encourage them to play outside. Over the past few years, we have accumulated the following outdoor toys, which are items my kids play with nearly every day in the summer. So if you're looking for ways to keep your kids moving and entertained, check out this list of our 10 favorite outdoor summer toys.
Disc Tree Swing: We've had this swing for three years, and not only do they swing the normal way on it. They raise the rope and swing holding on the disc with their hands. The ground below the tree that holds this swing used to have grass, but this swing is used so much it's now only dirt. That says just how much usage this swing gets. It is also the toy they fight over most often.
Kickballs: The great thing about these kickballs, besides the mesh bag they're contained in, is that all my kids can get a ball. We've played kickball so often with these balls–and dodgeball as well.
Sturdy Bucket: Give your kids an empty bucket and they will find many ways to use it. From water to dirt to worms, you will never see the bucket empty.
Sidewalk Chalk: My daughter loves drawing with sidewalk chalk, creating rainbows and pretty scenes. My boys enjoy coloring with it for a while, but their most favorite use of chalk is shaving it, wetting it and creating a colorful paste they can paint on rocks in the yard.
Rapid-Fill Water Balloons: These are a lifesaver! We do one bunch at a time and typically have them separated out for each kid so that they get equal amounts. Then we pick up all the balloon pieces and do it all over again. Great fun for a hot summer day.
Mini Shovel: Little landscapers need mini shovels in their lives. Your yard may not look it's best by the end of the summer, but you can bet your kids will have used their imaginations to dig and create daily. This pairs best with the sturdy bucket mentioned above. It's amazing how long a shovel and bucket will entertain kids!
Razor Trike: We have owned this trike for 5 years and counting and it is still going strong! It's still a kid favorite and any child who comes to play typically goes straight for this trike. My big three kids ride it with ease, and though my toddler is too small for it, he will sit behind one of the kids so that he can enjoy the ride.
Razor Scooter: We have had this scooter for nearly 4 years, and it has held up even among the roughest play. My big boys have perfected their balance on it and can fly around the driveway and cut the sharpest turns with this scooter. And the great thing is it takes up much less space in your car than a bike or a trike.
Power Wheels: My husband bought our first Power Wheels car when my oldest was 18 months—7 years ago. Our original one was a four wheeler model, which to this day still works and my youngest (22 months) has finally mastered. My kids still love these Power Wheels cars and have ridden on several varieties with friends and family.
Saucer Tree Swing: Tree swings are simply a sign of a great childhood. Thankfully, none of my kids seem to have inherited my motion sickness, because they can swing and spin circles on this saucer tree swing without any issues. It weathers well and is very durable, even when all four kids are in it at once!
What are your kids' go-to summer toys?
Best Outdoor Gifts for Kids