Find out 10 tips for surviving long car trips while pregnant in your third trimester so that you can actually enjoy your vacation.
School is out and summer break has officially begun. So you can bet many families are counting down the days until vacation. But if you're pregnant in your third trimester, you may be wondering how you're going to travel from point A to point B without adding more aches and pains to an already-taxed body.
I successfully made two long car trips (6 and 8 hours) in my third trimester in the summer! Check out my tips for making a long car trip while pregnant more bearable so you can enjoy your vacation.
Related: 20 Baby Must-Haves (Just the Basics)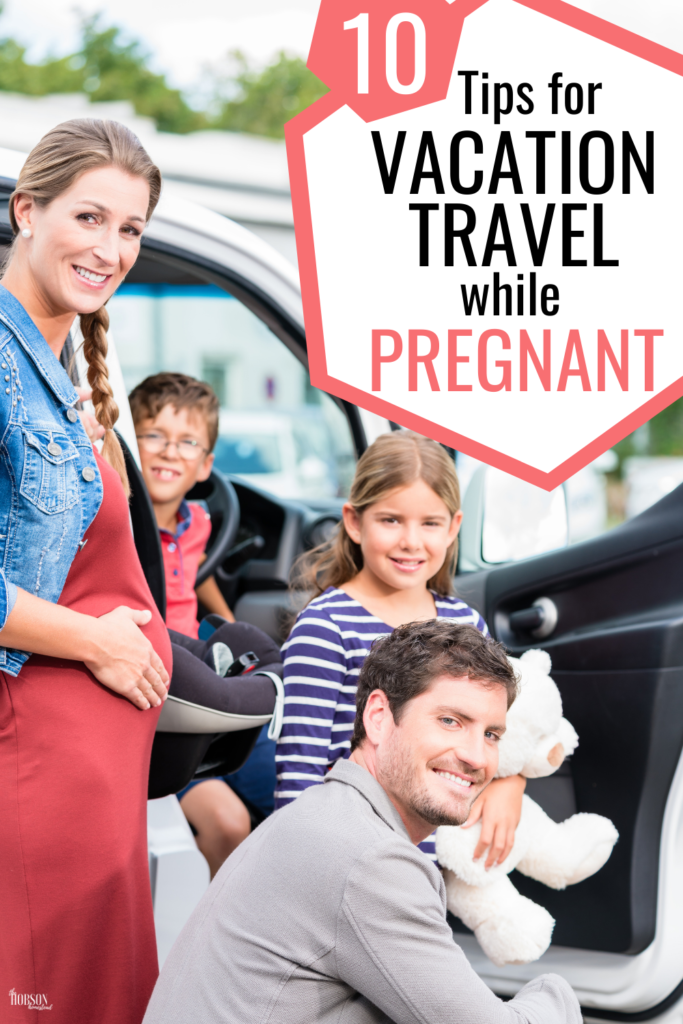 10 TIPS TO SURVIVE LONG CAR TRIPS WHILE PREGNANT
1. Wear stretchy comfortable clothes.
It's always fun to show up at your vacation destination in cute beachy clothes. But if you're pregnant, stretchy comfortable clothes are your best friend. The last thing you need is something too tight cutting into your belly.
2. Bring car activities for your kids.
Whether you're driving or in the passenger's seat on a long car trip, it's a great idea to bring activities that your kids can do in their seats or carseats. For my kids who are still in carseats, I packed small toy figurines, books and crafts (gel pens, coloring books and stickers worked great). Another option is travel games. I grew up playing these kinds of games with my siblings when we traveled in my grandparents' motorhome.
3. Save the kids movie until you really need it.
Another great way to entertain kids on a car trip is by letting them watch a movie. But the key is to wait as long as possible before you resort to a DVD player. For this recent beach trip, I was able to hold off playing a kid's movie until after we stopped for lunch. This made the last leg of the trip—as I was getting tired of driving—much easier.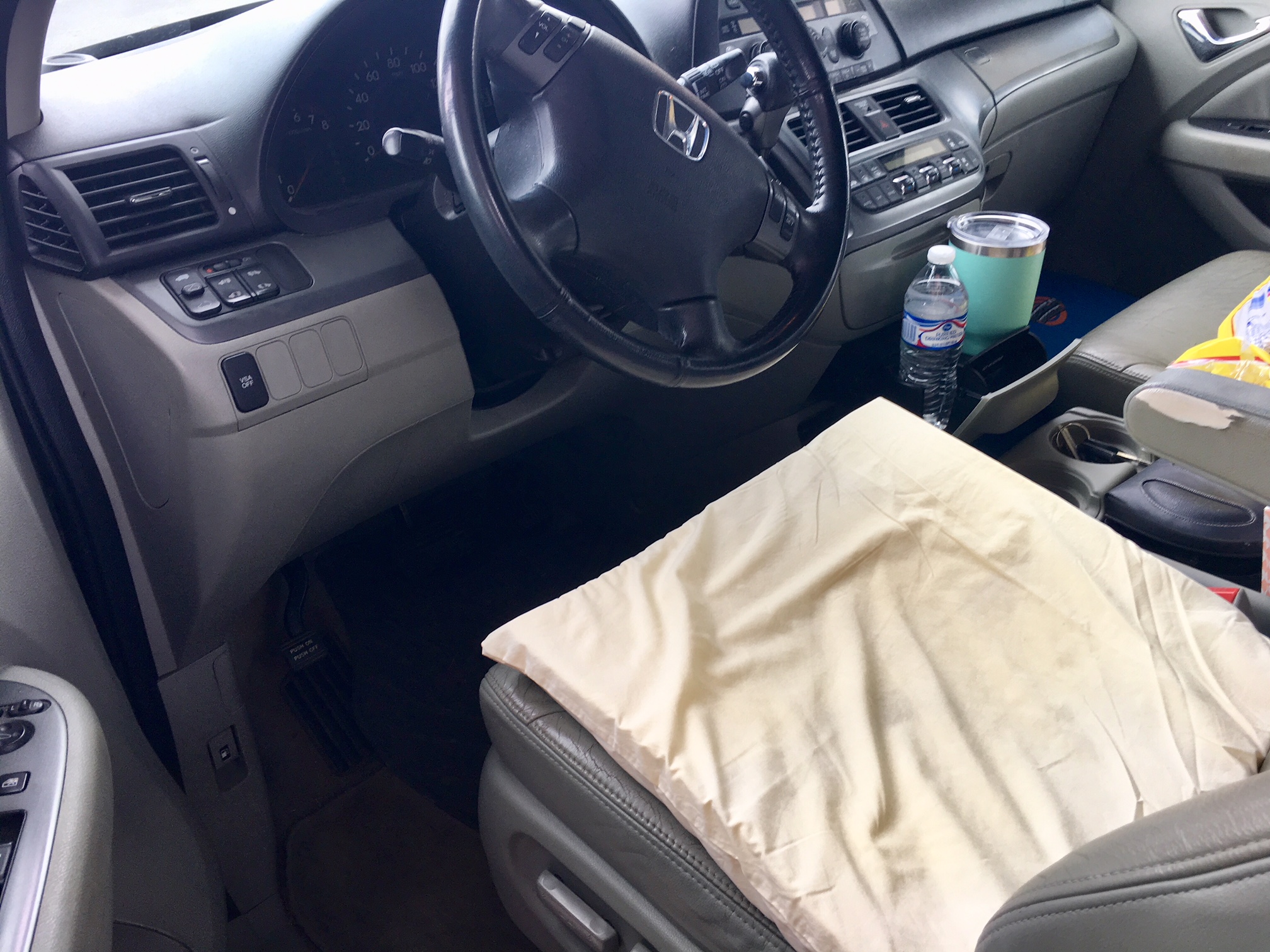 4. Use a foam pad and adjust seat.
I can't take credit for this idea, but my mom was adamant that I use a foam cushion for the car ride. lt seemed like more of a postpartum tip to me, but I'm glad I used it. My hips didn't hurt while driving, though admittedly they were stiff each time I stopped and got out of the car. But I do think the cushion helped to make the drive more comfortable. Additionally, though I sit up fairly straight driving when I'm not pregnant, I reclined my seat even farther for this drive. This helped to stretch out my core to give baby more room and ease that crammed up feeling I sometimes get.
5. Utilize cruise control.
As soon as you get into open road, be sure to switch your car to cruise control. This gives you a little more freedom with your legs and allows you to shift your body weight frequently to get comfortable.
6. Stay hydrated and stop often.
Normally, we try to stop as little as possible on the way to vacation so that we can hurry up and get there. Normally, I would limit drinking in the car so as to lessen restroom stop, but pregnancy is a game changer. Instead, I try to sip on water the whole trip to stay hydrated, especially as stuck in the car for hours. And stopping more often while pregnant is actually a great benefit so that you don't get too stiff, giving you and baby a chance to move your body and adjust.
7. Stretch frequently.
Since you're stopping more often anyway, be sure you stretch at each stop. This is great not only for a pregnant body, but also something fun your kids can jump in on so they don't get too antsy in their car seats. I even did some stretching in the car while driving to keep the blood flowing.
8. Give yourself plenty of time.
Since you are stopping more often, it's crucial that you give yourself enough time to get to your destination. No one wants to feel rushed on the road, especially when you're pregnant and it's in your best interest to stop more often. For us, what would be just over a 5-hour trip without stopping took us 6½ hours with our three stops.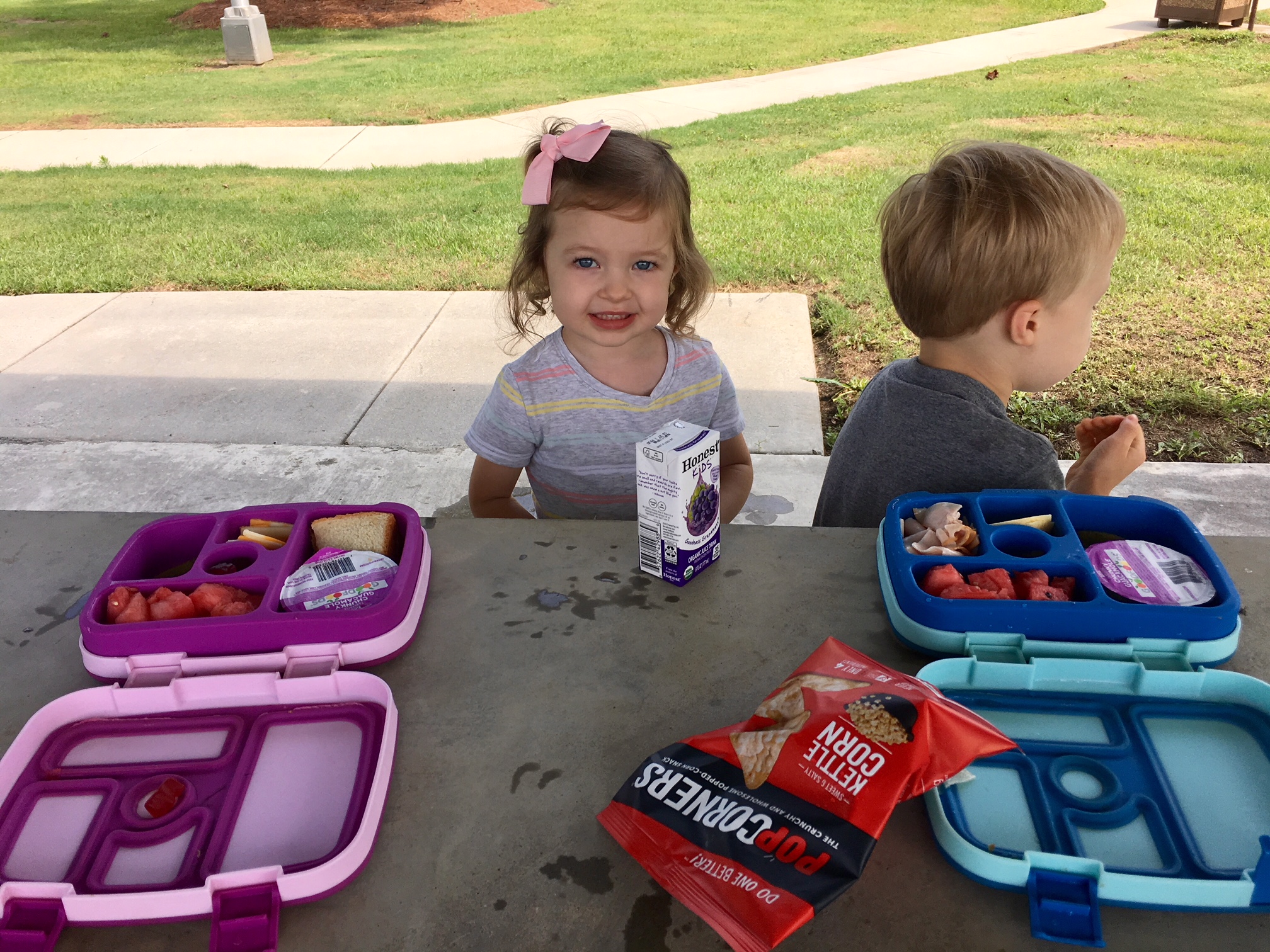 9. Bring a picnic lunch and stop at a rest stop.
One great way to ensure a good stretching session for you and any kids is to plan to eat lunch at a rest stop. I packed a lunch for us all in a small cooler. When we stopped, not only could my kids run around and expend energy, I could also do some stretching and I never sat down the thirty minutes we were stopped. I stood up to eat and tried to keep moving since I knew I had a couple more hours to go in the car.
10. See a chiropractor before and after your trip.
Because I knew that going on long car trips while pregnant would further exacerbate hip and pelvic issues, I scheduled visits with my chiropractor two days before and two days after our beach trips. Sometimes, the smallest adjustment can make a huge difference in how your body feels when pregnant.
Have you traveled while pregnant? What are your tips for going on car trips while pregnant?