PREGNANCY WEEK: 18
GENDER: The countdown begins. We find out in less than two weeks.
WEIGHT GAIN: 10 pounds. Vavoom! Hopefully I'm hiding it well. If not, please pretend 🙂
CRAVINGS: After the stomach virus that James caught then kindly passed on to me last weekend, typical pregnancy cravings are the last thing on my mind. In fact, I'm struggling to eat normal things without having aversions. Mid-week, I finally started to get my appetite back.
MATERNITY CLOTHES: I only went into the office one day this week, and I was able to wear normal work pants. I still fit into most of my workout clothes, though I'm not saying it looks pretty 🙂
I did purchase these shirts a week or so ago from CafePress.com, and can't wait to start wearing them.

SYMPTOMS: Definitely feeling movement, and Baby #2 made it obvious that he/she was not enjoying the stomach bug on Sunday night. Matter of fact, he/she was rebelling.
WORKOUTS: Good thing last week was such a great week for workouts, because this week definitely was not. I did squeeze in WODs last Friday and Saturday, including some light overhead squats.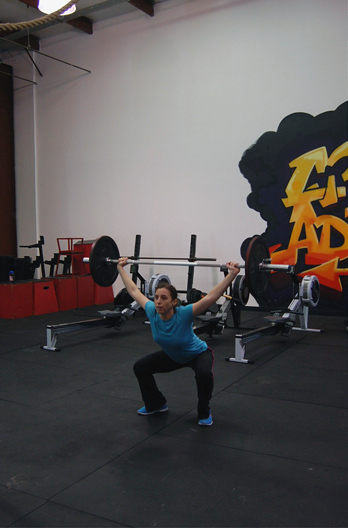 On Sunday, while James was recovering and I mistakenly thought I was in the clear, I met my sister at The River near my house for an hour walk with James Michael. The weather was absolutely beautiful, and it was so nice having some help with him, especially because he's not content being in the stroller the whole time. And when he's not in it, he prefers to run right toward the runners and bikers.
After the sickness rolled through, I made it into the gym on Wednesday before heading off to Florida.
2 rounds for time:
400 m run
40 tire flips (250 lb tire)
40 burpees
Tire flips weren't a problem for me, thankfully. It felt great to really push myself by doing 40 at a time. I did take about a 5 second breather after each 10 flips. Burpees definitely weren't easy. I can't simply flop myself on the floor any more because of the belly. It's much harder to slowly lower myself until my belly/chest touches, so my arms got a great workout.