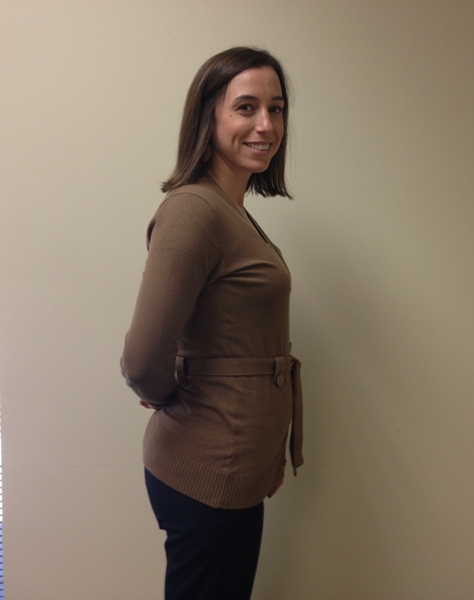 PREGNANCY WEEK: 19
GENDER: Next Tuesday is the day!
WEIGHT GAIN: 10 pounds as of 18 weeks.
CRAVINGS: Hmmm, nothing really of note. I made a huge batch of German Rouladen on Sunday and we had it for dinner several nights this past week. It was tasty, and probably more so because it was one less thing I had to prep on a weeknight.
MATERNITY CLOTHES: Nada. Belly bands are getting me by at work and my maternity clothes are still too big at this point. I have some cute summer/spring clothes, so I should be fitting into them perfectly by the time it's warm enough to wear them.
SYMPTOMS: After the stomach bug that took me hostage, I thought it would be smooth sailing for a while. But this past weekend, while I was visiting my sister in law in Florida, I had my first bout of sciatica. I woke up at 4 a.m. Saturday morning with my right thigh cramping, and had no idea what was going on. The cramps were super intense I tried taking a couple hot showers in the wee morning hoping they would provide some relief, but with no luck. I realized the pain really was radiating down from outside my glute. Ouch. From all appearances, I looked like I was in labor. Moaning and constantly moving to try to get into a better position, but nothing seemed to help. The pain was so intense that I cut my trip short and came back home on Saturday. By Sunday morning it eased up so that I was functional, but it came back on Monday. Luckily, I got in to see my chiro on Tuesday, and even though I've felt twinges of pain since then, it is nothing compared to what I felt Saturday. Hoping that my twice-monthly chiro visits will help to keep the sciatica away.
WORKOUTS: After the sciatica, I took it very easy this week, and my first workout of the week was yesterday. We did the first CrossFit Open WOD (13.1), and I was happy with my 125 reps, though if I did it again I think I could definitely make it through those final five 75-pound snatches.
13.1 WOD
As many reps as possible in 17 minutes:
40 Burpees
45 pound Snatch, 30 reps
30 Burpees
75 pound Snatch, 30 reps
20 Burpees
100 pound Snatch, 30 reps
10 burpees
120 pound Snatch, as many reps as possible
Today and tomorrow, I'll be back at the gym enjoying the warm weather, sunshine and WODs.