Helen offers the perfect summer trip for travelers—just be sure to pack the right items to ensure you have everything you need for visiting this Bavarian town at the foothills of the mountains.
We've all done it. We've left for a trip, but forgotten important items. Maybe we were in a rush to get out the door. Maybe our kids distracted us. Maybe we simply didn't think we'd need certain items.
But there's nothing worse than being away from home and realize you've forgotten an essential item. Not only is it an inconvenience, but you also have to take time out of exploring to find a replacement or workaround for that item.
Related: Why You Should Book a Summer Vacation in Helen
When it comes to traveling to Helen, which is located at the foothills of the Appalachian mountains, preparation is key to ensure you spend your time adventuring, eating and relaxing during your vacation.
Summer Weather in Helen
The weather is one of the first things to research before your trip to Helen. In summer months, you can expect temperatures to reach the high 80s (which may feel like the 90s) during day. These temperatures call for shorts, tanks and sandals. But be prepared, because the mountain air at night can get down to the low 60s, which makes layering crucial—especially for females.
The wet season in Helen lasts more than three months, spanning from Memorial Day to after Labor Day. During this time, there is a more than a 34% chance of rain on any given day. The chance of wet weather peaks at 51% in late July. Thankfully, summer rains are typically short-lived and shouldn't ruin your entire trip to Helen, especially if you are packed for rain. But it's good to know the tendencies of summer weather in Helen so you can prepare as much as possible.
Related: The Best Rainy Day Activities in Helen
Pack These Essentials for Summer in Helen
Instead of scrambling for items once you arrive in Helen, be sure to pack your suitcase with these essential items so you can focus on exploring the area during your vacation.
COMFORTABLE HIKING/WALKING SHOES. Unless you have a tried-and true pair of hiking boots, most amateur hikers can hit the trails with a sturdy sports shoe. Trail running shoes are a good option, as well as any shoe with a hard sole that will handle rocks and stumps well.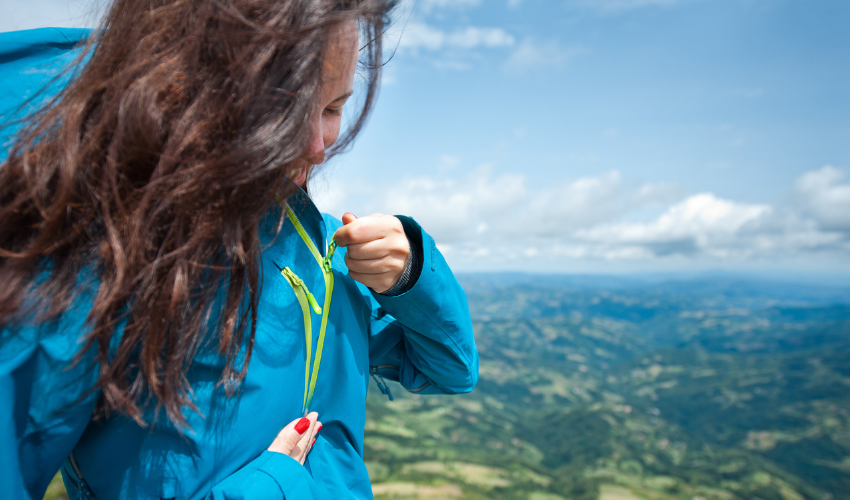 RAIN JACKET. Considering that summer is the wettest time in Helen, it's crucial to pack a light rain jacket for those pop-up summer storms that come in off the Appalachian Mountains. Check out these all-time favorite Columbia rain jackets for women, boys and girls that hold up well for years.
HAT OR VISOR. Whether you're playing golf at Innsbrook, meandering through downtown Helen or hiking a nearby summit, sun protection is crucial during summer months. Bring a hat or visor—better yet, both—for your vacation to North Georgia.
SUNGLASSES. In that same vein, also be sure to pack a pair of sunglasses. Even with the bill of a hat or visor, oftentimes, the sun's glare will reflect off the water and cause you to squint. It's not a bad idea to double up on sun protection by using sunglasses underneath a hat or visor.
SWIMSUIT AND SUNSCREEN. Even though Helen is located at the foothills of the mountains, the weather in Georgia makes it warm enough for water play all summer long. There are plenty of water activities available, from Cool River Tubing and Helen Waterpark & Tubing to several water options at the lake at Unicoi State Park. So pack your swimsuit and even consider a more athletic suit that will allow you to move around comfortably.
Related: Everything You Need to Know about Tubing in Helen
WATER SANDALS. Many of the water activities in Helen will require a water shoe, such as those made by Keen, Teva and Chaco—which include varieties for men, women and kids. You'll need watershoes to:
BUG SPRAY. Whether you're enjoying the attractions downtown or exploring the outdoors around Helen, you'll definitely need to pack some bug spray in the summer. Mosquitoes love the temperate summer weather near the mountains, so if you're prone to bites, be sure to stick mosquito repellent in your luggage.
LIGHT LAYERS. Because summer night temps can dip to the low 60s, it's smart to bring light layers for the coolest hours between sunset and sunrise. If you plan to hike or enjoy evenings outdoors, pack a lightweight jacket. If you're focusing on downtown activities such as dinners, drinks or carriage rides at night, bring a light cardigan or flowy summer pants.
WATER BOTTLE. Staying hydrated is essential during summer months, especially when you're exerting yourself doing outdoor activities such as hiking, golfing, mountain biking, paddling and more. Be sure to bring a leak-proof water bottle on your trip—and bonus points if it keeps your water cold for hours.
LIGHTWEIGHT BACKPACK. Whether you've planned on daily hikes, sightseeing around downtown Helen or day trips to nearby attractions, a lightweight backpack will come in handy in all occasions. Keep your hands free by packing essentials such as sunscreen, a hat, a water bottle, snacks and bug spray in this day bag.
Where to Pick Up Forgotten Items in Helen
As much as we all like to plan ahead, there's a good chance you may forget an essential item. And that's ok, because many of the shops in downtown Helen have you covered. If you forgot to pack some crucial items, you can find them here:
Go Visit Helen
Now that you know what essentials to pack for the perfect summer trip to Helen, it's time to book your vacation at a mountain cabin, downtown hotel or nearby Airbnb. Once you're booked, you can sit back and look forward to a trip to this outdoorsy Bavarian town.