If you're looking for hiking snacks in Helen, buy these delicious packable eats downtown before you head on your outdoor adventure.
Hiking is a favorite family activity for outdoor lovers. It's a great form of exercise for adults and the perfect way for kids to expend energy and enjoy the freedom to explore. Plus, being outdoors in nature grounds us all and gives us a fresh perspective and reprieve from everyday life.
But whether you're hiking a half-day moderate trail with a group of peers or taking your family on an easy scenic hike, snacks are clutch when it comes to fueling your body and keeping kids happy. Planning out snacks for hikes requires forethought and a little legwork, but your whole hiking crew will thank you when you start doling out the refreshments.
So pack your hiking backpack with some of these easy snack options—all of which you can purchase in downtown Helen—and set off on your next outdoor adventure. Not only are these snacks packable, but they provide the energy both kids and adults need on any hiking exploration.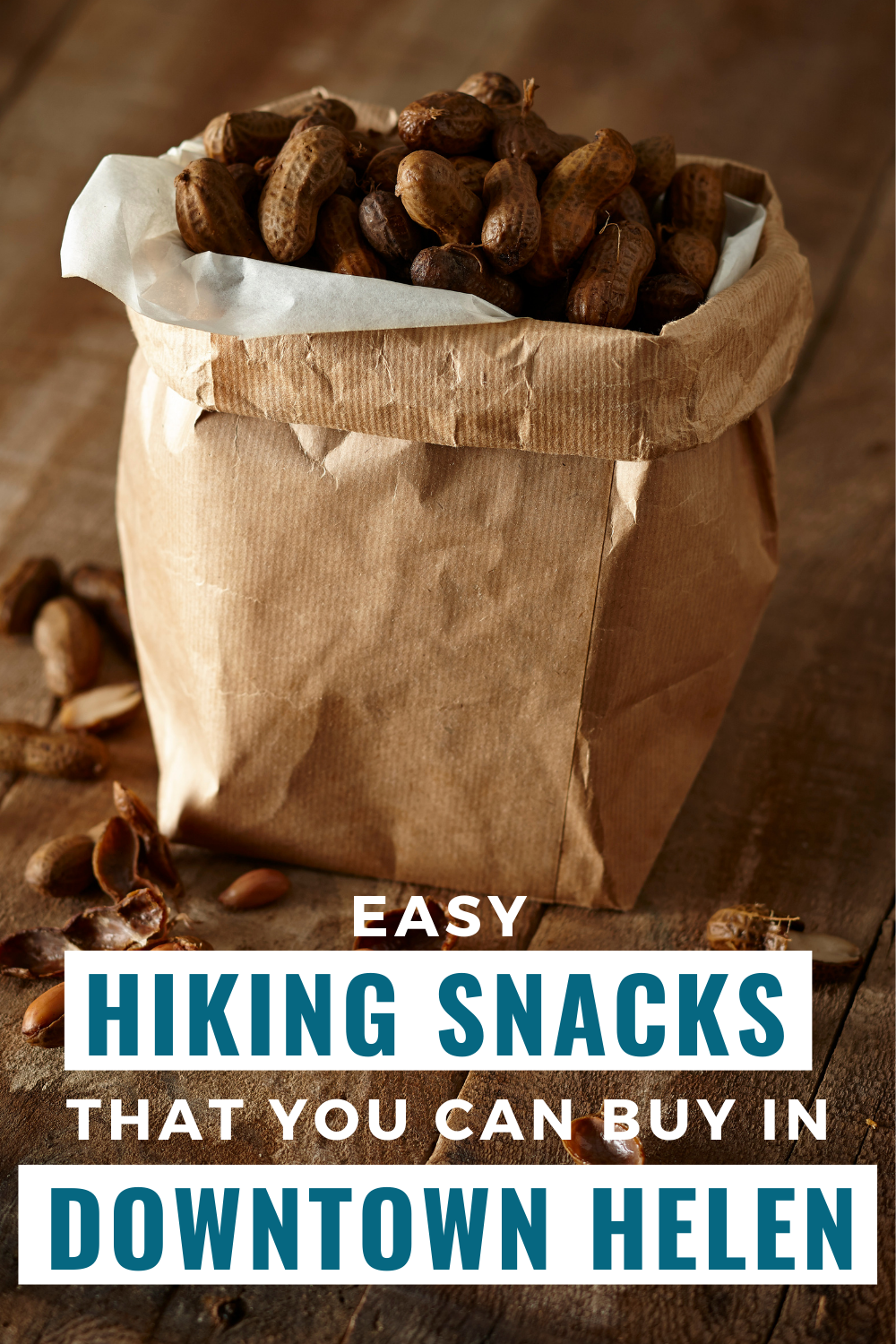 Best Hiking Snacks in Helen
Jerky or jerky sticks
Helen offers a couple stores downtown where you can purchase jerky before your hike. Stop by Jerky Snack Shack for everything from classic beef and cheese sticks to the more exotic kangaroo, camel and elk jerky. Nearby, House of Jerky also offers a wide selection of jerky, including gluten free, sugar free and vegan varieties.
Boiled peanuts
If you're looking for tasty satiating snack for your hike, grab a bag of boiled peanuts from Fred's Famous Peanuts, located just a mile north of downtown Helen. Try regular or Cajun boiled peanuts—or branch out with a version of fried peanuts.
Apples and easy-peel seedless mandarins
Apples and easy-peel citrus are the perfect packable snacks for hiking that you can throw in your hiking backpack at the last minute. They don't smoosh easily like bananas or berries, give you a boost of fructose energy and require no trash clean up. Grab fresh fruit for your hike from Betty's Country Store.
Gourmet popcorn
Don't settle for regular popcorn. Take the flavor up a notch with specialty popcorns from Christoff's Caramel Corn & Coffee. From spicy sweet to banana's foster to Bavarian chocolate, this shop has all sorts of gourmet popcorn flavors that make for easy hiking snacks.
Granola bars
Since Betty's Country Store has a bit of everything, you can stock up on last-minute granola bars including Kind Bars or Fig Bars—or higher protein options such as Cliff, Luna, Atkin's or Perfect Bars. These make for easy grab-and-go snacks for all ages. If you're driving north into Helen, you can also grab granola bars at Ingles Markets in Cleveland, less than 15 minutes south of downtown Helen.
Trail mix
If you didn't pack your own trail mix for your trip to Helen, you can stop by Betty's Country Store to grab a box of tasty trail mix to sustain you on your hike. Trail mix is portable, satiating and full of healthy protein and fats.
What Not to Pack
Though there are some great packable snack options for hiking, there are also some snacks that are not ideal for outdoor adventure. Consider what snacks can get smooshed, leak, spoil or be too heavy to carry in a hiking backpack—especially if you have kids.
Avoid packing bananas, berries or any soft fruit that can be smooshed and make a massive mess in your kids' hiking backpacks—especially in summertime when ants abound. And also be wary of packing cheese, yogurt and other foods that need refrigeration during the hot summer months.
If you're hiking with kids, considering purchasing them individual, but inexpensive hiking backpacks (see our favorites above) and making them responsible for their water bottles and snacks. This spreads the load and also gives kids a place to store items other than snacks, such as a hat or light jacket of their own.