We have always been an active family—and thankfully the Covid-19 pandemic has not slowed us down. We knew that staying home 24/7 wasn't the best option for our kids (three out of four whom are boys). Even when our state was under lockdown, thankfully, our Governor encouraged socially distanced outdoor activity. So since the pandemic hit, we've taken full advantage of more family outdoor time since many other social activities have been cancelled.
School just ended for my kids last week, but we had prioritized our days by getting the kids' schoolwork done first thing in the morning most days. I have also been helping my husband at his business 4 to 5 mornings a week with all the kids in tow (some days it's crazy!). But we will often do one activity at some point in the morning, such as a track workout or kayaking. Then, after lunch and the toddler's nap, we'll pick another activity like tennis or hiking. It makes for full days, but we all love being outdoors and are capitalizing on spring weather before it's too hot to be outside all day.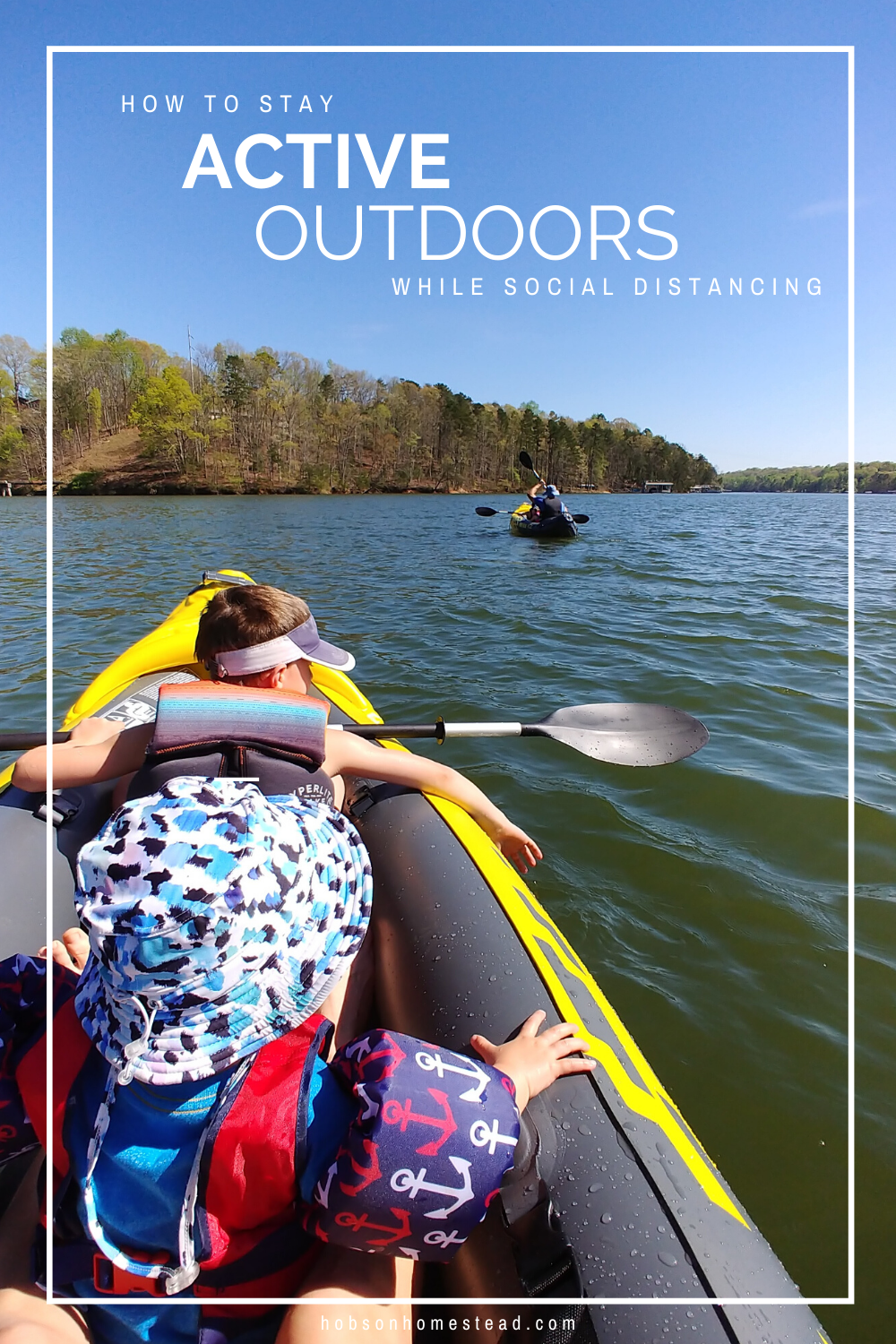 If you're wracking your brain for safe ways to be active, here is our ever-evolving list of go-to activities while social distancing:
Track Workouts
Our local gym opens this week, but its childcare does not. And even if it was open, it's not wise for us to go yet considering we have an asthmatic child. So our new tactic is to do track workouts. We have done a couple at-home workouts, but we've never been great home exercisers. Being somewhere else puts us in workout mode, whereas being at home puts me in chore list mode! We have a few local tracks that are still open, but greatly underutilized. They are great spots to bring our kids while we work out because it's been easy for them to play or enjoy riding toys while staying far away from others.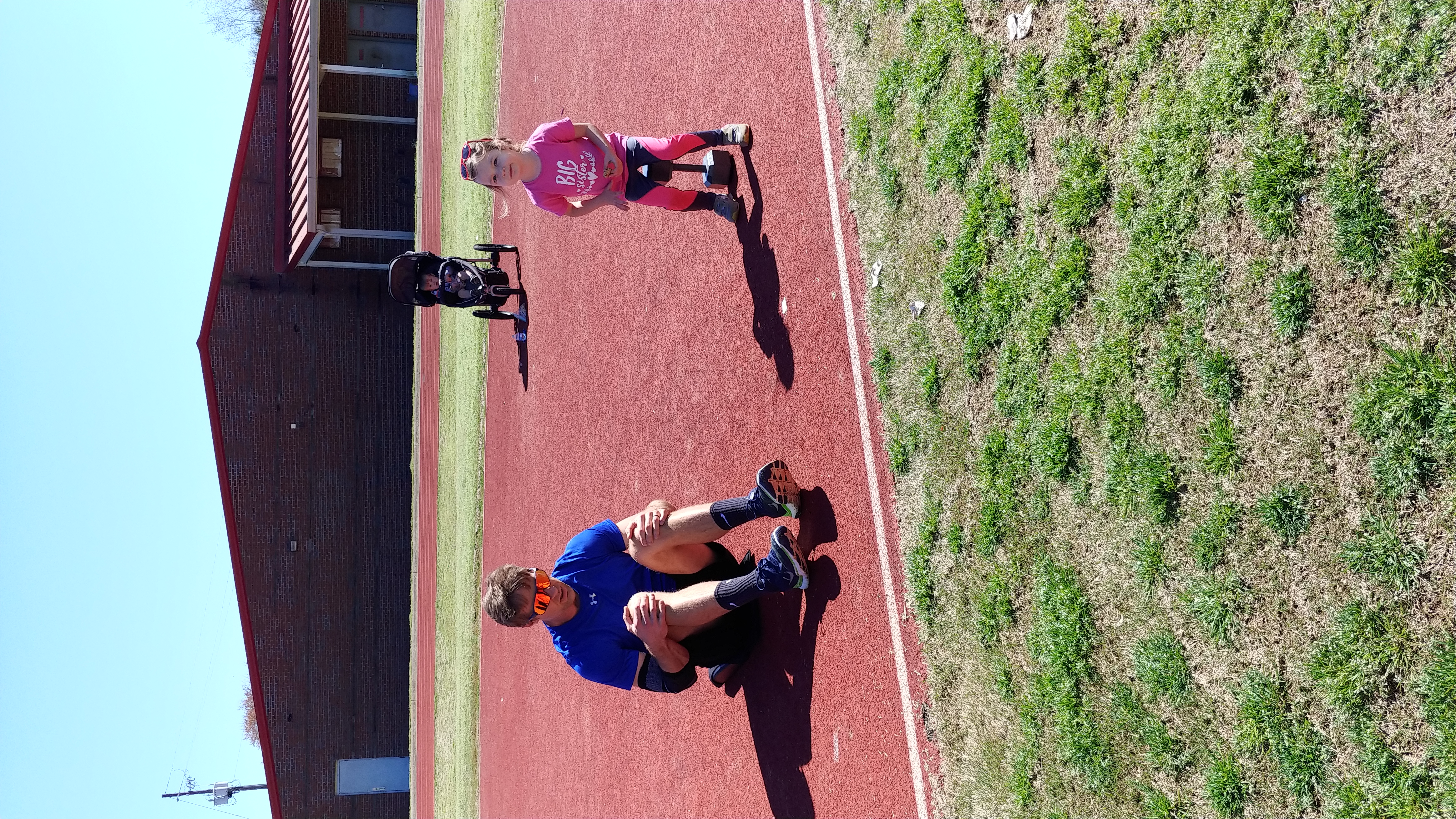 We have very limited workout equipment, but we have truly made the best of it and have upped our running game since the track makes that easy. Besides running, we implement our jump ropes for double unders and single unders. We also have one iron hex dumbbell each. My husband's is 35 pounds and mine is 25 pounds. I bought them at the last minute from our local sporting goods store on the day they announced they were closing my kids' school. I had a feeling gyms would be next. Despite not having a pair of dumbbells, we can do quite a few exercises with a single dumbbell: goblet/front squats, weighted lunges, thrusters, push presses, one-arm snatches, one-arm hanging clean and jerks, Romanian deadlifts, atomic situps, plank crossovers, weighted glute bridges and more. We also have an AbMat with a tailbone protector (similar product) that has been clutch as we are working out on hard surfaces.
Our current routine is to do track workouts three to four times a week. Some days, our two oldest boys (ages 8 and 6) jump in on the running portion with us. Other days, all four kids take off on riding toys around the track. Some days, the kids play in the grass field in the middle of the track and my two Rowdy boys use it as a massive wrestling mat. Our routine gives our bodies a little time to rest and allows us the energy to fit in all our other family activities, as you'll see below.
Tennis
Our local playgrounds and basketball courts are closed, but tennis courts are open. We started playing tennis a year ago because it's a great two-player sport that we can play as we age. We have several parks near us with open tennis courts, but our favorite one has a gated basketball court beside it. Our city removed the basketball backboards, but the court is a great massive playpen for our kids to safely ride on their riding toys while we play tennis right beside them.
We use these basic tennis racquets since we're still amateurs and we also have borrowed a tennis ball launcher and everyone in the family except the 21-month old gets a turn hitting balls.
Pickleball
Many of our local tennis courts also have pickleball lines painted on them. For our anniversary this year, my husband bought us a pickleball set so we could take up another activity. We've been playing tennis against each other for a year, which made for fast learning of pickleball. I'm so glad we finally gave it a try because we are absolutely hooked. We have only played singles so far, but it is fast-paced with high intensity. It leaves us more exhausted than singles tennis but it's been fun to switch things up.
If you can't find a local pickleball court, you can buy a portable pickleball net and set it up in your driveway or culdesac. This is what we plan to do once we have a flat driveway one day!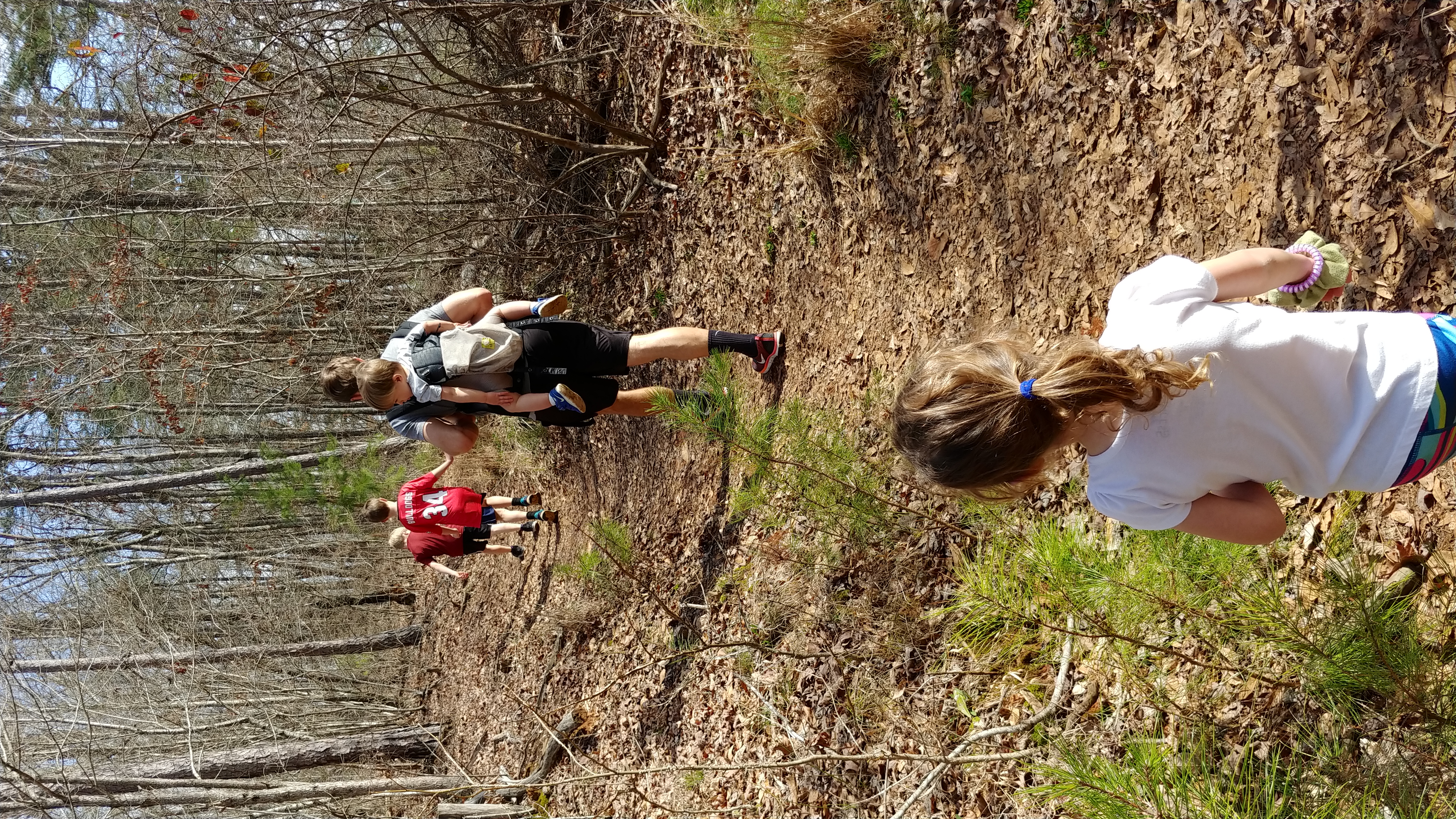 Hiking
Before Coronavirus hit, we had purchased a Georgia State Park annual pass and decided not to sign the kids up for spring sports and instead go hiking at a state park every weekend. Little did we know this would be one of the few activities that would be acceptable during the pandemic. Though some hiking trails along the Appalachian Trail were/are closed during the pandemic, all of our state parks are open so we have had many day trips filled with hiking, picnics and enjoying springtime weather. We've even tackled a hike where we had to unknowingly fjord a river—twice. The great thing is we are making great memories!
The hardest part of hiking is babywearing our 30+ pound toddler. Grady will "hike" for a while, but then he gets really distracted and often wants to go the opposite direction. We're hopeful that by 2021, he will be an independent hiking force to be reckoned with. But until then, we take turns babywearing him using my Lillybaby carrier that I bought when Scarlett was born more than 5 years ago. It's mesh and therefore cooler in hot weather.
We've also started using the free version of the AllTrails app to give us more insight into what trails are closed and to pinpoint trails that are best for our family. We tend to search out trails in the 3- to 7-mile range that are marked as easy or intermediate. The app has also helped when trails aren't easily marked or we take our own path and needed to get back to the start.
Neighborhood Nature Walks
If we are short on time or worried it might rain soon, we opt for a 30- to 45-minute neighborhood walk. We typically put Grady in the stroller and head out for a leisurely walk while the kids explore fun nature findings along the side of the road, including rocks and sticks (typically used to mess with large ant piles!) If we're tired or sore from our track workouts, these walks are a great way to practice active recovery.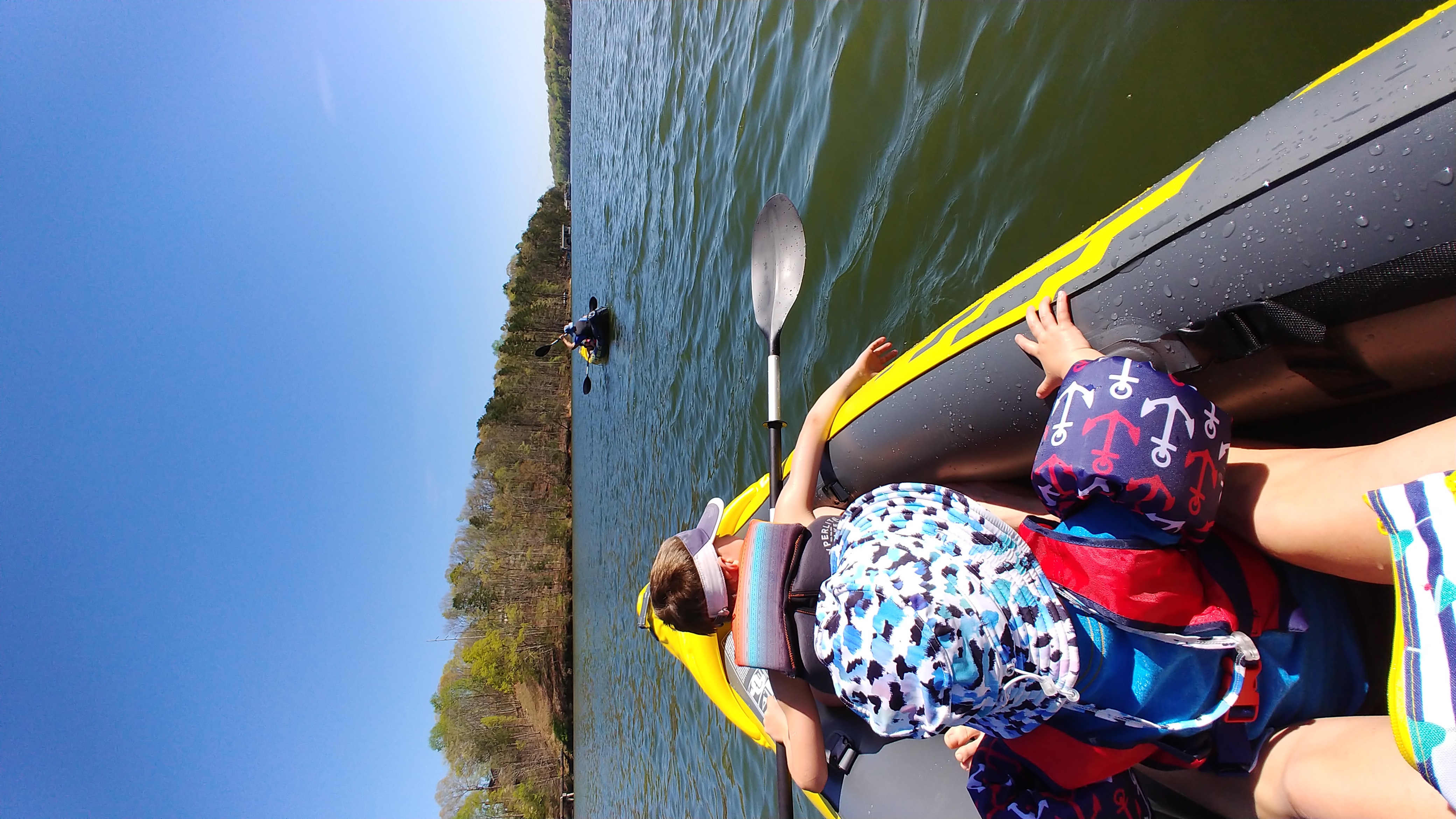 Kayaking
I got two of these awesome inflatable two-person kayaks for my birthday in March. We have used them several times to explore the lake and even enjoyed some picnics on small deserted islands. We only installed one seat in each so that one adult can fit with two kids. The kayaks are light enough that you can still navigate with only one rowing adults, which is great since half the time the kids want to just sit back and enjoy the ride. And I can't blame them. I love that we can deflate them and pack them up to store when we aren't using.
Fishing
We are fortunate that our city surrounds a large recreational lake, and fishing is a big sport and hobby on Lake Lanier. My oldest three kids (ages 8, 6 and 5) are at an age where they are enamored with fishing. Last summer, my boys learned how to finally unhook their own fish. Not only do they love fishing, they love looking for bait worms or making their own bait.
Riding Bikes
My kids love riding bikes. Scarlett is still on training wheels and Grady is in a bike seat, but they still love the freedom of riding and the wind blowing in their faces. We often take them to ride in our large church parking lot or to a local greenway. We have yet to try a true bike trail with them, but it's on our to-do list for this summer.
Coming soon: Camping
Another activity on our to-do list is camping. We plan to start out going just for one night and putting the toddler in a pack and play. I think I'll be alright as long as I bring plenty of coffee.
What are your favorite ways to stay active while social distancing?