If you love the health benefits of collagen, but need ideas for integrating it into your everyday diet, consider these ways to easily add collagen powder at home.
Collagen has been a hot topic in the health community for years now—and for good reason. Collagen is shown to benefit so many areas of the body, from joints to skin and hair to bones. I originally started adding collagen into my diet right before I hit 35 years old, because that's about the time your cells that make collagen start slowing down production. As I have begun aging, I'm also more aware of the effects my workouts have on my joints. So supplementing collagen is my answer to continuing on with hard workouts despite aging.
When sourcing collagen, it's important to look for a brand of collagen powder that comes from grassfed, pasture-raised cows. But if you'd rather get your collagen from marine life, you can also source powder from wild caught fish.
Below are my favorite brands of collagen—and yes, we've used them all over the past few years!
Many people who supplement with collagen powder add it to their hot beverage or smoothie. But there are so many other options to easily add collagen powder to your diet. Check out these ideas.
EASY WAYS TO ADD COLLAGEN POWDER TO YOUR DIET
Coffee
Because collagen is tasteless, it's so easy to blend it into hot drinks. (Note: Collagen dissolves in hot or cold liquid, while gelatin—the cooked form of collagen—only dissolves in hot liquid. Both have the same health benefits.) Once you start adding a teaspoon or so to your morning coffee or tea, it becomes a routine and the extra frothiness it adds to your hot drinks is just a bonus.
Related: For a no-sugar, high-energy coffee recipe, check out my post on The Perfect Cup of Carnivore Coffee.
Tea
If you're not a coffee drinker, don't worry. Tea is also a great way to add collagen powder to your diet. Simply add in a scoop to your hot tea and stir. You won't taste any difference.
Hot Cocoa
If you want to to take your hot cocoa up a level, add a scoop of collagen powder and blend with an immersion blender or frother. You'll have the frothiest, most delicious hot cocoa of your life.
Oatmeal
All of my kids regularly eat oatmeal for breakfast so we often add a scoop of collagen to their bowl when we make their oatmeal. Not only does it add a little more protein and staying power to their diet, but collagen helps to strengthen the gut wall (leaky gut syndrome) and has anti-inflammatory properties.
Protein Shakes
Protein shakes are an easy way to add collagen to your diet. Collagen powder mixes well with any form of protein powder (whey, casein, plant-based). Collagen helps with workout recovery (especially as we age and produce less of it naturally) by basically oiling the joints to enable better mobility and reduce inflammation. Adding in collagen powder just gives your body another boost.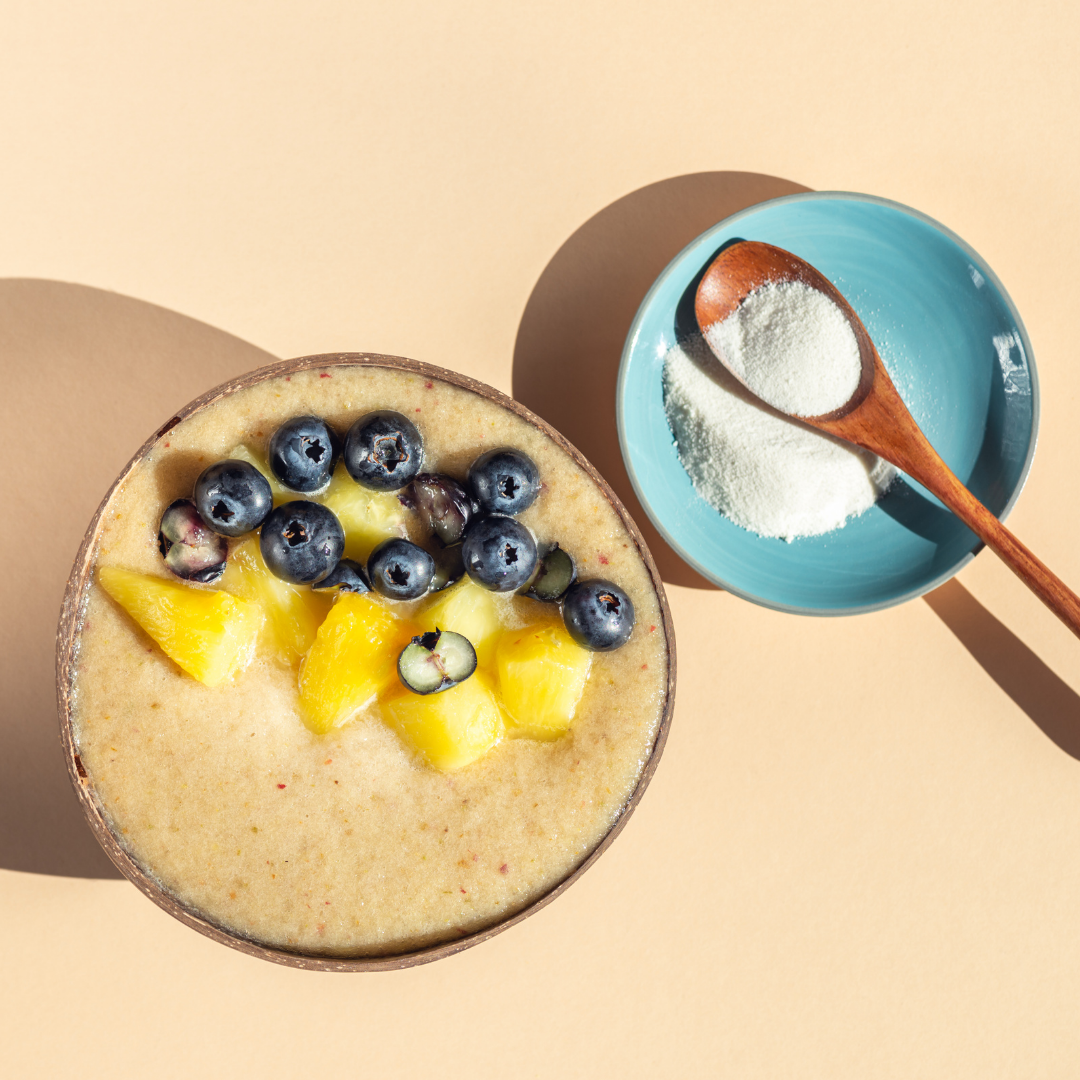 Smoothies
Similar to protein shakes, smoothies with collagen powder are easy to make and you can also throw in some greens to up the health factor. In the warmer months, my kids get on a kick where they love to consume smoothies for their snack. I blend frozen fruits, collagen, ice, greens and cow's milk or an alternative milk to make a delicious healthy treat for my kids.
Yogurt
Yogurt is a great vehicle for getting extra collagen in your diet. Stir in a scoop of collagen powder before adding other tasty ingredients such as granola, nuts, toasted coconut, fruit or a spoonful of nutbutter.
Scrambled Eggs
It may sound a bit crazy, but you can also add collagen to scrambled eggs. (Here's a fun recipe.) Add your collagen powder to the bowl when you whisk your eggs and it's that simple. You can also add plenty of other tasty or healthy foods such as crumbled bacon or ham, as well as diced vegetables.
Homemade Sauces
Besides all the touted health benefits of collagen powder, it's also a great way to thicken up sauces. From peanut sauce to steak sauce to cranberry sauce, collagen powder is a great way to condense or congeal your homemade sauces.
Soups and Stews
As with homemade sauces, collagen powder is a good way to thicken your soups and stews. Simple replace common thickeners such as flour and cornstarch with a couple scoops of collagen to sneak in many health benefits.
Homemade Protein or Granola Bars
Though making your own protein or granola bars isn't as convenient as picking up a box of bars at the grocery store, it's much cheaper and you can ensure the ingredients that go into your homemade bars are all supportive of your health (versus ingredients you can't even pronounce). Try one of the five flavor ideas from this recipe: No-Bake Granola Bars.
Homemade Treats
There are several fun homemade treats you can make for your kids that utilize collagen. I've made homemade marshmallows and gummies that my kids love. Here are a few recipes for inspiration: Maple Marshmallows, Berry Gummy Bears, No-Bake Fudge Bars, Chocolate Mousse, Brownie Cups.
How do you prefer to add collagen powder to your diet?
Collagen is also one of my answers for Surviving Postpartum Hair Loss!