Even travelers on a budget can find free or cheap things to do in Helen, Georgia, making it a great getaway location in the North Georgia mountains.
Not much in this life is free, but thankfully Helen, Georgia, offers several free and cheap activities for those who want to visit this quaint Bavarian town. From hiking and biking to specialty heritage crafts and scenic parks, Helen is full of things to do that won't break the bank.
If you love the outdoors and towns brooding with character, then you'll love all the free and cheap activities that Helen has to offer.
Free Things to Do in Helen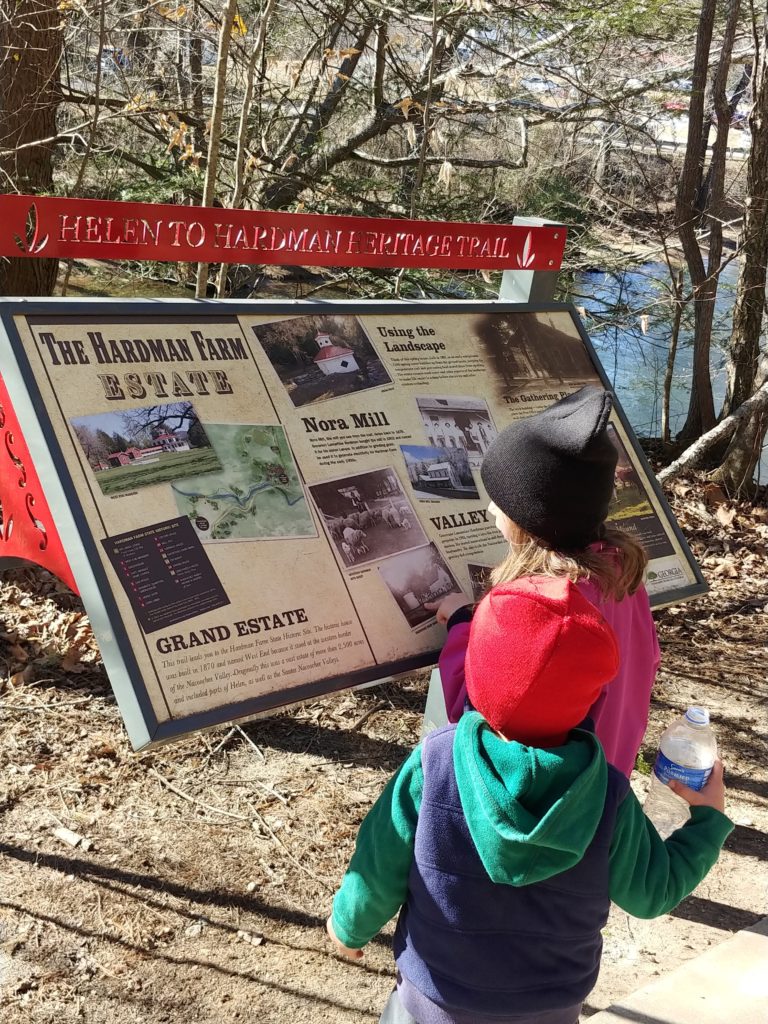 Helen to Hardman Heritage Trail: Along Chattahoochee River, this wide paved trail is great for walking or (slow) bike riding. It is one mile from end to end, so a great walk for all ages on a sunny day. The trail parallels the river and has a couple points of interest along the way. Parking is free at either end of the trail, but there is a fee to the entrance of Hardman Farms at one end of the trail. The other end of the trail is located at the edge of downtown Helen.
Downtown Demonstrations: Downtown Helen has a lot to offer as far as entertainment. Many businesses offer demonstrations, so you can be choosy about which products you want to buy. Watch bees at work making honey at Betty's Country Store. Witness glassblowing demonstrations at the Glassblowing Shop. Watch handmade bowls being crafted at Wright the Bowl Maker. See toys being made at Tim's Wooden Toys. Watch candy making demonstrations at Hansel and Gretel Candy Kitchen. Witness pottery making at Willows Pottery.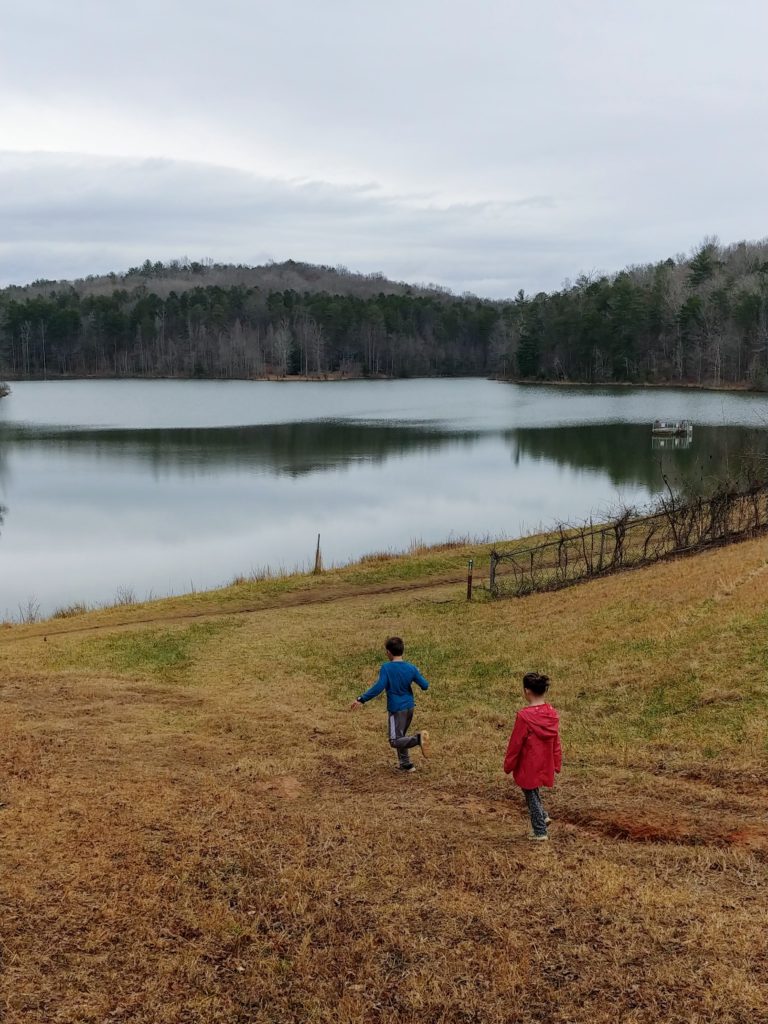 Yonah Preserve Trails: If you are into mountain biking, these trails (which also double as hiking trails) offer 11+ miles of both easy and intermediate loops around scenic Turner's Lake. These trails are located less than 15 minutes south of Helen and there is no fee for parking. There are well-kept public restrooms at the trailhead, along with a pavilion and picnic tables.
Helen Arts & Heritage Center: This center hosts an art gallery, gift shop, art classes and workshops, as well as a history museum. Art exhibits are open to the public and completely free to attend, but classes require an additional fee. Class and workshop options include painting, leather crafting, drawing, pottery and watercolor painting.
Unicoi Hill Park: Right off Main Street in downtown, Unicoi Hill Park is nestled up the hill and directly behind the Arts & Heritage Center. The park has a large playground for kids, ample shade for summer time and several picnic tables for outdoor eating.
Hiking: Though many hikes near Helen require a minimal parking fee of $5 or less, there are also some great hikes less than 30 minutes from Helen that require no fee.
BabyLand General Hospital: As the birthplace of the renown Cabbage Patch Kids, BabyLand General is less than 15 minutes south of downtown Helen and an experience your kids will never forget. Entrance is free, but if you have children, you'll be hard pressed to leave the hospital without a doll or animal.
$5 or Less Things to Do in Helen
JumpinGoat Coffee Roasters: With a coffee shop on your way into downtown Helen and a tasting location in nearby Cleveland, JumpinGoat Coffee is a great way to get your caffeine fix. Cups are under $5 and you can catch live music on selected days/times. Check the Facebook page for details.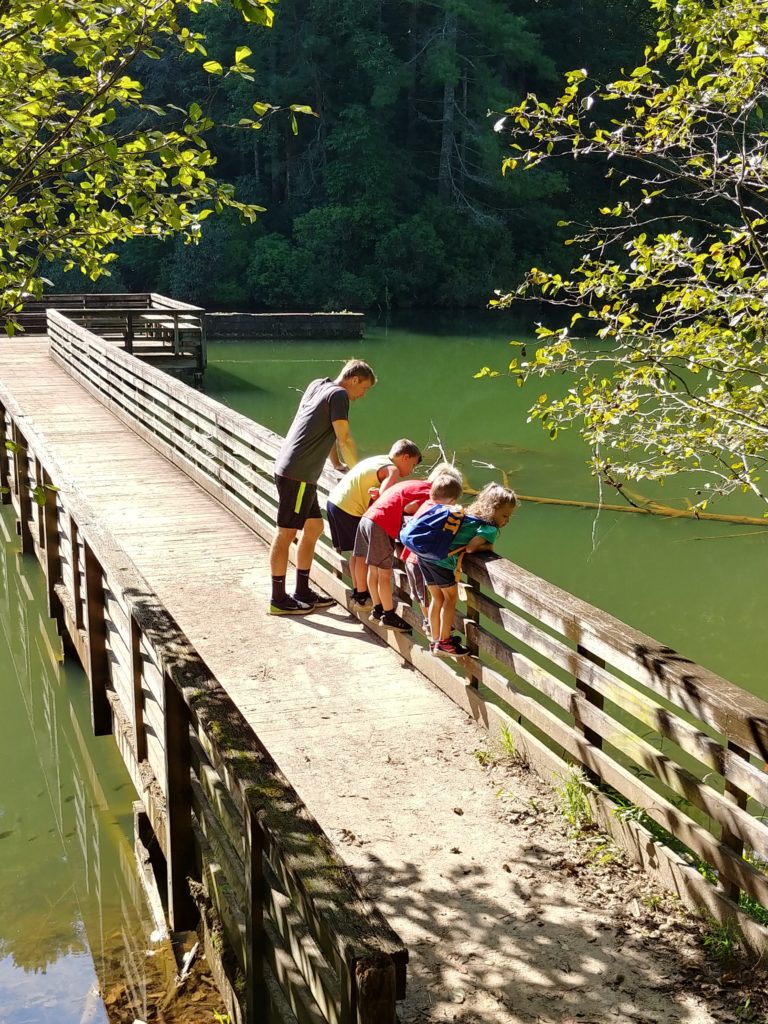 Unicoi State Park: This state park is nestled in the mountains less than 3 miles north of downtown Helen. There is a $5 parking fee unless you have a Georgia State park pass. Explore the trails around the 53-acre Unicoi lake or kayak it when the weather is warm.
Anna Ruby Falls: To get to Anna Ruby Falls, you must drive through Unicoi State park. If you are only visiting the falls, you can skip the state park fee and pay the $3 per person to see the falls. Luckily, kids under 16 years old are free. You can reach the falls by walking the 1/2 mile paved trail to the top to two different lookout decks. If you're feeling adventurous, you can also hike the 4.6-mile Smith Creek Trail that connects the base of the falls to Unicoi State Park, but of course you have to double your mileage if you park at the falls to get back to your car.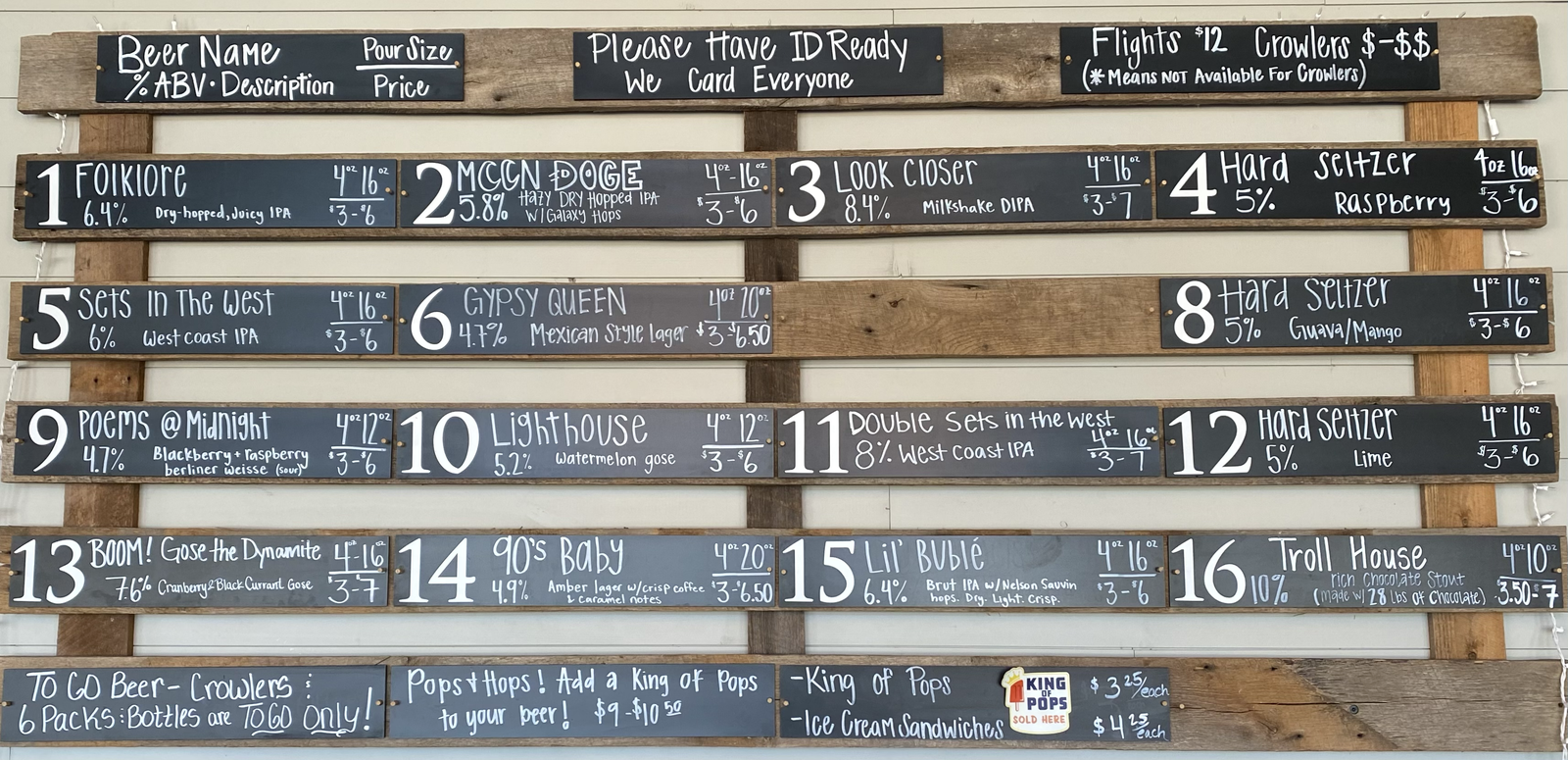 Tantrum Brewery: Located off Helen Highway in nearby Cleveland, Georgia, Tantrum Brewery is a less-than-10-minute straight shot from downtown Helen. Grab a beer or even a flight, and on some days you can catch a food truck and live music. Bring your dog with you to lounge outside the brewery while enjoying giant connect four, giant jenga, bucket ball, and corn hole. Kids are welcomed too, and you can even treat them with a King of Pops popsicle or ice cream sandwich.
Dukes Creek Falls Trail: This trail is a favorite for families, as even toddler can typically hike the whole way at their own pace. It's a moderate 2-mile out-and-back trail with some amazing falls. In warmer months, hikers even splash and swim in pockets of the creek. The parking fee is $4 and there are bathrooms at the trailhead.
Raven Cliff Falls Trail: If you're feeling adventurous, try this popular 5.8-mile out and back trail located near Helen that features a waterfall and is rated as moderate. Even bring your dogs along if you keep them on a leash. Parking is $5, but be sure to arrive at the trailhead early as this hike is popular during prime hiking months. This trail follows the river the whole way in, making for some great views.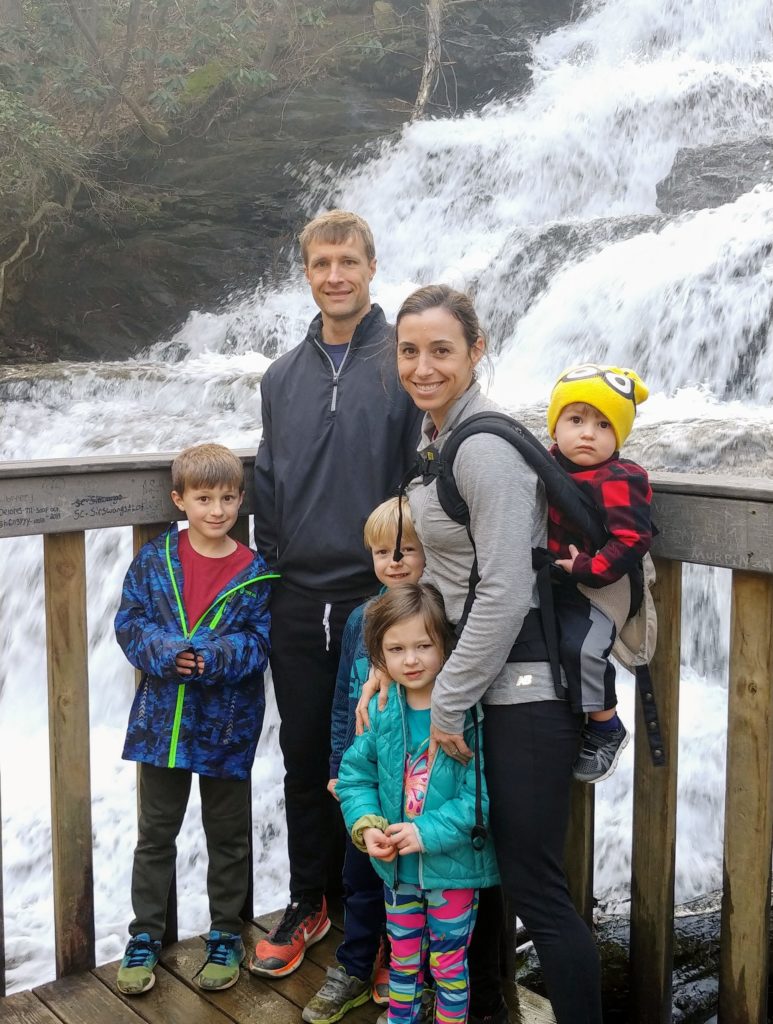 Vogel State Park: Purchase a $5 day pass or use your Georgia State Park pass to access this 233-acre state park nestled in Blairsville, Georgia. Kayak or paddleboat in the spring. Swim at the sandy beach in the summer. Hike to the waterfall at the base of Lake Trahlyta or hike the 4-mile Bear Hair Gap Trail that overlooks the lake at the top. The park also has two miniature golf courses and two playgrounds. Vogel State Park is 21 miles west of Helen, but worth spending the day exploring.
Brasstown Bald: For $5 per person for those over 16 years old, you can explore the visitor center and the summit between 10 a.m. and 5 p.m. daily. ($2 shuttle fee for seniors.) The Brasstown Bald Summit Trail, which connects the parking area to the Visitor Center and Viewing Platform, is a very steep paved foot trail just over 1/2 mile in length. You may take a shuttle service as an alternative to walking the trail. Brasstown Bald is Georgia's highest mountain at 4,784 feet above sea level. At the top, enjoy the cloud-level observation deck with stunning 360-degree views of the Southern Appalachian Mountains and valleys. On a clear day, you can see four states. The unique circular building at the top is home to an 8,000 sq. ft. museum featuring interactive cultural and natural history exhibits.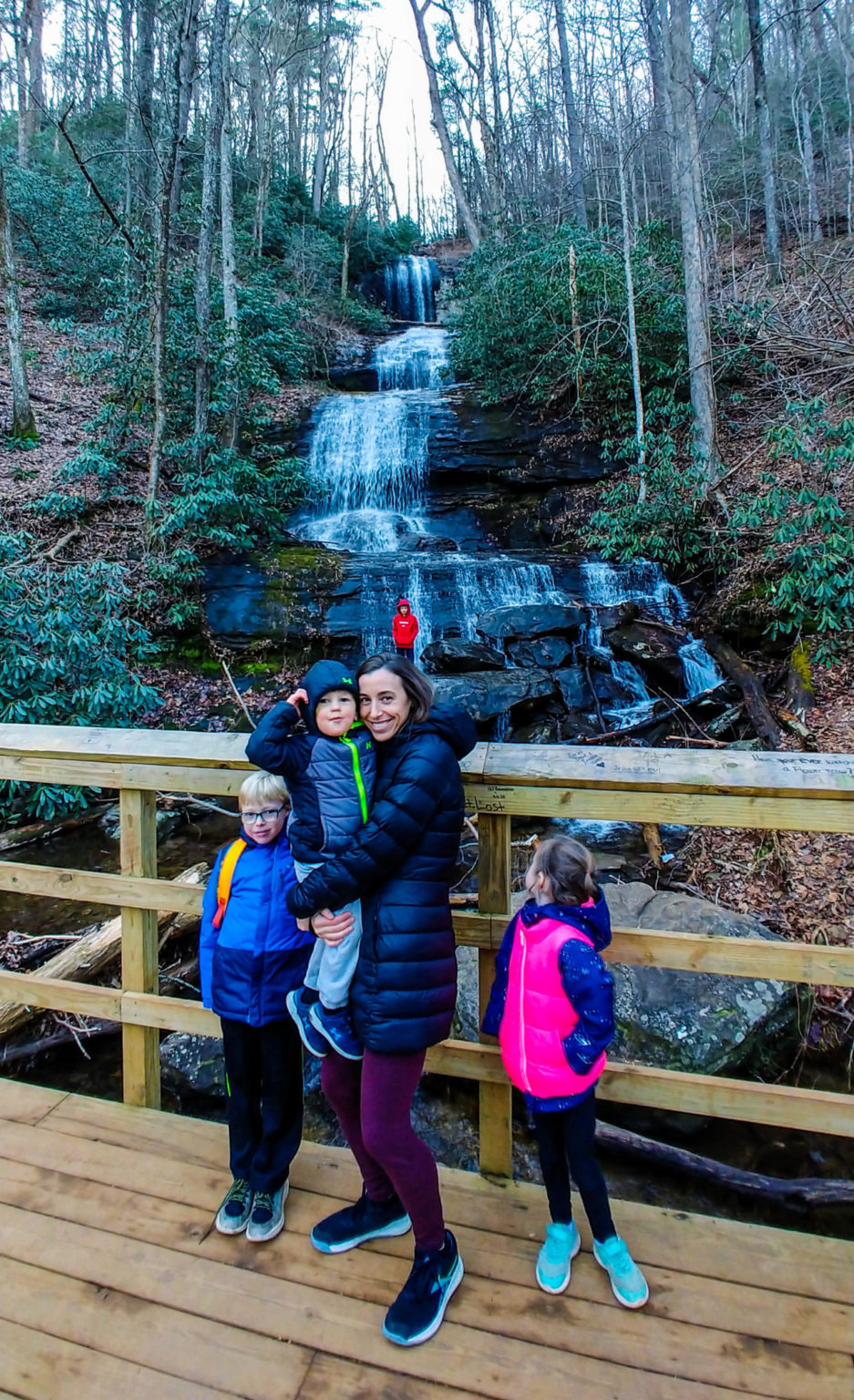 Desoto Falls Trail: Desoto Falls Trail in Blairsville, Georgia, is a short and sweet 2-mile trail that is great for hiking with kids—even toddlers. This 1.9-mile out and back trail parallels Frogtown Creek part of the way. After a recent rain, you'll witness a gushing current. There is a $5 parking fee at the trailhead, along with bathrooms and nearby picnic tables. In the summer, you can let your kids splash in the shallow areas of the creek.
Related: Hiking with Kids: DeSoto Falls Trail
Smithgall Woods State Park: Just south of downtown Helen, this state park has several draws for families who love the outdoors. Choose from several hike options—and be prepared with water shoes if you choose Ash Creek Trail. Roam the fields of wildflowers in the spring. Let your kids splash in the creek in the summer. Enjoy a picnic and a game of catch on the large lawn in the fall. Or spend time learning about local wildlife in the educational center in the winter. Pay $5 to park or use your Georgia State Park pass.
Candy and Ice Cream Shops: If you've got a sweet tooth, you can find lots of cheap treat options for less than $5 in one of Helen's candy shops. Try Hansel & Gretel Candy Kitchen, Kopper Kettle Fudge Shop or Livi Lou's Sweets and Treats. Or if you're looking for some ice cream to cool off in the summer, try one of the many ice cream shops near downtown.
What are your favorite free things to do in Helen?