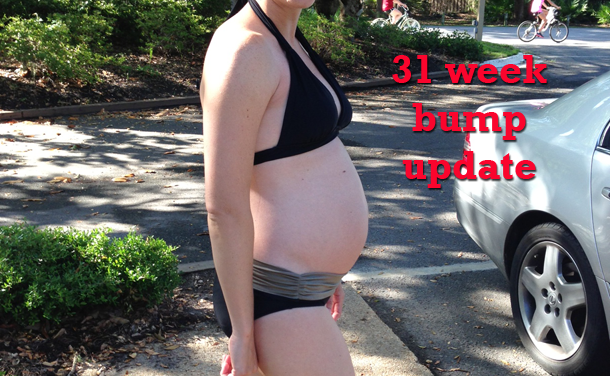 PREGNANCY WEEK: 31
GENDER: Baby boy Beau.
WEIGHT GAIN: 19 pounds as of 30 weeks. But after this week of vacation, I expect the scale to jump, especially since it feels like I'm busting at the seams.
CRAVINGS: I've indulged in seafood this week: shrimp, grouper and crab cakes. Life has been good and little Beau has been pleased. Of course, all that fresh, healthy seafood is barely offsetting the rest of the vacation indulgences such as ice cream.
MATERNITY CLOTHES: Even in the past week, I feel like the bump has really grown. The shirt I wore in my 30 week bump update seems like it fits so much tighter just a week later. I highly doubt that shirt will make it to week 40. My Old Navy maternity tanks are as great as ever, especially at the beach, and I'm living in these yoga shorts.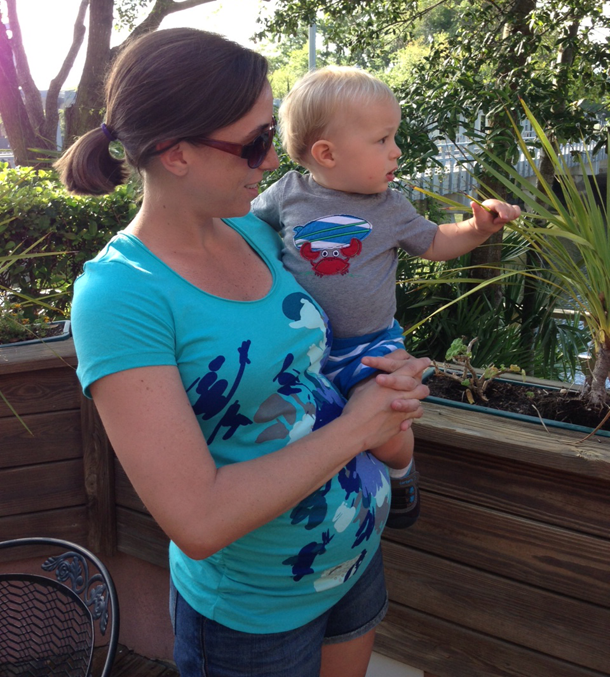 This week at the beach, I've worn a mix of maternity and non-maternity bikinis and my one maternity tankini. I'm sure other beach-goers appreciate the tankini, because I saw myself in the background of a picture (below) of James Michael and for a minute didn't realize it was me 🙂 But I must say that since I'm only used to bikinis, I'm not a big fan of the extra fabric covering the belly. And the fact that the tankini is black doesn't help; it's hot and just doesn't feel good.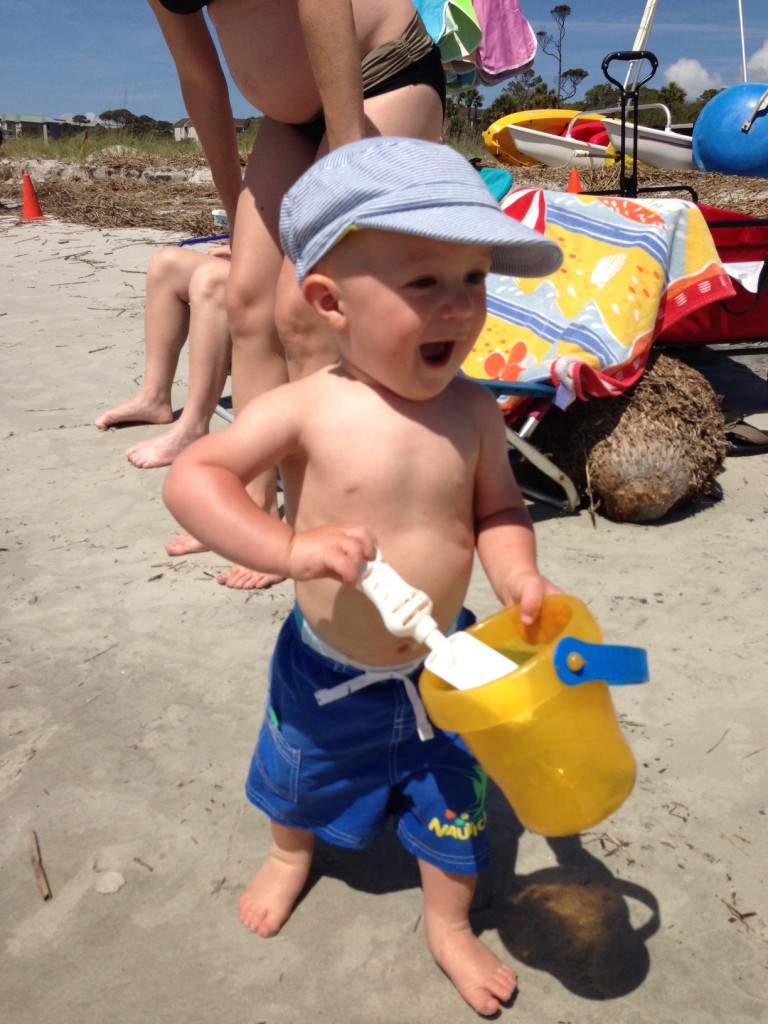 WORKOUTS: Does walking to and from the beach count? Does carrying a 23 pound toddler off and on all day count? Do a couple bike rides count? No, they aren't CrossFit, but CrossFit makes these things possible (insert 'functional fitness' plug). I hope to squeeze in a few workouts next week, but with the move approaching I may use all my energy and free time unpacking and setting up house. I lifted a couple dozen boxes and trash bags full of stuff in two carloads and dropped them off at the new house before leaving town. That counts for something 🙂
SYMPTOMS: This week, I've had lots of tightness, heaviness and Braxton Hicks. I hope that's a good sign that my body is preparing, so long as it continues to wait two more months.
Sharing a room with James Michael this week means my sleep has definitely suffered, but it's not just him. In my head, I keep rolling through the huge to-do list for when I'm back in town, making it hard for me to unwind and fall asleep.