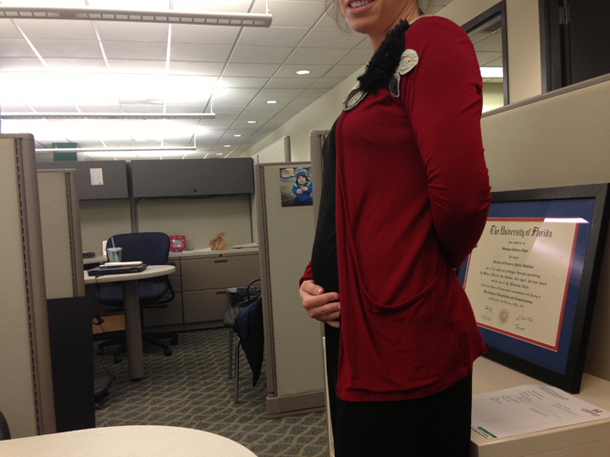 PREGNANCY WEEK: 23
GENDER: It's a little bro. Naming has taken a back seat to house hunting at the moment.
WEIGHT GAIN: 12 pounds as of 22 weeks.
CRAVINGS: Gosh, I've been pretty boring lately. Nothing out of the ordinary. Though I did cook a squash casserole twice last week and it was delicious. Appetite is still decreased from lack of activity, aka CrossFitting.
MATERNITY CLOTHES: I have officially ventured into the land of maternity wear, especially for tops. I must say, it's very freeing. Dresses and skirts are still too big, but about half the tops in my closet are beginning to fit.
SYMPTOMS: The sciatica pain took a full week to leave, but now I'm feeling good. Still tired, but hopefully my iron supplements are working.
This past week was chaotic and I felt like I had a million things to do at once. We put an offer on a house and it was accepted, so now we're going through all the paperwork of securing the loan. Fingers crossed it all goes well. We won't close until the end of May, which seems so far away, but I'm hoping the extra time will be better for my health 🙂 Except that until we actually close in my mind I feel like it's all too good to be true.
The good news is that we're supposed to close the day before we head to Hilton Head for a week of R&R. Only 7 weeks away–I can make it!
WORKOUTS: Well, I made it to the gym one day this week and alternated 250 meter row with 10 shoulder press at 45lbs. I'm taking it super easy, but it's nice to be moving again. I'm very optimistic about the nice weather forecast for next week and hoping JM and I can take advantage of it after work every afternoon–assuming our allergies aren't going berserk.
I'm finally feeling normal again and getting back into my regular routine. I'm one of those who thrives off of some sort of routine.