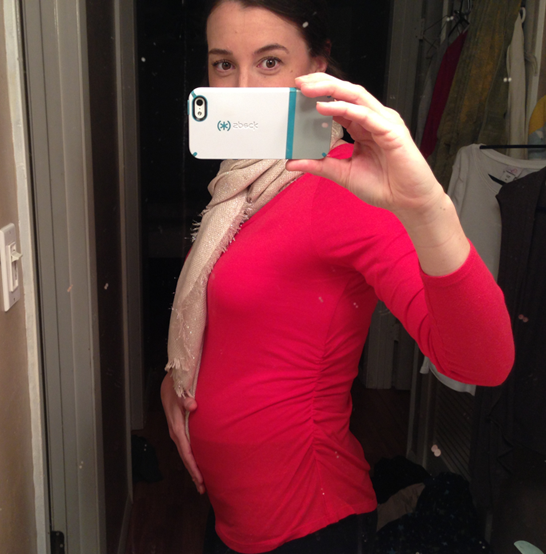 PREGNANCY WEEK: 22
GENDER: It's a boy! No name yet. James told me that nothing besides the name James sounds right to him. Ha, we will not have another James in this household, dear husband. Good try. Just remember, you are not George Foreman.
WEIGHT GAIN: 12 pounds. I was surprised it wasn't a little higher, but my whole sciatica ordeal last week might have impacted things. And I haven't worked out in a week, so maybe I'm losing muscle super fast. Sigh.
CRAVINGS: Food has taken a back seat to pain this past week. My appetite decreased, maybe because of the discomfort combined with decreased activity–who knows.
MATERNITY CLOTHES: I've started wearing some  fitted maternity shirts (in the picture above). Will probably break out the maternity pants next week and retire the belly band. I bought some cute pastel green cropped jeans a week or two ago. I really wanted to feel semi stylish and have a go-to pant for the spring. I'll wear them to a church Easter Egg hunt tomorrow, and hopefully won't look too much like an Easter egg myself 🙂
SYMPTOMS: The sciatica pain has not left, but it's nothing like it was last Friday. I'm taking it easy and avoiding too much activity, though after lifting a 24 lb toddler in the evenings, by the time I put JM to bed the pain is at it's worst for the day and I've had to resort to half a Percocet the last few evenings to cope. Just ready to move on and be done with this.
At my OB appointment this week, I found out I'm currently anemic. Just add it to the list. Come to think of it, I have been pretty tired for the second trimester, but I chalked it up to just being a mom to a toddler.
My iron levels were below the low range for pregnancy. It's so crazy because earlier on in this pregnancy, they were above the high range. My how things change. What's also ironic is that James and I eat a lot of red meat–I mean we have at least 100lbs of  grassfed beef left in our freezer.
But Little Bro, as I've affectionately dubbed him, takes what he wants. And for that, I am grateful. Because despite this mama's physical discomforts, he's been safe and sound the whole time. It really is amazing how much our wombs protect.
WORKOUTS: Non-existent. Once my pulled muscle heals in the next week or so, I hope to start with some walks and work my way back up to decent workouts. I am really missing that outlet.