From edible gardens to forest play areas to fossil excavation sites, the new children's garden in Athens at the State Botanical Gardens of Georgia has it all.
In late March 2019, the State Botanical Garden of Georgia in Athens officially opened its $5 million Alice H. Richards Children's Garden. Less than two weeks later at the tail end of my kids' spring break, we hopped in the minivan and made the hour-long trek to Athens, Georgia.
As University of Georgia alumni, Athens holds a soft spot in our hearts. We have only made it back to Athens for Game Day one time since having kids—when our first child was a baby and everything was oh.so.manageable. But we are so excited to have a great kid-friendly reason to visit our college town more often with our little family.
We could not have chosen a more perfect day to visit. The weather was sunny and warm enough to discard of our light jackets soon after arriving. Though the garden opens at 8 a.m., we managed to arrive around 10 a.m. and spent the next four hours exploring the children's garden in Athens as well as some of the broader garden attractions.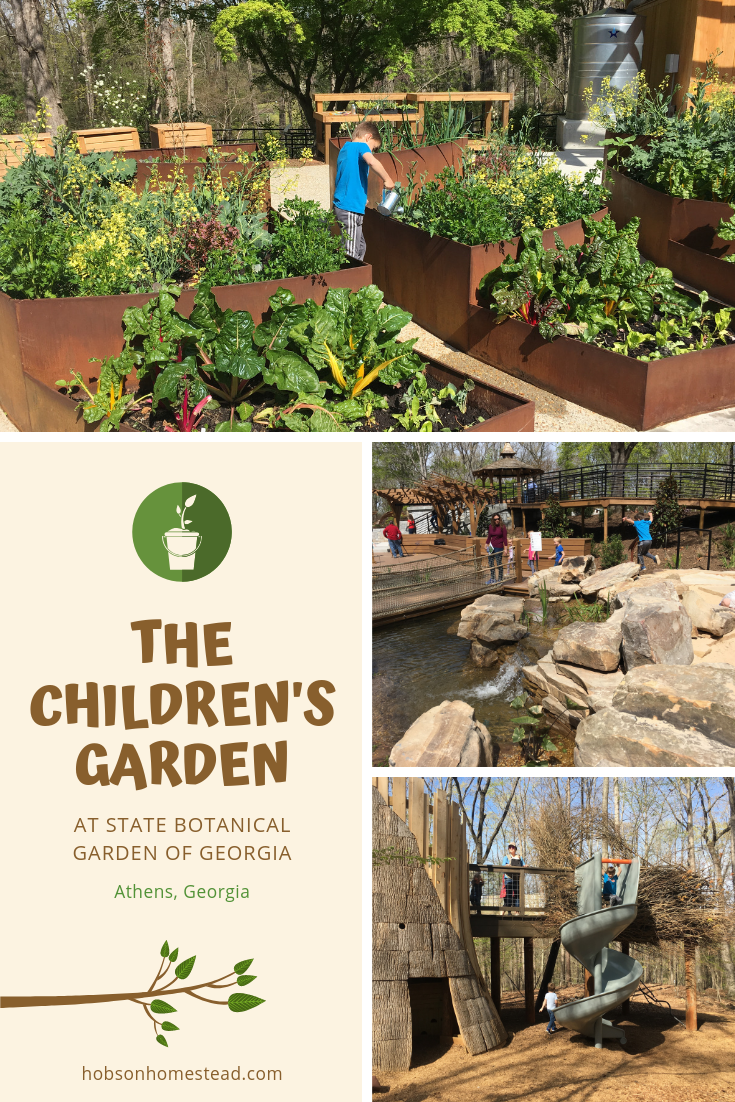 My mother-in-law came with me and we had all four kids in tow (ages 7, 5, 4 and 8 months). We also packed a picnic lunch (though there is also a cafe) and I brought along the baby carrier as well as the stroller. Even though the garden itself is very stroller-friendly in most parts, I would suggest using the drop off area to unload your stroller and little people (with an adult, of course) before parking. From the parking lot to the garden, there are several sets of stairs and a mulched walking path. It wasn't an issue going down the path to the garden when we arrived, but it was quite the workout to push the stroller up the path with a chunky baby in it.
Related: Best Activities for Kids Near Helen, Georgia
Though the garden is an hour from us, the free admission made it worth the extra driving time. Plus, after playing for four hours, my kids had a nice little snooze on the car ride back home. My kids would have stayed for another hour exploring the garden if I would have let them. I was so impressed with all there was to do!
Before we even made it to the children's garden entrance, we were blown away by the beauty of the flowering tulips. And then my kids spotted several statues and were enthralled by these life-sized stoic children.
The entrance to the children's garden in Athens is so unique. It's marked by a winding vine archway and is flocked by two smaller kid-sized entryways. This archway sets the stage for all of the fun that is to come.
Regional Geography
Upon entering, you are greeted by this stunning regional exhibit called the Georgia Discovery Plaza. This granite map starts with a water feature in the mountains and visually illustrates how the rushing stream makes its way down the geography regions of Georgia and eventually empties into a pond in the Coastal Plains.
Once you make your way past the geography exhibit, good luck keeping up with your kids! Mine were so excited they shot off in different directions to explore the garden and all its kid-friendly features.
Edible Garden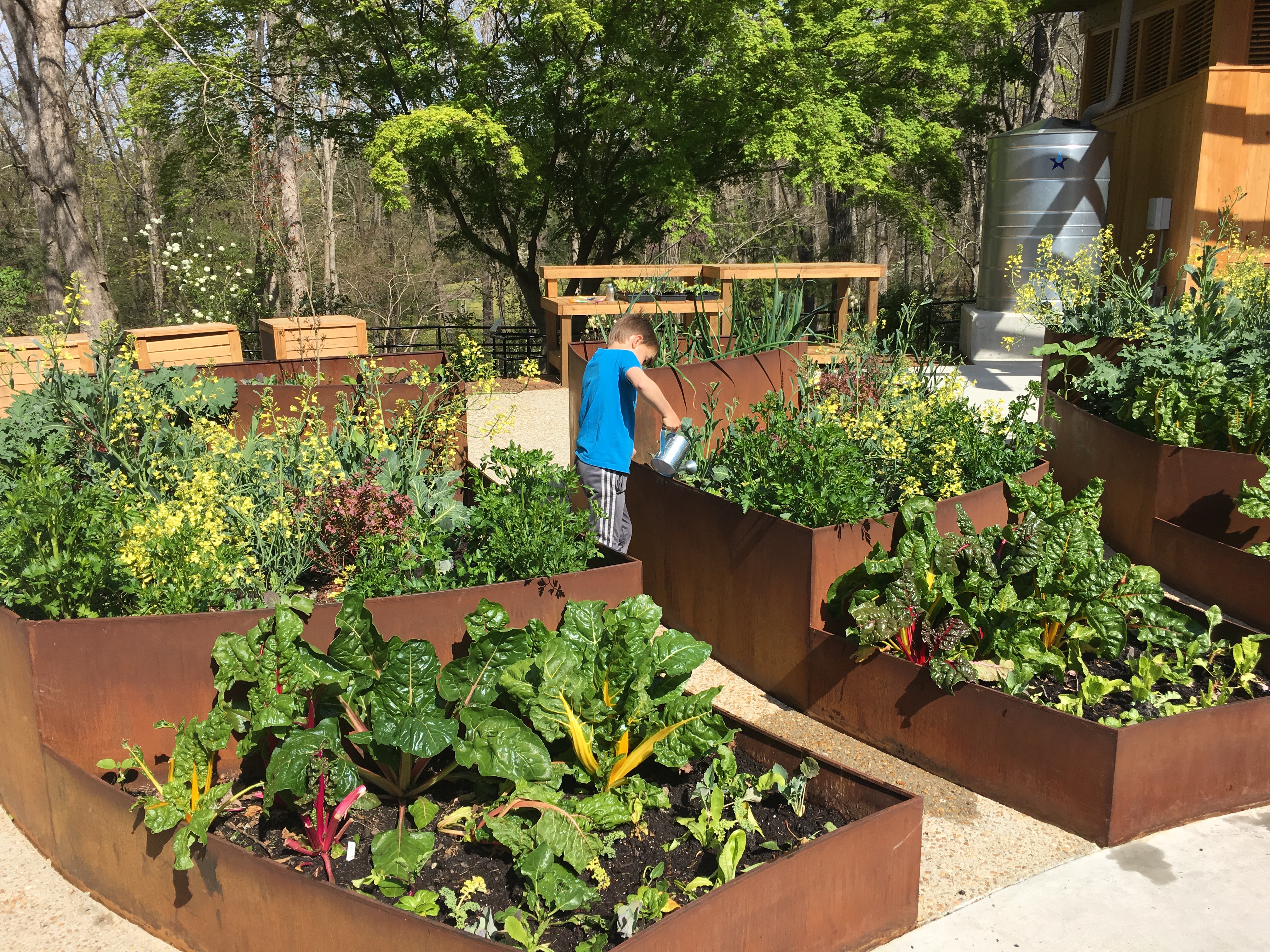 The edible garden area was impressive; the colors were vibrant and the plants so healthy. Since my husband does a lot of hydroponic gardening, my kids had fun naming the various plants, comparing them to our own growing greens and even taste-testing them. And what kid can resist hand-pumping water and watering all the plants? There was even an area for kids to plant in the garden, which my kids loved.








Forest Play
The forest play area brought back flashes of my childhood creating rudimentary tree houses with my sister and also memories of the children's book The Bridge to Terabithia. My big kids loved playing among the tree tops and climbing on the rope netting.
At the base of the play structure was an area for fort building. Miraculously, I didn't witness any kids getting whacked in the head. Instead, it was wonderful to see all kinds of kids coming together to problem solve to build a tee-pee.
Geology Area
The central area of the children's garden was littered with fossil areas. My kids pretended to be paleontologists and carefully brushed away sand from buried fossils in the sandbox area. They also explored the caves and rock walls, looking for remnants of dinosaur fossils.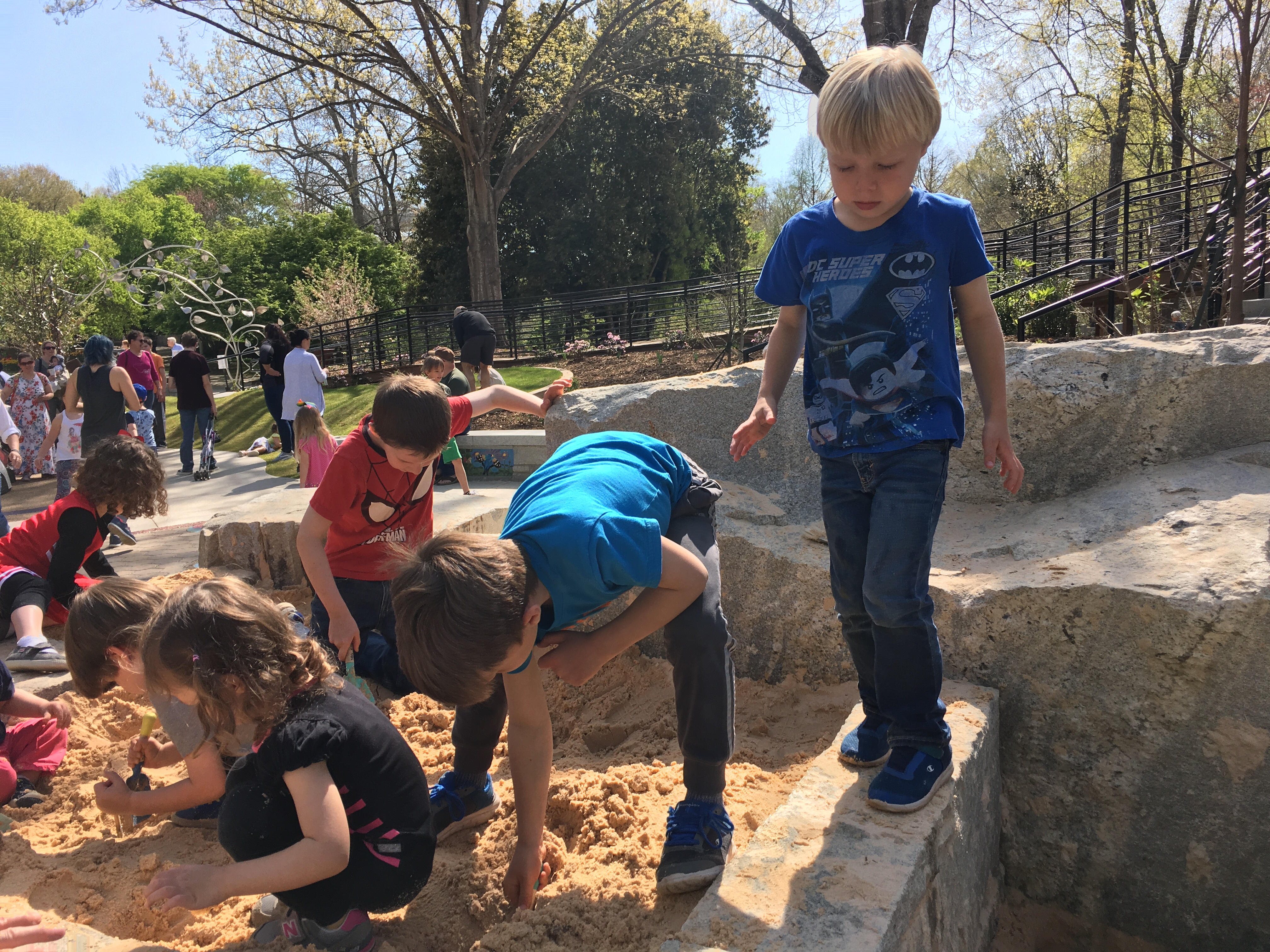 Ecosystems
The children's garden in Athens features a bog wetlands area complete with a rushing stream and two bridges. Because we don't have bogs in North Georgia where we live, it was super cool for my kids to experience this new-to-us habitat.
The children's garden also featured hidden underground ecosystems that explained how the soil supports food production and ultimately all life on Earth.
Pollinator Plaza
At the Pollinator Plaza, kids got a better feel for entomology and mine nearly spun each other sick on the swirly chairs! They then cooled off with at the nearby spray misters, which will be perfect this summer when the weather heats up.
We spent two hours at the 2.5-acre children's garden before breaking for a picnic lunch. After lunch, we walked throughout the broader gardens and finished up back at the children's garden.
It was an amazing experience and we have great plans of taking a couple field trips back to the children's garden in Athens this summer!