If you're on the hunt for healthy hiking snacks for kids without all the added sugar and preservatives, check out this list of easy packable foods for your next family adventure.
One of our favorite family activities is hiking. Not only is it a great way to get our four energetic kids to expend some energy, but being outdoors in nature grounds us all and gives us a fresh perspective.
Related: 20 Health Benefits of Simply Getting Outside
But any parent will tell you that hiking with kids without packing snacks is a no-no. Hangry kids can spoil a perfectly sunny day hiking. So we make sure we never leave home to go hiking (or even to a park) without arming ourselves with some kid-friendly snacks. Here are our go-to hiking snacks for kids of all ages.
Homemade cheese, dried fruit and nut and/or seed packs
A while back, I found some pre-made packs of these on sale at Costco and loved the idea. Now, it's much cheaper to make them myself for my kids. I make a cheddar/cranberry/roasted almond mix for my non-allergy kids and I put together a Manchego (sheep's milk cheese)/cranberry/sunflower seed version for my allergy kid.
Homemade jerky or jerky sticks
We have made homemade jerky many times in our dehydrator, but I also like the convenience of jerky sticks such as this brand or this brand, which have much less junk than regular store-bought jerky.
When I don't want my kids to fill up too much, but I want to satisfy their habit of snacking, I often give them rice cakes. This ensures they don't spoil their upcoming lunch or dinner. Look for rice cakes or rollers without the extra flavors if you want to lessen their sugar intake. (These pictured only have brown rice and salt as ingredients.)
Homemade trail mix
Trail mix can get quite pricey if you buy it from the store—or it's made up of mainly peanuts and raisins. But you can put together your own version of trail mix at a fraction of the price with all the ingredients you actually want. Check out my recipe for a version of homemade trail mix that my kids love.
Related: How to Plan Ahead for Winter Hiking with Kids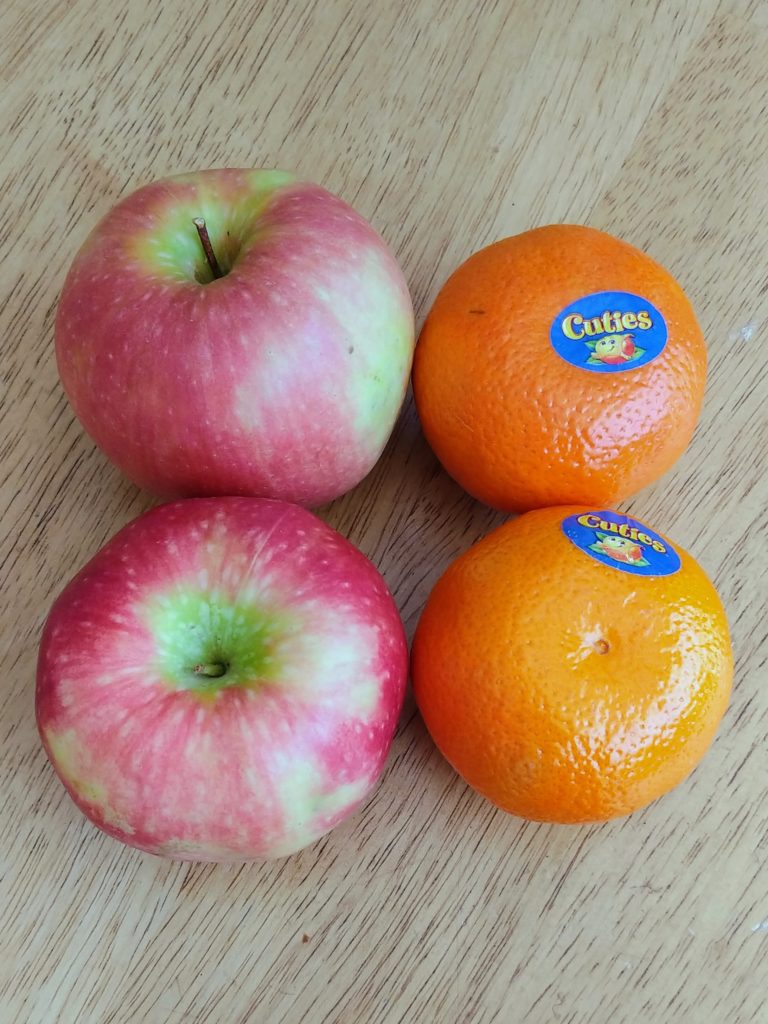 Apples and easy-peel seedless mandarins
It's no secret that kids love fruit, but just be sure to pack fruits that are travel friendly. It's beyond easy to throw apples and mandarins into my kids' hiking backpacks at the last minute.
Energy balls
There are a million homemade energy ball recipes out there, but years ago I stumbled upon an allergy-friendly recipe (using Sunbutter) and started making them for my kids. They love them!
Homemade granola bars
Many store-bought granola bars have a bunch of sugar and preservatives in them—and the ones that don't are super expensive. But there are tons of granola bar recipes online that are great options. One of my favorites is from Gimme Some Oven. I do cut back on the amount of honey and it still turns out great. And I make an allergy friendly version using Sunbutter, sunflower seeds and dairy-free chocolate chips.
Carrot sticks, celery sticks and pretzel sticks with nut butter
I don't love the idea of buying individually sized snacks, but I do make an exception for convenience here and there. I like to keep my pantry stocked with single size peanut butter and Sunbutter so that I can easily pack them for hikes. Though the round tubs are great for dipping, I have also purchased the squeeze packets of nut butter that are easy on the go.
Popcorn
Similar to rice cakes, popcorn doesn't provide a lot of nutritional value, but it does satisfy the snacking urge for my kids. I typically choose a variety that is simply salted or even a kettle corn version that doesn't use sucralose.
What Not to Pack
Though there are some great packable snack options for kids, there are also some snacks that are not ideal for adventuring. Some snacks can get smooshed, leak, spoil or be heavy for your kids to carry in their hiking backpack.
We have learned the hard way not to pack bananas, berries or any soft fruit that can be smashed and make a massive mess in our kids' hiking backpacks. It's the worst in the summer when ants abound.
You could put berries in a hard container, but because my kids carry their own hiking backpack, this can get heavy when you add in a water bottle. But there are smaller container options. We have used these LunchBots containers for 5 years and they are still going strong.
What are your favorite hiking snacks to pack for your kids?