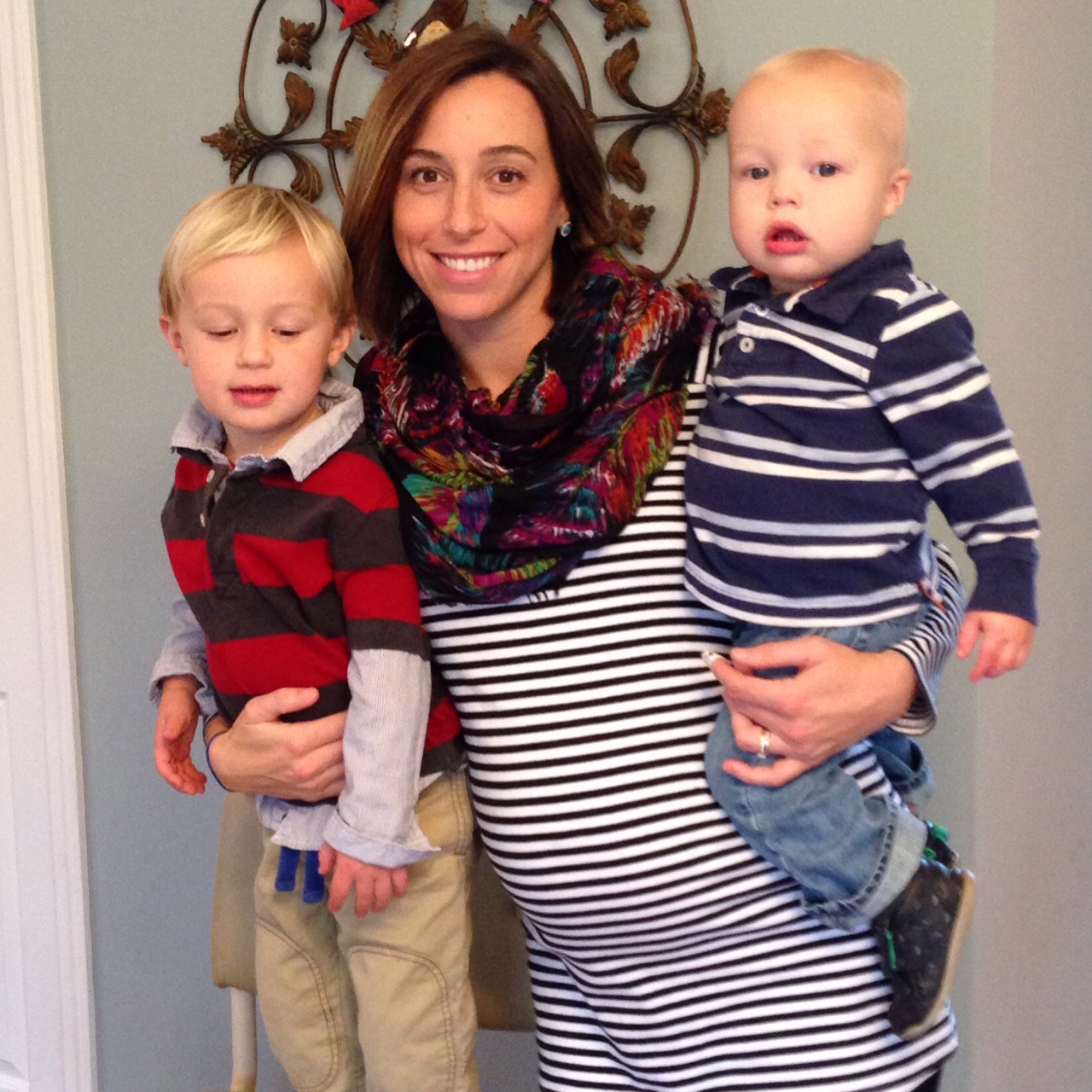 And just like that, it's December. I'm 37+ weeks and the final countdown has begun. I'm attempting to get all my ducks in a row, and am in a decent place so far, thanks to my crazy spurts of nesting energy and my inability to sleep past 5 a.m. because of that ticking to-do list. Thank you pregnancy insomnia.
At my 36-week appointment, I was about half a centimeter dilated, and at my 37-week appointment I was 1.5 cm. Nothing too crazy since I was 3 cm by 37 weeks with Beau, but at least it's progress. I'm hoping Scarlett will wait until next week anyway since James is running a huge two-day event this weekend for his Atlanta Affiliate League.
I had a great, relatively relaxing Thanksgiving at my parent's house. It was nice to have help with the boys and also not to feel the need to be prepping my house before Scarlett's birth. But now that I'm back home, I jumped back into the manic "I must get everything done asap" mode–which is quite productive, but a bit exhausting at the same time.
I managed to get the house decorated for Christmas this past weekend. I kept it really, really simple, because that made decorating easy and will make taking down decorations easy, especially with a newborn around.
Please tell me some other family has removed ornaments from the bottom of their tree due to a relentless toddler?! And look, I spent Monday wrapping all the Christmas gifts, which have been purchased for almost a month (pat on the back!). Like I said, it's one less thing for me to worry about once Scarlett is here.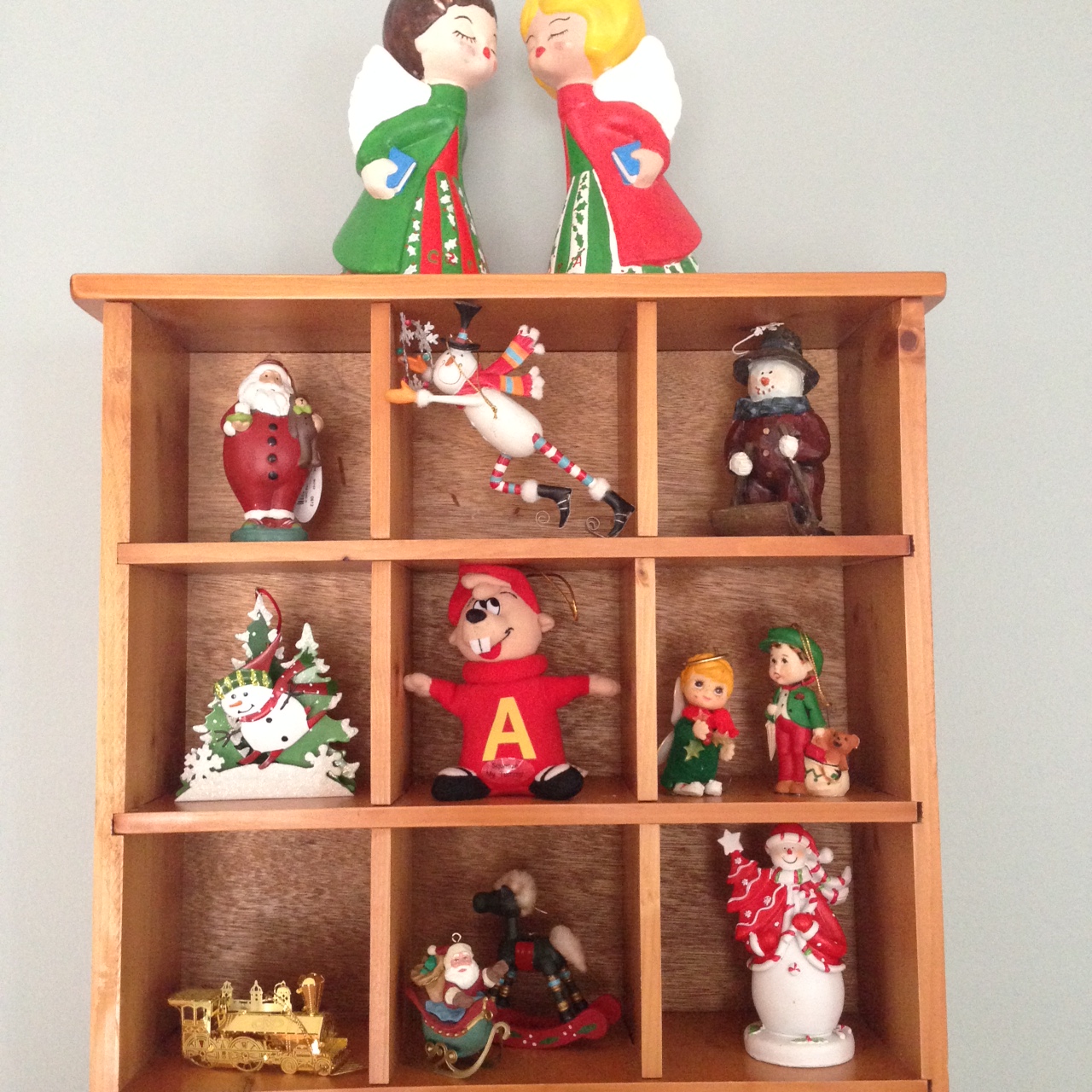 Besides these cubbies (where we normally keep keys and the boys' shoes), I have minimally decorated our front buffet table, and have tasked James with handling the outside lights when he finds time.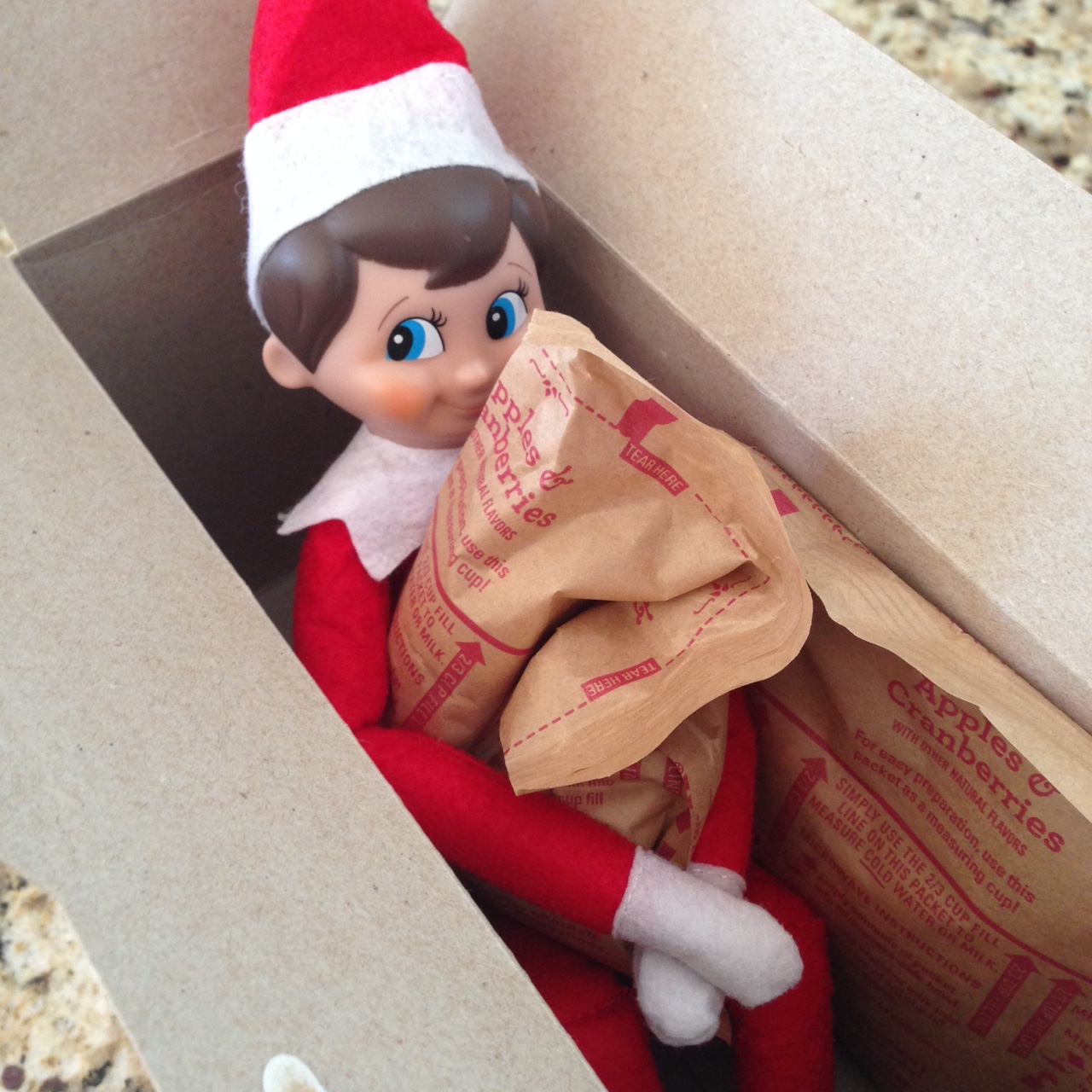 Regardless of the minimal decorations, the boys are loving the Christmas season. James Michael loves reading his Christmas books and playing with nativity scenes, especially Baby Jesus. The boys fight over a couple musical Christmas toys (which James and I are already tired of hearing the same music over and over), and JM is loving Elf on the Shelf, which he has named John Jacob (after the song, yes). James and I just need to stay on top of our game hiding him each night.
I've got 20 freezer meals stocked in our "milk fridge" in the garage, so I can check that off my list. I'd love to add more to it this next week or two while I'm waiting on Scarlett, but I'm moving on to attempting to complete other projects…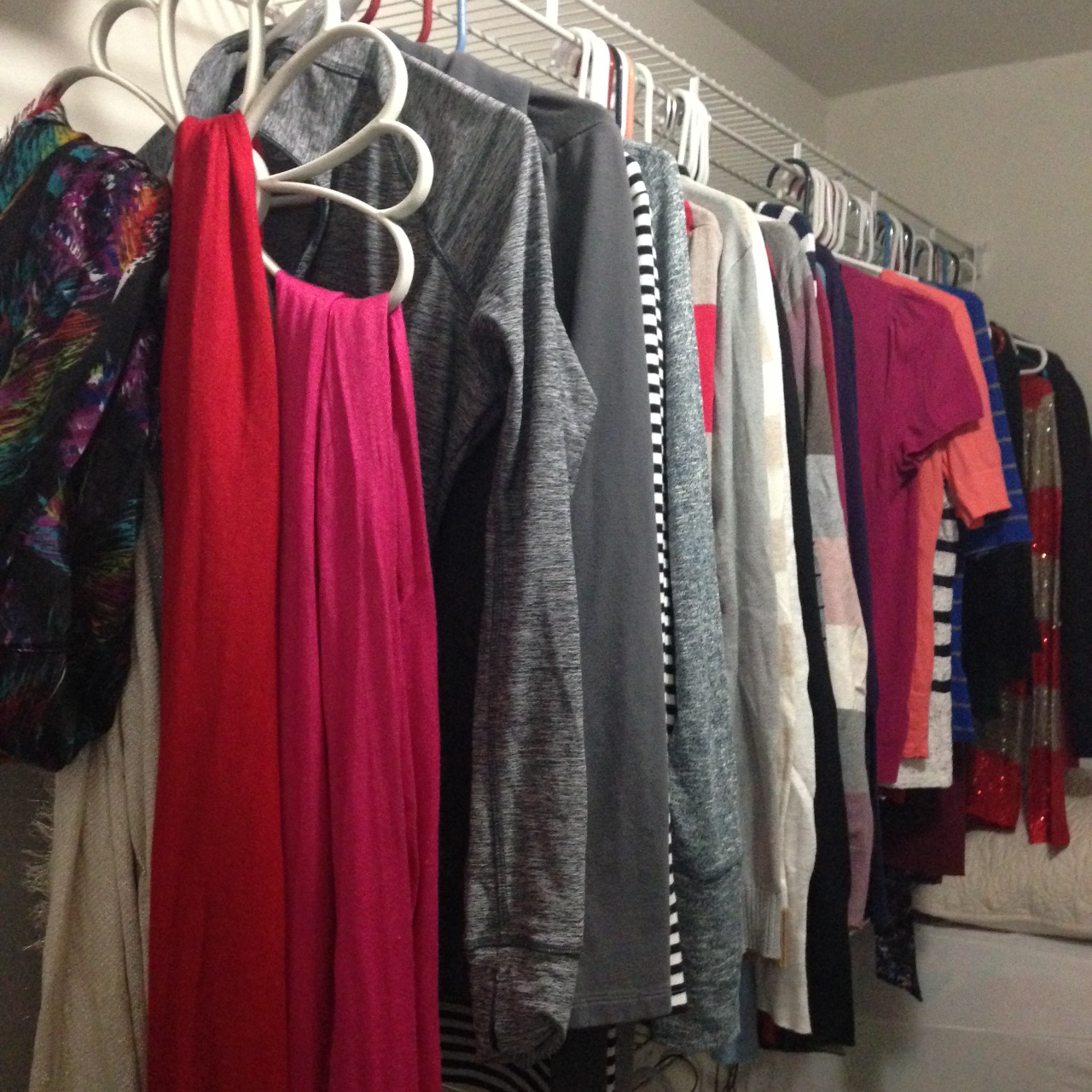 …such as cleaning out my closet. This may come back to haunt me later, but I consigned all my fall maternity clothes except for two tops, two jackets, one pair of jeans and one pair of leggings. I wanted to sell them now while they will still buy fall clothes and while I have the time. And it was worth it, because I ended up earning a $130 credit to a local kid's consignment store that I frequent quite regularly. I also packed up the maternity clothes I borrowed from a couple people and trashed several items that were too worn.
Then, I reinstated all my regular clothes and donated two bins of regular clothes that I have been hanging on to but haven't worn in forever. So my closet looks very bare, but I'm loving this minimalist approach. I'm forcing myself to wait until the new year to buy any clothes I may need/want, because it's too hard to predict what size (especially with nursing boobs!) I'll need and how things will fit if I can't try anything on right now. But I will tell you, I'm excited to get back to normal clothes.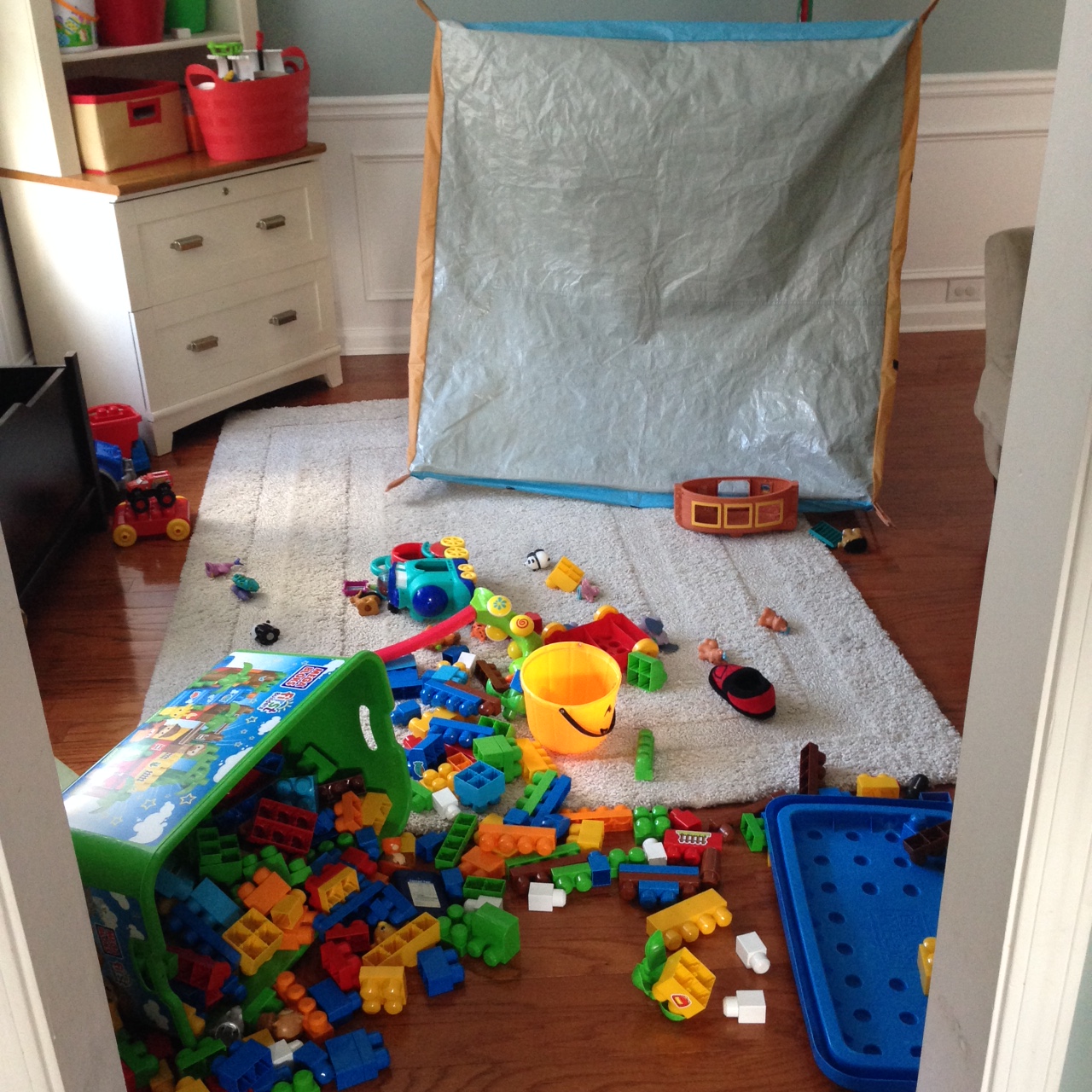 I spent an hour and a half last night cleaning my closet while the boys were tearing our upstairs apart. I have no pictures of what all they got into, but I will tell you that this was the downstairs playroom while all that was taking place. We are making huge messes at my house, but it's allowing me to get some much-needed organizing done, and 5 minutes of cleaning up is nothing compared to hours of purging.
I managed to make it to the gym today, and I'm hoping it will be one of my final CrossFit WODs until the new year. I have plans to go back on Thursday morning, but after that, I want to have a very good reason that I'm not walking through it's doors. Today I did bench press (5 sets of 3 at 95 lbs) and a 10-minute AMRAP of 15lb dumbell thrusters, air squats, 1/2 pood kettlebell swings and 20-inch box step ups. It wasn't a hard workout, but that's ok. It doesn't take much nowadays for me to breathe heavy. It's actually more of a workout for me to walk 1/2 a mile than to do a short CrossFit WOD. Crazy, I know.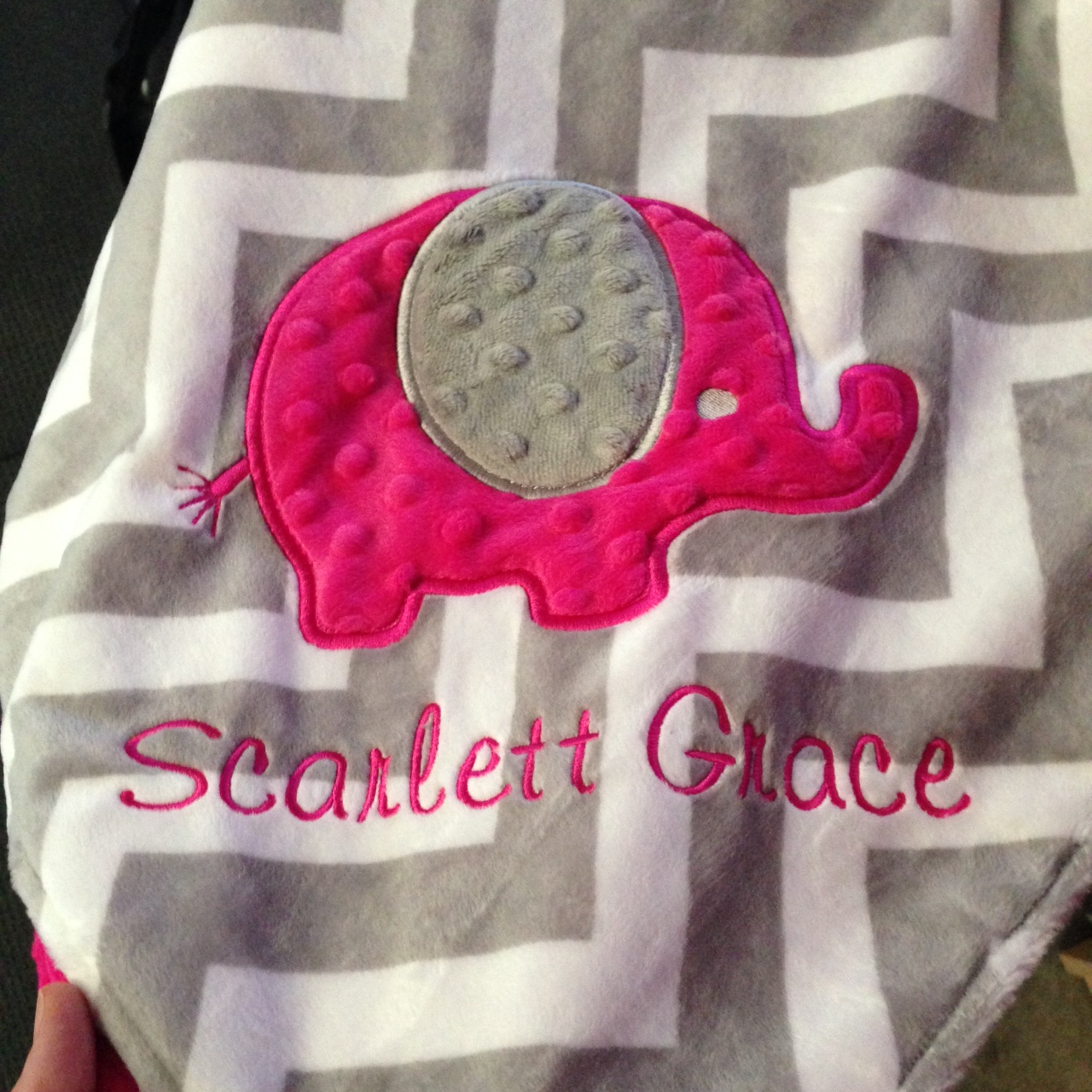 A sweet couple from the gym gave Scarlett her very own blanket today. And good thing too, because I had packed one of the boys' blue blankets in my hospital bag for when we take her home from the hospital.
So my hospital bag is packed, the car seat is in the van and we're ready to go at a moment's notice. Our sweet 75 year old neighbors have offered to watch the boys when the time comes until someone can get to our house to take care of them. It was such a generous offer, but if you know Beau, you know there's no way I can leave him with our sweet neighbors. More than likely, he'd be heading to the hospital for stitches after falling off a counter soon after I arrived!
I'm not sure how D-day will actually go down, and I'll be quite honest, it has me feeling a little anxious. Ideally, I'd go in for my 38-week or 39-week appointment and be 5 to 6 cm dilated (like I was with Beau) and they would send me straight to Labor & Delivery. But that seems too easy. I'm just praying that I don't go into labor during rush hour and that I can actually reach James if he's at the gym.
One thing I can tell you is that next week I will be walking my heart out in an attempt to get Scarlett to start making her way down 🙂