If you're looking for tried and tested quiet activities for your kids, check out this list of 8 activities that is sure to keep the interest of your little ones.
Though I don't like to put a lot of play restrictions on my kids, there are times when loud rowdy play is just too much. For instance, when the baby is napping, when Mommy has a headache or didn't get enough sleep, when playing together yields lots of fighting or when it's the end of the day and time to wind down.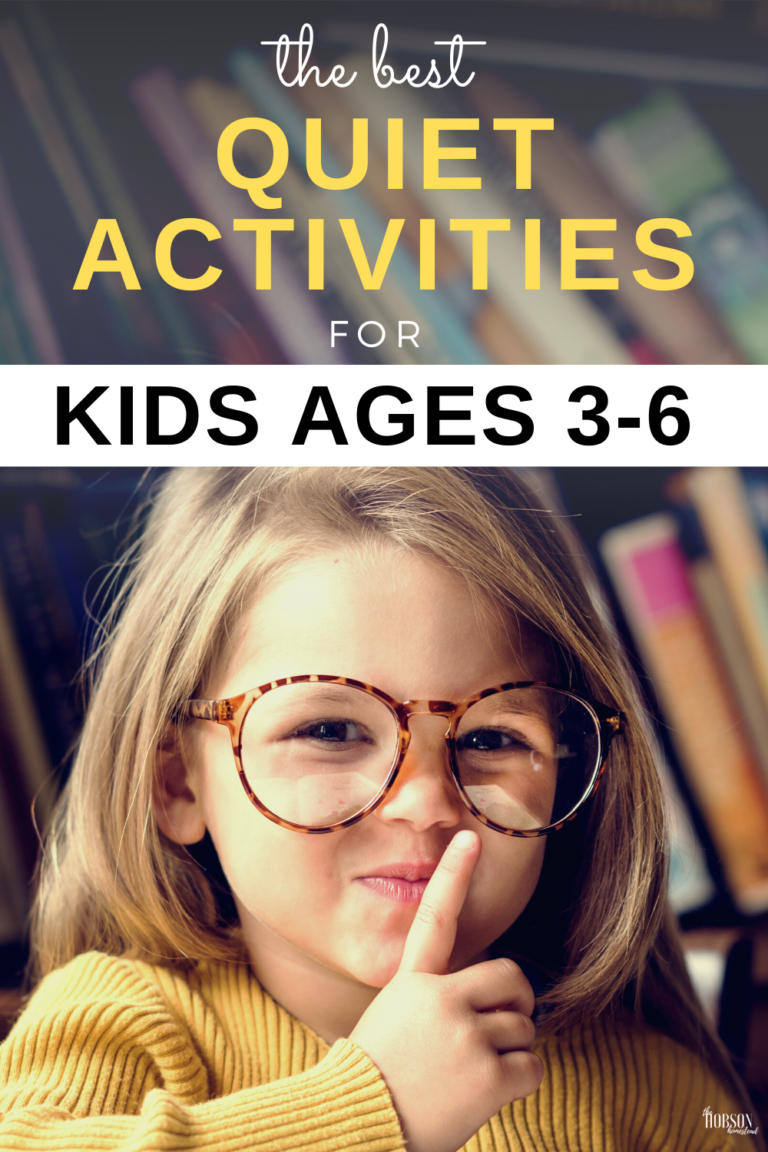 Every year, I'm on the hunt for easy but engaging indoor activities for my kids that will keep the noise level down when we're stuck inside when it's winter time or rainy or too early or late in the day.
Right now, we have 8 activities that we rotate through that are engaging for my oldest three kids, ages 3-6. Hopefully, some of these quiet activities for kids will work for your family.
Top 8 Quiet Activities for Kids
Puzzles
Right now, I would say that doing puzzles is the No. 1 quiet activity for my kids. Last month, I purchased three 100-piece puzzles off Amazon for my kids (all under $8 at the time). See our puzzles: Coral Reef, Happy Campers and Zoo Animals. I wanted each of them to have a puzzle to work on independently when some quiet time was needed. Ironically, all three of mine will work on the same puzzle at one time without argument, which is a rare feat in my house.
Wipe-Clean Books
A couple years ago, I purchased a few wipe-clean books and my kids have loved them. While tracing and writing, they don't even realize they're learning. There are so many wipe-clean book options on the market today, from pen control to numbers and letters to an activity book. These are a great reusable activity that will keep kids entertained and a little more subdued. My only recommendation is to buy plenty of pens for your books!
Legos
My boys (ages 6 and 5) are really into Legos and we have this box and have added several other specialty sets to our mix. We don't keep the sets separated or organized, and thankfully that's OK with my boys because they prefer to build their own creations at this point. All three of my older kids have a shelf in our living room dedicated to all their creations. Even my three year old daughter will join in the Lego fun, picking out all the pink and purple tiles to make her very own princess castle.
Hundred Board
I saw a friend post about this Hundred Board and immediately snatched one up on Amazon for only $8. My boys are at the perfect age for this activity. It's a great learning tool for my Pre-Ker as he works to count higher and higher, and my first grader started picking up on number patterns as they were filling out the board. I also love that they work together on this board without arguing, as there are plenty of spaces to fill.
K'nex
For my oldest son's sixth birthday last year, we gifted him with this set of K'nex. Though the age range suggest 7 to 12 year olds, my boys (ages 5 and 6) have no trouble creating designs with K'nex. As with Legos, there are instructions on how to build unique items, but oftentimes, my boys are happy to come up with their own creations. We like to alternate this with Legos, putting one in the closet for a few weeks and then switching them out. What we don't need is two sets of kits with tiny pieces all over the floor!

Library Books
I mentioned in my post 5 Online Ordering Services to Make Mom Life Easier that I order books from our local library online. A couple weeks ago, I ordered a big batch of books focused on fall as well as several reading books for my first grader since we practice reading every night. When we need the kids to start winding down before bed (or even when they are isolated for discipline reasons), we'll tell them to grab a few books to look at. Because I typically order 25 books at time, they have plenty of options and will quietly sit and look at or read books for 20 minutes. Twenty minutes is a lifetime in mom speak!
Craft Box
In the playroom, I recently repositioned some things and created a little corner with a kids' table, chairs and craft supplies. As with many girls, Scarlett loves to color. Oftentimes, I'll find her at the table coloring while I'm cleaning up the kitchen or making lunches. My boys aren't as into coloring, but my 6 year old loves creating cards for people. He'll write out the obligatory "tos" and "froms," draw a picture and seal it in an envelope. It's a toss up as to what my 5 year old will do at the craft station. Typically, it involves child-safe scissors. At our craft nook, the kids have access to crayons, markers, colored pencils, tape, blunt-tip scissors, glue sticks, writing paper, construction paper and stencils. (Note that paint and playdoh are not at the craft area, as it is located on carpet, but also because those activities tend to create big messes that Mama is left to clean up!)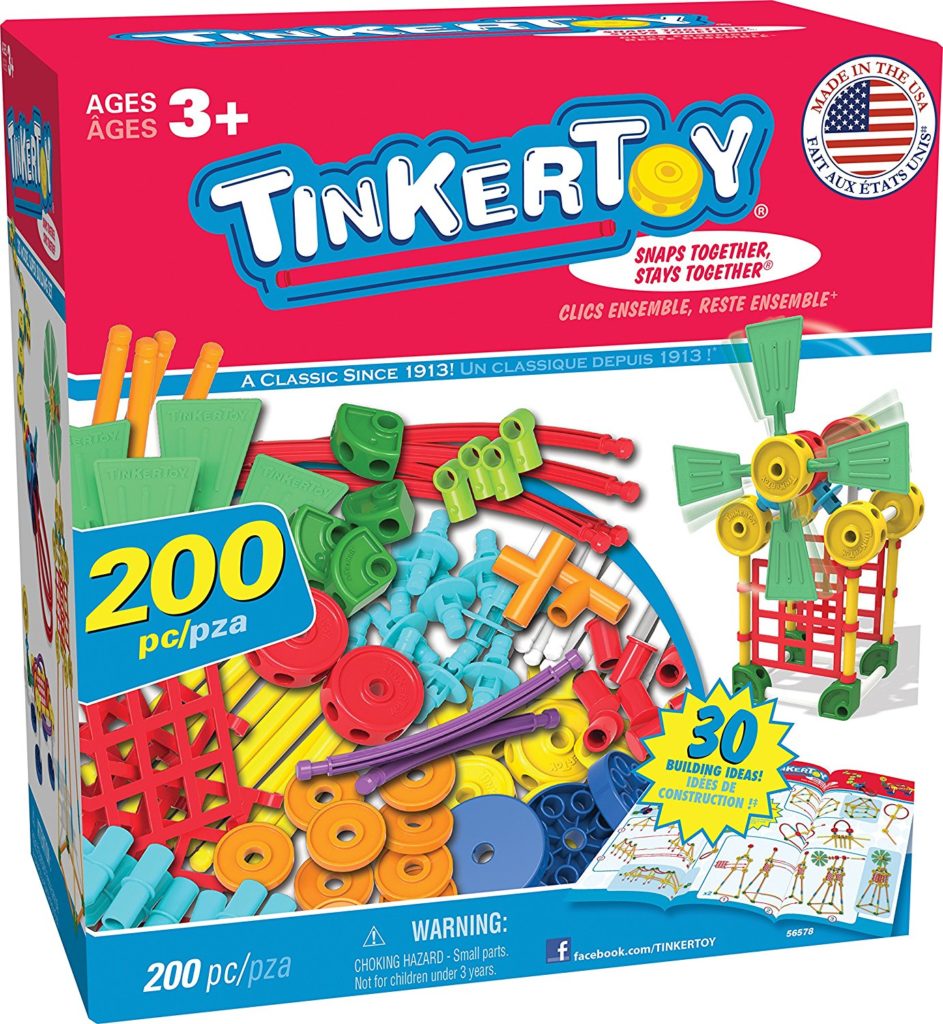 Tinker Toys
We gave the kids Tinker Toys two Christmases ago and they still play with them every week. Of course, the original cardboard box they came in is long gone, but we now store them in a plastic container with a lid and keep on a shelf. The most popular things my boys create are swords and guns—they are all boy. But I love that Tinker Toys help to jumpstart their imagination and the engineering side of their brains.
What are your recommendations for the best quiet activities for kids?
This post contains affiliate links, which help to support this website.