Over the past couple years, the lives of grocery shoppers everywhere have become a little easier. Whether you're a mom like me with young kids, have limited time to grocery shop in person or simply want to stick to your grocery budget each week, ordering groceries online can save you everything from time to money to your sanity.
Kroger and Walmart offer curbside pick-up services at many of their locations and Instacart delivers groceries from local stores such as Whole Foods, Publix, Costco and Target right to your doorstep.
As soon as I found out my nearby Kroger began offering ClickList, its version of curbside grocery pick-up, I tried it immediately. Last summer, when I had three kids four and under, ClickList saved my sanity. No longer did I have to worry about who would pitch a fit in the grocery story because I didn't allow the bag of marshmallows in the cart. No longer did I have to worry about who would fall out of the cart being rowdy. No longer did I have to worry if there would a big enough cart available to fit my three kids.
So I dove in headfirst and placed my first order, conveniently (for me!) the day before July 4th. The normal $4.95 service fee was waived (it is for your first three orders), so after I selected my groceries online, I simply scheduled a pick-up time, which is an hour timeframe but I have found that Kroger is very forgiving if you are late.
So on my initial visit, I simply pulled up to the ClickList parking spots on the side of the Kroger store, called the number indicated on the sign in front of me, and voila, my groceries were put in my trunk without ever unbuckling myself or my kids from their carseats.
Since last summer, the only weeks I have not shopped at Kroger have been those weeks when I make a big run to Costco or Trader Joe's. So even though I'm now a weekly Kroger ClickList customer, I won't pretend Kroger is perfect.
For years, while we lived in Marietta and Kennesaw, Georgia, I was a loyal Publix customer. Publix tends to have a bit higher prices than Kroger, but its produce and meat is fresher and the customer service is impeccable (and I give them super high ratings on kid-friendliness). BUT, Publix doesn't have curbside pick-up, and at this point in my life with young kids, grocery pick-up just makes mommin' 10 times easier. So nowadays, I do my major weekly shopping at Kroger,  pick up last-minute items at Publix and try to limit myself to visiting Costco to once every 4-6 weeks.
After placing 25 (!!!) orders using ClickList since July 2016, here are my thoughts on the service–both good and bad–and tips for anyone else considering a curbside grocery pick-up service.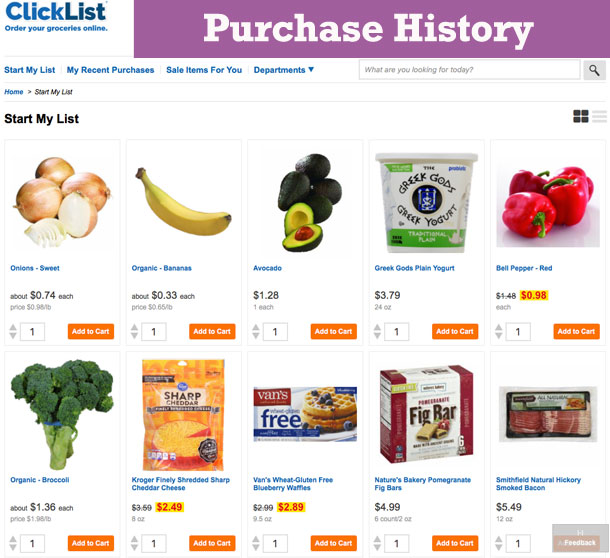 Pros of Kroger ClickList
It's a huge timesaver. I don't spend time refereeing my kids in the store or on a wild goose chase for certain items.
If you have kids, you don't have to worry about embarrassing moments in the store.
ClickList saves items you purchase often to make it easier when you return, and also recommends items for you based on past purchases.
You can make your grocery list at your own pace. You can also save that list to make it easier the next time you shop online.
It's easier to budget for groceries because it tallies up the total for you. It's not always exact, but typically only a few dollars off depending on how much meat or produce weighs.
It's easier to meal plan when I can see the sale items online then order online and review my list a couple times before submitting.

You can add notes to any item you order to specify how much of something you want (i.e. 1/2 pound of deli meat) or clarify substitution preferences if it's not in stock (i.e. may sub with strawberry flavor if raspberry is gone).
Couponing is easy. You digitally clip coupons from the Kroger website, but you can also bring mailed or printable coupons with you at pick-up and an employee will retrieve them for you and alter your total.
It's super easy to see items on sale. ClickList puts sale prices in red and then highlights them in yellow so they stand out online.
You can filter many of the food categories (such as produce and meat) by organic, so if you are interested in organic products those are the only ones that appear.
Filling out a online survey about your ClickList order each time earns you extra fuel points.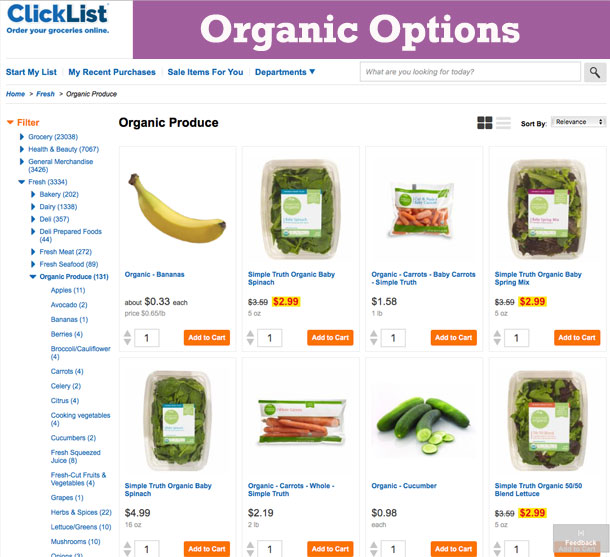 Cons of Kroger ClickList
When it comes to the freshness of the produce, you're at the mercy of the employee who selects it. Most of the time my produce is fine, but just recently I received a salad blend that was dated the day after my pick-up, and I had to throw most of the container out because the leaves were wet and soggy.
On nearly every visit, some items are out of stock. A Kroger employee told me that all Kroger stores share the same ClickList inventory online, so in general most stores carry the majority of the items. So if an item is out of stock, it's either because that store doesn't carry that particular item or because in-store customers purchased all the inventory. If you are trying to meal plan for the week, out of stock items make it hard because often I will have to run by Publix later in the week to pick them up.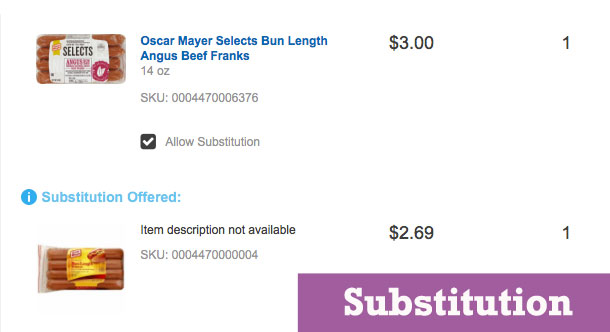 While it's great that ClickList offers substitutions so that you typically get a similar item, they don't always work. Some grocery shoppers like myself are a tough customer because we're either picky or we have people we buy for with special diets. So substituting soy yogurt for my order of coconut milk yogurt doesn't work for me because my son can't have soy. And also substituting one brand of hotdogs for another doesn't work because the substitution contains ingredients my son can't have. Thankfully, a ClickList employee reviews the substitutions with you and you can deny any of the substitutions, which I do quite often. The other option is to uncheck the "Allow Substitution" box if you only want a certain brand/flavor of a product.
Last summer, I used the mobile app for ClickList but quickly switched over to the website version because the app is super finicky. Most of the time when I click on ClickList in the app, the page is blank and doesn't work. It'd be nice to use the mobile app, but because I can order any time, I can always find time to do it at home on my laptop.
Though I personally think the $4.95 service is worth it, others may not share that feeling. I do wish Kroger would waive the fee if you order a certain amount of groceries.
You can't always see ingredients on all the items. When you click on an item, often there are multiples images for that item, including the ingredients label. Reviewing this label is a must when I come across new food possibilities for my child with multiple food allergies. Unfortunately, many of the product images do not include multiple images, so I have to search for the ingredients on Google to ensure they are safe for my son. If you aren't super concerned with ingredients, this con won't be as big of a deal for you.
Tips for Kroger ClickList
Empty your trunk. Just last week I picked up my order and the employee asked if I wanted my groceries in my trunk (they always ask where, by the way). I told her yes, that there were a few boxes but she could stack the groceries on top. I noticed it took her a while to get the groceries in and after a few minutes she apologized, saying she had to maneuver around the bike. Oops! I totally forgot I left one of my boys' bikes in the trunk. In the past I have also accidentally left my double stroller in the trunk.
At first, my Kroger only offered grocery ordering one day or more ahead of pickup. But recently, they added a same-day pick up option. Same-day ordering and pick up is great if you don't have time to plan ahead and need groceries, but the only catch is you can't edit your cart after you submit your order. If you submit your order one or more days ahead of time, you can edit your order as many times as you like before midnight the night before your pick up is scheduled. I prefer to order a couple days in advance because I am constantly thinking of items I've forgotten or items we just ran out of. Also, I will begin meal planning one day and pick out groceries for about half the week, then inevitably I am interrupted (typically by a child) and have to finish ordering later. But I go ahead and submit my order so that I can secure my preferred pick up day and time. Then I just go back online later after I've finished meal planning to add the rest of my items.
Know the sales calendar. My store's weekly sales run from Wednesday to the following Tuesday, so I make sure that if I'm building an order I schedule pick up by Tuesday so that the prices don't jump up on me all of a sudden when the new weekly sale begins.
Ask when the trucks typically deliver so produce is fresh and items are in stock. If there is a great sale happening, you're better off ordering your groceries soon after the delivery trucks arrive so you have a better chance of that product being in stock. Recently, I ordered two organic pork loins because they were on a great sale, but they didn't have them in stock because I chose the sixth day of the weekly sale to pick up my groceries.
Not every store offers it. My Kroger is a larger new store, but I'm not sure how many of the older Krogers have added ClickList services. You can sign up here to find out when a ClickList comes to a store near you.
Have you tried Kroger ClickList or another curbside grocery pick up service? Love it? Hate it?