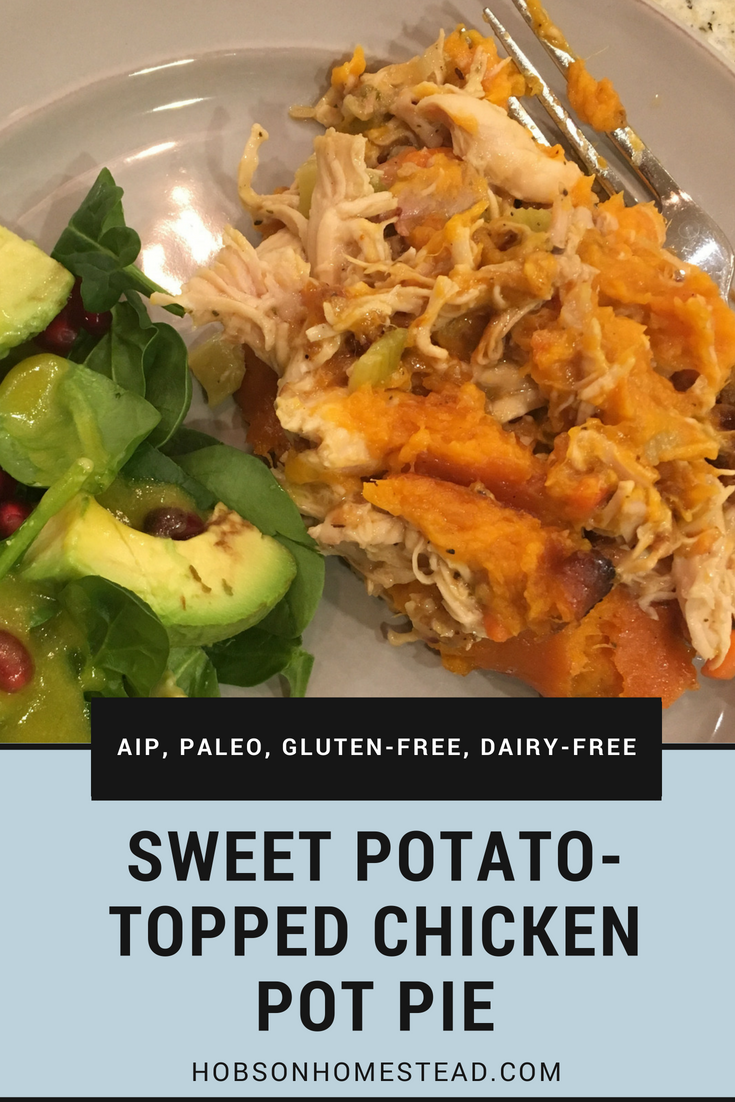 I started making a version of Sweet Potato-Topped Chicken Pot Pie three years ago when I adapted it from a Southern Living recipe. But I've adapted my recipe again to make it suitable for my Beaudozer, who has Eosinophilic Esophagitis and many food triggers/allergies. We cut out dairy for him nearly a year ago and he was also on a strict Autoimmune Protocol Diet (AIP) for six months in an attempt to pinpoint triggers and reduce inflammation. During that time, I created an AIP-friendly recipe for Sweet Potato Chicken Pot Pie, which is technically a paleo recipe as well. I replaced butter and heavy cream with coconut products to make it compliant for Beau.
Beau is off the strict AIP diet for now, as we've reintroduced a few foods to his diet like seeds, tomatoes, oatmeal and quinoa (a couple times a month). But regardless, I still make this version of the recipe for him because he is dairy-free and will likely be that way for a very long time, if not forever.
But the good news is that Beau absolutely loves this recipe, so I make it about once a month. Sometimes I cook it all in one 9×13-inch casserole dish, and other times I split it into two smaller dishes and freeze one. Because of Beau's condition, I use all organic ingredients, from the vegetables to the oil to the chicken. In the past, I would use a store-bought rotisserie chicken for the meat to speed up the cooking process. But now, I buy organic whole chickens from Costco or my local grocery store when they are on sale and stew the whole chicken, then use the carcass to make chicken bone broth because there are a ton of healthy benefits for Beau.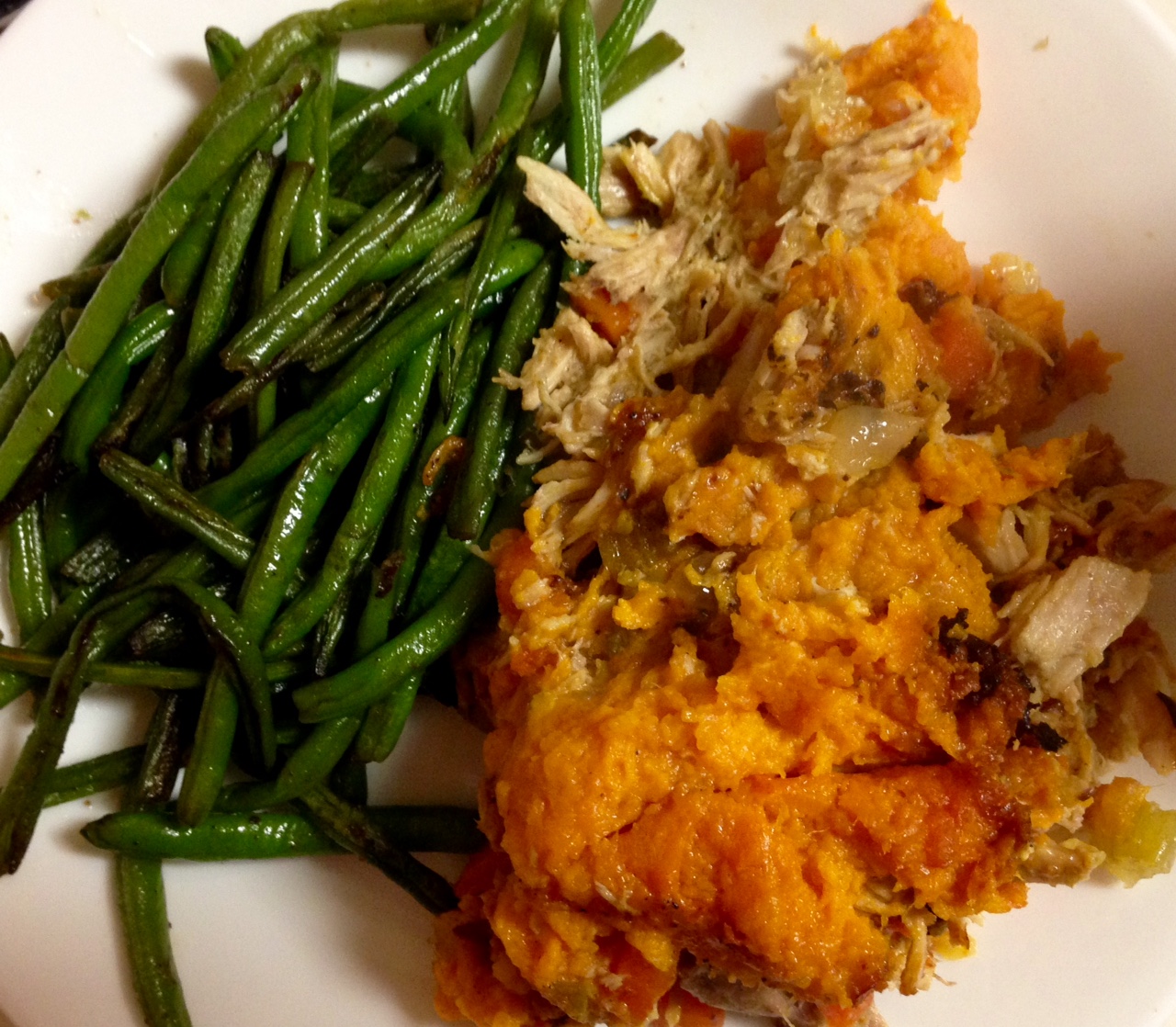 Whether you follow a strict diet or not, I believe this Sweet Potato-Topped Chicken Pot Pie is one of the most satiating comfort foods out there. I make homemade cranberry sauce to eat with it (when cranberries are in season), and typically serve the dish along with green beans or a salad.
AIP/Paleo Sweet Potato-Topped Chicken Pot Pie
Ingredients:
Pie base:
3 tbsp healthy oil (avocado, olive or coconut)
2 cups celery, diced (7-8 stalks)
2 cups carrots, peeled and diced, (4 large)
2 cups onion, diced (1 large)
6 cloves garlic, minced
3 tbsp arrowroot or tapioca flour
6 cups shredded chicken (meat from a whole stewed chicken or rotisserie chicken)
coconut cream from two cans (refrigerate to separate cream; reserve coconut water for sweet potato topping)
1/2 cup chicken bone broth or stock
1 tbsp parsley
1/2 tsp sea salt (more after taste-testing)
1/4 tsp black pepper
1 tbsp hot pepper sauce (omit for strict AIP)
Topping:
4 large sweet potatoes, peeled and cubed
1 tsp sea salt
1/4 tsp nutmeg (substitute ground cloves or cinnamon for AIP)
as needed: milky coconut water from beneath coconut cream
as needed: 1/4 tsp sea salt
1. In Dutch oven, saute onions, carrots, celery and garlic in oil for roughly 15 minutes on medium-high heat, until soft.
2. Reduce heat to medium, and stir in arrowroot/tapioca flour. Continue stirring for 1 minute as the flour absorbs the moisture in the pot.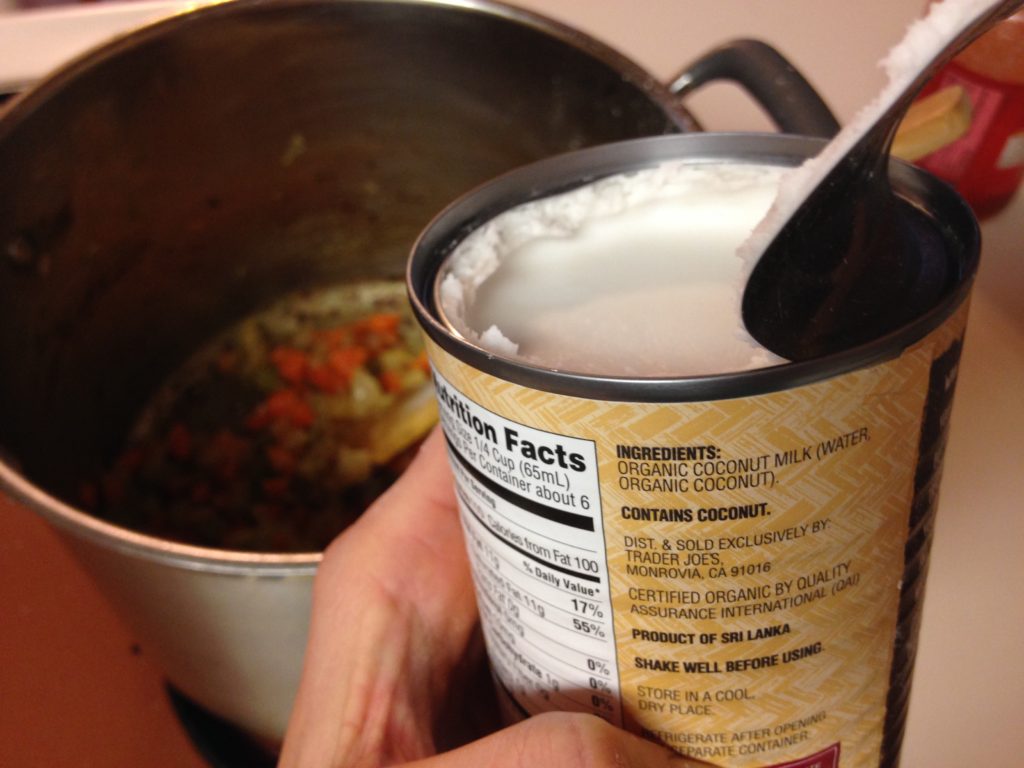 3. Remove from heat and stir in coconut cream, broth and seasonings until cream is melted.
4. Since chicken is already cooked, taste test and add more salt or seasoning as needed.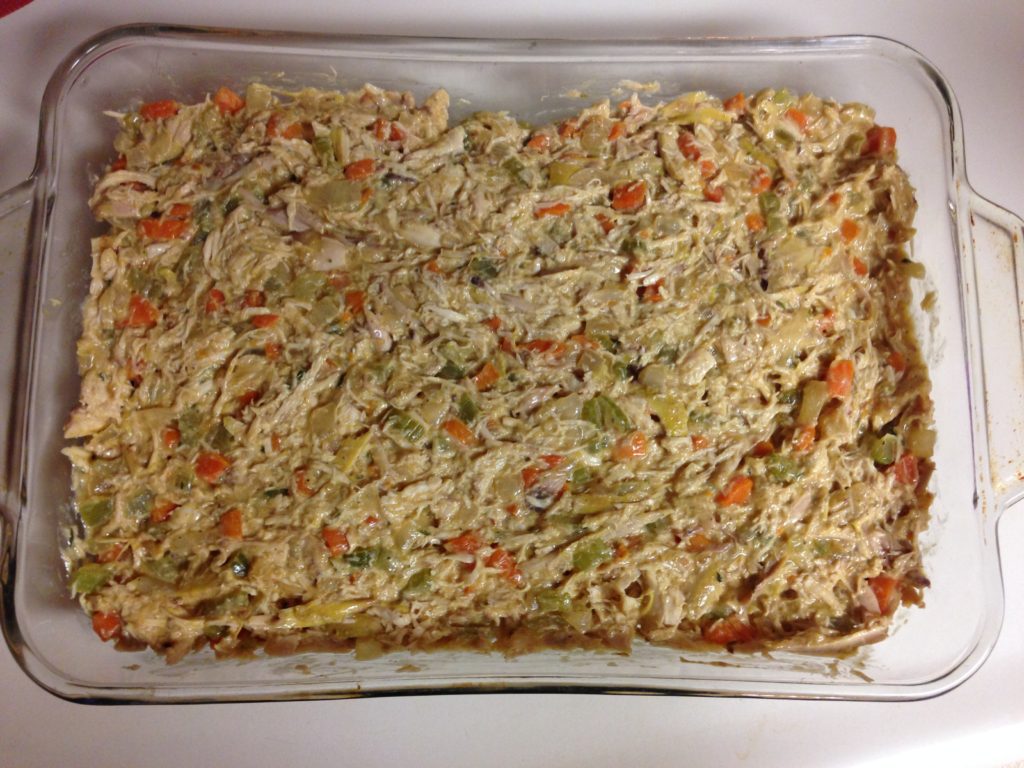 5. Spread mixture in 3 quart or 13×9 inch casserole dish (or two smaller dishes if you want to freeze one) and set aside.
[Update: I have found an easier way to make the potato topping. Instead of boiling the sweet potatoes, bake them instead and scoop the flesh out into a mixing bowl before adding the seasoning listed below.]
6. Wash out your pot, then place cubed sweet potatoes inside and cover with water roughly 2 inches above potatoes.
7. Add in salt and bring to boil about 25 minutes or until potatoes are soft enough to mash.
8. Drain water and add nutmeg/cloves and a small amount of reserved coconut water, then beat until consistency is like mashed potatoes. Add more coconut water as needed until desired consistency is reached.
9. Taste test and add more salt if needed. I typically add 1/4 tsp at this point if needed.
10. Gently spread sweet potato mixture on top of chicken mixture in casserole dish.
11. Bake at 400 degrees for 40-50 minutes, depending on dish size. Sweet potato topping should brown around the edges and begin browning in the middle.