Every other week, I like to share my favorite products or activities that I've encountered. Many of these faves I share on Instagram throughout the week. Feel free to follow me @hobsonhomestead!
From maternity tanks to hand-me-downs to baby milestone blankets, find out about some of my most recent favorite things in this edition of Friday Faves.
Friday Faves
K I D S
Checking off our Summer Bucket List
Now that I've hit 9 months pregnant, the race is on to prep everything for baby but also to squeeze in every bit of summer fun with my older kids that I can. We are checking off one box at a time, and most recently visited our local Botanical Gardens as well as our nearby state park. These outdoor trips will be too hot with a newborn, plus my kids will start back school the second week of August.
Afternoons in a Kiddie Pool
Most mornings this summer, we have stayed busy between doctor or chiropractor appointments and summer activities. Morning is when I feel my best pregnant and have the most energy. Accordingly, I try not to plan anything in the afternoons so I can be at home, taking a slower pace while I do household chores and prep dinner. But still, after Scarlett wakes from her nap, my kids get a second wind and need to be active. My go-to activity the past couple weeks has been afternoon swims in the kiddie pool. It keeps my kids cool and active, and all I have to do is step outside to make it happen.
Chores for Boredom or Fighting
Though this summer has translated into lots of fun, it's also meant lots of fighting for my kids as well as spells of whininess and boredom. The past two weeks, my husband and I have started initiating chore time to keep the kids busy, distracted and productive. Picking up, vacuuming and washing windows are at the top of our list. But usually, we just look around the house and make them do whatever chores we spot that need doing. I actually have some chore caddies in the works for them to help me out my final weeks of pregnancy as well as after the baby arrives.
Big Sister Shirts
I didn't buy my boys Big Brother shirts for this new baby. I bought them a set when Scarlett was born, but of course they were 2 and 1 at the time so it was much cuter. At nearly 5 and 6, they could care less about specialty shirts. But since this is Scarlett's first time being a Big Sister and this new baby is all she can talk about, I found two cute shirts for her from an Etsy shop called Purple Possum. When they arrived in the mail this week, she could not contain her excitement and did a happy dance.
P R E G N A N C Y // B A B Y
Baby Monthly Milestone Blanket
Last week, I got this super cute baby monthly milestone blanket in the mail. I never documented my first three kids using a milestone blanket, but then again, they weren't as popular then. I'm excited to document this new baby each month to see how he changes and grows. I absolutely love the design on this blanket, and a bonus is it's super soft.
Nesting in Full Force
I wrote a whole post about nesting tips earlier this week, because I feel like I'm under a time crunch to get things cleaned and organized. One nest project I checked off was doing deep freezer cleanout. This allowed me to see what frozen food we had all the way at the bottom of the freezer, as well as make room for more freezer meals that I continue to prep.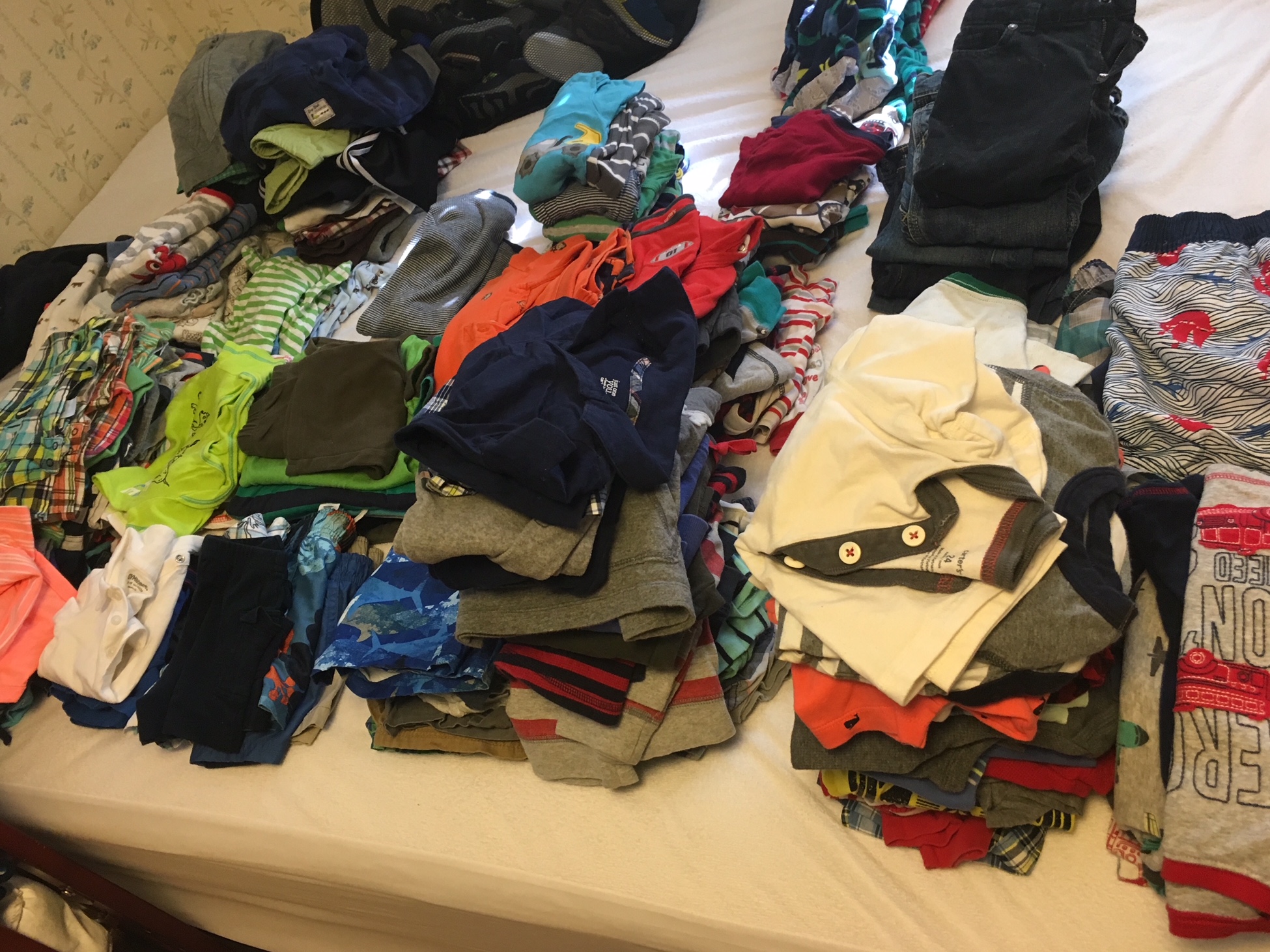 Hand Me Downs 
I'm working on a post about baby essentials, but in the meantime, I'm so grateful for the hand me downs and consignment finds I've gotten for this fourth baby. I got rid of most all my baby stuff when we moved over two years ago, so I was starting from scratch this time. Luckily, I have a good handle on what basics baby needs–and clothes are essential. Two girlfriends as well as my sister passed me on boy clothes, ranging from newborn to 2T. Though I COULD get by with limited clothes for baby, this relieves the pressure of ensuring the washing machine is always going. I'm so grateful for these Mamas who are sharing with me!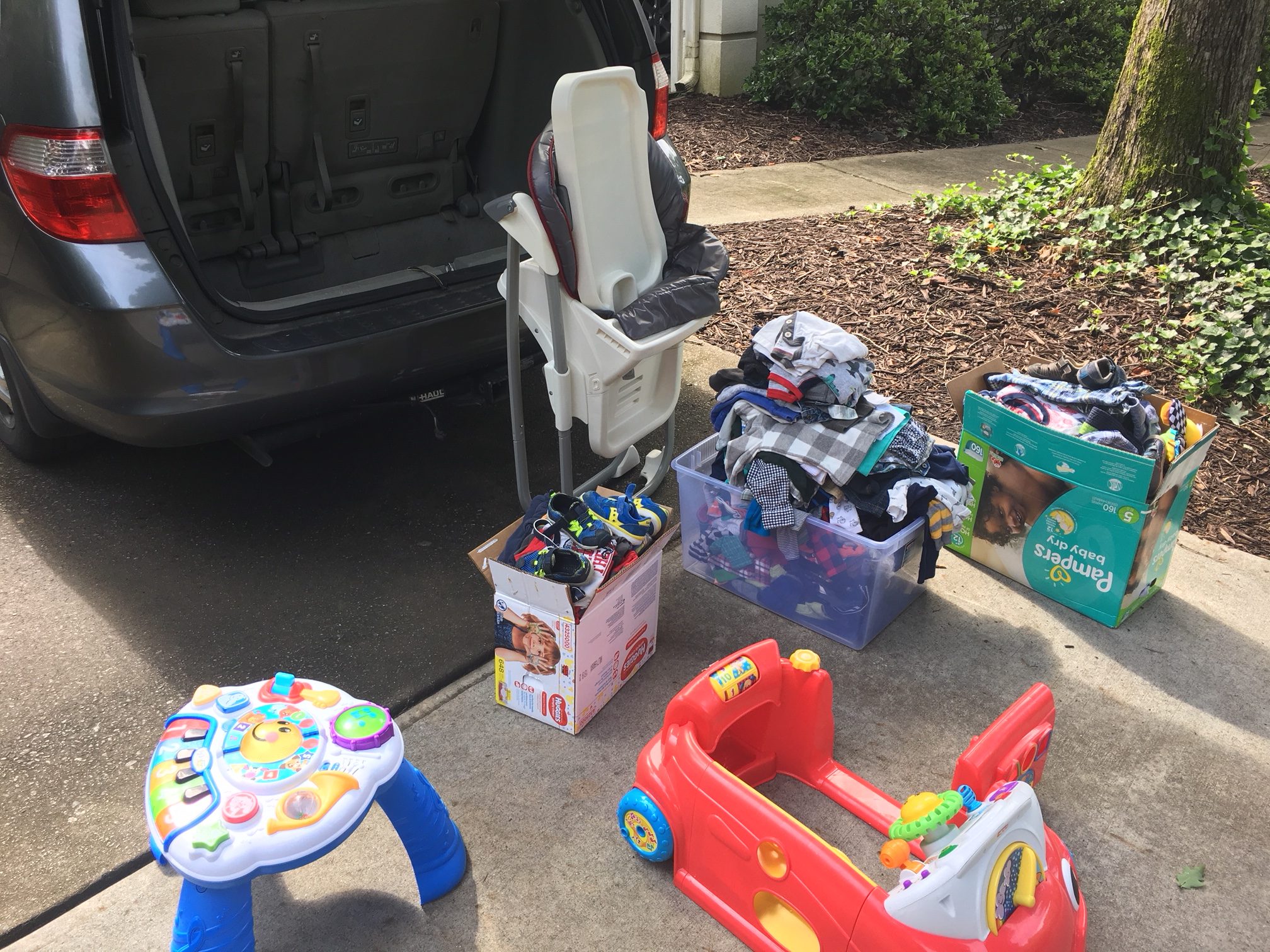 M A M A
Hospital Bag is Ready
Last weekend, after feeling achy with a super tight belly for a few days, I figured it was time to pack my Hospital Bag. Obviously, I don't want this baby to come too early and his lungs not be fully developed, but I thought it'd be a good idea to have all my ducks in a row. With each baby, my hospital bag gets lighter and lighter. See My Hospital Bag Checklist: Just the Basics post for insight into my thoughts on just the essentials.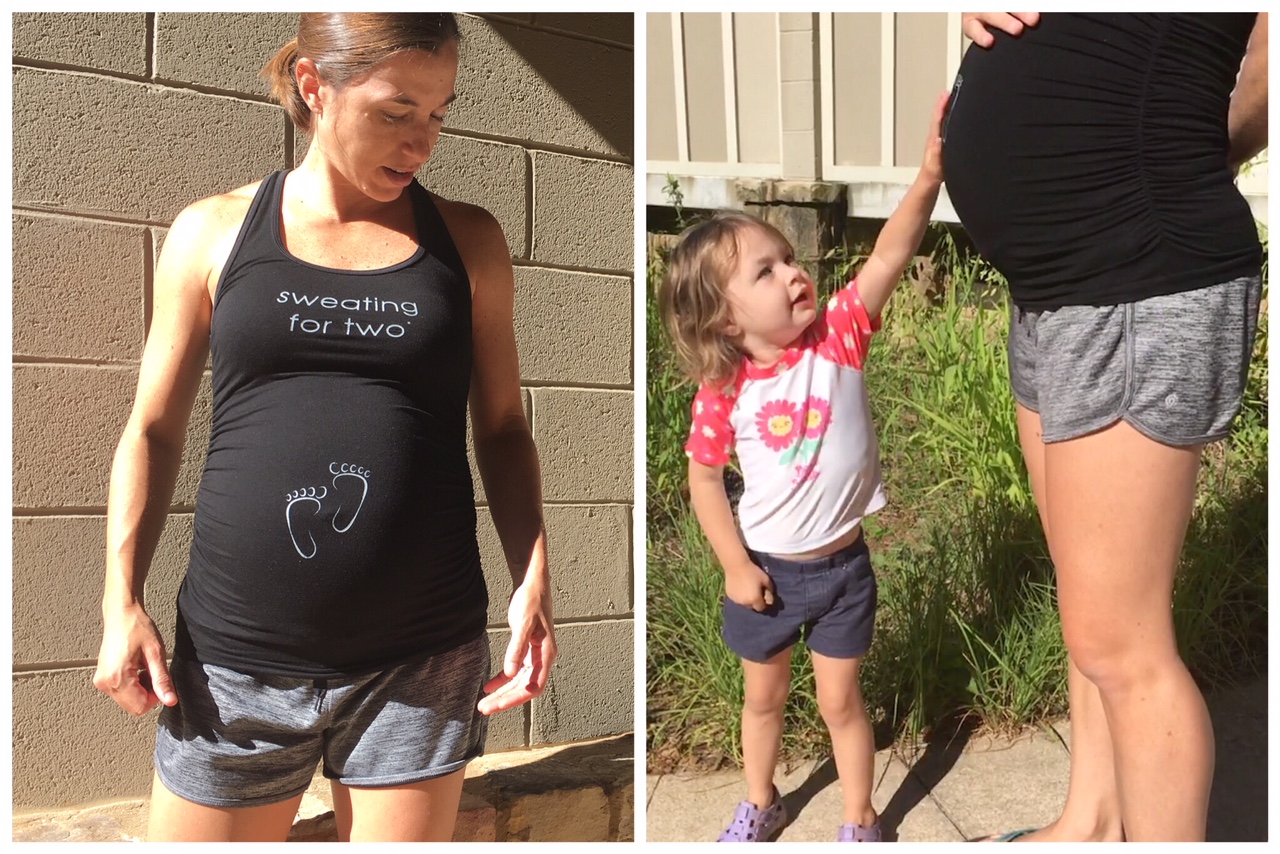 For Two Fitness Tanks
As I have crossed over the 9-month mark, less and less of my maternity shirts are feeling appropriate. As in, they are just getting too short as they accommodate my growing belly. But earlier in my pregnancy I splurged on two For Two Fitness tanks since my main wardrobe is activewear and I love working out. These have been hands-down the best tanks for an active pregnancy. They fit just as great at 5 months pregnant as the do now at 9 months pregnant (in image above). The ruching is flattering despite the size of your bump, and the length and fit ensure that your bump remains covered. If you sign up for the email list, you will get regular discounts of at least 20% off.
There are times when I really do enjoy perusing the grocery store aisles, especially Costco, Whole Foods or Trader Joe's. But in the summer when my kids are with me 24/7 and looking ahead to when I'll have a newborn, Kroger Clicklist saves the day. This week, after taking the kids to a local state park with a lake beach, I was so thankful I could pick up my groceries curb-side since they all fell asleep on the way home. Besides convenience, another benefit of Clicklist is that I save a lot of money. I get coupons in the mail and always look through the digital coupons as well. Every single trip, I get a couple items free just for being a regular Clicklist customer, I guess. If you want to know more about my thoughts on Clicklist, read this post from last year.
R E C I P E S // F O O D
Trader Joe's Cauliflower Pizza Crust
My mom stumbled upon these pizza crusts at Trader Joe's last month and they are perfect for Beau, who has several food allergies. He has been off gluten and soy for a couple years, but many of the gluten-free pizza crusts and even recipes call for rice flour, and he is also allergic to rice. This pizza is made mostly of cauliflower and corn, so it's Beau-approved. And since we are celebrating his 5th birthday tomorrow and serving pizza, I can now make him his own pizza to enjoy using this crust.
Peanut Butter Runner's Perfect Paleo Banana Bread
Years ago, I first made this paleo banana bread recipe and it is still my favorite one to date. The great news is that my kids love it and eat it right up, and I don't mind that since it uses a combination of almond and coconut flour and is sweetened with maple syrup.
Make One; Freeze One
Now that I'm 9 months pregnant, I'm feeling the crunch as baby will be here in just a few weeks. I managed two make two casseroles this week for dinner, and also made two spare ones to freeze. I froze my favorite AIP/Paleo Sweet Potato-Topped Chicken Pot Pie as well as a Shepherd's Pie I made off the cuff with no recipe.
M I S C E L L A N E O U S

Pinterest
I've neglected my Pinterest account the past couple years, but I recently resurrected it. I was emailing myself links to recipes I wanted to try, and realized that was such an old school way of doing things. So I created some new Pinterest boards and deleted some old ones. Here are some of my boards in case you want to follow:
This post contains affiliate links, which help to support this website.