With house hunting on the mind (see this post for an update), I've curbed my spending a lot because I have a feeling it will ramp up once we buy a house. So my favorite things from the past two months are some items that I actually purchased during that time frame as well as some pre-owned items that I've used a ton this summer.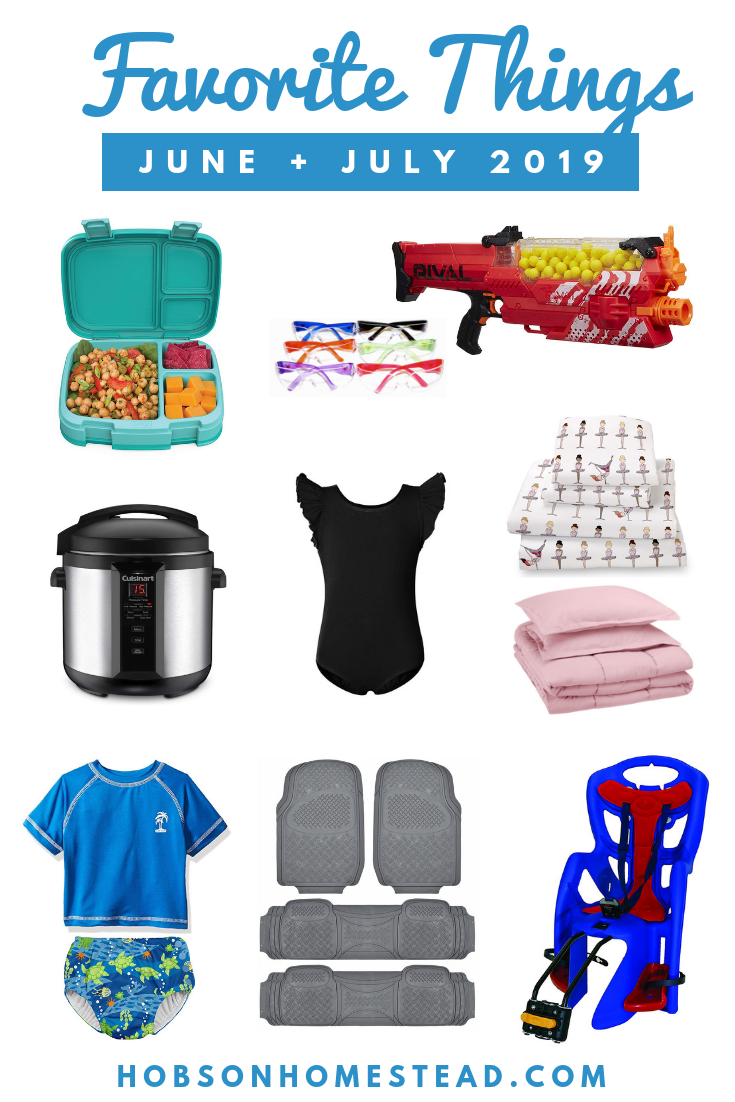 I snagged a couple of these Bentgo Fresh lunch boxes on an Amazon lightening deal recently. Yesterday, I used them to pack lunch for my two Rowdy boys and used our older Bentgo Kids lunch boxes for my two younger kids. It worked perfectly. I fit in plenty of food for my boys, while still liking the separate container so their pineapple didn't make other food soggy. If I was still in the coporate world, I would totally use these.
Automatic Nerf Gun and Kids' Safety Glasses
We visit my sister-in-law's family every summer at Panama City Beach. The past couple years, my brother-in-law has made pseudo Ninja Warrior courses for the kids that my Rowdy boys end up talking about all year long. In the past, he used a suction cup bow and arrow to shoot the kids. But this summer, he made a big upgrade with this automatic Nerf Gun. It is LEGIT and because it's battery powered can shoot out 100 rounds in just minutes. So he set up a course all over the back yard and put the kids in safety glasses to protect their eyes just in case, then let loose. You can imagine how much my kids love it. Let's just say the bar has been set really high for next summer!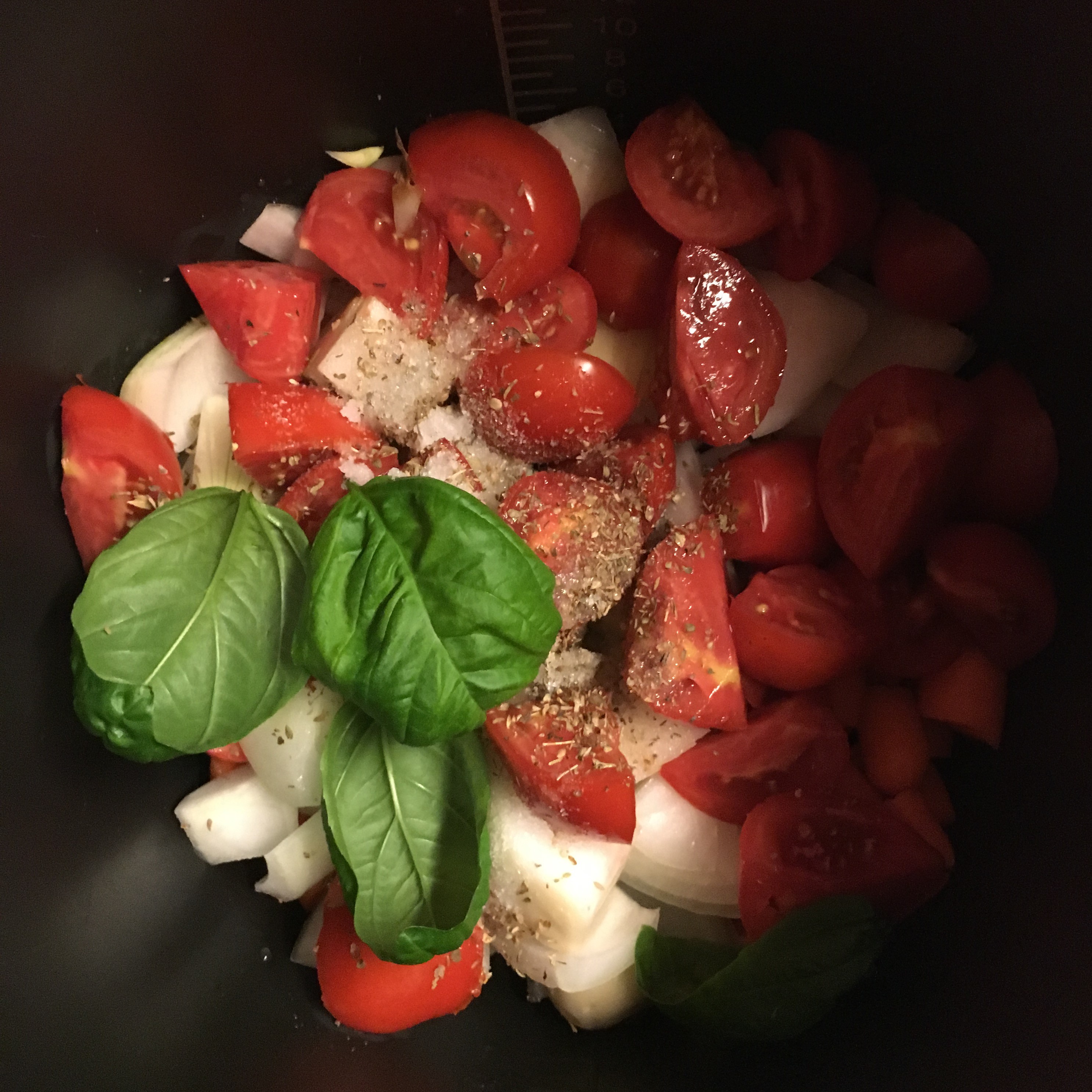 I received this Instant Pot as a birthday gift a couple years ago, but the husband pulled it out late spring and we have both used it a ton this summer. I'd guess at least four times a week. I am learning to make things other than soup in it, and most recently made homemade marinara sauce with our abundance of home-grown tomatoes. I still have high hopes of making some Instant Pot freezer meals as our schedule ramps up when school starts. Unfortunately, I need school to start back first in order to have time to do that! Oh the irony.
My tiny girl started ballet a year ago, and being the Amazon Prime mom that I am, I ordered two leotards online last year. I had no idea what I was doing and let's just say those leotards did not fit very well, but we pushed through the year with them. Two ballet moms recently recommended this simple flutter sleeve ballet leotard to me so I quickly bought one because it is a great style and fit for the price (less than $15).
Ballet Sheets and Light Pink Comforter
Nearly two years ago, I bought my daughter a set of these ballet sheets (twin, queen). They are beyond cute without being over frilly (in my opinion). And when I thought we were moving soon, I also purchased this comforter (twin, queen) that came in the perfect shade of ballet pink to match. It's a more muted pink than bubble gum pink, and because she was adamant about wanting pink, I thought it was a good compromise. Least to say, whenever we do buy our house, her bedding will be set!
Baby Rash Guard and Swim Diaper
With three older siblings, baby Grady has spent a lot of time in or near water this summer to keep them entertained. A couple months ago I posted about this one-piece rashguard that I love on him. But I also wanted to buy a two piece set and test out a swim diaper. So I bought this rash guard shirt in blue and white as well as a cute swim diaper. The shirts are a great value for only $10 and the diaper has made it easy as he's learned to crawl so that his knees don't get caught up on normal swim trunks when he's moving around our local splash park. Plus, who doesn't love a baby who shows off those chunky thighs?!
I ordered this set of heavy duty car mats for my 2007 Honda Odyssey minivan last summer. Of course, the package sat in the carport for a couple months before I finally put them in. And at that point I was kicking myself for waiting because these truly are heavy duty. Between the mud, grass and dirt that my kids track in my vehicle, as well as all the food they drop, these mats have been amazing. This week we just bought a new-to-us 2015 Toyota Sienna minivan. We transferred these mats and they fit perfectly. I also ordered this trunk mat that allows you to fold down the back seats without removing the mat. With four kids, we are soooo dirty, so anything that helps make cleaning easier I will definitely invest in.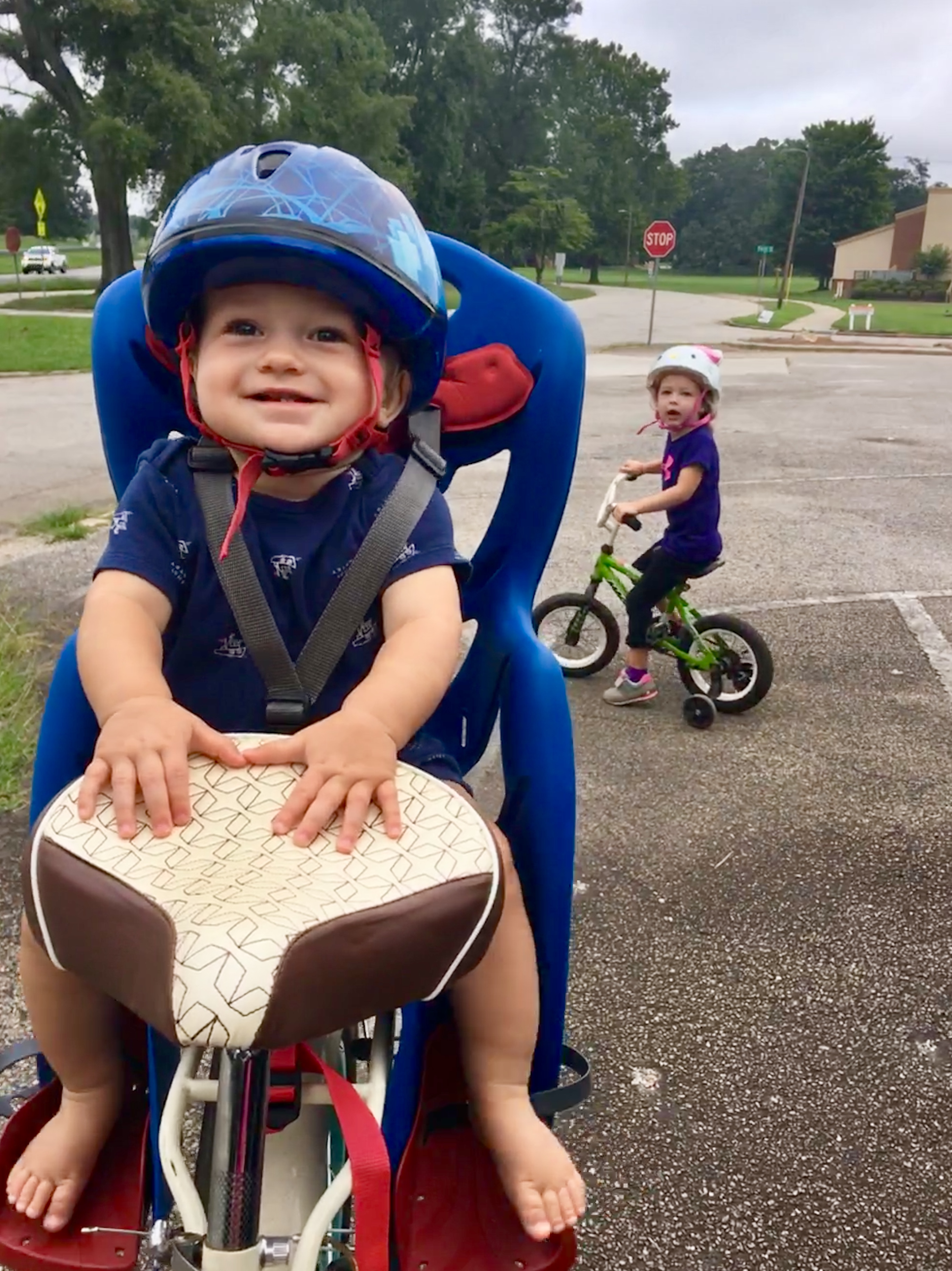 More than three years ago (eek!), I bought this bike seat for my tiny girl. Though she can still fit in the seat (she's 4.5) and is well below the 50-pound weight limit, now that she is riding a bike with training wheels, it was time to try out the baby in the bike seat. Grady absolutely loved his first ride, and thankfully this helmet didn't even phase him.