I've fallen a bit off the bandwagon of my normal Friday Faves because a) life with a newborn, b) my three big kids are still adjusting to school and c) lack of sleep from said newborn.
But since August is coming to a close and fall is just around the corner (fingers crossed), I wanted to pop in to share my favorite things during the past month. I'm sure I'm forgetting tons of stuff I loved, but between the lack of sleep and my mind trying to juggle lots of little needs and to-do lists at once, that's what happens.
At any rate, we're excited for the long holiday weekend and the first University of Georgia football game. Go Dawgs! You'll see a tribute to the Bulldogs below, as well as a run-down of my favorite things from this past month.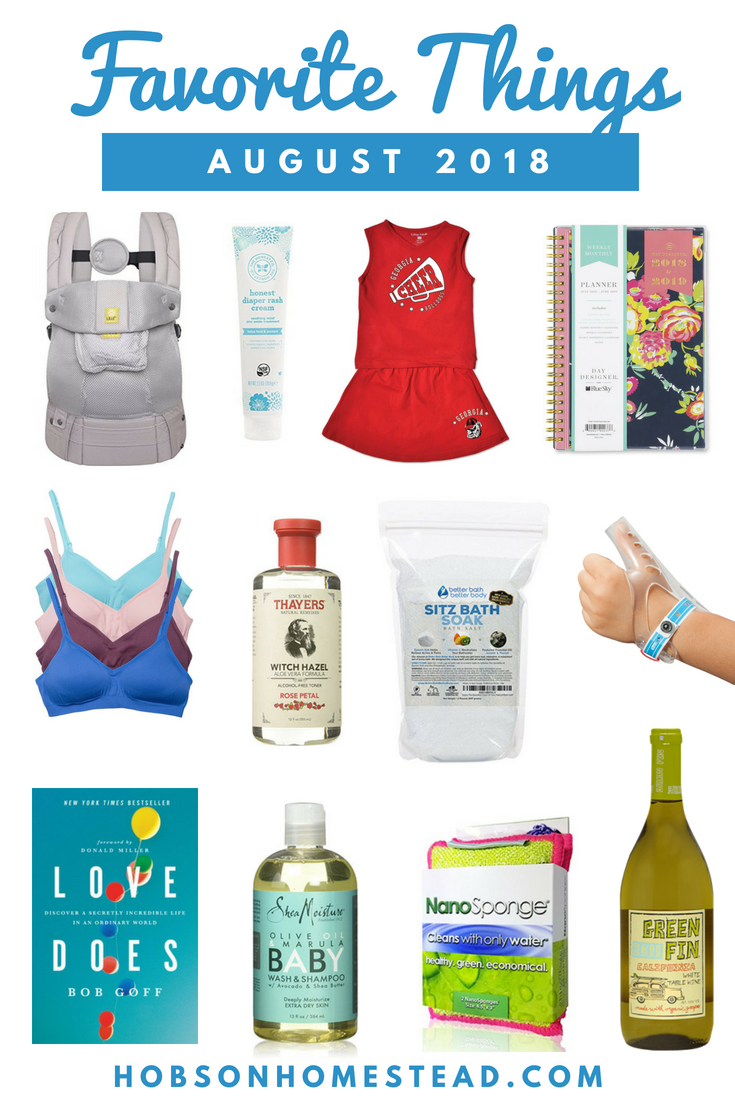 I purchased my Lillebaby carrier when Scarlett was a couple months old. I chose it because of the breathable mesh that was crucial when I was part of a Hike It Baby group back in our last town. I even put Scarlett in it on my back last week when she had a(nother) meltdown over who knows what. My tiny girl is going through quite the transition with a new baby (aka she gets less of Mama's time), stopping thumb sucking and lack of sleep now that she sharing a room with her brothers. This is also my go-to carrier for baby Grady since (unlike my older Ergo) you don't have to use an infant insert. This gives me another option for bringing Grady along places without feeling bad about him being strapped in his car seat for too long.
Around two weeks old, Grady began to get a bad diaper rash that I was worried may start to bleed. His skin was fiery red and bumps had formed. Once I started using this cream every diaper change, it cleared up in about 24 hours. I was so impressed. It's a fairly small bottle, but you only have to use a dime-sized amount so it's lasted well so far.
We are die-hard University of Georgia fans. My husband and I both graduated from UGA, along with a long line of family members. My grandfather attended UGA Vet School, my mom and brother attended UGA Law School, my dad, aunt and brother-in-law also completed their undergrad degrees at UGA. We are just praying ONE of our kids goes there eventually! At any rate, Scarlett had gotten hand-me-down UGA cheer outfits the past couple years, but she had outgrown them all. So I scoured the internet and found several super cute but super pricey outfits. Then I stumbled upon this cotton set on Amazon for $16 and ordered it asap. It's super cute and the 3T is big enough that she can wear a long-sleeved shirt and leggings underneath. I would say it runs on the bigger side (but Scarlett is only 27 lbs at 3.5 years old) and she should be able to  wear it through next summer.
Over the years, I have used some really nice planners in the ballpark of $50+. But earlier this year I picked up a cheap planner at the Dollar Tree and had been using it for months. But with school starting back and me picking up another freelance client, something had to change. I found this planner on Amazon and chose it because of the cheaper price point and the layout. Each day has a schedule on one side and a to-do list the other. I organize my planner by putting family and personal items on the schedule side and all the things I need to do for my clients on the other. I love having my work and life stuff in one place so that I can reference them at the same time.
Over the past six years of having babies, I've realized that I don't care for the design of nursing bras. I don't like having to fumble around, reaching way up to unclip them. I also feel like you are more exposed from the unclipping at the top. So I found a four-pack of these bralettes for $25 that have a super stretchy band that makes raising them up easy for nursing. Plus, they also have removable pads, which are crucial for a breastfeeding mama. These are NOT bras you want to go out running in, but they are great for everyday casual wear.
I'm on my third bottle of this witch hazel. I originally bought it to help with acne spots, but even now I use it as a toner. Sometimes at night, I'll use it to clean my face instead of normal washing if I didn't wear any makeup that day (which is most days!) It has a great fragrance thanks to the rose water and the aloe in it leaves my skin soft after using.
I purchased this soak for taking postpartum baths, but honestly, it's great even past the postpartum stage. The essential oils in this mix smell amazing help me to relax even more. It's hard making time for self-care when you have kids, but even a relaxing 15 minute bath leaves me refreshed.
We are still battling thumb sucking in our house. We first tried painting Scarlett's thumb with Mavala, but she got smart and once she got through the horrible taste and the paint wore off, she could go back to thumbsucking. So I found the Tguard AeroThumb online and saw the great reviews. And it is a really great guard made of silicone not plastic so it's softer and bends a bit. But after a few nights of the guard, I walked in her room one night to find Scarlett sucking her other thumb. So now we put the Tguard on the right hand and paint the left hand thumb with Mavala. And just recently, she helped choose a cheap stuffed unicorn that she named Cupcake to use as her snuggle buddy when she wants to suck her thumb. Cupcake just arrived via mail two days again. So I'm hoping that using all three approaches means we will be rid of thumbsucking this fall before she turns four and before she sees the dentist again!
Non-Fiction Books
About a week before I delivered Grady, something changed and I could not read any of the fiction books I had downloaded on my Kindle. I couldn't get into any of them—the characters or the storylines—despite glowing reviews and recommendations. So I switched things up to try out some non-fiction books. First up, I'm reading Love Does. Honestly, I chose this book first because I really want to read Everybody Always and that listing mentioned Love Does was the first book. Love Does is perfect for me right now because each chapter is 5-10 minutes, about all I can read being as tired as I am right now. Bob Goff the author is very engaging and each chapter has some super entertaining personal stories as well as a good takeaway point. Also on my list of non-fiction books: 100 Days to Brave, Hello Mornings, Holy Hustle and Girl Wash Your Face (I feel like I am the last person to jump on the bandwagon!). Whenever I see someone highly recommend a book, I go on Amazon and have a free sample sent to my Kindle so I can try it at some point.
I have purchased this brand before, but this version of olive oil and marula oil smells amazing on a little baby! I actually had to Google marula because I had no idea what it was. A marula tree produces fruit and marula oil is extracted from the fruit's nut. Marula oil is known for it's moisturizing properties without being oily.
Because we cook nearly 100% of our meals, our kitchen and kitchen items get a lot of use. We go through sponges and cleaning brushes quickly (especially when my husband uses them to clean out the cast iron skillet!). I saw these Nano Sponges on a lightening deal and snagged them. I had intended to use them just in the kitchen (especially on the stovetop of a 1966 oven that gets used at least twice a day!), but because there are two in the pack, I'm earmarking the extra for around-the-house cleaning.
Trader Joe's Green Fin White Organic Wine
Do not confuse this wine with Two Buck Chuck that Trader Joe's is infamously known for. In fact, Green Fin wine is more than twice the price, clocking in at $4.49 a bottle. I no longer live near a Trader Joe's, but my sister does. So when she or my mom go I ask them to buy several bottles of Green Fin White or Red Table wine for me since you can't beat the price. I prefer to drink the chilled white wine in the hotter months and red when it's colder outside. I've had a couple half glasses since Grady was born and I forgot just how good this wine is for the price.
This post contains affiliate links, which help to support this website.