[bws_google_captcha]In mid February, we learned that Beau's eosinophil count taken during his upper endoscopy was 80, which officially diagnosed him with Eosinophilic Esophagitis (EOE). Soon after his diagnosis, Beau began an elimination diet of the top 8 allergens (dairy, wheat, eggs, soy, tree nuts, peanuts, fish, shellfish) because studies have proven it yields an 88% success rate for kids with EOE.
We are now nearly a month into his elimination diet, and even though it hasn't been easy, it could be much much harder. Beau had his 2.5 year wellness appointment at the pediatrician and he's still 80% for height and weight. Many children with EOE are underweight or lower on the weight curve. Despite a more limited diet that has cut out higher calorie and higher fat foods such as dairy, Beau is still keeping on the weight. Of course, he wants to eat almost constantly. But it's hard to know if that's a side effect of EOE, a two-year old habit or just Beau's personal preference anyway.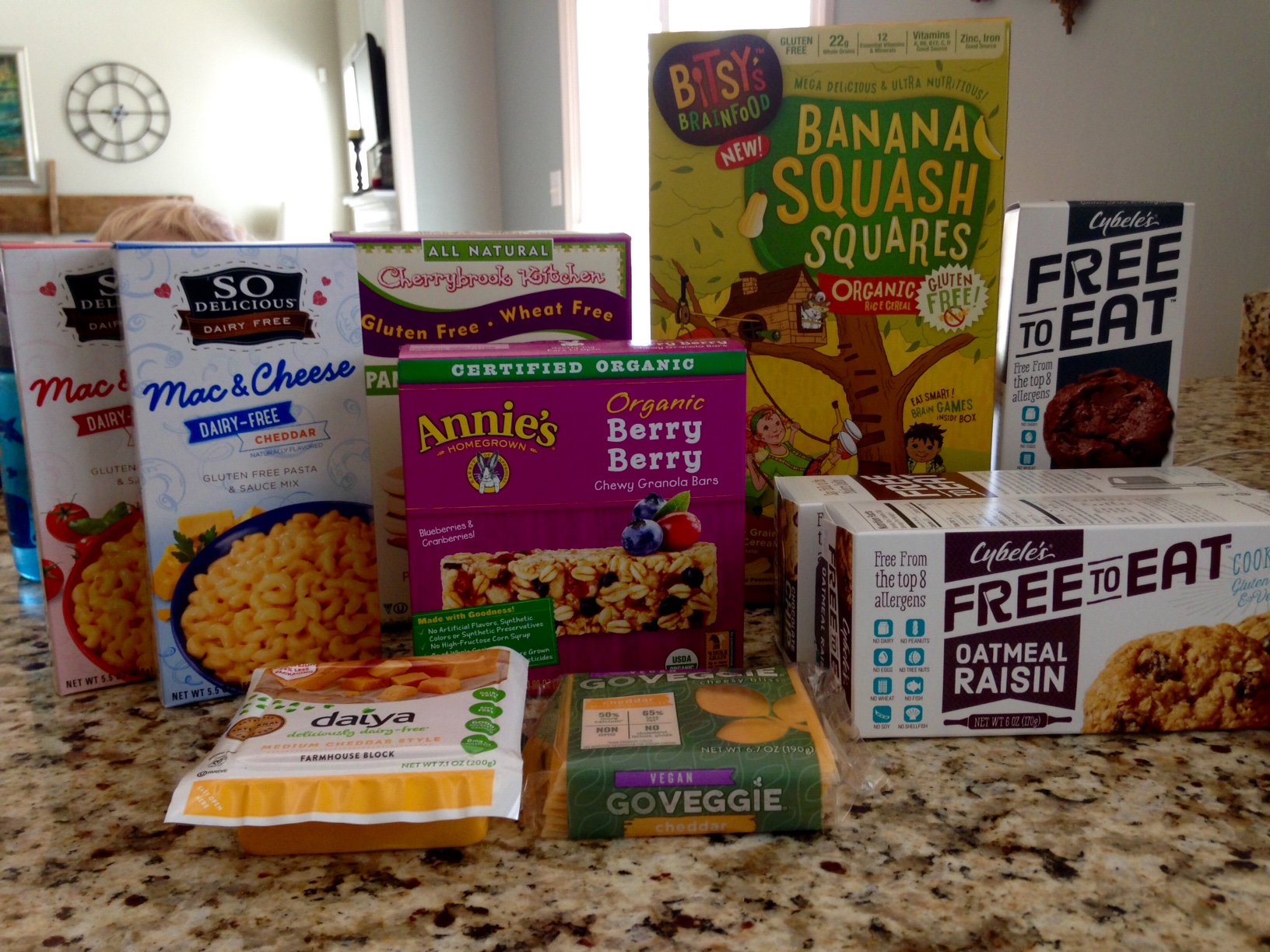 Convenience Foods
I've found quite a few convenience foods that are free from the top 8 allergens, but am finding that Beau just doesn't like quite a few of these allergy-friendly processed foods. I bought him two types of Daiya vegan dairy-free cheese the other day because they were on sale and he absolutely loves cheese. They were both a miss, and I don't blame him because I couldn't even stomach smelling them. I also found a gluten-free dairy-free macaroni made by SoDelicious and gave it a try, but it was also no good and quite smelly. So it looks like we'll just forget about trying to find a cheese substitute. In the paleo world, cashews are often substituted for cheese. But tree nuts are one of the top 8 allergens and Beau already has an EpiPen specifically for his cashew allergy.
He tolerated the Annie's granola bars, but they are so hard and dense I could tell he was struggling eating them, so I won't be purchasing again. I have purchased Cherrybrook Kitchen Pancake and Waffle Mix in the past, but wasn't impressed with the taste. But I recently bought it again, and Beau ate the pancakes up, though it should be noted that I did add quick oats, applesauce, cinnamon and vanilla to the mix 🙂 I'm determined to make my own mix without the need of eggs soon.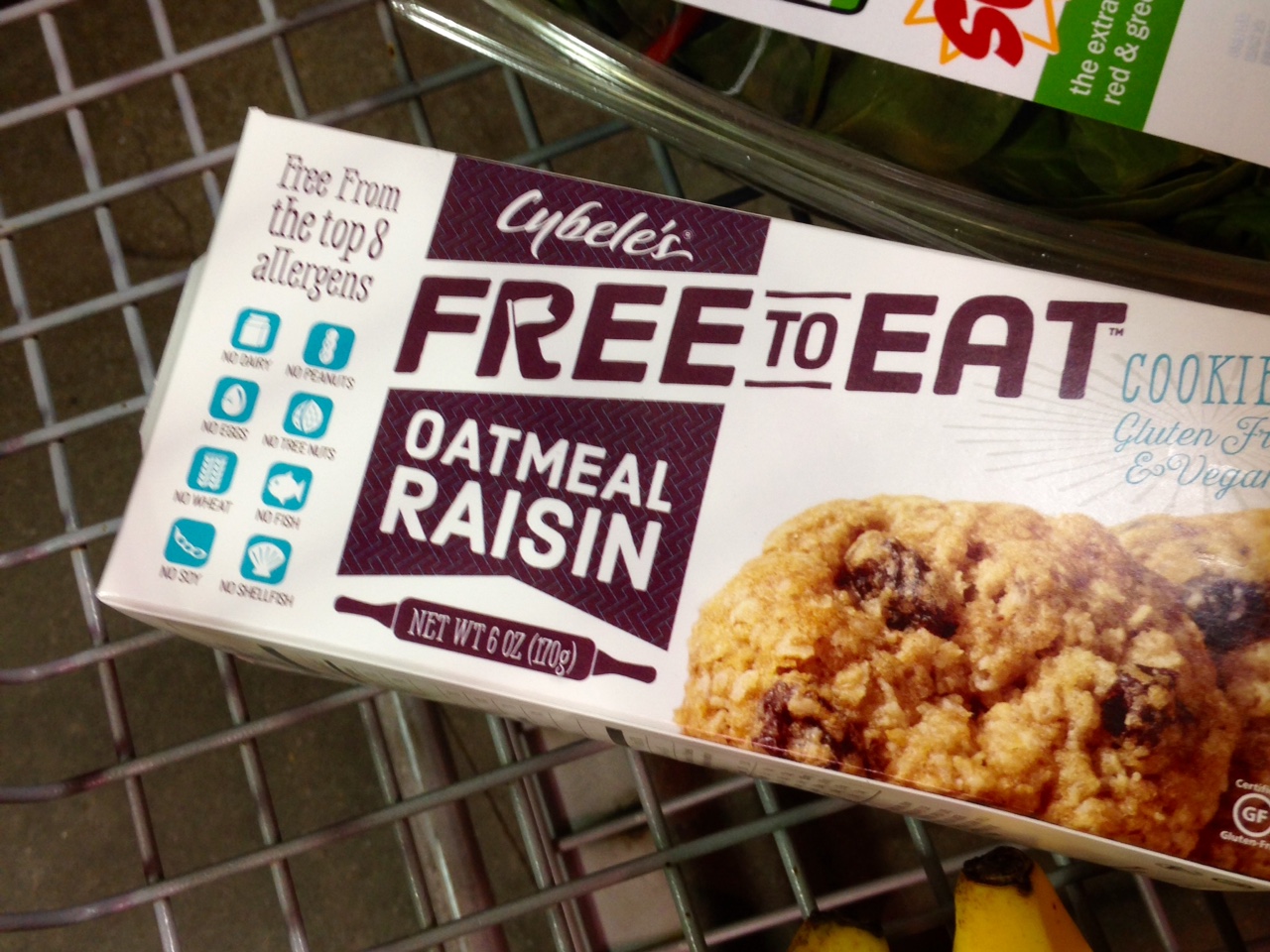 Beau liked the Bitsy's Brainfood squares and I've been packing a container of them to take as his snack when he's at church childcare on Thursday and Sunday mornings. The biggest hit of this Top 8 Allergen-free haul was Cybele's Free to Eat cookies. We attended a kid birthday party this past weekend where pizza and cake were served. I wasn't sure how Beau would fare since he loves to eat. But I packed him some veggie straws and a couple Free to Eat cookies and he was just fine. He didn't ask for pizza and cake, only seconds on lemonade, to which I was happy to oblige. It was definitely a relief to my mama heart that he was unphased by the food part of the party. I don't want him to miss out on fun events because he can't eat the same foods as his friends. I have a feeling Beau's happy-go-lucky personality will be crucial in him overcoming all these food obstacles.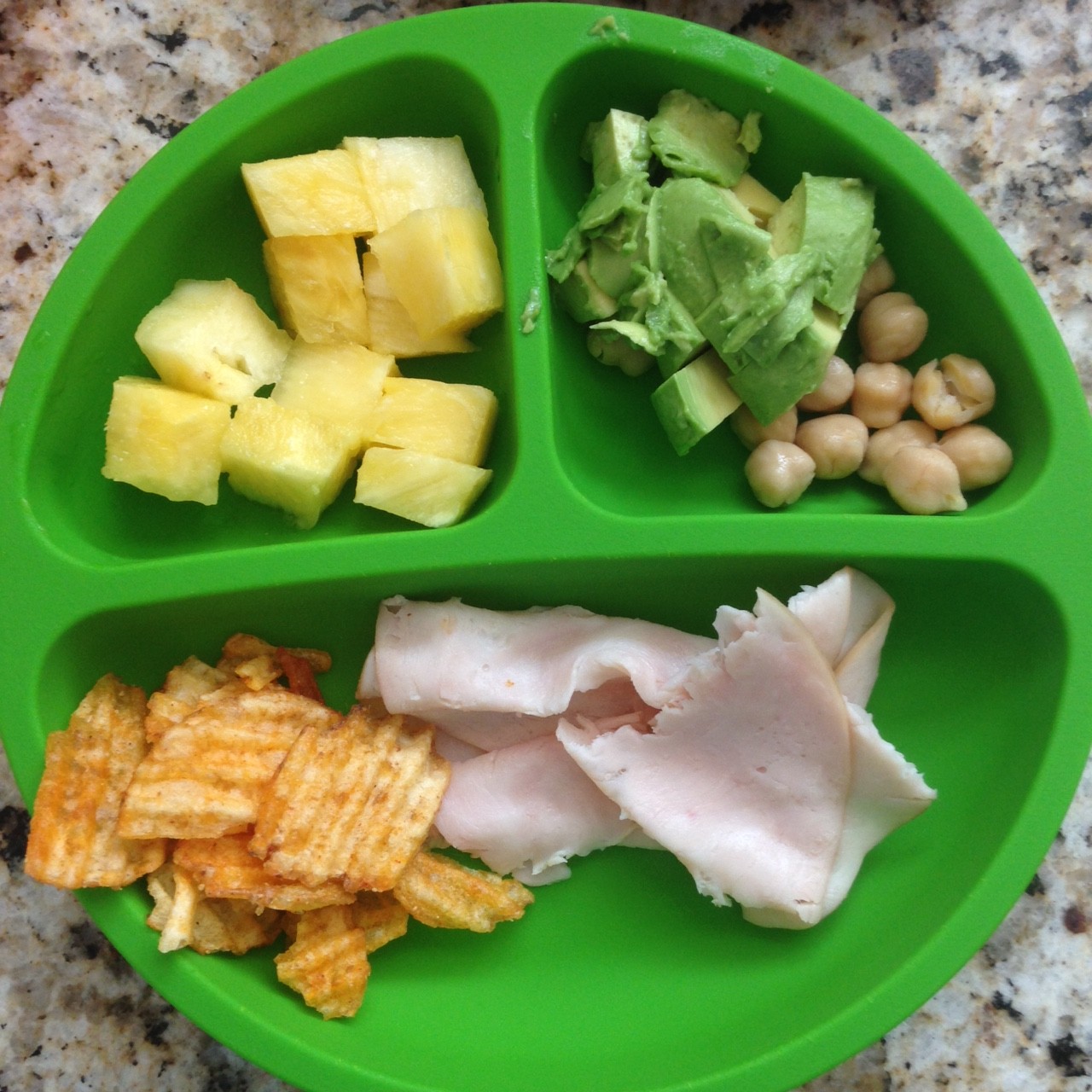 Real Food
As much time as I'm spending trying to find top 8 allergen free convenience foods that Beau likes, I'm really trying to save those for special occasions and events where he can't eat what everyone else is eating. What he really needs–and even wants–is real food. He wants meat and fruit and (limited) veggies and the occasional potato chip (after I check the label). This past month, he's been eating a lot of what I call lunch plates, not just for lunch but dinner as well. Basically, it's just a piece-mealed lunch of whatever we have in the fridge and pantry.
That's because I'm still working to adapt our dinner meals to his diet. I tried my hand at dairy-free scalloped potatoes a couple weeks ago, but once you've had the real thing, you realize this imitation just doesn't live up. I made Shepherd's Pie last week and avoided butter in the mashed potato topping, but later realized the couple tablespoons of Worcestshire sauce I used contained anchovies–and fish is one of the top 8.
Even though I love my all-in-one-meals (casseroles, soups, stews, crockpot dinners) from a preparation standpoint, we've switched to eating the Blue Plate Special (a meat and two sides) types of meals. And quite honestly, it's been the best and easiest approach to dinners as we're in the midst of selling our house and the weather has been perfect for grilling. But I'm still always on the lookout for fun recipes to try for Beau and pin them to my EOE board.
Slip Ups
Despite being so careful with Beau's food while we're at church, the grandparents' houses or a birthday party, sometimes the most familiar places are the ones that get you. Twice at the grocery store while waiting in line to checkout, Beau has found these little Nutella packs with pretzel sticks and opened the top. I *think* I've caught him in the nick of time both instances before anything got into his mouth. And then just this weekend, my husband bought steaks and prepped them as usual (rubbed in oil, salt, pepper). After grilling he finished them in butter, as usual, and it wasn't until after the meal that it dawned on us that Beau just ate dairy. The butter part is so sneaky, especially since adding butter to foods is a habit.
And there are probably more slip ups that I'm unaware of that have happened over the past month. Thankfully, besides several tree nuts, Beau doesn't respond to the degree of needing an EpiPen. For now, we continue on this Elimination Diet for quite a while, I assume. In a couple weeks, Beau will see his Allergist, who I just found out specializes in EOE. When we saw him last we were looking at immunology not allergy. I'll give a more in-depth EOE update in a couple weeks.
For now though, our little fun-loving two year old is thriving and nearly oblivious to his food limitations.