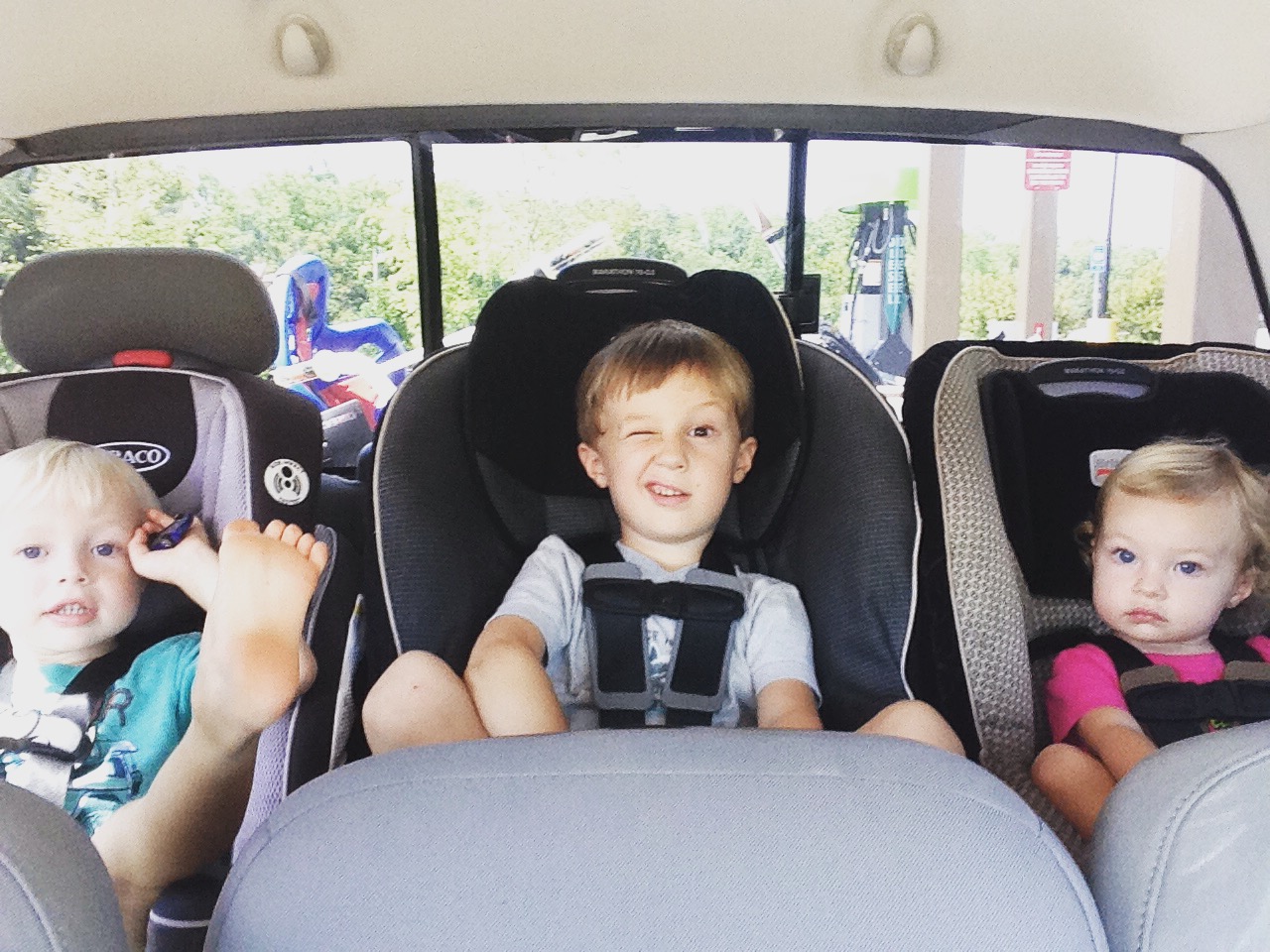 Earlier this summer, I had my heart set on a late August RV trip to extreme northwest Georgia to visit Cloudland Canyon, a destination I frequented with my family growing up. The state park has 72 campsites (and I think 62 RV sites), but after calling the campground manager, only a couple sites included 50 amp electrical hookups (crucial for us to be able to run the A/C while doing anything else electrical in the RV). I was banking on the weather being cooler since we were headed north, but that was not the case for late August (I should have known!) and temperatures were still well into the 90s. So instead of risking not getting one of the first-come, first-served RV sites that had a 50-amp hookup, we chose a private campground just west of Chattanooga and north of Cloudland Canyon.
West Chattanooga KOA
West Chattanooga KOA is a great campground for kids. We swam in the saltwater pool every single day, and it's great for younger kids because the shallow end is only three feet deep, meaning my boys can touch so they had a blast practicing their skills in the pool.
The campground also has a huge jumping pillow that they boys spent hours on throughout our stay. After every jumping session, they came off the pillow sweaty and dirty–typical little boys.
The playground was a bit dated, but that didn't stop my kids from playing. They loved the small pebbles that surrounded the play area–and Beaudozer couldn't get enough of the muscadine grapes growing up the fence at the back of the playground. We came at the perfect time and the muscadines were deliciously ripe.
One night after dinner, we were taking a family hike around the campground and stumbled upon a theater room where Wreck It Ralph was playing on a big screen. James Michael was in heaven, and we indulged him by letting him watch half the movie.
Another evening we let the kids play to their hearts' content in the campground arcade even though we didn't give them any quarters. They had a blast pretending to drive the race cars.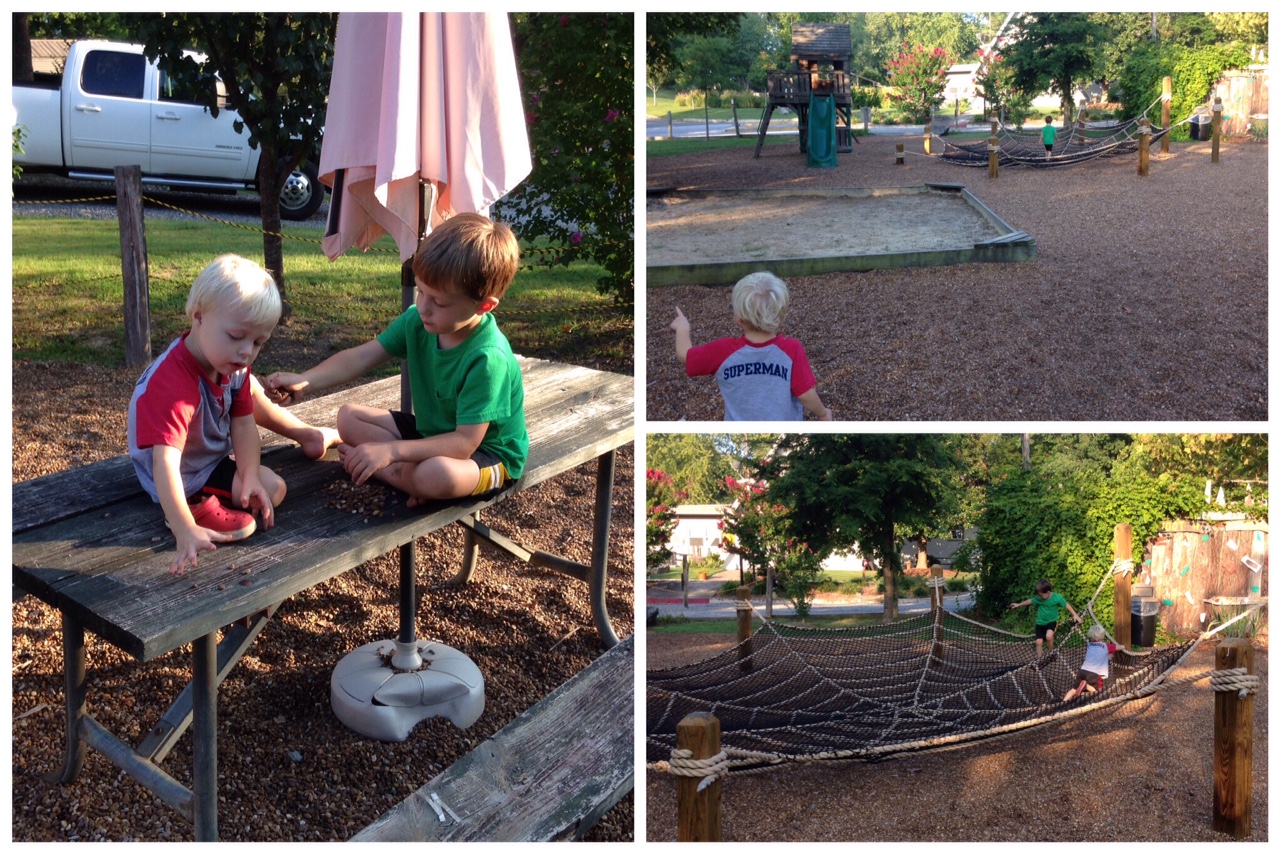 The only drawbacks to the campground included a spotty internet (James was counting on it to work one day) and there weren't any views. It's really hard to beat state and national parks for the views.
Rock City
I visited Rock City with my family growing up, but I was young (7 or 8 years old) and my memory is a bit spotty but I remember thinking it was amazing as a kid. So I couldn't wait to take the boys to Rock City so we loaded up the truck the morning after we arrived and made the 20-minute drive to Chattanooga. I cringed a bit at the price for two adult and two child tickets, but three hours and tons of fun and exploring later convinced me it was absolutely worth it–and what's more, we'll do it again soon.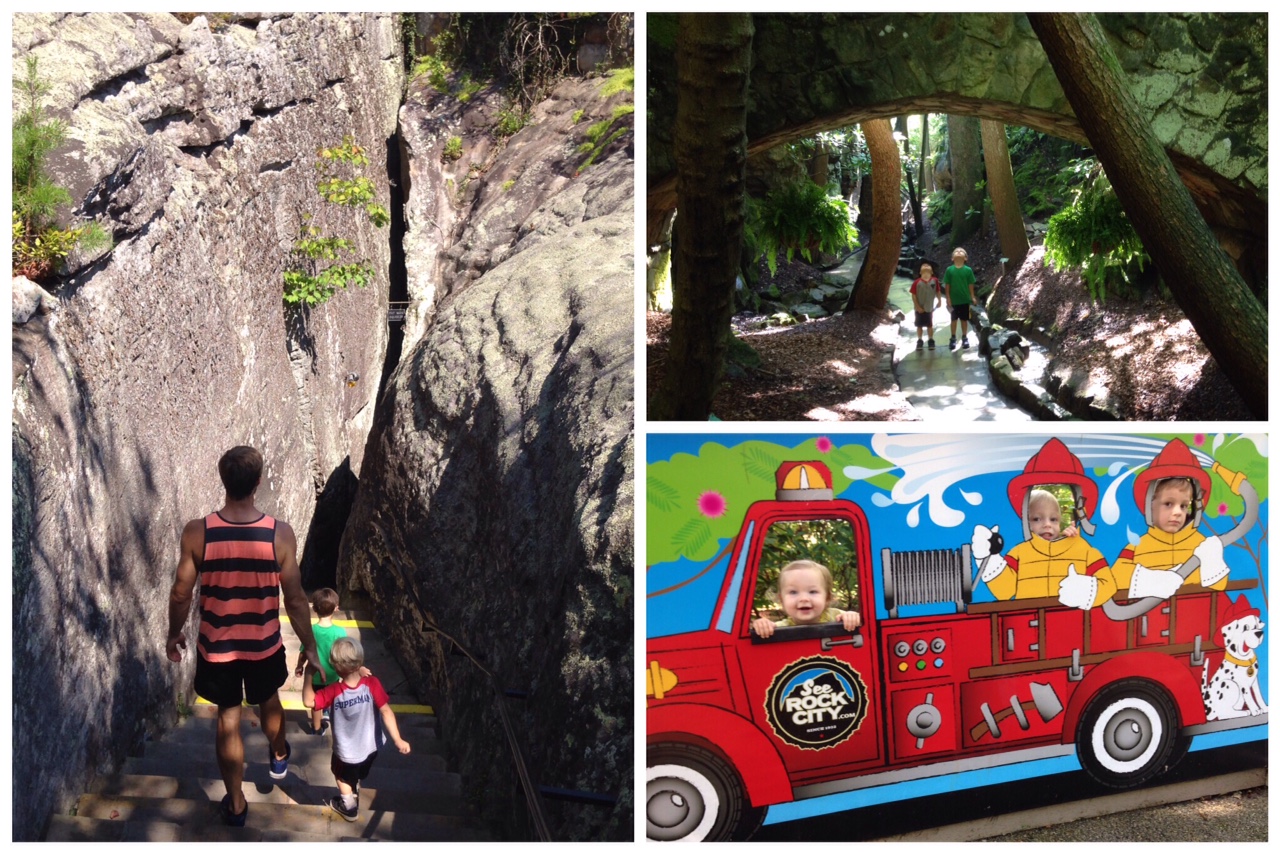 The weather was hot, but we spent much of our time in the coolness below ground. We wound down rock stairs, through caverns, squeezed between rock walls the width of our shoulders, soaked in the views at Lover's Leap while keeping the Rowdy boys away from the edge and even traversed a 180-foot suspension bridge. The bridge–which only had rope sides–swayed slightly while walking and left JM clinging to James and Scarlett screaming in the baby carrier on my back while Beaudozer made it seem like a walk in the park. That little guy has absolutely no fear.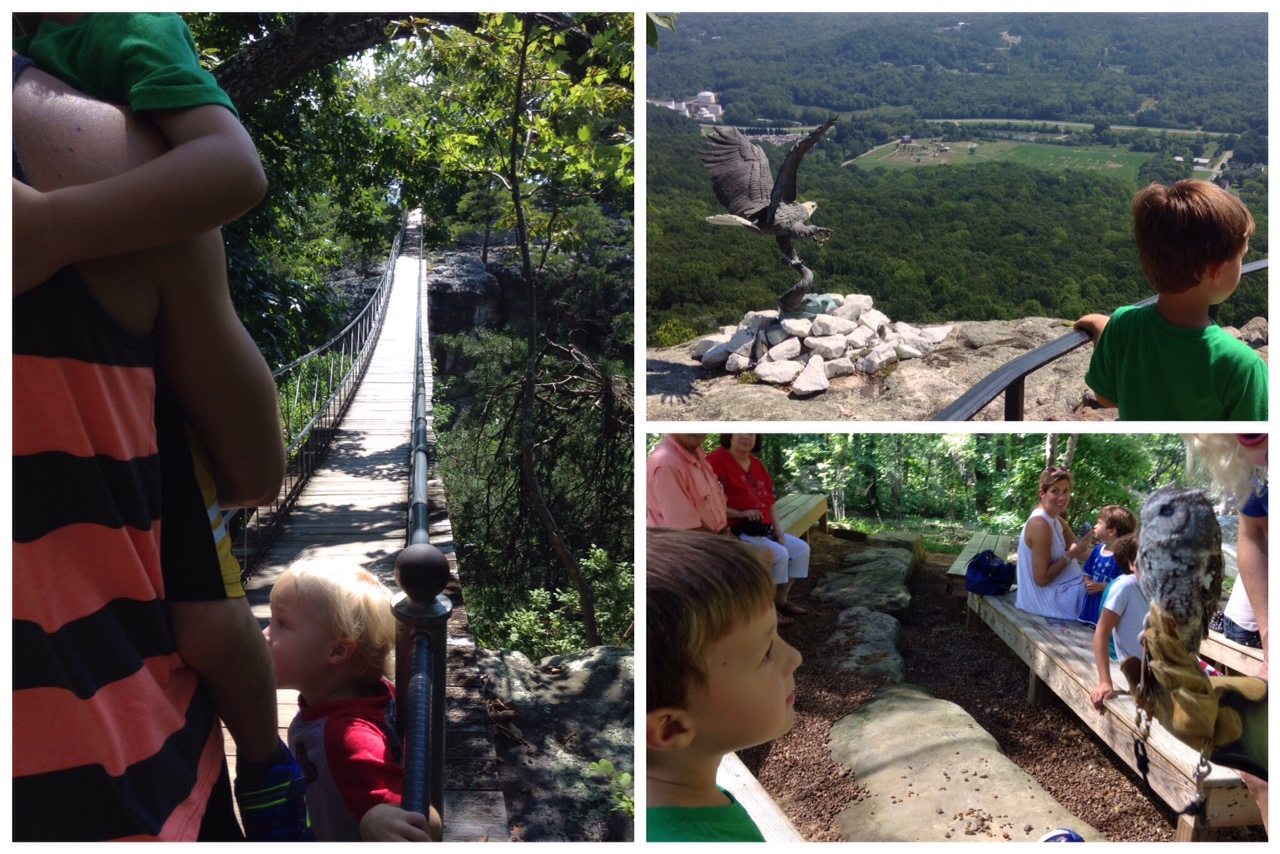 We made it just in time to attend the Birds of Prey show, where we saw several kinds of birds up close and personal. A few even flew inside the arena right over our heads. All the kids were enamored to be so close to all the birds.
Jutting out from the side of Lookout Mountain is Lover's Leap, which offers a view of seven states from one vantage point. I can only imagine how spectacular the view is when the leaves begin changing during the fall.
Toward the end of our time at Rock City, as heat was rising and the sun directly overhead, we made it to Fairytale Caverns and Mother Goose Village. I thought these attractions were awesome–maybe because I have young kids. I don't have any great pictures because it was so dark underground, but there must have been more than 20 classic fairytale scenes portrayed via colorful sculptures in small caverns along the underground path. Many of Grimms' well-known fairytales were represented, as well as several other European tales. And Mother Goose Village was a huge, impressive underground landscape depicting childhood nursery rhymes and songs.
Cloudland Canyon
We spent our second morning hiking Cloudland Canyon, which is a nearly 3,500-acre state park nestled in Trenton, Georgia, at the western edge of Lookout Mountain. I have a vague memory of all the steps on this hike, and according to my parents, I tried to push my younger sister off a rock ledge at some point!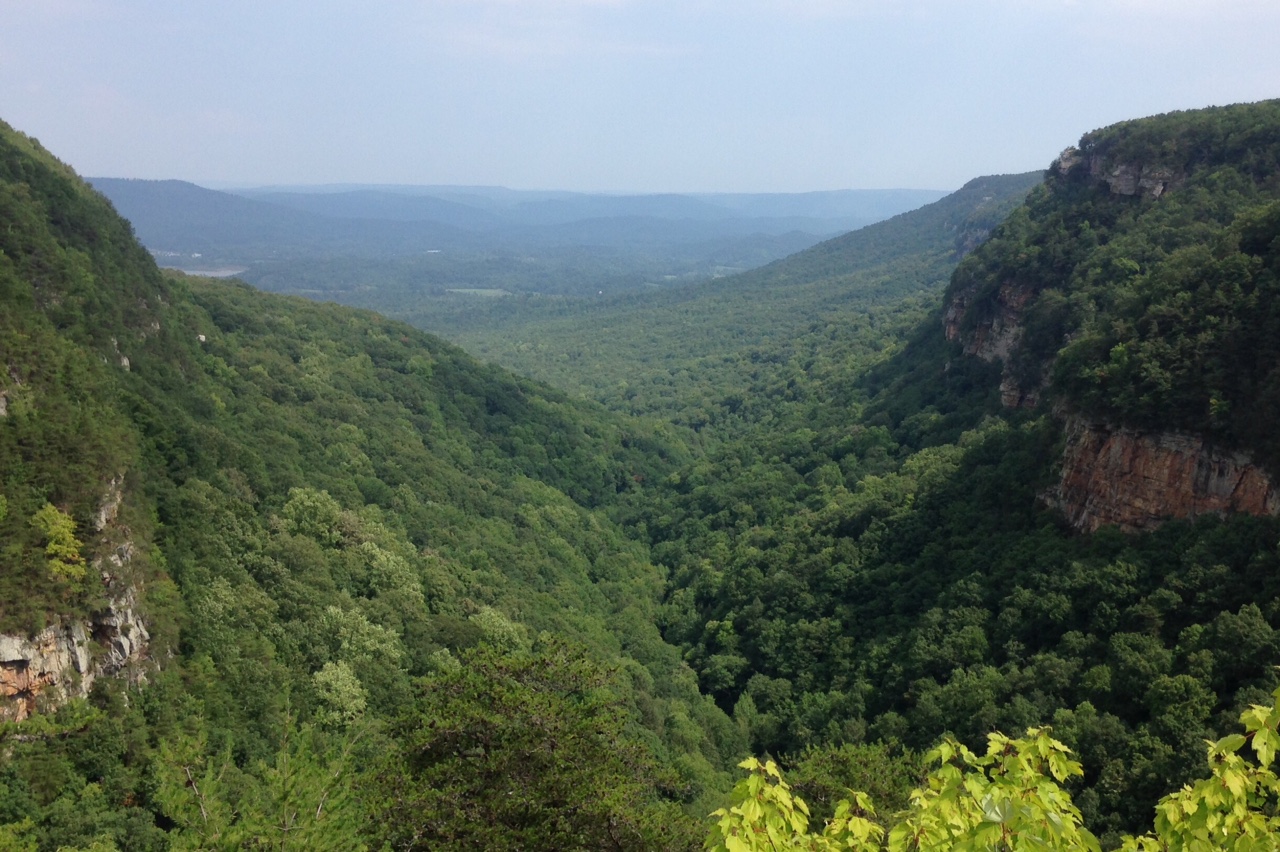 Once again, the views of the canyon would be beautiful when the leaves change later in the fall.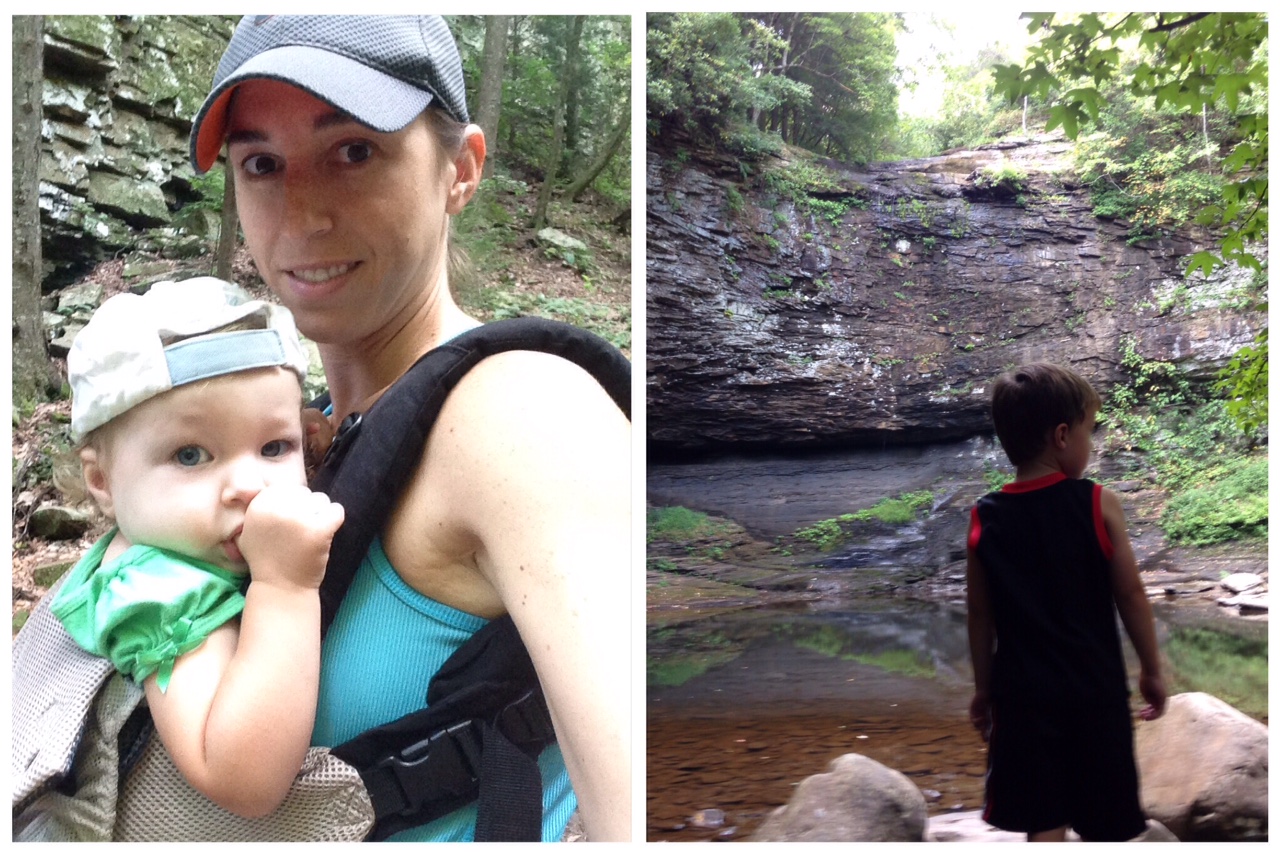 I put Scarlett in the baby carrier again, alternating between front and back positions throughout the hike. The Rowdy boys were super excited for this hike, especially once we met up with another hiker near the top of the trail who was carefully encouraging a copperhead snack to move off the trail. We wound our way down the stair-laden path, stopping to admire huge rocks along the way.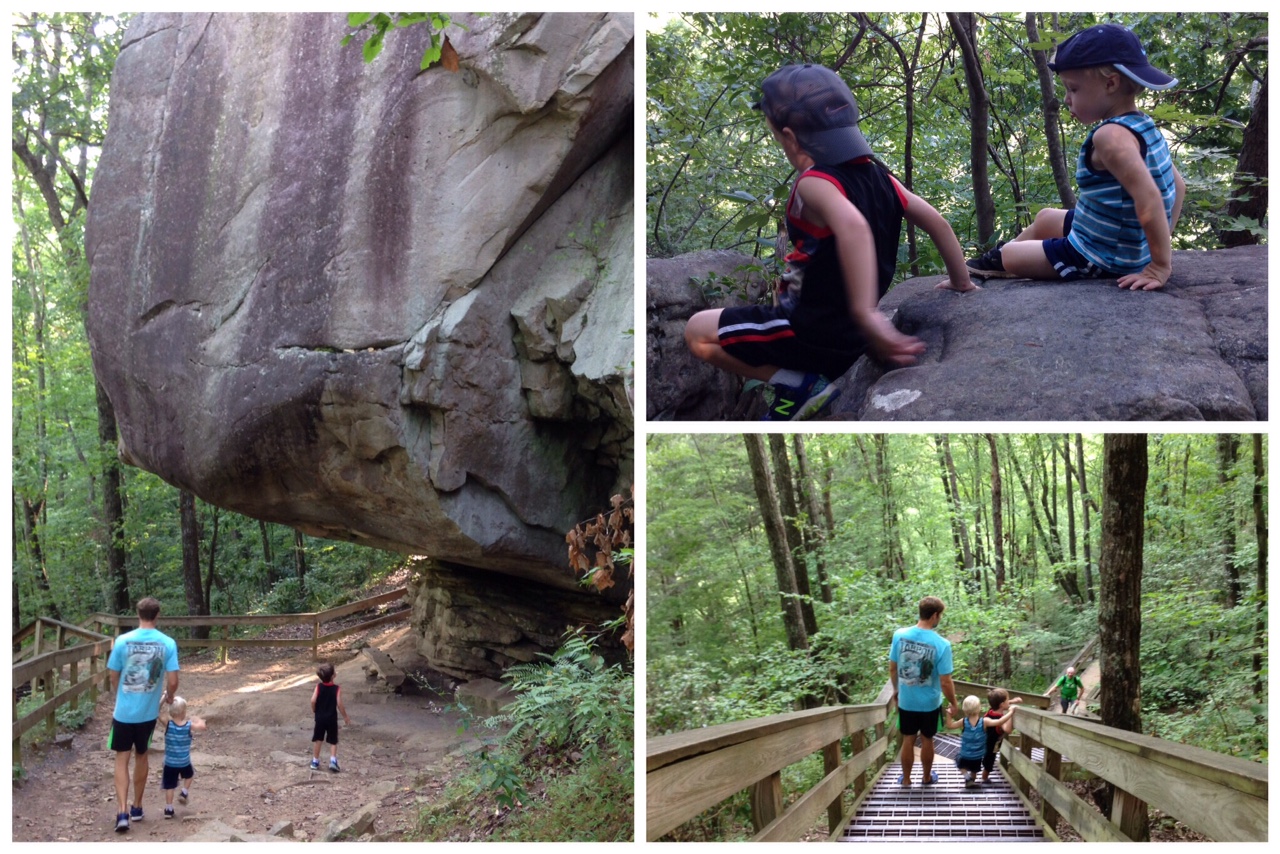 We made it to the first waterfall, but were a bit disappointed that it wasn't much more of a trickle than a bathtub faucet. So we ventured onto the next waterfall, which only had a slightly stronger flow. Regardless, the Rowdy boys had a great time exploring on our hike down into the canyon.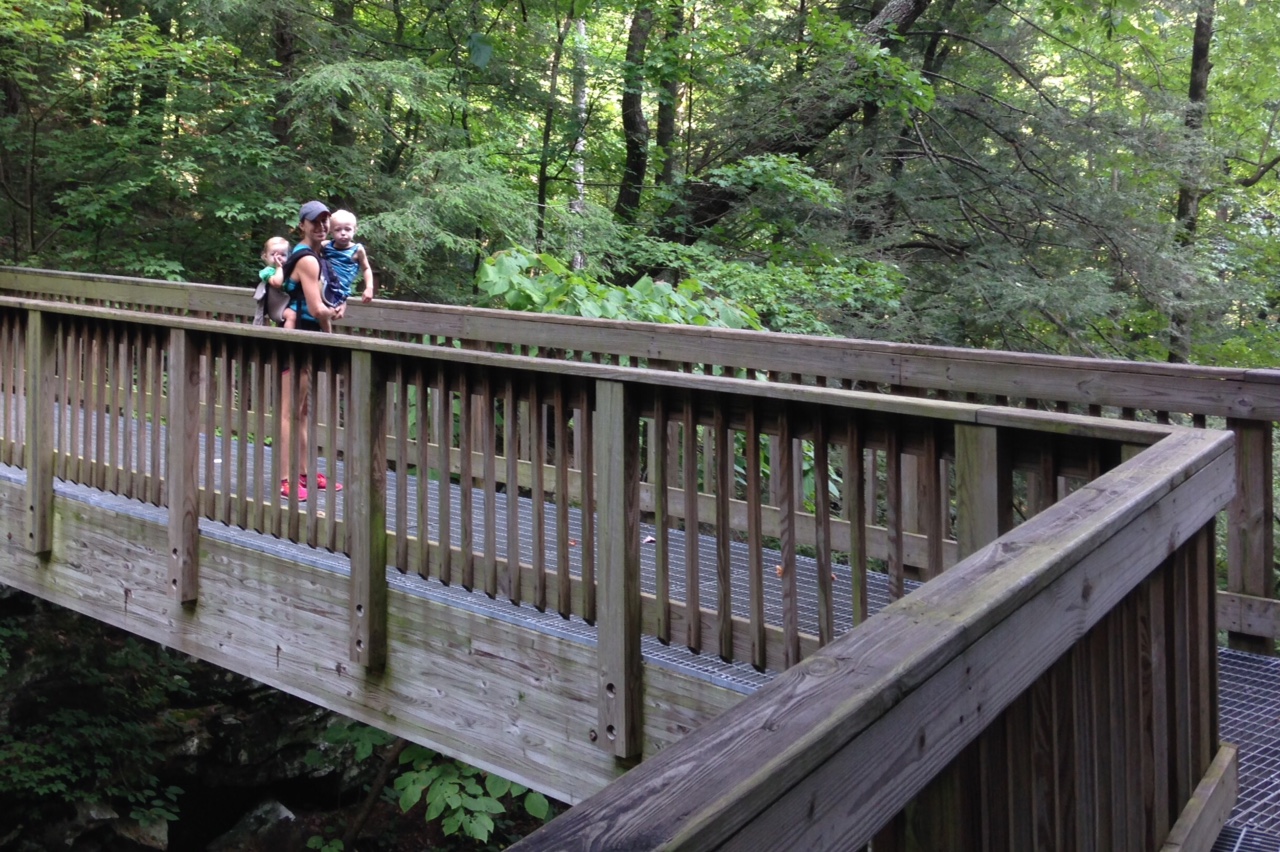 But all too soon, the reality set in that we would have to climb back up the 600 steps to the top of the canyon. At this point, it was an uphill battle with the boys, figuratively and literally. We had to stop every few minutes to let them rest at benches along the way, and did our best to entice them with tailgate snacks at the end of our hike.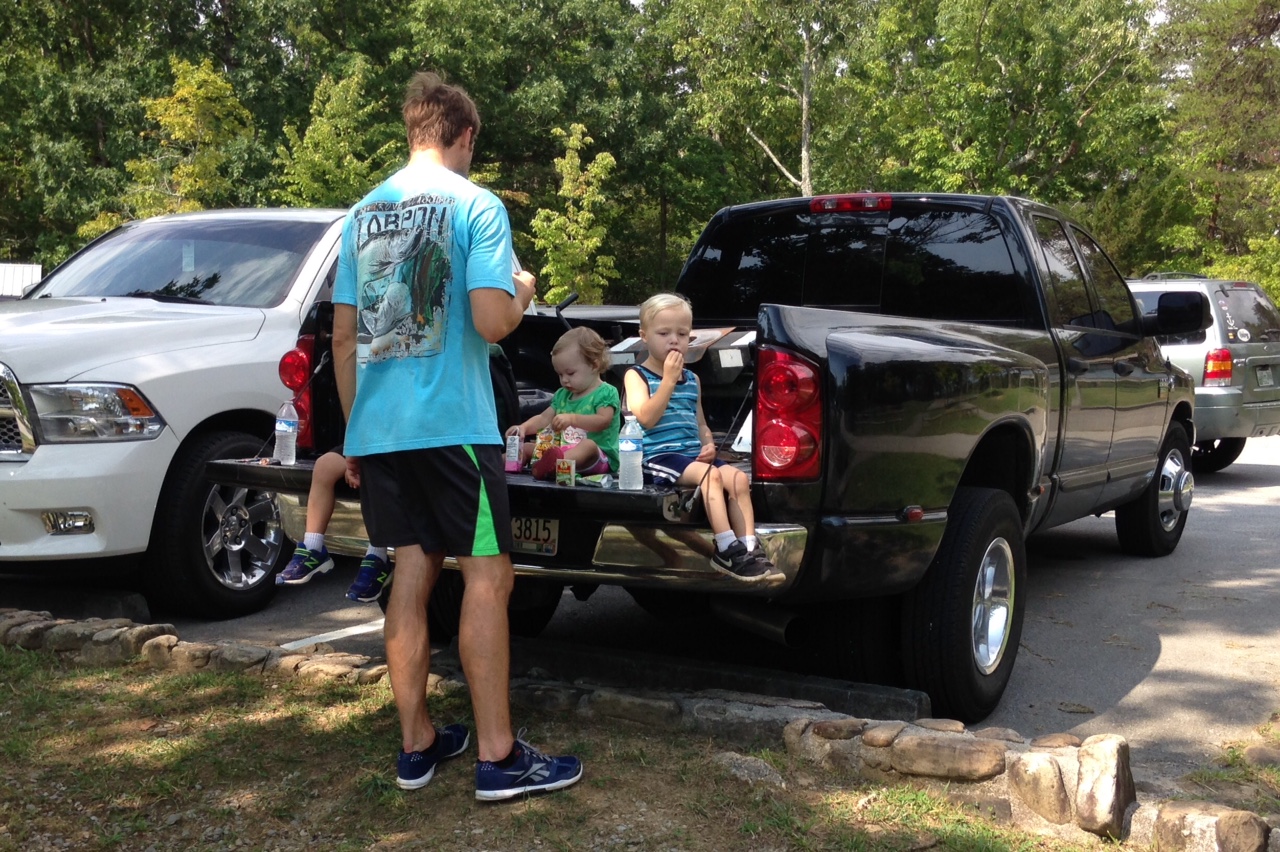 This was one our more strenuous family hikes, but I know in my heart that this kind of activity is so good for my kids.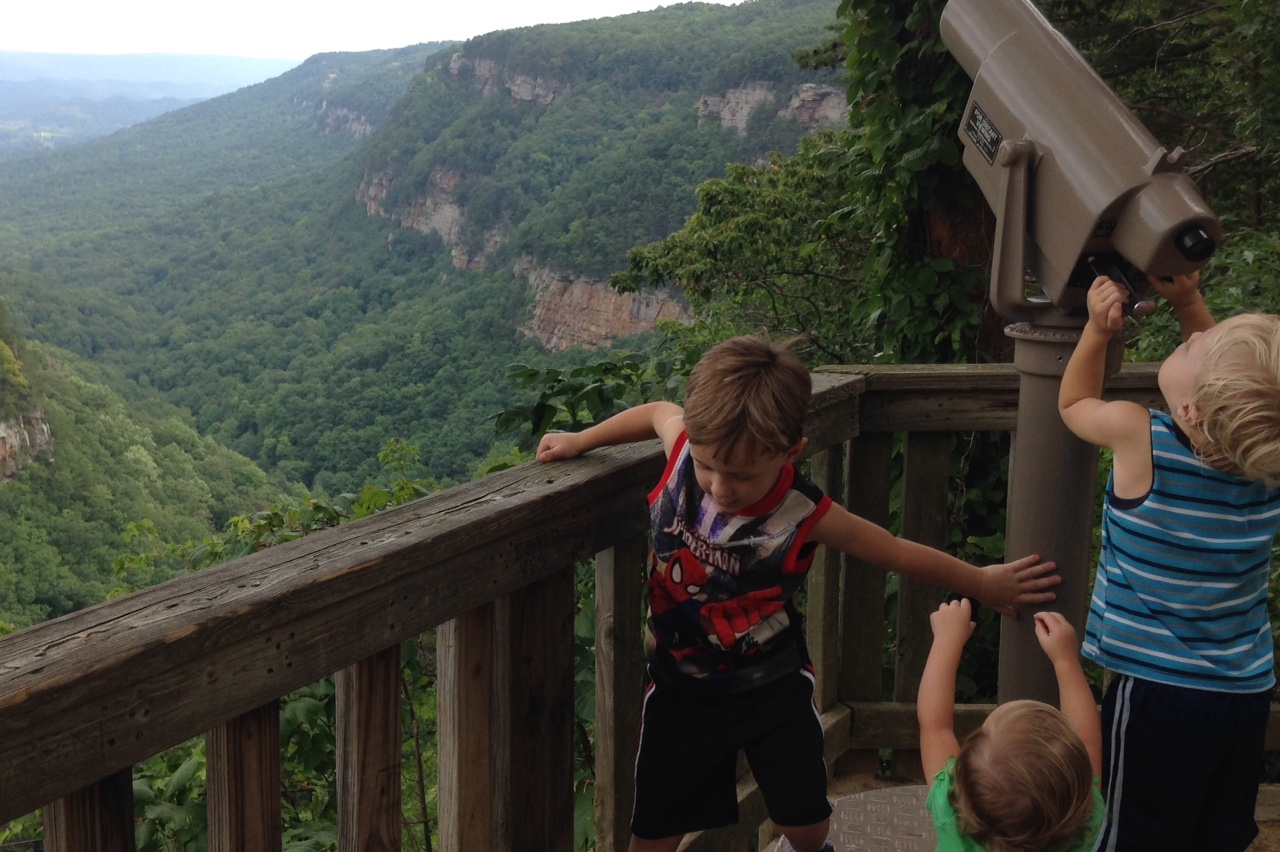 Things to Do in Chattanooga
Chattanooga is definitely on my list of places to visit again–with or without an RV. There were so many things we didn't get to do–either because we didn't have time or our kids are too little or we had to reserve the afternoon for naptime. Besides Rock City and Cloudland Canyon, here are a few more things to do in Chattanooga: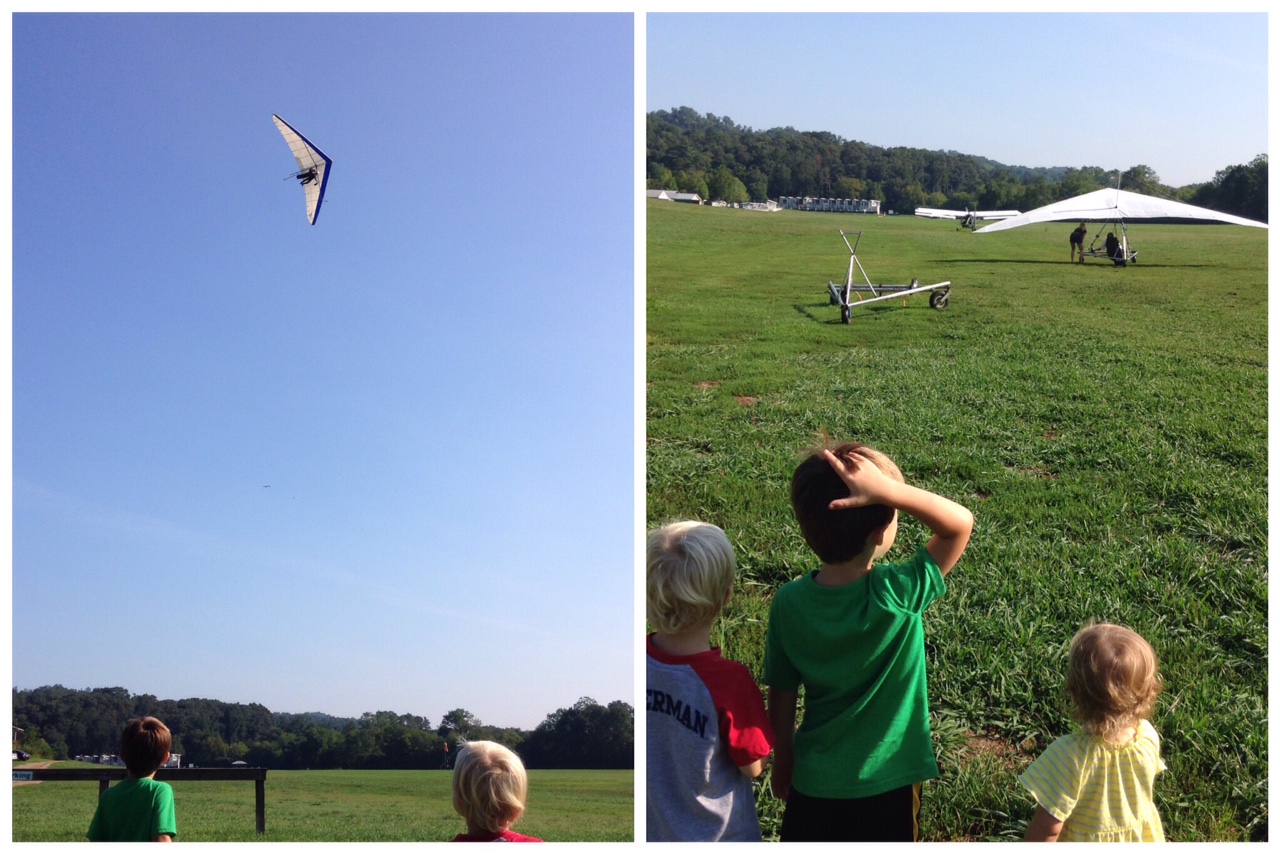 Hang Gliding
We happened upon a hang gliding school on our way to Rock City, and since we weren't on a timetable, we hopped out to let the kids marvel for a bit. James, who loves thrills like this, asked a bunch of questions and I'm quite certain he would have booked a session if we had more time.
Tennessee Aquarium
If it had rained one day, I was prepared to take a trip to the Tennessee Aquarium. JM has only been once when was maybe a year old, so I know all my kids would love it at the ages they are now.
Ruby Falls
Ruby Falls is another well-known attraction in Chattanooga. But we chose to visit Rock City instead of Ruby Falls because we felt like Rock City had more for our kids to do. I would still love to visit Ruby Falls when we visit Chattanooga again.
Incline Railway
We took the kids up the Stone Mountain tram a few weeks after Scarlett was born and they loved it, so I know they would love the Incline Railway that is a mile-long ride up to Lookout Mountain.
Point Park
At the top of Lookout Mountain is Point Park, which is part of Chickamauga-Chattanooga National Park. If the kids were older, James would have loved to take some time to look around since he loves Civil War history.
Lula Lake
A friend who belongs to my old hiking group turned me onto Lula Lake. I read up on how the land trust now includes more than 8,000 acres and it looks like the perfect place for family hikes. Although we couldn't squeeze it in, it's on my list for our next visit.
Raccoon Mountain Caverns
Raccoon Mountain Caverns, which also includes an RV campground, has more than 5 miles of underground caverns to explore. This would have been near impossible to explore safely with Scarlett strapped to me, but when the kids are a bit older it would be fun to explore the caverns together.
Creative Discovery Museum
Our plan is to always be outdoors with the kids on our RV trips, but once again, if the weather was cold or rainy, I would have bumped the Creative Discovery Museum up on our list of activities. We purchased an annual pass to a local children's museum when we moved, and that pass (part of the ACM Reciprocal Network) gets us 50% off admission at a slew of other kids' museums, one of which is Creative Discovery Museum.
Tennessee Valley Railroad
The Rowdy boys love all things trains, so I know they would be left speechless by a ride on a real train on the Tennessee Valley Railroad. I have heard great things about the North Pole train for kids at Christmastime. The only caveat is tickets are anything but cheap.
Southern Belle River Boat
If we happened to have some grandparents traveling with us who could babysit, I'd love to take a dinner cruise on the Southern Belle River Boat.
Am I missing any fun places to visit on our next trip to Chattanooga?