With barely more than 3 weeks estimated until little Beau makes his appearance, I'm finally at a point where I can truly say, "I'm ready." Obviously, I'd like him to wait until 39 weeks or so, but if for some reason he came tomorrow, I feel like I'd be in a good place.
We've truly settled into the new house, have knocked out many projects and even had our housewarming. Beau's room is organized thanks to a helpful friend–the only issue now is James Michael is still using the crib. I have no idea how I'm going to swing that one, but I'm hoping that I may be able to transition him to a twin mattress on the floor a month or so after Beau's birth. And in the meantime, Beau will sleep in a cradle rocker or pack-and-play. We'll see how it goes, but I just know I don't want to buy another crib if I'll only need it for a couple months.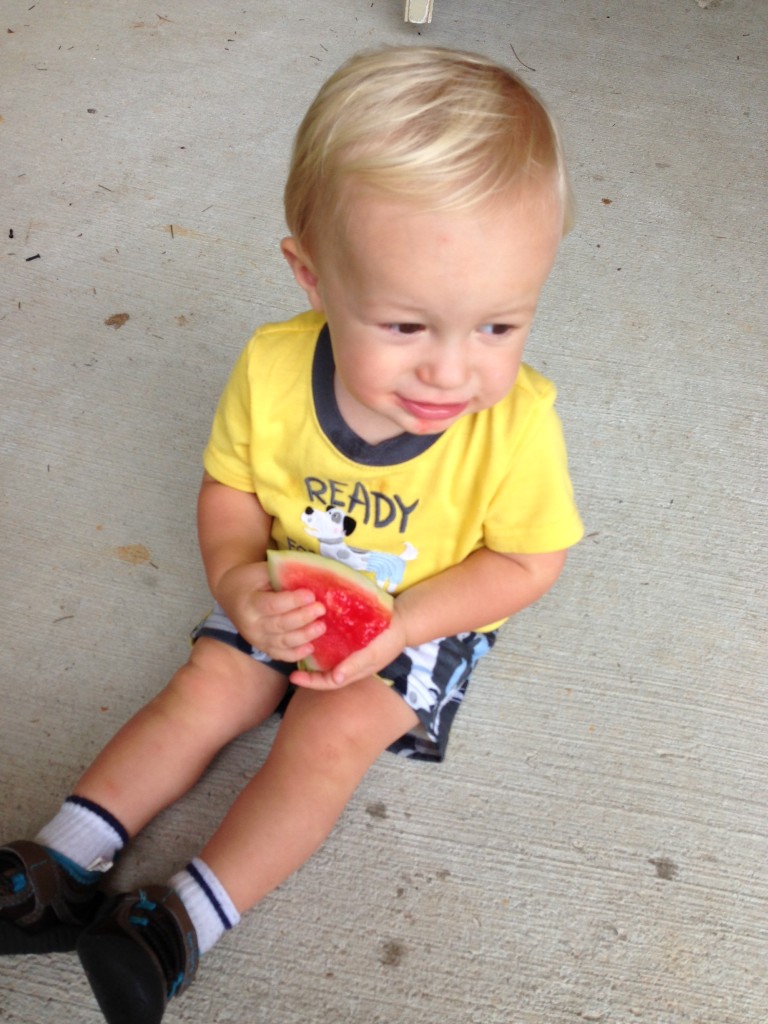 James Michael, on the other hand, well it's hard to say if he's ready. He definitely doesn't grasp the idea that Mama is having a baby. All I can hope is that he'll be gentle and not too jealous when the time comes. He has been much more affectionate the past few months, blowing kisses and giving out hugs to family and some of his stuffed animals. Of course, he still loves having our undivided attention, constantly. It will definitely be interesting.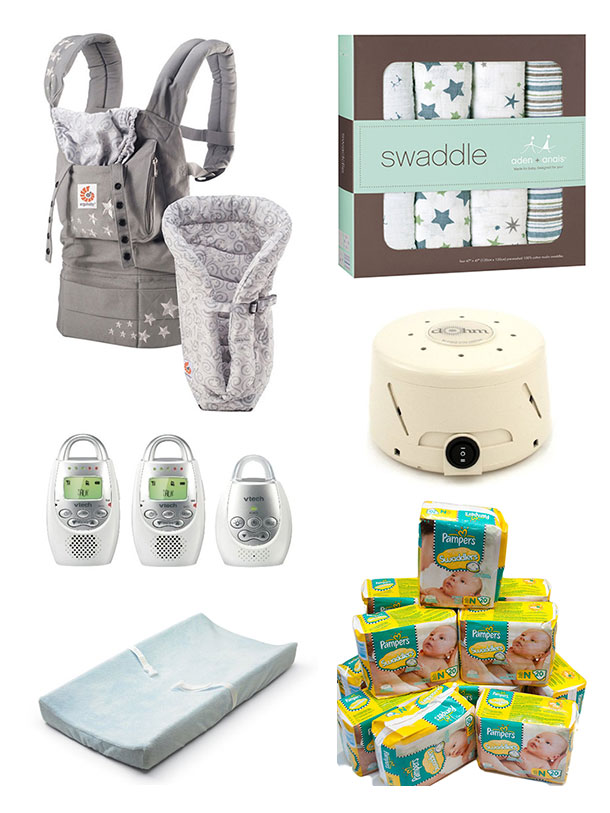 There are some perks to having two boys roughly 1.5 years apart: I've got most everything I need. And for the few things I did need to purchase, I can now officially check them off the to-buy list:
White noise machine. (With JM, we tried to use a noise machine made for babies, but I wasn't a big fan. This is the same type James and I have used for years, and we already use one for JM's room. Now, I know they say to avoid being quiet around newborns so they become acclimated to the world around them. And I get that, but do you know my husband? He has no concept of the word quiet. Slamming doors and banging pots and pans are part of his daily routine. It's not that he means to be loud, but let's face it, he's a man. You know how men always turn the TV volume up higher than needed? Well I'm convinced they just can't hear as well as women and have no idea how much racket they make.)
Baby monitor. (Because our new house has two floors, I'm not ready to give up using a monitor for James Michael. I was weary to buy an expensive Angel Care video monitor because of the price and because I'm afraid I'd never fall asleep at night because I'd be looking at the screen, so I went with a basic monitor similar to JM's. The only difference is, this one has a talking feature where you can push a button and talk to your baby to theoretically calm him down instead of going into the room. I'm not sure how great that will work for a newborn, but I'm considering switching this monitor with JM's so I can tell him to go back to sleep if he wakes up at 5 a.m.–ha!)
Lightweight onesies. (Thank you Target clearance rack.)
Contoured changing pad. (I never purchased one for JM, but used the thin existing pad that came with the changing table I bought off Craigslist. With the way Beau already moves in utero, I knew I needed a new pad where I could use the strap to ensure he doesn't wiggle his way off the table.)
Case of newborn diapers. (The Pampers newborn swaddlers worked the best for us with JM. We tried Huggies, but he had too many leaks. Of course, that could have been our inexperience as well.)
Aden + Anais swaddlers. (These muslin blankets have gotten such great reviews for use as swaddling blankets, nursing covers, car seat covers, etc. I used thicker swaddling blankets with JM since he was born in the winter, but with the August heat, I wanted something lightweight and breathable for Beau. Somehow, I got really lucky and the Prince Charming design was only $23.50 when I bought them a week or two ago, though now I see they are $44.99. Looks like I ordered them just in time.)
Ergo Carrier and Infant Insert. (I splurged for this, but I know I need a carrier I can use right after Beau is born so I can keep up with James Michael. After reading a ton of reviews, I settled on the Ergo. I have a Moby Wrap, but that's just too much material for the August heat. And the Snuggli that JM loved can't be used until the baby is a few months old. I could have chosen the plain black color for a few bucks cheaper, but I love the Galaxy Grey and convinced myself it'd be cooler, too.)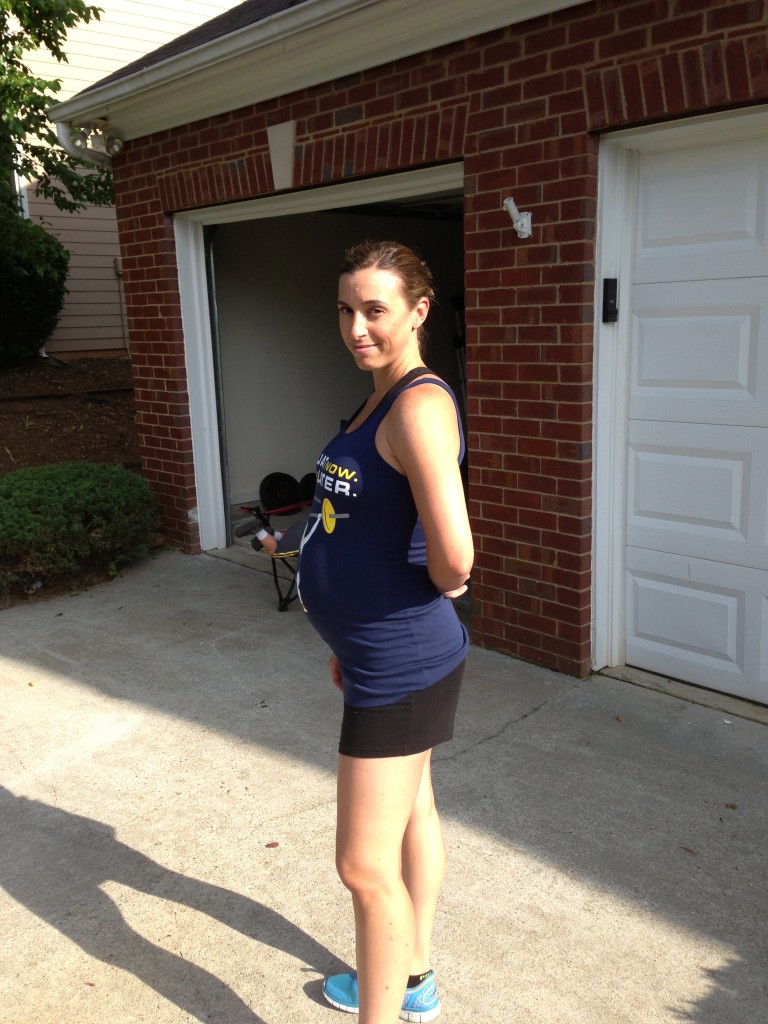 So now that we're in the new house and I've got all the essentials for Beau, there are a few selfish reasons that I'm ready for his arrival in a couple weeks.
I'm not sleeping great. I seem to wake up at least every hour, and I'm lucky if I only wake up three times for bathroom breaks in the middle of the night. Four or five is much more common. But on the plus side, maybe this will make it slightly easier to get myself in gear for newborn sleep deprivation.
I'm moving slow. In general, I just don't walk slow and never have. Now, when I take JM on stroller walks I feel like a turtle–and I hate it.
My rock-hard belly. I don't recall having Braxton Hicks with JM, but with Beau they are the norm. Sometimes I question if they are truly Braxton Hicks because my belly is constantly hard–rock hard. I think I'm just getting close to the end and there's very little room and my skin and uterus are stretched to the max.
Desire to workout. I'm really missing CrossFit. I can't wait to jump back into it and work up a sweat. Sure, it will definitely take some time to work my way back, longer than with JM I'm anticipating. But I've gotta start somewhere and I'm excited for a new challenge.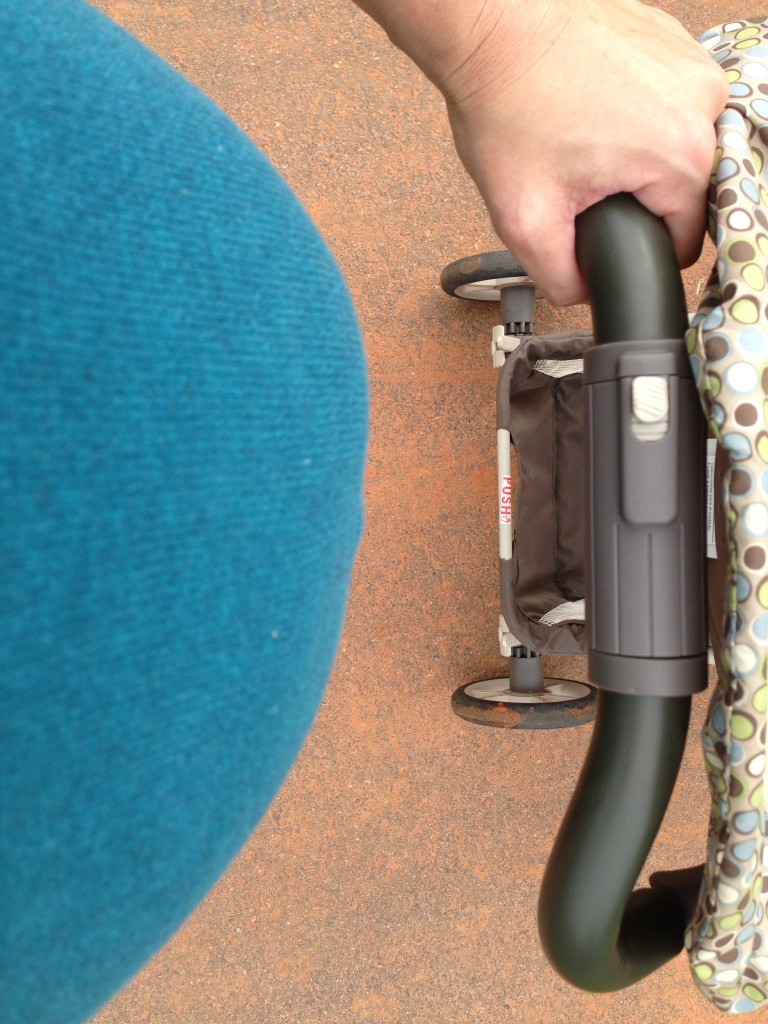 Notice how Beau is trying to escape out the left side of my belly. Very typical. I told James this baby may just be the next CrossFit star with the strength of his kicks and punches. I actually gasped outloud at work the other day when a strong kick hit some sort of internal organ. He often stops me in my tracks like that and people probably think I'm having contractions when really it's just Beau trying to prove his strength.
Oh little Beau. I can't wait to meet you and see what your little personality is like.