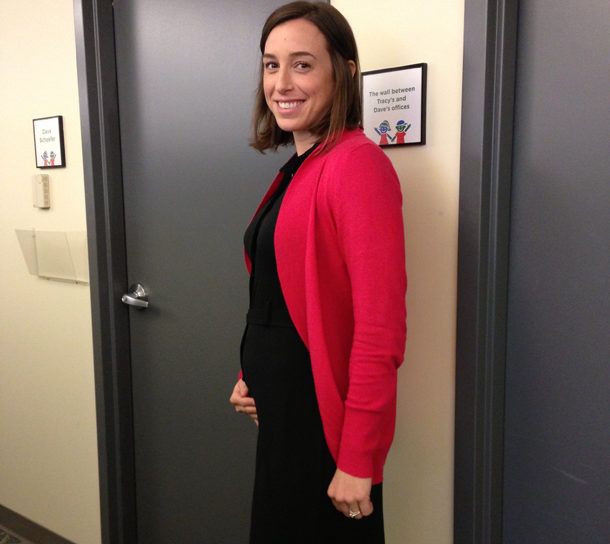 PREGNANCY WEEK: 20–halfway there! See a comparison of how I looked at 20 weeks with James Michael. Definitely a bigger bump the second go round, like everyone told me 🙂
GENDER: It's a boy! I'm afraid his name may take months and months to determine. I ran a list of possibilities past James earlier this week, and he didn't like ANY!
WEIGHT GAIN: 10 pounds as of 18 weeks. Regardless of the amount of weight gained, from 18 weeks to 20 weeks I feel like the bump has really popped. At my ultrasound this week, the tech said he was 14 ounces.
CRAVINGS: Nothing special (because I'm female and chocolate is tasty whether you're pregnant or not). I'm making a point to get in more veggies. James bought this powder called Green Superfood that he's trying to talk me into eating. Maybe I'll be brave and give it a shot this weekend. He says it's the worst thing he's ever tasted, but that's how he knows it's good for him. He also said he'd rather drink a cup of olive oil than a cup of this stuff. He's really doing a great job at convincing me to try it!
MATERNITY CLOTHES: Tried to wear a maternity skirt to work yesterday, but it just looked too big and sloppy. But I'm determined to break out some maternity clothes next week. I've just got to sift through my closet to find the ones that are the most fitted and start with those. I know I've got a couple spring tops that are fitted and just expand with the belly, so crossing my fingers they work.
SYMPTOMS: Still having some sciatica pain, and my right hip is jammed again. Trying to get back to the chiro soon. Yesterday, I was having consistent dull cramps since the morning, so I called my OB and the doctor on call wanted me to come in. Looks like it may just be a bladder infection, and I'm praying it's nothing more and that between the antibiotics and resting this weekend, I'll be feeling close to 100% by Monday.
WORKOUTS: With all the chaos of house hunting, workouts have taken a back seat. Well, in reality I haven't felt up to working out with my right hip. I tried to do sled pushes and 20-inch box jumps in an impromptu WOD on Wednesday, but had to stop because it didn't feel good and I thought I was doing more harm than good. It's killing me not being able to work out–almost more mentally than physically. I've come to heavily rely on CrossFit as a stress outlet.
It looks like I'll completely miss doing the CrossFit Open WOD 13.2 because of my hip and other issues, but I would give up working out for the next 5 months if it's the best thing for this baby. That doesn't mean it wouldn't be super difficult for me, let's just hope my respite isn't trending toward 5 months. Hoping I'll be back at it sometime next week.