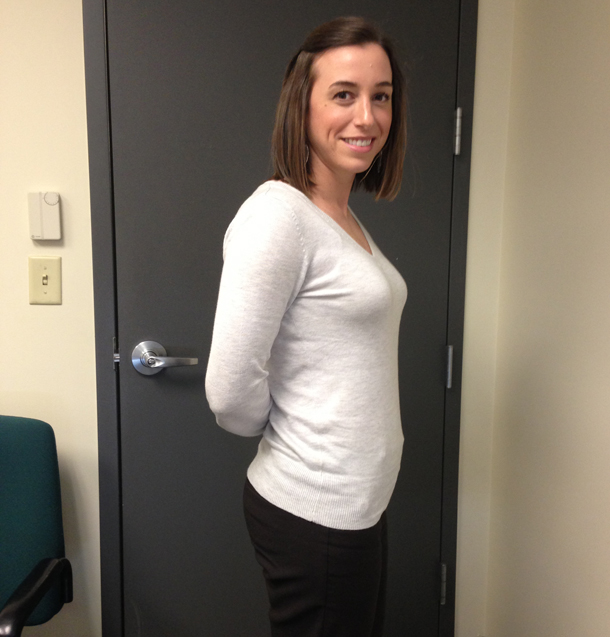 PREGNANCY WEEK: 16
GENDER: My chiropractor says it's a boy, and apparently he has a pretty good track record of guessing correctly. We'll find out for sure March 12. I should barter for a free visit if he's wrong 🙂
WEIGHT GAIN: 5 pounds as of 14 weeks. Will get an update in a couple weeks at my next appointment.
CRAVINGS: At some point this week, I realized that I wasn't absolutely starving all the time like I have been the majority of the time up until now. It was a nice feeling, not being a slave to food. I didn't have to eat three snacks between breakfast and lunch!
Hmmm, cravings though? I bought some sea salt caramel gelato last week, and have a few spoonfuls most nights. It's divine. I also bought James some chips, and I'm not normally a chip person, I mean, I can have a couple and care less after that. But lately chips have tasted so good.
MATERNITY CLOTHES: Still avoiding. Sticking to some once-roomy pants at work, and luckily all my gym clothes have high amounts of spandex. I will say that the number of shirts in my closet I can wear has been drastically reduce. I'm not big enough to fit in to maternity tops, but many of my normal tops are too tight. I normally wear clothes that are fairly form fitting, not loose and flowy, as I know is the style. So that's been a little challenging.
SYMPTOMS: I swear that I've felt movement this week, especially yesterday. I feel like little baby is still so tiny, but the movements I felt were very clear. It was an awesome feeling.
WORKOUTS: On Tuesday, I went to CrossFit 120 near our house because James took a night off from the gym and could watch James Michael. We did 5×5 shoulder press, and I stopped at 65 lbs. I've always been weak with shoulder press, and at 65 lbs I could really feel the stretch of my abdomen at full extension overheard. The WOD was an 18-minute AMRAP with a buy in of 200 double unders (I did singles) and then 5 handstand pushups (I scaled), 10 20-inch box jumps, 15 35 lb kettlebell swings and 20 back extensions. I got 6 rounds, but only because I did single unders 🙂
I also made it to CrossFit Addiction on Valentine's Day afternoon, even though going after work isn't my normal routine. I did spend 1 hour and 15 minutes in the car to get there between picking JM up from daycare and driving up to Kennesaw, but I was determined to get in another workout this week. It's one-rep max week, so I did cleans and stopped at 110 lbs, which I was fine with. No need to push things at this point. The WOD was The Chief:
Max rounds in 3 minutes of:
3 135/95 pound power cleans (I did 85 lbs)
6 pushups
9 squats
Rest 1 minute. Repeat for a total of 5 cycles.
The pushups really got me. Someone yelled out to scale to doing them on my knees, but I'm determined to do them on my toes and chest to ground until I literally can't do them any more because the belly gets in the way.