Desoto Falls Trail in Blairsville, Georgia, is a short and sweet 2-mile trail that is great for hiking with kids—even toddlers!
Hiking is one of our favorite activities to do with our kids. With kids ranging from 2 to 9, we typically aim for hikes in the 3-4 mile range. Though we've completed hikes up to 7 miles, we had to babywear our toddler much of the way. But now that he's 2.5 years old, we've found a sweet spot (or length) for hiking. If we keep hikes under two miles, he can hike the whole trail himself!
That's why DeSoto Falls is one of our go-to hikes for our family. It's a short and sweet out-and-back trail at just around 2 miles—and you get the reward of seeing an amazing waterfall at the halfway point.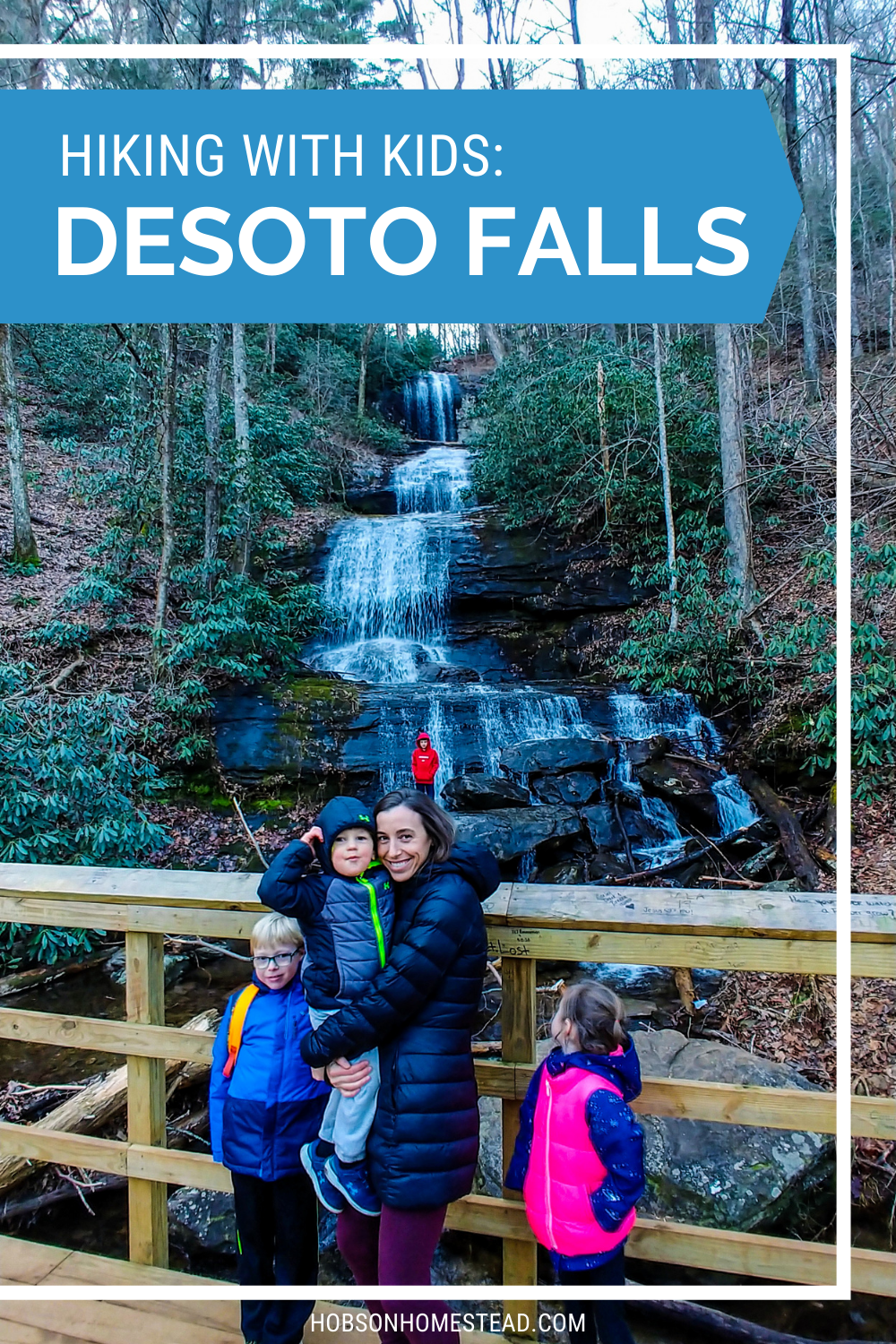 Trail Details:
Distance: 2 miles
Rating: Easy
Kids: Best for all kid ages
Dog friendly
Parking: $5 cash only
Extras: bathrooms, multiple picnic tables and camping available
Hiking DeSoto Falls Trail with Kids
The parking lot for DeSoto Falls is right off the winding mountain road of US-19. (If you keep going up the mountain, you'll find yourself at Vogel State Park.) Upon arrival, you'll find a decent-sized parking lot with a self pay box, so be sure to bring $5 cash. There are also bathrooms at this parking lot and more than a dozen nearby picnic tables.
To get to the start of the trail, you will walk part of the paved campground road. Every time we have been hiking at DeSoto Falls, there have only been a couple campers—both tent and RV.
To kick off your hike, you'll cross Frogtown Creek with a bridge that yields beautiful views of the creek. If it's rained recently, you be privy to rushing water and your kids will be tempted to climb up the railing for unobstructed views!
At the end of the bridge, you'll be surprised to see two signs. The sign to the right indicates the Upper Falls, which is the 2-mile out-and-back trail. The sign to the left is a 1/4-mile hike to the Lower Falls, a smaller falls system with a 20-foot drop.
If your kids are feeling ambitious, you can add on the hike to the short falls after you do the upper falls trail.
Even in the winter, the popular Upper Falls trail is heavily trafficked—enough that I'd feel safe taking my kids without my husband along. Much of the trail parallels Frogtown Creek, which is picturesque and can be quite noisy after a good rain. At the same time, the trail tends to get muddy after a recent rain, so it's best to let the ground dry out a few days after precipitation.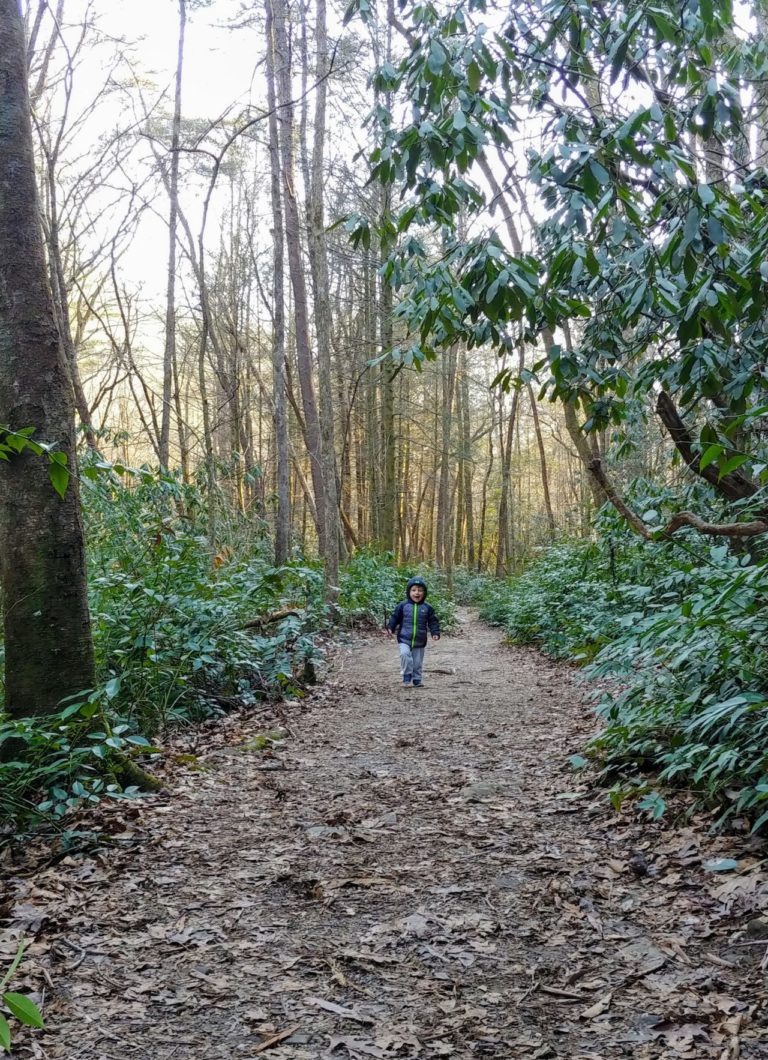 The elevation change for DeSoto Falls Trail is 160 feet, which makes it a great hike for young kids. My 2.5 year old had a blast taking his time on the hike, holding my hand for part of it, picking up lots of sticks and waving to passing hikers and their dogs on the trail.
Once the Upper Falls is within earshot, you'll see a new viewing platform at the base of the waterfall. From that vantage point, you won't get sprayed with any water, but you will have a great view of the 200-foot surge of water down the falls. For kids, the waterfall is a great break halfway through the hike.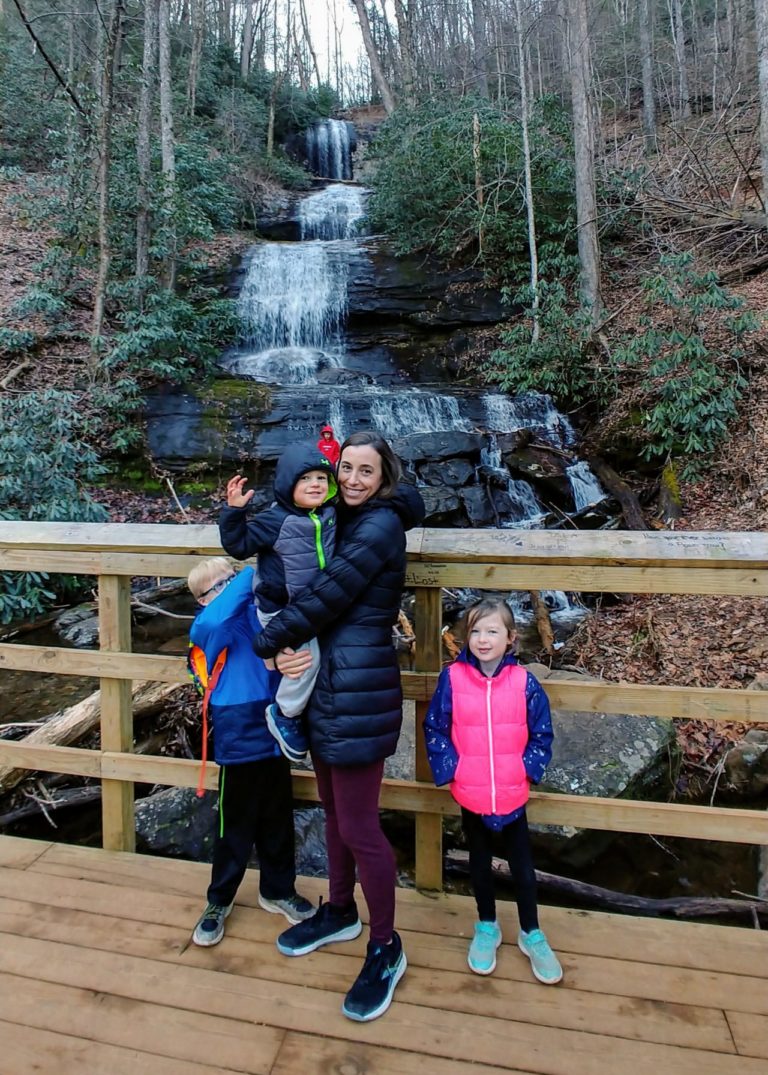 Coming back to the start of the hike is just as easy a trip as going up. If you choose to do the Lower Falls next, you can always stop at one of a dozen picnic tables to take a lunch break. And if you're hiking in warmer months, the shallow area of Frogtown Creek near the bridge is the perfect place to let little feet get wet. We are already looking forward to hiking here in summer.
Have you tried hiking Desoto Falls with kids?