If you are a new mom dealing with postpartum hair loss (by the handful), you're not alone. Learn how to survive this temporary postpartum hair-loss stage with these tried-and-true tips.
There are some really great benefits to being pregnant. Besides that raved about pregnancy glow, hormones can also make hair shinier, healthier looking and shed less. Most people shed 80 to 100 hairs a day, but the extra estrogen produced during pregnancy prolongs the growth stage, resulting in very little shedding.
Of course, once you have that precious baby, hormones shift once again and your hair can start falling out at an alarming rate—around 400 hairs a day. I first read about this phenomenon called postpartum alopecia when I was pregnant with my first child, but was still not prepared for it when it started happening to me after he was born. Fast forward to postpartum with baby No. 4 and I still cringe at the thought of clumps of hair falling out. It's just a weird feeling that will never be normal.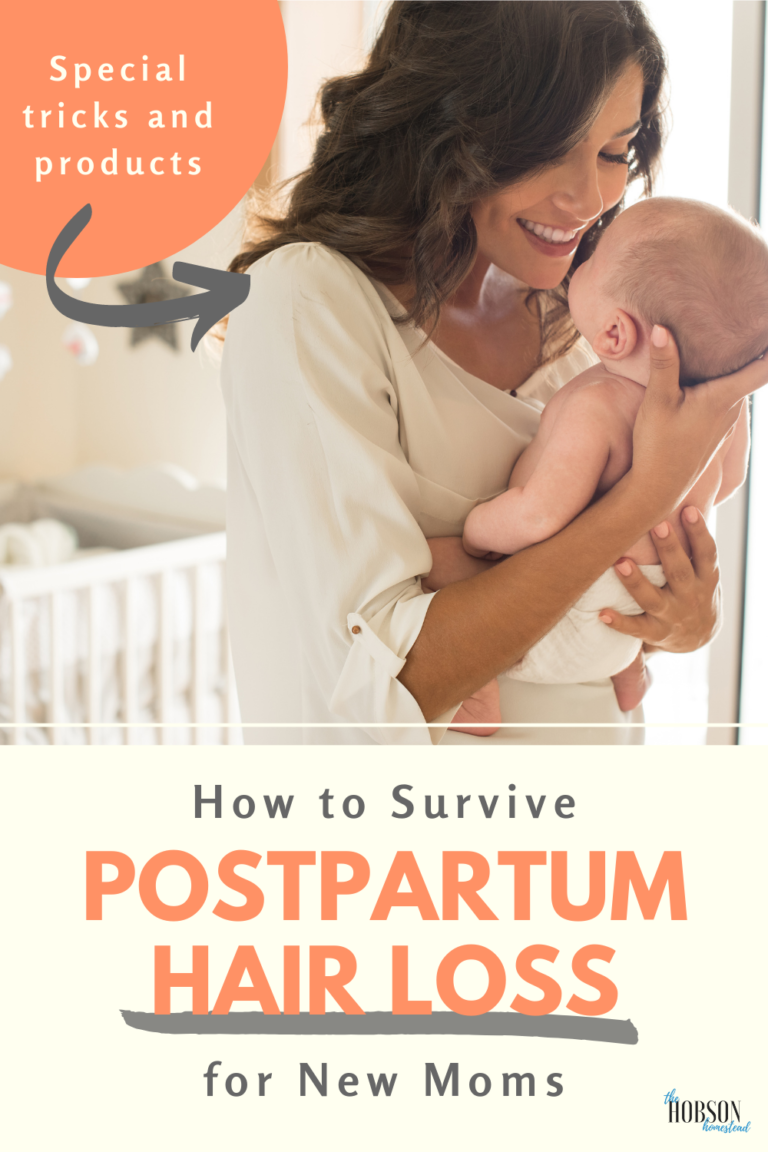 It's estimated that roughly 90% of women will experience some level of postpartum alopecia. But some women are more fortunate than others; they shed less or they have such thick or textured hair that it doesn't phase them.
Unfortunately, I have straight, fine hair and I seem to shed more with each baby (if that's even possible!). With previous babies, my hair shed between 4 and 7 months postpartum. With baby No. 4, it started shedding right at 3 months postpartum and lasted just past 7 months. For most women, hormones level out by 6-9 months postpartum and hair shedding ceases.
But if you're breastfeeding like me, it can extend or increase hair loss because estrogen levels remain low longer. That said, every woman's body is wired differently and every pregnancy has a different effect on her body.
The good news is that hair grows back and the fact that I have had four babies confirms that in the end, the hair loss is totally worth it.
Then you have the fun of taming all the wild baby hairs that pop up after shedding. And because I had my fourth baby at age 36 (or possibly just the fact that I've had four babies) tons of gray hairs popped up postpartum this go round.
If you are pregnant or postpartum and wondering how to get through this hair-loss stage, check out my tips of for surviving postpartum hair loss.
TIPS FOR SURVIVING POSTPARTUM HAIR LOSS
Get a Bob
After my fourth baby, I finally got to the point where I was ready to cut my hair off. You understand this exact feeling if you've had postpartum alopecia. My hair was thinning quickly and because I had a slightly layered cut, the bottom third of my hair was practically see-though. So I bit the bullet and bobbed my hair. I prefer a medium hair length for myself anyway, so it wasn't a huge stretch for me. Cutting off a good three inches and forgoing layers for a while has helped to disguise the thinness of my hair.
Embrace Ponytails
If a bob is too extreme for you, instead opt for a loose low ponytail. This will take the attention away from stringy-looking hair and also help with shedding all over the place. Low ponytails can be stylish and even dressy nowadays. Consider some fun or fancy earrings to bring more attention to your face and away from your hair. Before I bobbed my hair, I sported ponytails for a few months. Even now with a bob, I still opt for a stubby pony tail more often than not.
Use a Volumizing Hairdryer
I have been using this Revlon Volumizing hairbrush dryer for nearly two years. It has been great for my relatively straight fine hair. When I began losing my hair postpartum, I wasn't sure if it was still the right hair dryer choice, but now that my baby hairs are starting to grow back in, this hairbrusher dryer helps to tame them along with some styling mousse. Also, the new gray hairs (that I plucked out the first month I found but have now let them live) tend to have a different texture than my brunette strands. They are thicker and wavier so this dryer helps to smoothe them out.
Embrace Styling Products
Beauty products have never been my thing, and hair products have always been at the bottom of my self-care priority list. But my postpartum hair has caused me to take another look at products that will help get me through this awkward hair loss/hair regrowth transition. I now use a tiny pump of this mousse for not only volume but to help tame the new baby hairs as well as gray hairs.
I also have started using dry shampoo from time to time to give my hair a break from stripping it too much from shampooing. My hairstylist recommended Dove's Dry Shampoo.

Style with Hats
Hats nowadays are uber trendy. There are stylish hats for every season and occasion. Cover your thinning hair with straw fedora hats, cold-weather beanies, wide-brim wool hats, sports baseball caps, (car line) trucker hats, floppy summer sunhats, and more. Hats can also help to cover up dirty hair if you're trying to stretch out shampoos.
Change Your Hair Part
Most of us have always parted our hair the same way. Maybe you part your hair on the right, the left or down the middle. But when your hair is thinning and feeling flat, temporarily changing your hair part is one of the easiest things you can do. Not only does it provide more volume and lift on top of your head, but it also helps to disguise those baby hairs that may be regrowing.
Take Collagen
Collagen, a natural amino acid, has long been touted for hair growth. Your body needs amino acids to build keratin, the protein that makes up hair. I use a shampoo that's rich in collagen and biotin, blend a teaspoon of collagen powder into my coffee and have also taken collagen supplements.
Besides hair growth and strengthening, collagen is also great for protecting your joints, helping with skin aging, improving your gut and more.
Related: How to Add Collagen to Your Diet
Eat More Good Fats
Even if you're eating healthy and taking vitamins and supplements, make sure you're not skimping on good fats such as avocado, olive oil and nuts. Healthy fats contain fatty acids that strengthen the scalp and prevent hair loss and breakage. Almonds are rich in biotin, which contributes to stronger and longer hair.
What helped you survive postpartum hair loss? Or were you affected very little?