After moving our little family back to my hometown two years ago, I had purged all my maternity clothes and most baby stuff. For a while there, after having three kids in less than three years, I thought we were done as I was finally coming up for air. Then all these younger mama friends around me started getting pregnant and baby fever was born, with no regard to my stage of life or age. Ha!
For this pregnancy, I knew I was starting from scratch when it came to maternity clothing. So I thought I'd share what clothing items have gotten me through this fourth pregnancy.
Let me just go ahead and admit that I'm no fashionista. I know what I like and what I think looks best on me, but that doesn't mean it's always trendy. I don't do flowy shirts or high-waisted pants because they don't flatter me, despite the trends. I lean toward more form-fitted and classic silhouettes because I feel most confident in those.
So when it comes to maternity wear, I tend to keep the same classic sense of style, but I am also at the mercy of the market.
Favorite Maternity Brands
Though I mainly shopped at Old Navy and Target for my first three pregnancies, I purchased the majority of my clothes for this fourth pregnancy from Motherhood Maternity. The clothing is generally better quality and more expensive, but if you hit a sale or find clearance items you like, it's more on par with Old Navy and Target. For this pregnancy, I bought the majority of my casual wear and dressier clothes from Motherhood Maternity, and purchased activewear from Old Navy and Target.
I also splurged and purchased two workout tanks from For Two Fitness this pregnancy. They are pricier than Old Navy and Target for activewear, but the tanks are amazing and fit me at 5 months as well as they do now at nearly 9 months. The tank fabric is better quality and the ruching is super flattering no matter the size of your belly.
I have heard great things about ASOS Maternity, but many of the styles are too flowy for my taste or too fitted up top (my broad ribcage gets even broader during pregnancy). I also know several women who have purchased cute dresses from PinkBlush for special events or maternity shoots. And I've also heard great things about Le Tote, a maternity rental subscription. If I was still working in the corporate world, this seems like a great option for maternity clothes.
First Trimester Buys
When I was 8 weeks pregnant, I went on Amazon and bought bra extenders and pants extenders. When I get pregnant, my rib cage starts expanding right away to make room for baby, so I started using these bra extenders early on. I live in activewear, so many of my pants fit until 18 or 20 weeks pregnant, but I started using the pants extender on jeans at maybe 15 weeks pregnant and it got me through until about 22 weeks.
Second and Third Trimester Buys
Motherhood Maternity
Knowing that I was building a maternity wardrobe from scratch this time, I started buying really early. During the winter, I purchased the majority of my summer maternity items from Motherhood Maternity because they were on clearance. I guessed at my size based on my previous pregnancies, and everything has fit great, though I still have 2 to 4 weeks to go and my shirts are getting noticeably tighter. Hopefully they will make it to the end!
Here are my favorite items that I wear the most from Motherhood Maternity: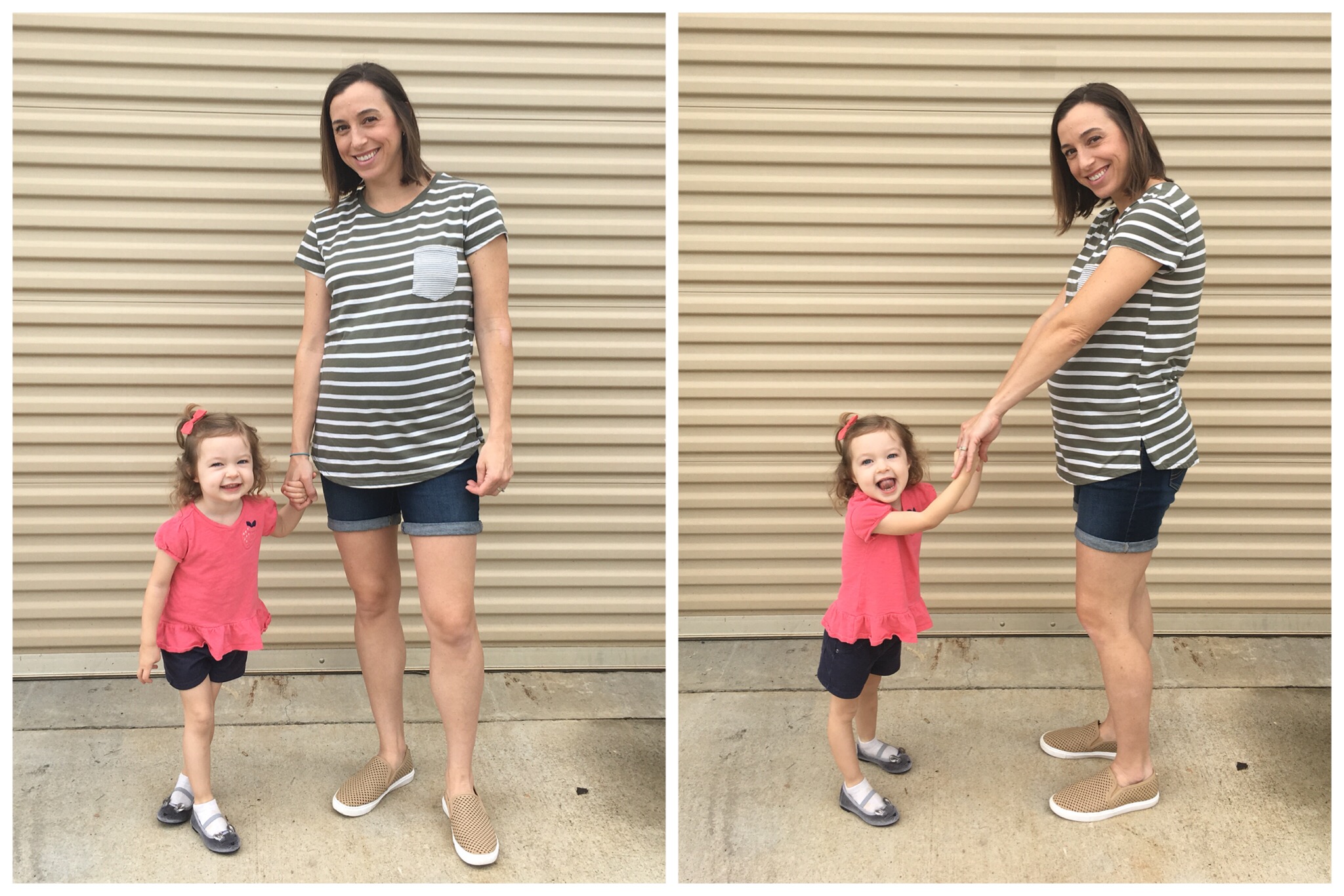 Lightweight Pocket Tee: I have this in three colors because it's so cheap and so lightweight for summer. I'm 29 weeks in the photo above, and wearing Indigo Blue shorts.
Indigo Blue Shorts and Crops: These are no longer in stock since summer is halfway over, but I love the fit of this brand so I would recommend the other style options if you are having a baby in the fall or winter. I wear a small in this brand if that helps for size reference. Click for current Indigo Blue offerings.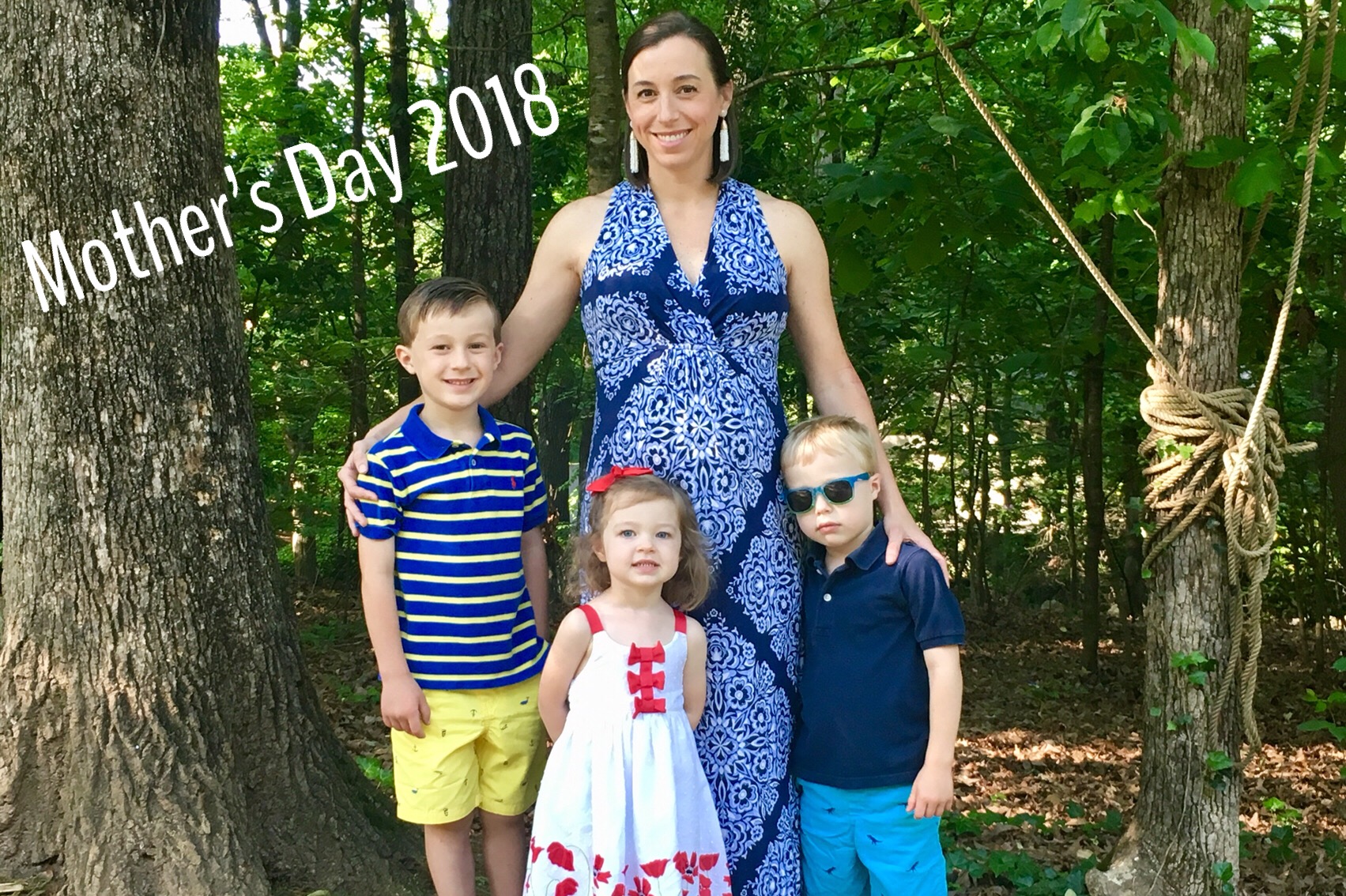 V-Neck Maxi Dress: I have this dress in two patterns that are no longer offered, but it's still available in black and black floral. I knew these would be great to wear to church during the summer.
Cold Shoulder Shirt: Though I'm in activewear most of the time, I do like to wear regular clothes once or twice a week. I'm 33 weeks in the images above wearing this shirt, paired with Indigo Blue shorts.
Target Maternity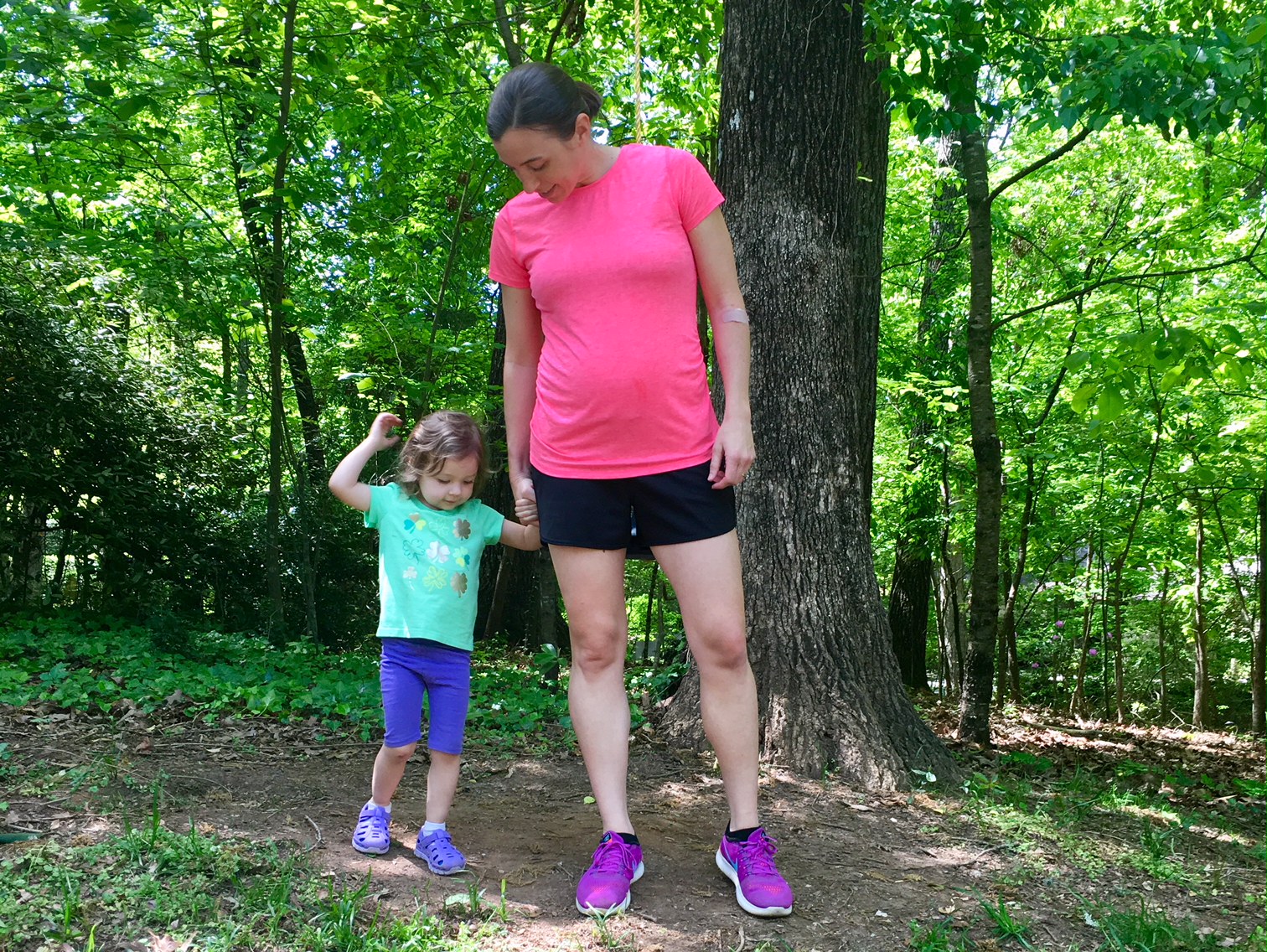 Target now carries an activewear maternity line by Champion. I have not tried the pants or capris (though the reviews look good), but I loved the two pairs of Champion workout shorts (now out of stock) that I purchased. Champion also offers several styles of dri-fit maternity shirts and tanks. I purchased two dri-fit shirts, which fit great up until about 8 months, when they became a little too short for my taste. There are also jacket and pullover options, with likely more styles coming out this fall. I bought a jacket and loved the style, but for me it fit best in my second trimester, as it didn't give me enough room for a growing belly.
Old Navy Maternity
I purchased the rest of my maternity activewear from Old Navy. These foldover yoga shorts are awesome. I wore them a ton during my second pregnancy since I had a summer baby, and I was so happy to see Old Navy still carries them 5 years later. They are also great to wear those first couple weeks after delivery since they don't have a full panel like other maternity shorts. I also bought two workout tanks that fit well and have helped to keep me cooler this summer.
Up until about 28 weeks, I also wore two non-maternity tees I had ordered in a Tall last fall. They were a great option before my belly fully filled out some of my maternity shirts. These tees will also come in handy postpartum while my belly is going back down.
Postpartum Buys
Postpartum clothing is a bit awkward as you don't really fit into your maternity clothes any more but most of your pre-pregnancy clothes don't fit yet either. So I usually just wear whatever pre-pregnancy clothes I have that fit looser or are stretchier, which is easy to do when you live in activewear most of the time. Sometimes, you'll have to buy a size up in bras if you're nursing, but until your milk comes in, it's hard to know exactly what size to buy. Nursing tanks and full-coverage panties for post-delivery are the only items I've purchased or anticipate needing.
Clip-Down Nursing Cami: I bought two of these since it will be hot in August
Comfy Undies: I purchased a pack of cheap breathable panties from Fruit of the Loom for after delivery
What are your favorite maternity brands or clothing pieces?