Somehow, we've blinked and the first two weeks of life with a newborn have passed. They have been full, busy weeks—because life doesn't stop when you have a baby if you have older kids. Here's a recap of life with four kids the first two weeks of Grady's life. (Link to his birth story in case you missed it.)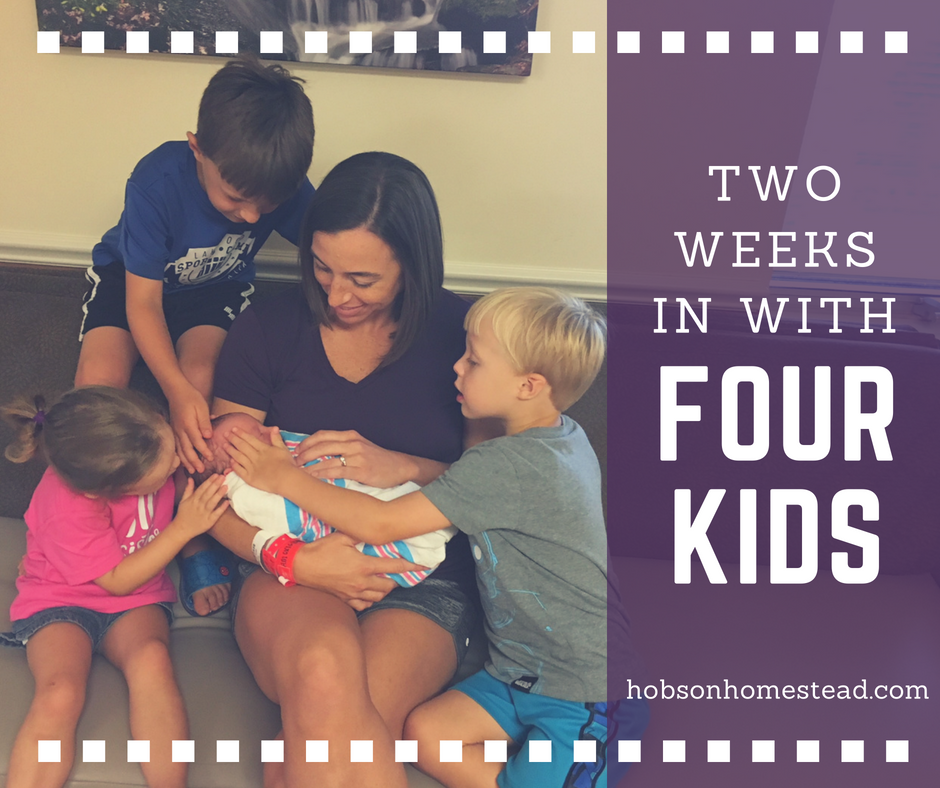 My Older Kids
My parents graciously kept my kids the majority of the first week, while I was in the hospital and even some when I got home those first couple days. It was an unusually rainy week, which meant my kids were cooped up more than normal, but they all survived and my parents said it was easier than when I had Scarlett and they kept my boys for nearly a week when she was born because they had winter colds.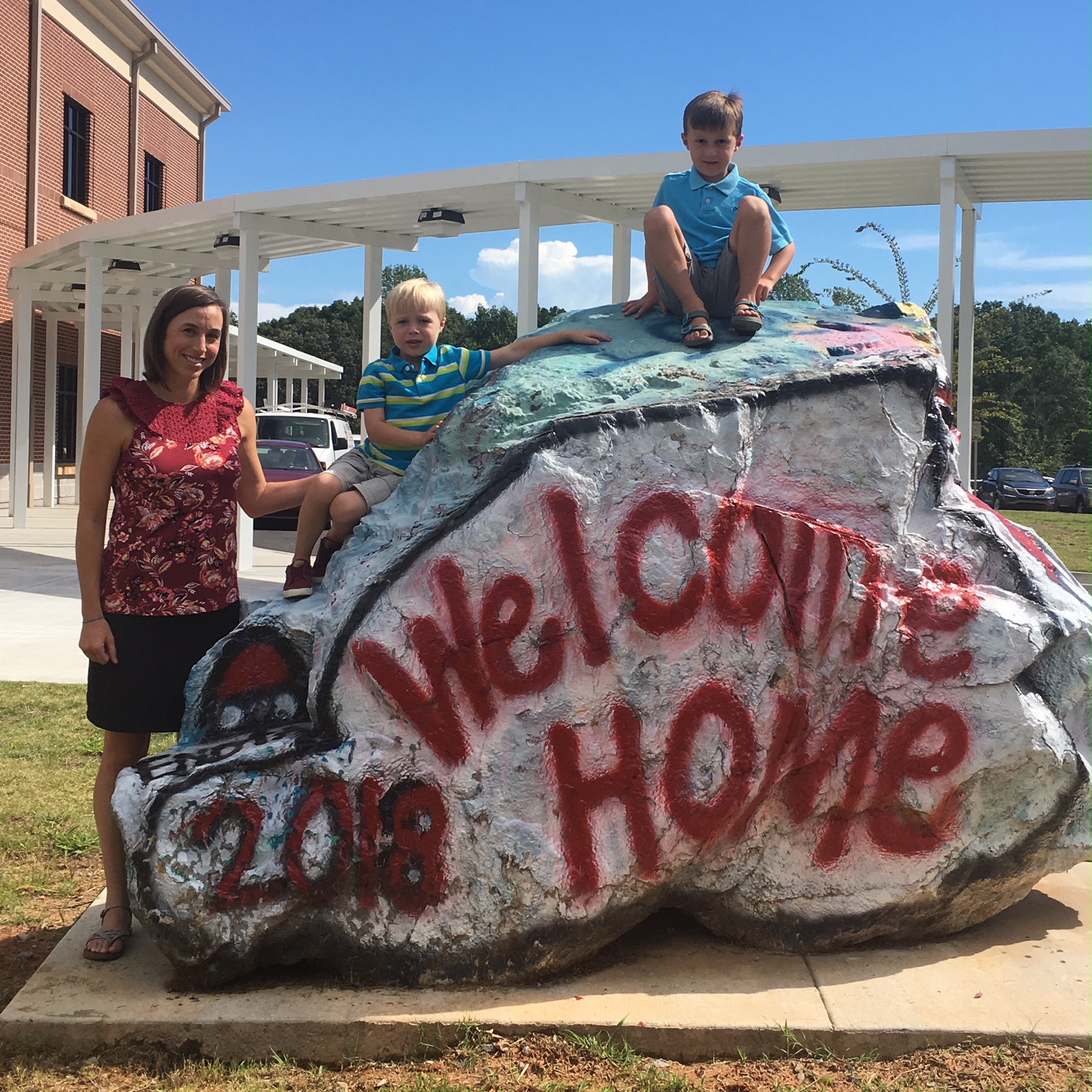 One week after Grady's arrival, we had Open House at our local public school for my boys. I was so thankful I had delivered Grady a week before so that I could be there to attend Open House with them and meet their teachers. School started two days later and my boys had a great first week. I'll be honest though, I'm a little nervous about going through car line every day. I didn't have to take Grady or Scarlett last week because my mother-in-law was in town. But from here on out, it will be me tackling logistics with four kids. I keep hearing car rider line will get better—aka faster and smoother. And I really hope so because I can't imagine having a newborn in the car with me just inching along for 45 minutes.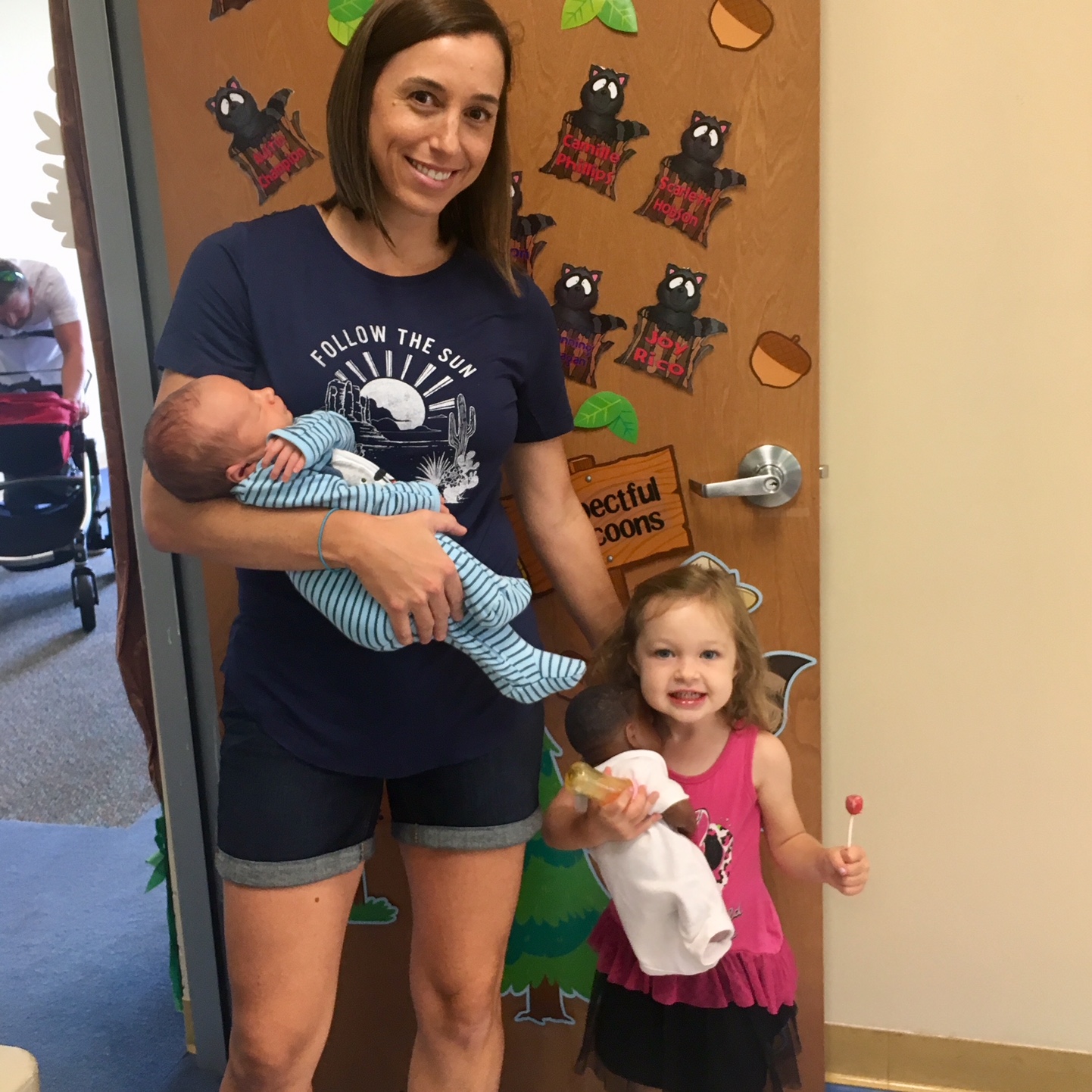 Scarlett also had Open House for her preschool at our church, which she attends three mornings a week. Grady came with us, making his first brief public outing (besides the pediatrician) at 10 days old.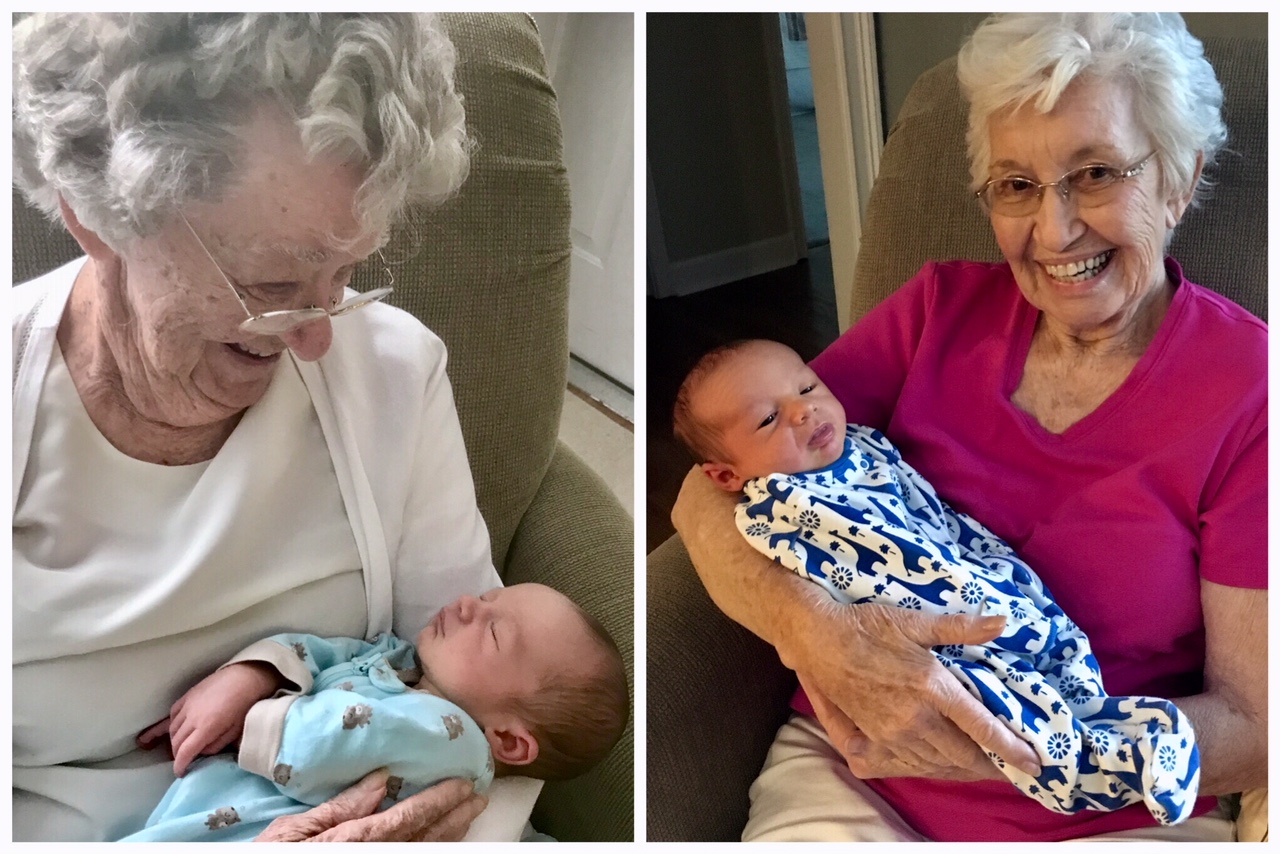 Grady met all his cousins just before he hit 1 week old, and he's officially met both my grandmas, making them his great-grandmas.
Overall, my kids are loving having a new baby in the house. They cannot get enough of him, singing to him, holding him and touching him at any chance. I thought it'd be easier having a baby in the house since my kids are older (6, 5 and 3), but was surprised to find it's harder than when I brought Scarlett home and my boys were 1 and 2 years old. Back then, I could at least put her in the pack and play to keep her safe and out of reach.
With bigger kids, no place for Grady seems to be off limits. Of course, they mean well, but they are active kids and don't yet understand that bouncing around the house around a baby makes it unsafe for him. We have to remind them that they can't be right in his face all the time or touch his face or hands, but sometimes they forget that they aren't little adults and want to pick him up or shift him on the floor or reposition him in his bouncy seat. All that to say that I'm on high alert watching out for Grady when they are in the house.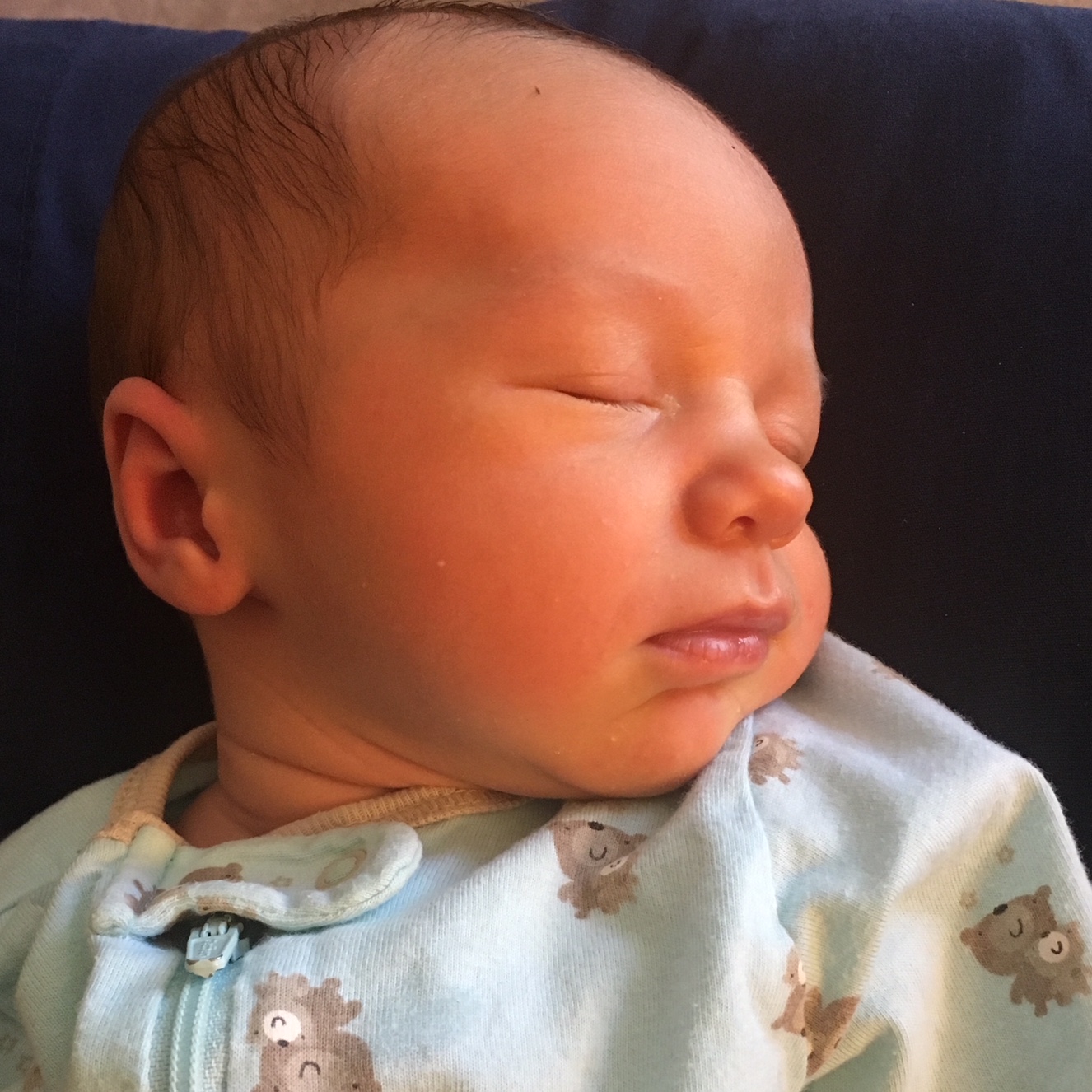 Newborn Grady
After going in for three pediatrician appointments his first week to check his bilirubin levels for jaundice, I thought we were in the clear. But at this two-week appointment yesterday, his levels were still high enough that they want him to come back next week to get checked yet again. His poor little heels have pricks all over them from the bilirubin checks. Beau and Scarlett had jaundice as newborns as well, and though we've never had to do light therapy, I hate doing the heel pricks so often. Hopefully we get good news next week and can finally move past the jaundice situation.
At Grady's two-week appointment yesterday, he measured 9 lbs (60%) and 21.5 inches (80%). So the good news is he's growing and gaining like a champ, especially since he somehow lost 10% of his bodyweight in the first 12 hours after birth, putting him down to 7 lbs 8 oz. There was talk that perhaps because I was on fluids for 12 hours during labor meant he weighed higher at birth than he would have without prolonged fluids. Who knows. But he did pee and poop 6 times each the first 12 hours, so that could also explain the weight drop. At any rate, he's putting on weight now, but because he's longer than my other babies, it's taking a while for him to fill out. I can tell that his chin is getting thicker, but there are no rolls on his limbs yet. Chunking up a bit is our goal for the next month. I have no doubt it will happen given his cluster feeding tendencies.
I know so many moms who've had great success using Moms on Call for their babies. But the more kids I have, the more I can't handle special schedules and just need my babies to be flexible as I balance mothering my other kids. I'm sure general nap times and a bed time will come soon, but for now he simply sleeps where he is last placed. He's only two weeks old, but I feed him on demand. Oftentimes, this means tons of cluster feeding if I am nearby simply because he smells me and wants to be comforted. And I'm ok with that because that's my job for now and I want him to put on weight.
The downside of a very loose schedule is that my babies don't sleep as well (aka as long) as other babies. He had decent 2.5 to 3 hour stretches his first week, but this past week I'm lucky if there are any 3 hour stretches. Instead, he's up every 1.5 to 2.5 hours at night. But that's newborn life—always changing—and I'm seasoned enough to know that this will only last for so long. The upside of a loose schedule is there is less pressure on the timing of everything (eating and sleeping) and more focus on simply spending time together. Or something like that—I keep telling myself.
Mama
I plan to do a whole post dedicated to all realms of postpartum recovery around the time I hit the 1-month mark, but for now, all I have to say is that I'm still on cloud nine. I mentioned it in my recent Friday Faves, but the last month of pregnancy was tough due to nerve pain, so I have never been more grateful NOT to be pregnant anymore. I never had that feeling with my other pregnancies, but this one was harder toward the end. Sure, I'm tired and am trying my best to slow down and rest more, but having four kids makes that difficult. My heart is just so very grateful that I have the opportunity to raise four little ones. Growing up, I never would have guessed I'd have four kids. Three, yes. But never four. This birth (after a month of discomfort and subsequent orneriness) has left me in this blissful state and given me a new vigor to be the best mom I can be for my kids.
In no way do I have this life-with-four-kids thing figured out, but I'm working to find balance and am actually excited about the challenge of figuring out how to best serve my little family.
Recent Posts (in case you missed them):