1. We haven't had cable TV since we've been married. Well, except for the first three months after James Michael's birth. I got a three month package because it was the winter and I knew I'd be tied to the house between his nursing and sleeping schedule. Watching HGTV the first two months was a good distraction from the indoor confinement, but by the third month I was over TV and JM and I were out and about much more. With the arrival of little Beau this summer, I will not be getting any cable package because I'll have my hands full with JM.
James only had cable before we were married because his roommates wanted it. I will say that I do not miss all those commercials that come along with cable TV. The only thing we really miss is UGA football in the fall. But last spring, we discovered that basic cable is open to anyone who hooks up a cord to a cable outlet. So we've been able to watch the Summer Olympics, Masters and a few SEC football games that aired on the major networks in the past year. I do not foresee us ever purchasing cable TV in the future. The only show JM really watches is Super Why on PBS, and even then, he's mainly interested in the fun songs. He stands up and looks at the TV and dances to the songs when they're on, and throughout the rest of the show he's just running around the living room making a huge mess 🙂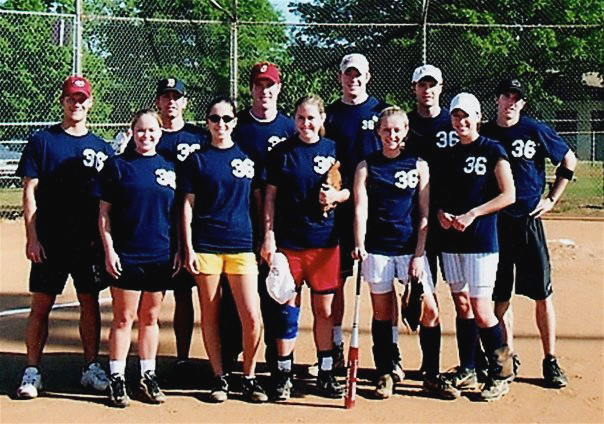 2. James and I met on the softball field. Well, actually James called my roommate Kim and I and boldly asked if we were any good at softball before inviting us to play with his team. But hey, at least he's always been straightforward. James and I didn't start dating until a year after we graduated because the timing was never right before, but we definitely knew a lot about each other before we got together. And I think that for us and our relationship, that history of 'friends first' has been a great thing.
3. We rarely eat out. It is very rare that we have a nice meal out and comment afterwards that it was amazing or even worth it. Most of the time, we're underwhelmed by the food quality, flavor or preparation. (And admittedly, we may not be eating at the right places). But we often think that we could have prepared meals better and tastier at home. And luckily for us, we really enjoy cooking and hanging out in the kitchen. I can't wait until we move into our new house this summer and can really enjoy a bigger kitchen and more open layout in our favorite room.
This past weekend, we ended up eating out more times than we have in the past 6 months between meeting family for lunch on Friday, a quick cafe lunch and an anniversary dinner on Saturday, a country breakfast place on Sunday morning and a brunch place near Piedmont Park later that day for a friend's birthday. By Sunday evening, I just felt gross and was ready for some homemade food. Also, JM was with us for lunch Friday and Sunday, and in both instances I didn't even get to enjoy my meal, despite the decent food, because he was not wanting to sit in a high chair and eat. He was in a new place and there were far more fun things to explore.
4. We're not animal people. This doesn't mean we hate animals, it just means that we will never have an indoor pet (well, maybe a beta fish if JM wins one at a fair one day). We're lucky in that we both feel the same on this issue, because I'm sure this is a very sensitive issue for couples who disagree. We didn't grow up with animals in our parents' houses, and we're both highly allergic to cats. If we ever live on land one day, I can see James getting an outside dog that would sleep in a doghouse. But until then, we have so much going on between James' gym and two little boys that our hands are pretty full. James Michael loves animals, like most kids, and has started to become obsessed with dogs. And that's ok, because we're outside a lot and run into a lot of dogs at the park that he plays with. But sorry, little one, we will never allow a dog in our house 🙂
5. We're homebodies. It's not that we don't like to leave the house, but even before we had kids, we weren't into going out to swanky restaurants, bars or clubs to hang out with our friends. Instead, our perfect weekend consisted of hanging out at friends' houses and grilling out, watching a football game, playing outdoor games, just having normal conversations, etc. Once we move and James gets the hot tub he's been dying for (and we have a convenient guest bedroom), I foresee many more impromptu hangouts at the Hobson house. And that sounds great to me, because I love cooking for people.