I recently shared some of my healthy eating and meal planning tips at a small mom's group event called Healthy Homes. And though I admitted to the group that I am by no means an expert, I thought I'd share some meal planning strategies that have worked for me as I try to balance all the many mom hats.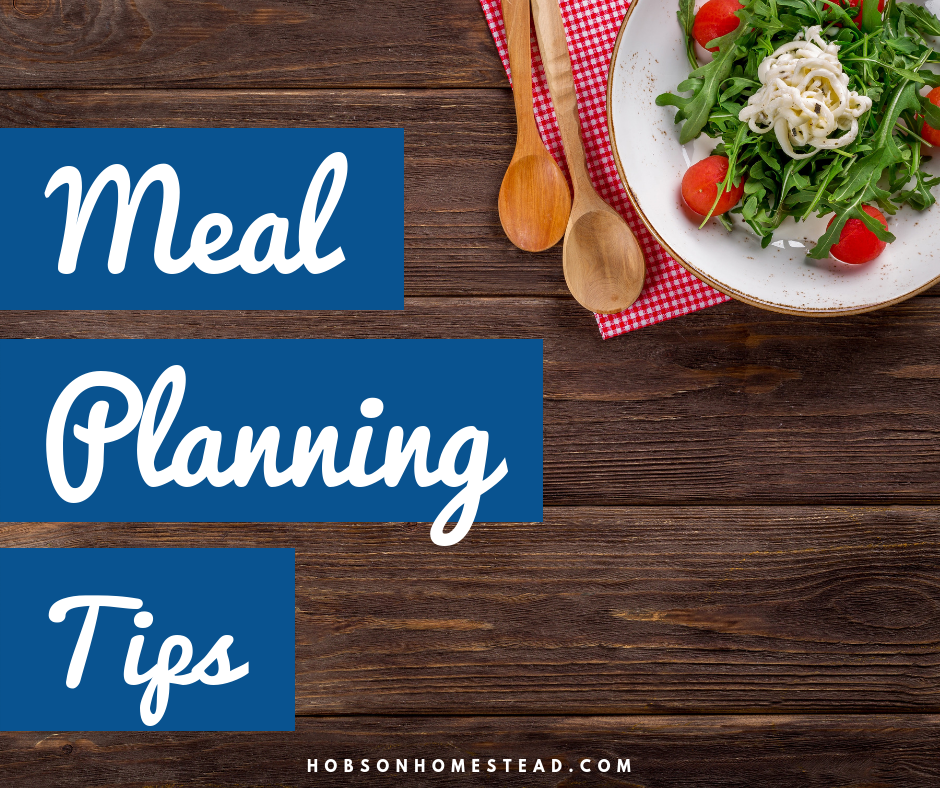 Apart from meal planning tips, I thought it may also be helpful for others if I periodically share my weekly meal plans to provide inspiration. I've included my plan for this upcoming week at the bottom of this post.
At any rate, I hope the following meal planning tips help you to jump on the meal planning bandwagon. I find that the more kids I have, the easier my life is when I meal plan weekly.
Meal Planning Tips
Make a master list of recipes.
If you're choosing to meal plan, you may have one or more goals in mind. You may want to save money or stay on budget, reduce take-out or eating out, eat healthier or cater to specific food allergies, or simply take the stress out of the all-too-stressful mom life. Regardless of your end goal, meal planning can streamline your life if you take some time upfront to do the prep work. 
First up is making a master list of recipes that you know your family loves. I often forget about old favorites, which is why I created a Pinterest board dedicated to favorite recipes. This way, I can look at that board for inspiration each week when I meal plan. And it's even better that I know it contains recipes my family already loves.
I'd suggest breaking your board down into specific category sections to make planning easier. Some examples may include Crockpot, Quick Meals, Casseroles, One-Pan Meals, Soups/Stews, etc. I also created another Pinterest board called New Recipes to Try to which I save any recipes I come across that look tasty. If I test out the recipe and my family likes it, I move it over to my Favorite Recipes board. 
Know your schedule for the week.
Whether you have one child or four (like me!), the weekdays can be busy as you are often resident chauffeur, scheduler and chef. Before I start planning for the week, I break out my calendar to see what we have going on between work obligations, appointments, sports or church activities. This allows me to know which busy nights I need leftovers, quick meals, crockpot meals or thawed out freezer meals.
I also note the mornings that are less busy so that I can focus on meal prepping those mornings. This may include thawing meat, marinading meat, dicing veggies or prepping a casserole so that I can simply pop it in the oven that afternoon. If I'm feeling really ambitious and have enough time, I'll also double my recipe (specifically soups and casseroles) so that I have one ready for dinner and one to freeze for a busy night. 
If you have your Pinterest boards categorized, it makes it easy to scour your boards to find meals to fit these busy nights.
Shop your current food inventory and grocery store sales ad.
Before you begin choosing your recipes, be sure to see what you already have in your pantry and freezer. I often buy meat and pantry items in bulk, especially when they are on sale. Then I may spend weeks slowly using up these foods as I meal plan.
Also, be sure look at your local store sales ad. I use a curbside grocery store pick-up service (see my post on The Ins and Outs of Kroger Clicklist), which means I order my groceries online. This makes it easy to ensure I get everything on my list as well as buy items that are on sale. I also consult the store's online coupons while planning my meals.
Plan your dinners.
Now you're ready to choose your recipes for the week based on your schedule, your grocery store's sale and your taste buds.
A big time-saver tip is to cook once and eat twice. This doesn't just apply to making a large meal such as a casserole so you can have leftovers. You can also cook a large portion of meat (especially if it's on sale) and eat it one night, then reuse it in a meal for another night. For example, we love to grill marinated pork tenderloin. We'll eat it with side veggies for one meal, then the next night I'll repurpose it to make pork "fried rice" by sauteing it with riced cauliflower and other veggies.
Write down your meal each day in your calendar and make any notes regarding prep work. So if you're throwing together a crockpot meal because you have a busy evening, make a reminder for that morning to throw the ingredients into the crockpot. (Better yet, prep the ingredients the night before.)
If your recipe uses fresh produce, plan to schedule that meal for earlier in the week when produce is the freshest. There is nothing worse than planning to cook vegetables at the end of the week only to find they have turned bad. I would know!
Write out your grocery list.
It's especially crucial to write out your list if you are shopping in person at a grocery store. When I do shop in person, I often group my items together based on the route I typically take in the store. This ensures I don't overlook an item on the list.
When I'm ordering my groceries online, instead of making a written list, I have a bunch of tabs open so I can see the recipe ingredients and immediately add those items in my cart online.
Besides ingredients for dinners, also consider breakfasts, lunches and snack items. If I ever have to make a mid-week trip to the grocery store, it isn't because I ran out of food for my dinners, but because I ran out of food for lunches or breakfasts. Taking inventory of what you have will help you plan better for these meals.
One-Week Meal Plan
I thought it might be beneficial to pop in and share my weekly meal plan every so often. To plan for this upcoming week, I opened up my weekly calendar and several internet tabs on my laptop:
my Kroger Clicklist account (my curbside grocery service)
Kroger's weekly ad
Kroger's online coupons
my Favorite Recipes and Recipes to Try boards on Pinterest
From there, I chose my recipes based on my schedule for this week as well as what was on sale and what I already had in my pantry. And we often eat a salad a day—either at lunch or dinner—since we grow greens hydroponically in the basement. So you'll see a lot of salads in my meal plans.
Here's my meal plan for the week in case it provides any inspiration for others. We don't eat out so I plan for all seven days of the week. Also, my husband and I eat leftovers for lunch (and my husband has the appetite of a teenage boy), so even though many of these dinners will yield leftovers, they will be consumed within 24 hours.
What are your meal planning tips?