Last week, I was craving redneck caviar. You know, that dip with black eyed peas and corn and tomatoes. But because my diet is restricted due to nursing a baby with food allergies, I was determined to come up with my own version of redneck caviar that didn't include using a bottle of store-bought zesty Italian dressing (which includes dairy and soybean oil).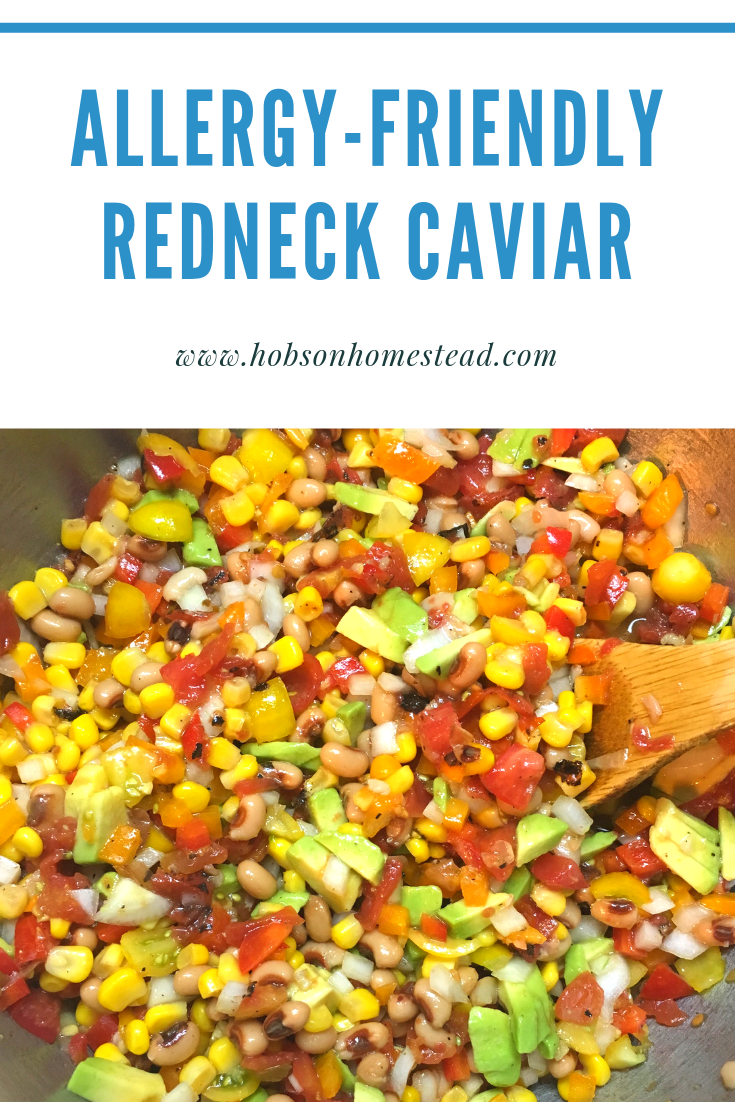 Instead, I made up my own dressing for the recipe and even added in fresh tomatoes and avocado—because everything is better with avocado. So if you're looking for a fresh summer recipe to take to your next gathering with friends or family, this is it! Even my allergy kid gobbled it up at the pool last week.
To make this dish free of the top 8 allergens, be sure to use a brand like Whole Food's 365 Worcestershire sauce, which does not contain anchovies like other name brands.
Allergy-Friendly Redneck Caviar
Dressing Ingredients:
6 tbsp olive or avocado oil
3 tbsp red wine vinegar
1 tbsp maple syrup
1.5 tsp Worcestershire sauce
2 cloves garlic
1/2 tsp salt
1/4 tsp pepper
juice from 1 lime
dash of hot pepper sauce, to taste
Dip Ingredients:
1 can black-eyed peas, drained
1 can whole kernel corn, drained (or use 1.5 cups fresh corn)
1 can fire-roasted Rotel tomatoes with green chiles
1/2 diced red bell pepper
1/2 diced orange bell pepper
1 diced jalapeno
1/2 diced onion
1 cup diced fresh tomatoes
1 avocado, diced
Blend dressing ingredients with hand blender or vigorously with a hand whisk so that it emulsifies. Set aside.
In large bowl, combine all dip ingredients and gently fold to mix.
Stir in dressing and refrigerate at least 6 hours.
Taste test and add more salt or hot sauce as needed.
Serve with chips. Serve on top of tacos. Serve on top of fish or chicken. It's versatile!