If you're looking for gifts for active boys, then consider this gift list that is sure to capture the interest and energy of the boys in your life.
If you have rowdy boys, you know the struggle is real when it comes to narrowing down gifts for active boys. You want to give them something fun and exciting, but also durable that they can't destroy within a couple weeks of receiving. You want to find a gift that will help them expend all that rowdy energy, while also ensuring it keeps their attention and they don't get bored.
As a mom of three boys, I can attest to a handful of gifts that have weathered the test of time and a slew of gifts that have fallen short after a month of ownership. The past couple years, every time a birthday or Christmas rolls around, I always circle back with gift ideas that can keep up with my rowdy boys. There is a place for quiet time in a boy's life, but those with multiple boys know that most boys have to use up some of that boundless energy before they can quietly play or read. So if you're looking for gifts for active boys (like mine!), then consider this gift list that is sure to capture the interest and energy of the boys in your life.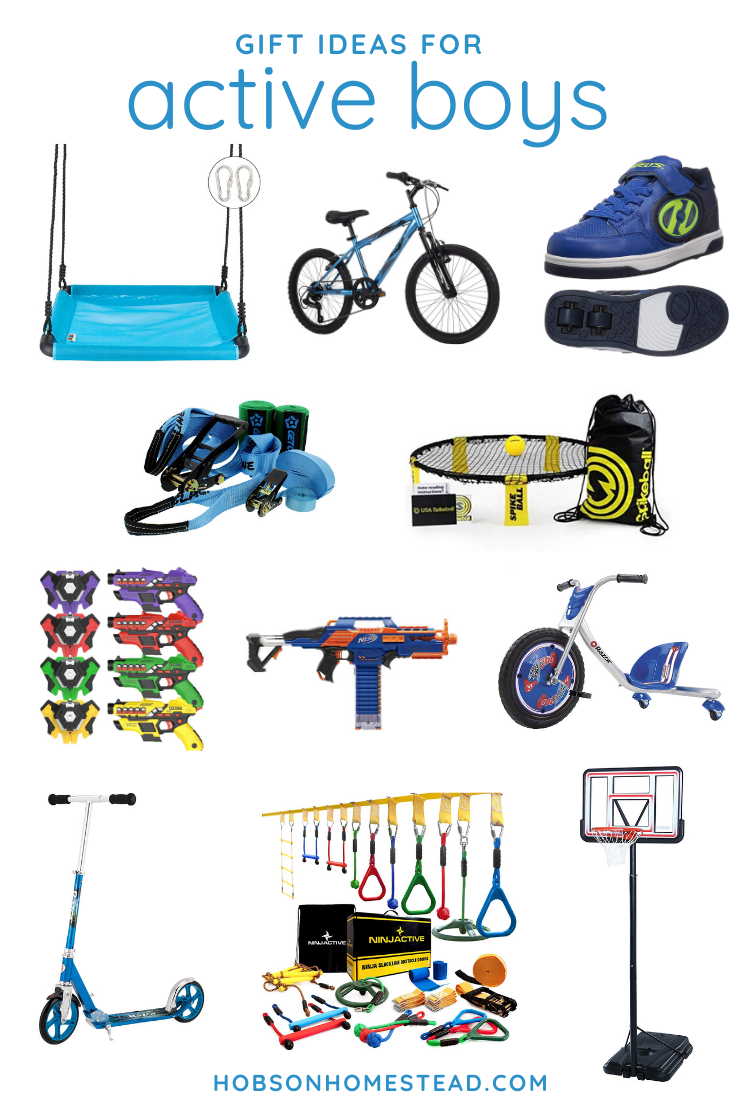 Tree Swing (hanging kit)
We hung this exact swing when we moved into our house this past summer and this swing is played on and fought over daily. From my 2 year old to friends who have a teenager, this swing gets a lot of action no matter the age. At one point, we had five kids on the swing, which speaks to the durability of the swing and the hanging kit. Just make sure your tree limb is sturdy enough for a big load.
Regular Bike or Mountain Bike
This year my oldest son will turn 9 at the end of the year. He's been ready for a 20-inch bike for a while, but his birthday a few days after Christmas is great timing for a new bike. We are still deciding whether to get him a classic bike or a mountain bike since we have a great mountain bike course close to us.
Heelys X2 Sneaker
I just bought my three big kids (ages nearly 6, 7 and nearly 9) a pair of these for Christmas. I researched reviews and decided to go with the brand name Heelys instead of a knockoff, and I also read that two weeks (X2) are easier to learn on for kids, but that you can remove one wheel once they get the hang of it. I'm so excited to give it to my rowdy boys because I think they will love them and catch on quickly.
Slack Line
Two Christmases ago, we gave our kids this slackline kit. It's super easy to put up and take down. We most recently put it up in our front yard for a neighborhood block party we hosted. The kids had a blast. It would be great as part of a fun obstacle course, which we may do for our next block party.
Spikeball
My boys have yet to play spikeball, but they learned to play gaga ball at camp this past summer and loved it. But seeing as how the gaga ball pit is out of our budget, I thought that spikeball could be a good alternative (especially since they also enjoy four square). So I've encouraged my parents to get it for them for Christmas since we are doing limited gifts for them this year.
Laser Tag
Laser tag is a classic game that can be played indoors (if you don't mind chaos) or outdoors. Two of my kids just played with their cousins at dusk and had an absolute blast running around tagging each other. Less messy and less painful than paintball!
Nerf Guns
Every Thanksgiving when we get together with my sister-in-law's family, we have Nerf gun years. And every year that the kids have gotten older, the receive bigger and bigger Nerf guns with extra cartridges and the capability to blast out what seems like hundreds of rounds in minutes. So if you have active boys and need a fun gift idea, look no further than Nerf gun wars. There are so many options: guns with dart bullets or guns with round bullets (we have both!). And if they already have guns, consider some accessories to step it up a notch: digital target, bullet rover, tactical vest, inflatable bunker.
Razor RipRider
Four and a half years ago, we gifted this glorified tricycle to one of our boys and it has held up remarkably considering it gets used by all four of my kids, ages 2 to nearly 9. Even the toddler has learned to squeeze in the back of the seat to catch a fast ride with my big kids. This gift will likely be on my list of gifts for active boys for years to come!
Razor Scooter Classic (Larger Wheels)
Along with the Razor RipRider, these scooters are also a huge hit with my active boys. They race on them at parks, zip around obstacles on our driveway and even love using them at outdoor tracks. We love them because they are small (compared to packing up four bikes) and lightweight. Their cousins have the scooter with the larger wheels, which I prefer for myself to give me more stability, but my rowdy boys love the speed and maneuverability of the classic scooters.
Ninja Obstacle Course
My active boys love hanging on, swinging from, jumping, climbing up, launching over and shimming down any and everything they come across. Sometimes, this is fine, such as when we're on a family hike and they want to use their parkour skills on all the boulders. But other times, such as when it's Mama's car they are jumping off, it's not fine. So if you have boys like mine, a dedicated obstacle course is a great way to let your boys expend energy and improve skills without damaging your car or your house.
Basketball Goal
This basketball goal will be the second half of my boy's Christmas present this year, apart from a pair of Heely's and a stuffed stocking. We have a large flat cul-de-sac that will make this perfect for practice and pick-up games with friends as they get older. One of our big goals of moving to our current house is to become the place where our kids and their friends want to hang out. This goal is one step closer to that goal.
What are your go-to gifts for active boys?
Need other gift ideas? Check out my other gift guides:
Gifts for Boys (that they will play with for years)
Gifts for 4 and 5 Year Old Boys