My friend Lauren and I have started throwing freezer meal parties. And you can imagine just how lively these 'parties' are as we attempt to cook in bulk while tending to three little ones under the age of two.
At our first freezer meal get together roughly 2 months ago, we made some great meals but realized we had quite a few things to learn about bulk cooking. First off, chopping veggies takes forever, especially when you're cooking a lot of food. Also, we had plenty of what I like to refer to as base veggies (carrots, celery, onions, garlic) and we should have purchased them in bulk together. But you live and you learn, and at our second attempt a couple weeks ago, I can tell we're getting better. We both prepped some ahead of time; bringing my veggies already diced helped tremendously.
We thought that by having our husbands around we'd be able to focus more on cooking as they watched our boys, but we greatly underestimated the allure of the UGA vs. Auburn game (and for good reason after such a nail biter).
I truly believe that the third time's the charm, so when we get together next month I'm hoping we'll have this bulk cooking thing down pat. After we use up our next batch of meals, I'll share the recipes we've made thus far.
When I was deciding on my recipes this last go round, buffalo chicken soup came to mind. So I came up with a single batch recipe at home to figure out the proportions. For our get together, I tweaked the recipe a bit, changing up how I made the roux and adding more broth. I'm quite pleased with it, and just thawed out a portion at devoured it with my parents this weekend.
This recipe makes a very large portion and completely filled my dutch oven pot. If you're looking for a more normal size version, just cut everything in half.
Paleo or Primal Buffalo Chicken Soup
Ingredients:
3 to 4 tbsp olive oil or butter
6 celery stalks (2 cups chopped)
4 large carrots (2 cups chopped)
2 large onions, diced
6 cloves of garlic, minced
3 tbsp of tapioca or arrowroot flour (or 3 tbsp gluten-free or regular flour)
1 cup Frank's hot sauce or buffalo wing sauce
2 cups full-fat coconut milk (or 2 cups half and half or whole milk)
64 oz. of chicken broth or stock
1 tsp oregano
1 tsp black pepper
1 large head of cauliflower, chopped
4 chicken breasts, cooked and chopped or meat from one rotisserie chicken
1. In large pot (dutch oven), sauté celery, carrots, onion and garlic in oil or butter on medium high heat until softened. Roughly 15 minutes.
2. Sprinkle with flour and stir one minute so that flour absorbs liquid.
3. Stir in remaining ingredients, bring to boil, then reduce heat and simmer 40 minutes. Just make sure the cauliflower is tender.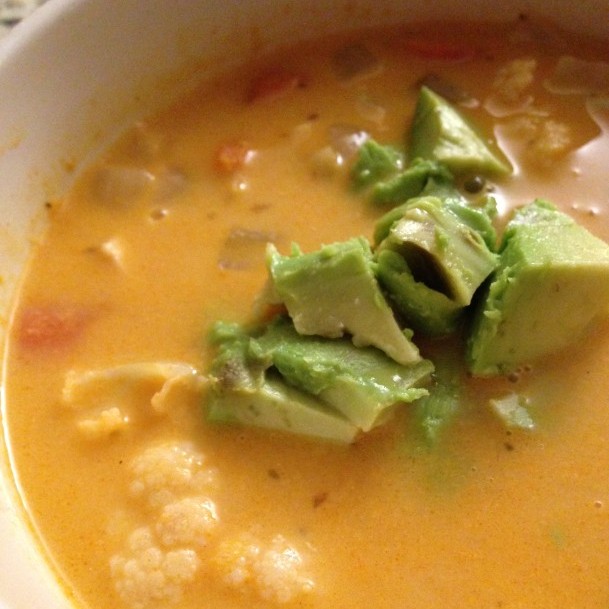 Sounds so simple, and it is once you dice all the veggies. Most of the time, I top it with half an avocado, but bacon, green onions and corn chips make it delicious as well.