My kids eat lunch super early at school (10:37 a.m.!) so that by the time they get home mid-afternoon they are starving and borderline hangry. Before they can even tell me about their school day, they insist upon an after school snack.
I always oblige with a snack, but if I give them too much, they aren't hungry for dinner that evening. So I've tried to find the balance between satiating them after school but not overfilling them so that they'll eat dinner. The idea of trail mix popped into my head recently, and I knew it was the answer to the perfect after school snack.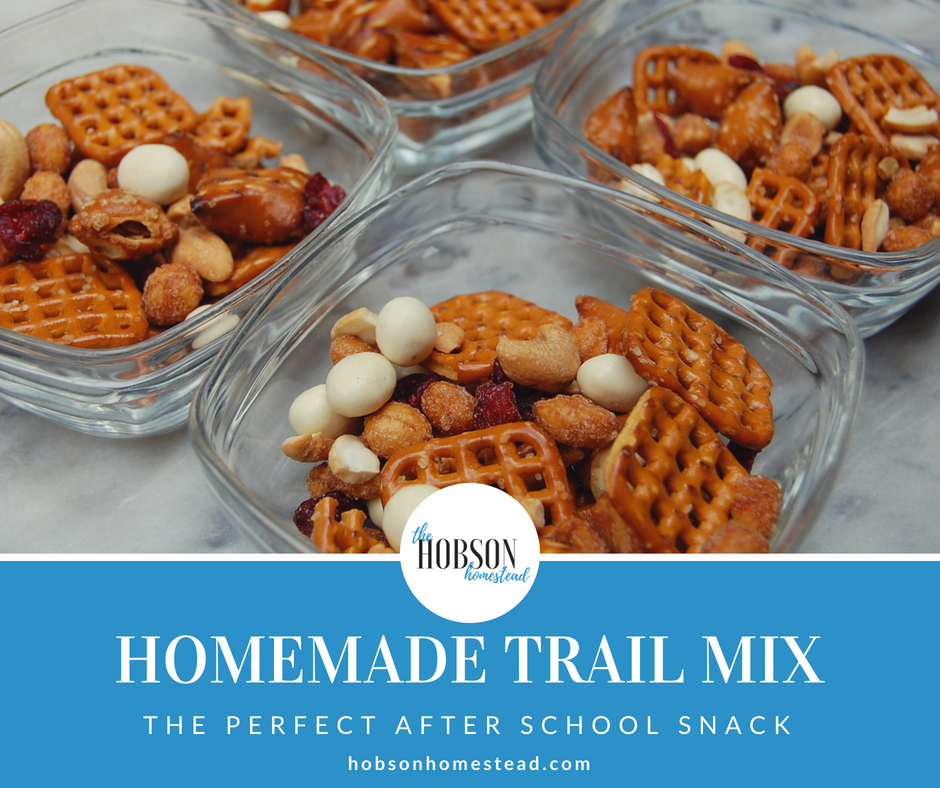 There are plenty of trail mixes on the market, but I decided to make my own to ensure my kids didn't just pick out the items they liked, but ate everything in the mix.
Here's what I added to our trail mix, which my kids devoured. Thankfully, the nuts and seeds had some staying power with my kids and keeps them full (enough) after school until dinnertime.
My Homemade Trail Mix
roasted cashews
honey roasted peanuts
hulled sunflower seeds
yogurt covered raisin
craisins
pretzels
peanut butter-filled pretzels
Trail Mix Building Basics
You can't really go wrong building your own trail mix, but here is a simple blueprint if you need ideas for making a homemade trail mix for your kids' after school snack:
Nuts or seeds: Think cashews, pecans, peanuts, walnuts, macadamia nuts, almonds and Brazilian nuts. And if your child has a nut allergy, consider adding sunflower seeds or pumpkin seeds.
Dried fruit: My kids love raisins, dried cranberries, dried apricots, pitted dates, dried pineapple, banana chips, dried mango and prunes.
Something crunchy: Consider toasted coconut flakes, pretzels, Chex cereal, veggie straws, granola chunks or popcorn.
Something fun: To up the appeal for kids, add a fun treat such as yogurt- or chocolate-covered raisins, chocolate or butterscotch chips, M&Ms or mini marshmallows.
What is your go-to after school snack for your kids?