I was wracking my brain trying to figure out what flavor of cake to make for Beau's first birthday party. His birthday is July 17, but we celebrated yesterday with a family birthday lunch (post to come later this week).
James Michael suggested strawberry, and while I made a tasty gluten-free strawberry cake a couple years ago, I wasn't sure that pink was the desired color scheme for such a brute of a little boy. My mom suggested devils food cake, which is one of my favorites, and even what I made for James Michael on his first birthday.
Flashback 1.5 years to when I was 2 months pregnant with Beau and still fairly youthful. It's amazing what a few years of sleep deprivation can do to you 🙂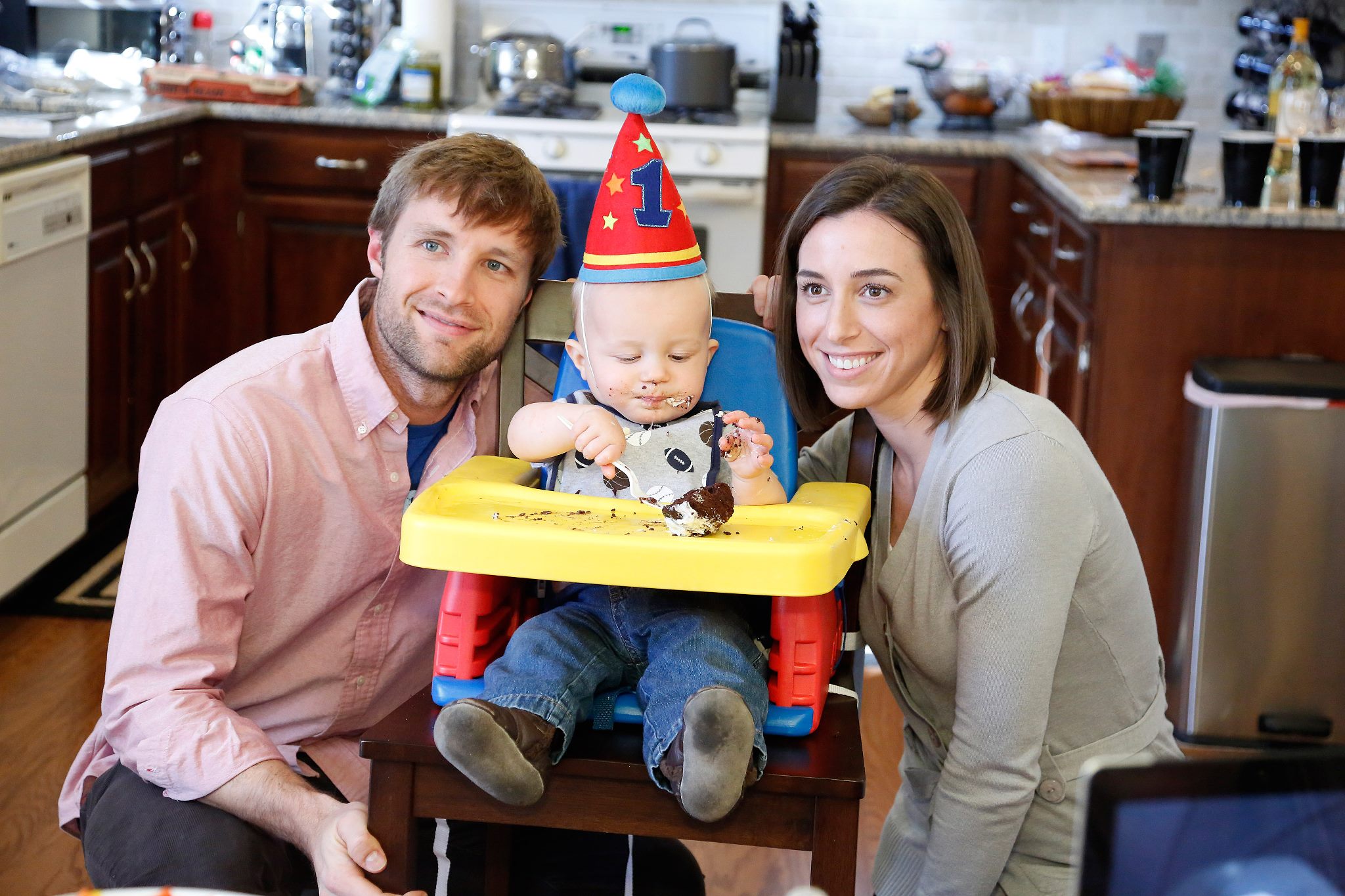 It's rare that I ever follow a recipe to the tee; I only carry certain ingredients in my pantry and have a good idea of what ingredients I want to use anyway. I looked up a couple recipes for devils food cake, but none were to my liking so I came up with my own recipe.
As with James Michael's cake, I wanted to use gluten-free flour. My favorite brand at the moment is King Arthur Flour.
My boys are currently obsessed with pirates (Beau mostly because JM loves them so much). We have pirate dress up accessories, a pirate water table, pirate books and pirate toys. So I went with the pirate theme for Beau's birthday, and wanted to reflect that in the cake decoration as well.
I made the mistake of googling 'homemade pirate birthday cake.' I will never do that again. The search returned with dozens of pinterest-worthy pirate cakes in the shape of a pirate ship–all using fondant icing. I've never been a fan of fondant; sure, it looks pretty but it tastes awful. So, I figured I'd just have to take a stab a turning a two-layer 9-inch round cake into the best looking (and hopefully better tasting) pirate cake I could–with no reservations even if it did look like a pinterest fail.
Gluten-Free Devils Food Cake
Ingredients:
2 cups gluten-free all purpose flour
1 tsp salt
1 tsp baking powder
2 tsp baking soda
3/4 cups cocoa powder
1 cup white sugar
1 cup coconut palm sugar
1 cup olive oil
1 cup strong hot coffee
1 cup whole milk
2 large eggs
1 tsp vanilla
1. Preheat oven to 325 degrees.
2. Grease two 9-inch round pans with oil or cooking spray, and 'flour' with cocoa.
3. Mix together all dry ingredients.
4. Add oil, hot coffee and milk, and beat at medium speed for 90 seconds.
5. Add eggs and vanilla, and beat 90 more second at medium speed.
6. Divide batter between two pans. Note: batter will be much thinner than box cake mix.
7. Bake at 325 degrees for roughly 25 minutes. My oven runs hot, so 25 minutes was enough for my cakes. Be sure to test middle of cake with a toothpick to ensure yours are fully baked.
8. Let cool before icing.

Icing and Pirate Decor
Now for the fun part, unless you're me, and baking the cake is actually the fun part. As I scrolled through image after image of picture-perfect pirate ship cakes, I realized I may be able to pull off something simple. Given I was working with a round cake, what if I focused on creating the mast and top castle (yes, I had to google the correct name)? To give you a more accurate depiction, behold JM's Little People pirate ship.
See the green top castle to the left with the pirate inside? Well, just imagine the mast and sail was also on top of the top castle, and that's what I was aiming for, at least in my mind. Nevermind that this might not be the most accurate historical depiction; that is besides the point.
I love cream cheese icing on devils food cake, but figured if I added a touch of cocoa I could make it brown, since the top castle was likely made of wood and not lime green plastic. Then I could stick some pirate figurines on top, figure out a mast and sail and call it a day.
Cocoa Cream Cheese Icing
Ingredients
16 oz. cream cheese, softened
1/2 cup butter, softened
2 cups powdered sugar
1/4 cup cocoa powder
1 tsp vanilla
Simply blend all ingredients until smooth, adding more cocoa depending on taste, or in my case, color desired.
Come party day, I had the cake iced, decorated with pirates to the best of my ability and set aside on a shelf in the playroom until it was time for the Happy Birthday song.
As we were cleaning up after lunch, I thought it was a little too quite (as much as possible with 14 adults, Beau and my three nieces in attendance). So I ventured into the playroom to discover JM had pirated the pirate cake. Either that or the pirate figurine had walked all over the cake by himself. I couldn't even get upset at him, because he was so excited about the party, apparently has Mama's sweet tooth and because we basically skipped his 2nd birthday because both he and Beau were so sick this winter.
Moral of the story: keep your kids close, and your chocolate closer. Lesson learned 🙂