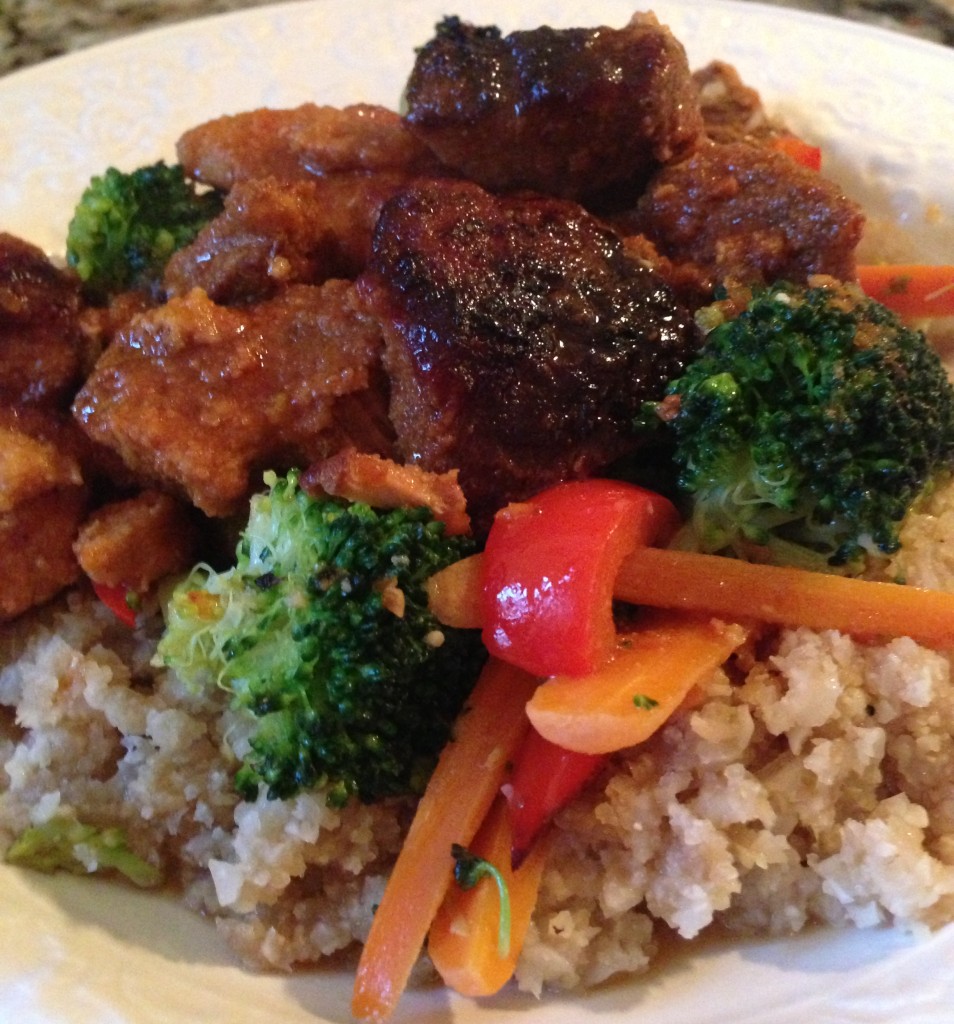 With life a chaotic blur more often than not, I knew I needed to start relying on the trusty crockpot for meal creation. By the time I put James Michael to bed, I have an hour (sometimes less) before James comes home from the gym. And in that hour, as I've lost all steam and momentum from the day, I try to pick up stray toys and books, clean up JM's dinner, nurse Beau and then somehow make dinner for us.
A month or so ago, dinner was hit or miss, and I often resorted to big salads topped with meat. Some nights I had nothing. No food, no energy, no care. It was then that James informed me he was losing weight because he wasn't eating enough. And I'm pretty sure I responded with something about how I have a newborn and am losing sleep–or something sassy along those lines.
At any rate, I'm starting to get my feet back under me just a little as Beau has hit the 7-week mark. No, he's not sleeping any more than he did the first couple weeks, but I think my body is adapting to waking up several times a night and functioning on 4 to 5 hours of sleep. And there's also this realistic mentality of 'the show must go on.'
A couple weeks ago, I mentioned that one of my goals for this fall is to meal plan. Not only do I want to save money by buying what's on sale each week, but would also prefer to make only one weekly trip to the store, not have to come up with something for dinner at the last minute when I'm exhausted, and possibly prep my meals ahead of time so that I'm not go-go-go until 8:30 p.m. each night. Sounds wishful, I know, but it's worth a shot.
I've started scouring online, specifically Pinterest, for crockpot recipes looking for inspiration. I came across an interesting recipe from Ari's Menu and wanted to take a stab at it to make it more suitable to our eating habits.
This recipe scores high marks with this busy mom for several reasons:
Nice change up with these flavors
Meat + veggies = healthy
I used the crockpot
I loaded the crockpot and prepped the veggies while JM was at preschool in the morning and Beau was napping
So by the time it was 7:30 p.m. and JM was in bed, it took me less than 15 minutes from the click of our gas burner to the clank of my fork devouring dinner. Score.
Paleo Crockpot Orange Chicken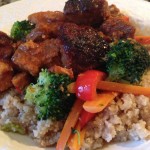 By Haley Published: September 4, 2013
(Adapted from Ari's Menu)
Ingredients
Instructions
In bowl, season chicken with salt and pepper, then toss with your hands to coat with coconut flour.

Add a generous amount of coconut oil to sauté pan set to high heat, and add chicken once pan is hot, cooking just long enough to brown the outside. Transfer chicken to crockpot.

In small bowl, whisk orange juice plus zest (use a grater), grapefruit juice, honey, tomato paste, coconut aminos, balsamic vinegar and hot sauce.

Pour mixture over chicken, and cook in crockpot on LOW for 6 hours.

When you're ready for dinner, sauté veggies in coconut oil or butter.

Rice cauliflower using food processor or rice by hand using a knife or large-holed grater.

Bring sauté pan with a couple tablespoons of coconut oil or butter to high heat, then add riced cauliflower. Season with salt, pepper and coconut aminos (optional) and sauté 5 to 7 minutes.

When everything is ready, simple stack your bowl with 'rice,' veggies and chicken. Voila!