I originally crafted this recipe in 2013 for a Whole 30 potluck thrown by my CrossFit gym. At the time, I didn't realize it was not truly Whole 30 compliant. Here is an excerpt from the Whole 30 website:
Do not try to re-create baked goods, junk foods, or treats with "approved" ingredients. Continuing to eat your old, unhealthy foods made with Whole30 ingredients is totally missing the point, and will tank your results faster than you can say "Paleo Pop-Tarts." Remember, these are the same foods that got you into health-trouble in the first place—and a pancake is still a pancake, regardless of the ingredients.
So if you're truly doing Whole 30, I wanted you to know that rule. But if you're paleo, primal, just finished Whole 30 and want to ease back into treats or embrace no dietary restrictions, this dish should be quite tasty to all pallets.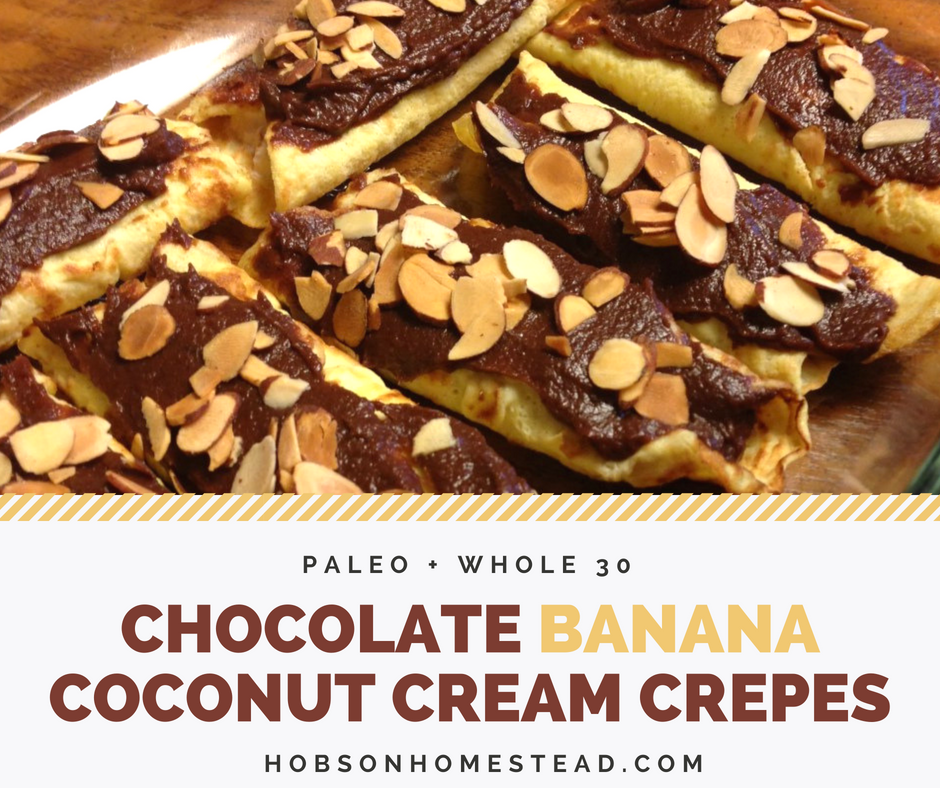 This is a recipe that takes quite a bit of patience to complete, but in the end, it's totally worth it! You can also halve or third the recipe to make for just your family.
Chocolate Banana Coconut Cream Crepes
By Haley Published: January 21, 2013
I originally crafted this recipe in 2013 for a Whole 30 potluck thrown by my CrossFit gym. At the time, I didn't realize it was not …
Ingredients
Instructions
Early prep: place cans of coconut in fridge overnight. This allows the cream to separate from the coconut water and solidify.

In medium mixing bowl, add coconut cream from four refrigerated cans.

Add in ripe bananas and blend with mixer until cream is whipped, and place filling in freezer until later.

In medium mixing bowl, blend 5 eggs, 1 cup coconut milk and 1/4 cup coconut flour until smooth.

Set small pan to medium heat (I used an 8-inch pan) and place a dollop of coconut oil on pan.

Place slightly less than 1/4 cup of batter on heated pan, and tilt pan (similar to how you create an omelette) to ensure batter distributes evenly. Cook roughly 1 to 2 minutes on each side, depending on how fast your eye cooks. You want each side to be slightly browned.

To make the chocolate sauce, place dates, water and lemon juice in small pot and bring to boil.

Once it boils, reduce to simmer and add in chocolate squares and dash of salt, making sure to stir constantly so chocolate does not burn. Simmer, constantly stirring, for 4 to 5 minutes.

Remove from heat and allow to cool for a few minutes, then transfer to blender and blend until smooth.

Once sauce has cooled, you can begin putting everything together. Place a couple dollops of filling on crepe, fold crepe over and "glue" with a pat of chocolate sauce. Then spread chocolate sauce on top and sprinkle with toasted almonds or toasted coconut flakes.