The summer heat has set in, and we're trying to find a balance between keeping the boys entertained outside while keeping Scarlett cool enough. We stick to shaded walks and visit the pool after 5 p.m. or in the morning, but some days when temps are just under 100, it's still not enough.
As I shared on Instagram, we've had our share of sickness and doctor's visits this week, but we've trudged through them and I'm trying to remind myself that God doesn't give us more than we can bear. Typically, all we need is a little bit of sunshine and fresh air and all our spirits are lifted and sickness forgotten, even momentarily.
I started the 9-week She Reads Truth Women of the Word study earlier this month and am really loving it. I actually purchased the book and am thankful I did because it's helped me to spend more time writing down my thoughts and prayers, and overall digging deeper. Or as deep as I can dig with three little ones at my feet. At this point in my life, it's perfect. Often, I read the bible verses for the day and it may be an hour or two before I get the time to read the She Reads Truth commentary that corresponds. But that's ok, because this is real life and I feel like every day that I'm in the Word is a small success. There are some days that I can call back on the scripture that I just read that morning, needing as much of His strength as I can absorb as I try to juggle the needs of all my kids at once. I'm not saying I'm the perfect parent because of it, but without it, I could be much, much worse 🙂
One of my all-time favorite recipes is Sweet-Potato Topped Chicken Pot Pie. I can't even recall how many times I've made it. I typically double it and freeze one recipe for later. For whatever reason, I've been craving buffalo wing flavor. I don't actually care for wings, but I do appreciate the flavor, which is why I make Buffalo Chicken Soup quite often. But I wanted to mix things up this time, and so I tweaked my pot pie recipe to add a little buffalo zing.
This recipe fills a huge 9×13 casserole dish to the brim. Next time I'll probably cook half and freeze half for later.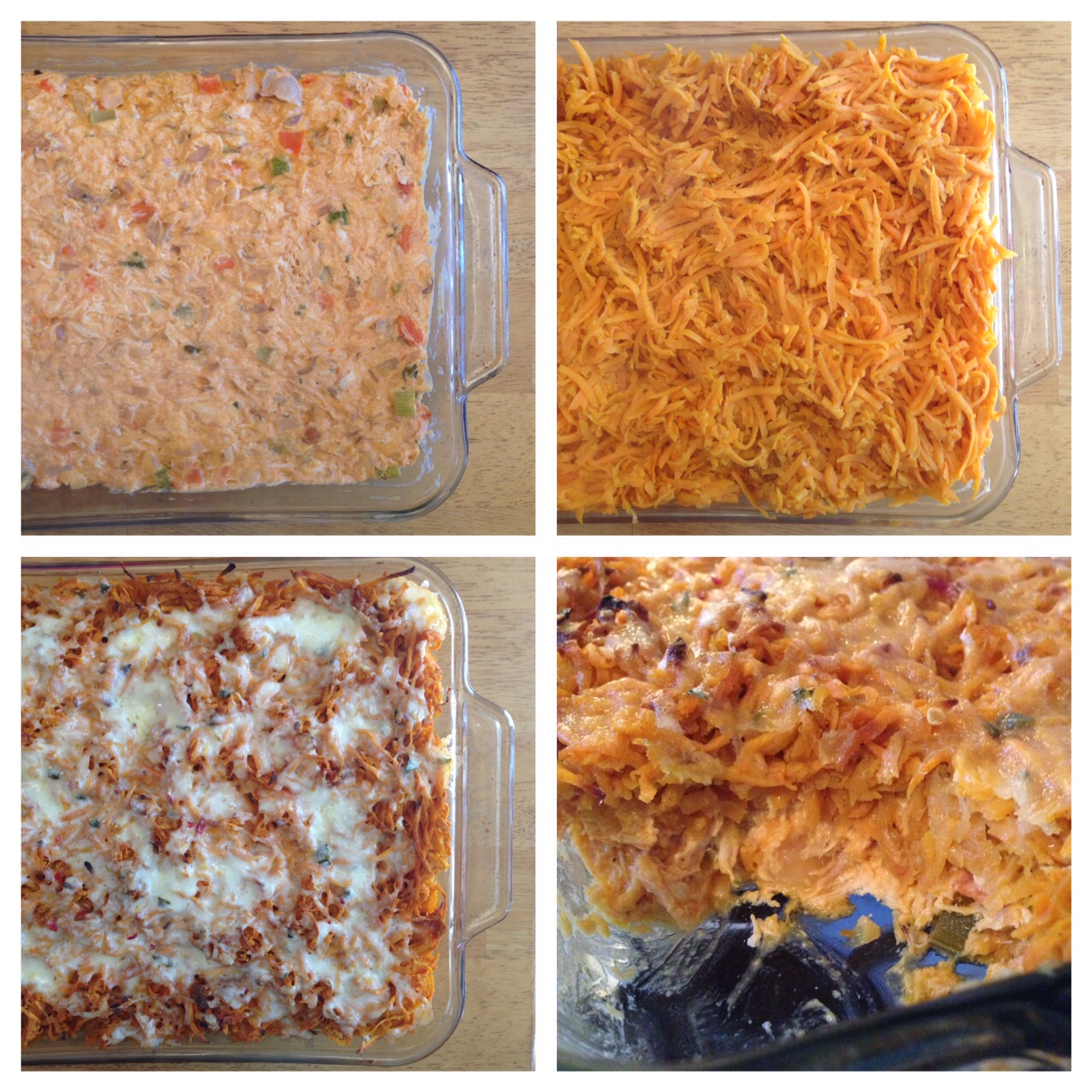 Buffalo Chicken Casserole
Ingredients:
6 tbsp butter, divided
3 carrots, peeled and diced
3 stalks celery, diced
1 large onion, diced
3 tbsp gluten-free flour (or regular flour or paleo thickener such as tapioca or arrowroot)
1 tsp parsley
2 cups heavy cream
1 cup wing sauce
1 rotisserie chicken, shredded
3 sweet potatoes, peeled and shredded
garlic salt and pepper to taste
8 oz. shredded pepperjack cheese
1. In dutch oven, saute carrots, celery and onion in 3 tbsp of butter on medium-high heat for 10 to 15 minutes, until soft and mostly cooked.
2. Reduce heat to medium, sprinkle with flour and stir for 1 minute.
3. Stir in parsley, cream and wing sauce.
4. Stir in chicken, and add more wing sauce if you like a bit more kick. It's ok to taste test since the chicken is fully cooked.
5. Spread mixture into the bottom of a 9×13 casserole dish.
6. Preheat oven to 350 degrees.
7. Melt remaining butter in large pot/pan, add shredded sweet potatoes, cover and cook for about 10 minutes, stirring occasionally. (I shredded my potatoes in the food processor.)
8. Spread potatoes over chicken mixture and cover loosely with tin foil.
9. Place in oven and bake for 35 minutes at 350 degrees.
10. Remove tin foil, spread shredded cheese on top of casserole and bake an additional 15 minutes.
Top with avocado, green onions or ranch or blue cheese dressing.