We got back from our second trip to the beach just three days ago, and are trying our best to find some sort of summer routine. Of course, the next 10 days are pretty packed with VBS prep and teaching at our church. So rest and routine may not come until the end of June.
That being said, some of these Friday Faves were spurred from our most recent beach trip and others are faves that are season-less.
Friday Faves
K I D S
I bought this kid's cot four years ago when my oldest child was 2.5 years old. I have since carried it on vacation and when we travel to visit family. On our most recent beach trips, my daughter slept in it instead of a bed because I didn't want to worry about bringing bed rails or about her falling out of the bed. We have gotten more than our money's worth, as it's very basic but sturdy enough to handle my boys roughhousing on it. My oldest son loves to sleep on a hard bed or surface, so he slept on the cot with just a sheet. But for my daughter, we doubled over a comforter to make it a little softer.
I was in the market for new water bottles for my kids for this summer that held more than their 12 oz water bottles we used last year. Now that my boys are older and bigger, they needed larger bottles. I also wanted to find bottles that didn't have straws or plugged spouts, because they are simpler and easier to clean. I stumbled across these water bottles and the price (less than $10) hooked me. We've taken them to the beach, the park, on car rides and just outside in the yard. They are the perfect size for my boys, ages 6 and nearly 5. Because of the open spout, they are harder for Scarlett (age 3) to drink out of just because she can't regulate the amount of liquid that comes out as much as the boys can at this age.
During our first beach trip, I noticed a few older kids had large shovels with wooden handles. My boys were obsessed, and for good reason since the smaller plastic shovels are better for toddlers and preschoolers. So I scoured Amazon and found this set of three shovels—all different colors so each child could have their own and no one would argue! Even though our beach trips are over for this year, we love to go to a local lake park with awesome white sand, so I know the kids will use the shovels there.
P R E G N A N C Y
After being diagnosed with mild anemia at 28 weeks pregnant, I checked my prenatal vitamins only to realize they didn't contain iron. So I replaced them with this whole food prenatal vitamin that includes iron. So far so good with these—though I will say that they are quite big. So if you have any trouble swallowing larger pills, you probably need to search for something smaller.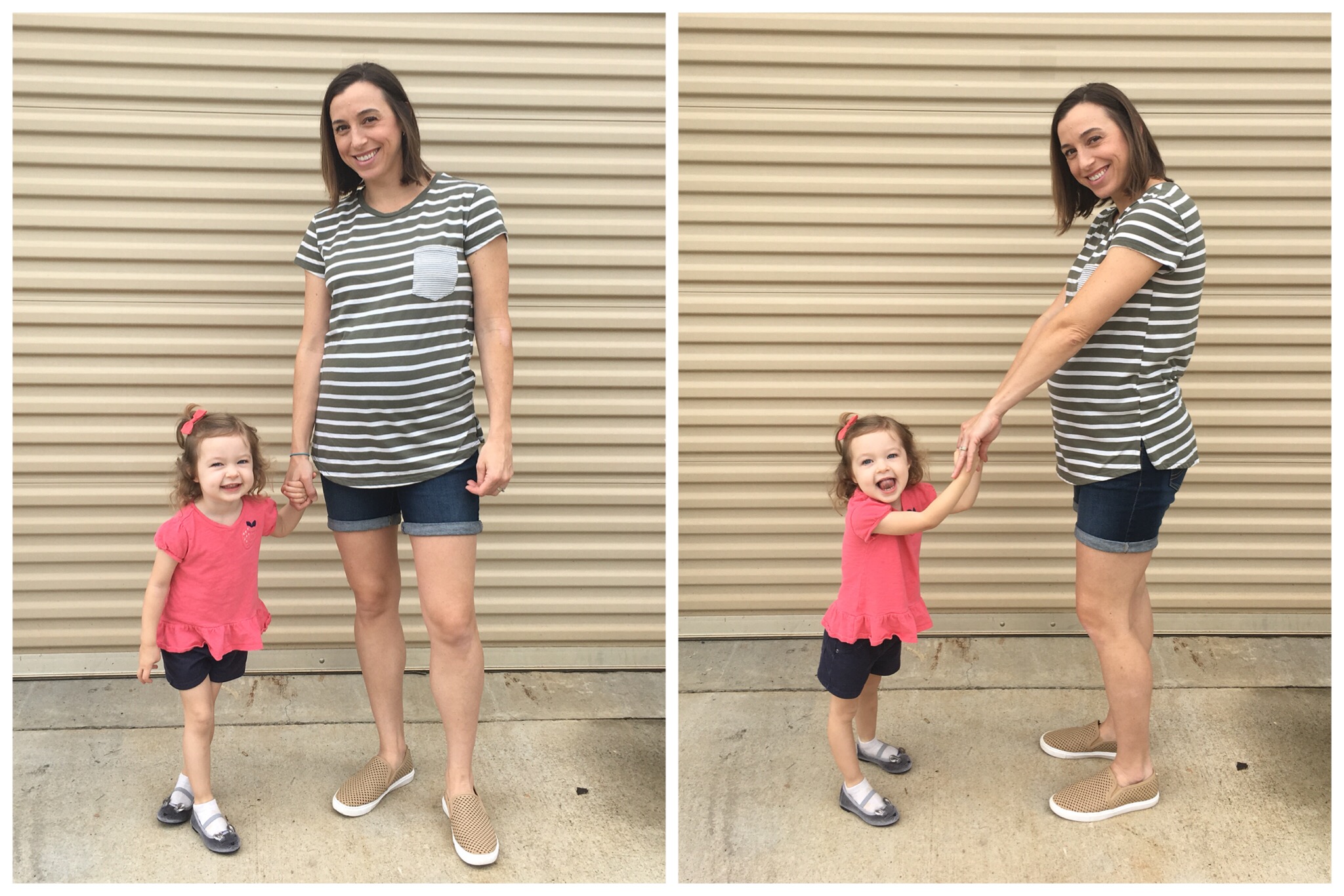 Pocket Tee from Motherhood Maternity
I originally bought this thin pocket tee in Olive, but after loving the light weight and $10 price, I purchased the Red and Navy as well. I think these may be the only casual maternity T-shirts I have that aren't activewear. I don't anticipating needing many dressy maternity clothes this summer, but sometimes it's nice to put on something other than workout clothes.
M A M A
Laptops and Mobile Hotspots
Just because school is on summer break doesn't mean mama's freelancing gig (see my tips for newbie social media managers) is on break. During the school year, I got a lot of my freelance work done the three mornings my younger two kids were at our church preschool. But this summer, I'm still working to find a balance. Right now, I've been using Scarlett's nap time to work for a couple hours while the boys have rest time watching a movie. I'm not sure this will provide enough time to get a few weeks ahead before the baby comes, so I'll just be winging it every week until then. Last week, I took the kids to a park early in the morning before my O.B. appointment and worked for an hour by connecting my laptop to my mobile hotspot. But soon, I may have to set aside a couple early-morning hours at a local coffee shop on a Saturday to ensure I'm not scrambling at the end of July.
James splurged and got me this large Yeti cup for Mother's Day more than a year ago. Though I use it year round, it's summertime when it makes a huge difference by keeping my water super cold. Now that I'm 8 months pregnant in the summer, it's even more crucial as I try to stay cool, hydrated and avoid swelling during this homestretch. I love that my cup is seafoam to make it easy to recognize.
R E C I P E S // F O O D
Cinnamon Peanut Butter Granola
I stumbled upon this granola at Publix last week, and I went through this tiny (somewhat overpriced) bag in no time. So of course, I bought another bag this week. Once I restock my pecan stash at Costco soon, I'll be making this recipe of Peanut Butter Chia Seed Granola. I've made it several times in the past and it's amazing.
I am so excited that avocados are finally in season and not so ridiculously expensive. I am on my second Avo Saver, and it has come in handy so many times. Though two of my kids eat avocado, my husband doesn't because it makes his tongue itcy (allergy alert!). So often, I eat half an avocado and I use the Avo Saver to save the other half for the next day.
Fresh Grouper
At the beach earlier this week, my husband went out fishing with my brother in law and snagged two grouper fish. I absolutely love fish and was thrilled to be able to bring some home to stock the freezer. So far, we've enjoyed blackened grouper in fish tacos and grouper on top of a mega salad.
M I S C E L L A N E O U S
I mentioned this speaker in my Father's Day Gift Ideas post, but we love this little portable speaker. We took it with us to the beach most days and jammed out to 80s music (the hubby's fav) oceanside. Ignore the Auburn cup—that's my brother in law's. We are tried and true UGA alumni and fans!
Home Sweet Home
I alluded to it in my 8 month bump update, but after two awesome trips to the beach in 2.5 weeks, I'm so happy to be home sweet home. I want to finish out these final 6 to 8 weeks of pregnancy at home getting as much accomplished as I can while keeping my kids entertained this summer. Freezer food prep is at the top of my list, as well as rearranging Scarlett's room to make space for baby stuff. She'll move into the room with the boys for the foreseeable future, though I think she'll be devastated to learn she's not sharing a room with the baby.
This post contains affiliate links, which help to support this website.