It's hard to believe that October is coming to a close this week. It feels like fall just began, and yet it is flying by at an alarming rate.
We have been doing all things fall, which means capitalizing on this beautiful weather. From hiking to campfires to fall events to costumes, we've fit a lot in during the month of October.
Favorite Recipes from October
I do tend to make recipes that my family likes about once a month, but I thought I'd share a few of the meals we had this month in case you're looking for new recipes to try: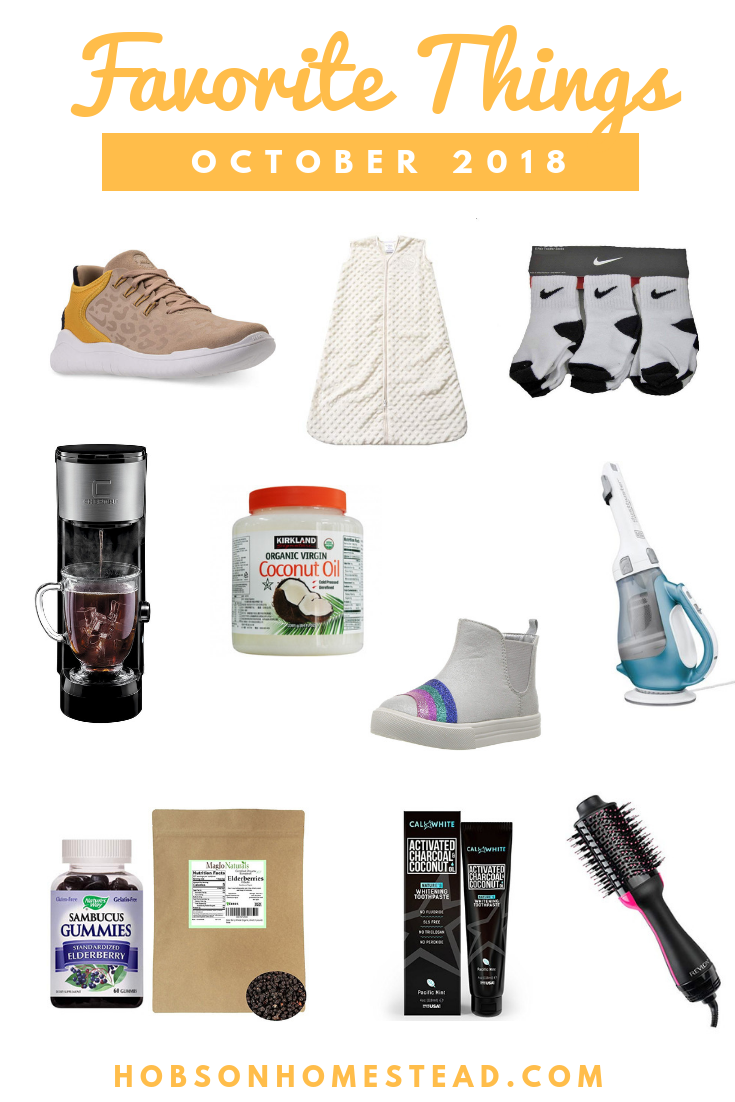 Favorite Things from October
I'm not a runner at all, but my workout shoe of choice has been Nike Free for years. I've tried other brands, styles and even more minimalist shoes, but I always come back to Nike Free. This pair is much different than what I would normally buy, but I love them. I scored them on sale and they had another coupon, so they were a great deal. The hubby calls them my Ronald McDonald shoes, but I wear them proudly!
The weather has finally turned cooler, so swaddling Grady from the chest down in muslin blankets just isn't cutting it anymore. I have never purchased a sleepsack before. I can't exactly remember what I did for my other babies—maybe I put them in layers of pjs. But because Grady's nursery runs cooler than my other kids' room, I bought him this super soft sleepsack for the winter season. So far, he doesn't mind it at all and it's been super easy to change his diaper in the middle of the night if needed.
My big baby has feet to match. He outgrew 0-6 month socks in the first few weeks thanks to his long feet, but it's been impossible to keep most socks on his feet. I remembered I had a set of Nike socks for my oldest son back in the day, so I bought a set of 12-24 month socks for Grady and they stay on so well thanks to them going a little farther up his shin. This makes them perfect for winter!
The hubby recently gave up caffeine, and as a result, brought home the single-serve coffee maker he'd been using at his office. Since I'm definitely not giving up caffeine any time soon (thanks to waking up multiple times each night), it didn't make sense for me to make a pot of coffee to only drink one cup. So I've been using this single-cup version from Chefman and it's perfect. It heats up faster than any other similar coffee maker I've ever used, and the great thing is we also use it to heat up hot water for tea and oatmeal.
Costco Coconut Oil
Costco has bulk organic coconut oil and we buy a large container every few months. Not only do I use coconut oil for baking or treats (it's amazing in these almond butter cups), but we also rub it on the kids when eczema tends to flare this time of year and I use it for oil pulling to combat colds.
Last year, my three-year-old daughter had the rose gold Bunny Booties (which I loved), but this year we switched it up and tried out the rainbow booties. Her boots last year held up really well, which is why I stuck with Oshkosh again this year. She wears her boots daily in the colder months and I love that it keeps her feet and ankles warmer than most shoes. The boots are also perfect for leggings, which is a staple for my tiny girl.
I received this vacuum for Christmas last year and I will say it's something we use daily! My kids are still fairly mess eaters, so I'll ask one of them to vacuum the floor under the table after dinner each night. Even when I sweep the kitchen, I use this to clean up instead of a dust pan. It's easy to clean and fairly resilient considering my kids have accidentally dropped it a dozen times.
Dried Elderberries and Elderberry Gummies
I think this is my fourth fall/winter season making homemade elderberry syrup for my kids. I have always used the Wellness Mama recipe, and my kids love it because of the honey in it. My husband always complains about the smell when I'm brewing the syrup—and it does stink—but (knock on wood) we have been fortunate enough to miss the flu while on the syrup. And that's a big deal considering the flu was rampant last year. So whether you think it helps or not, to me, there's no use changing up a good thing.
This year, I also purchased the Elderberry Gummies to get me through until I could make the syrup. They're good! Not sure they're as potent as the syrup though—they certainly don't taste as strong. I have made Wellness Mama's elderberry gummies in the past, but they were a lot of work, probably because my mold was so small.
Charcoal & Coconut Oil Toothpaste
I use or have used charcoal cleansing products for my face and body, but this is the first time I've used it to clean my teeth. The first time I used it, my teeth felt that clean feeling that you get when you go to the dentist. I'm honestly not sure if it's made my teeth any whiter, but I do feel that it's not allowing coffee to stain my teeth more. It's not quite a strong enough mint flavor for me though, so I mix with with stronger toothpaste to get more of that fresh breath feel.
Revlon Hair Dryer and Volumizer
I bought this dryer more than a year ago, but now that I'm in the postpartum all-my-hair-is-falling-out stage, it's more critical than ever. I can't attest to how well it works on curly or thick hair, but I must say that for straight, fine, fairly short hair, it works great. It give me a little more volume while smoothing out weird baby hairs and ends that flip in crazy directions. I have heard that some women blow dry their hair then finish with this product, but I do both with it.
Check out my past posts about favorite things:
This article contains affiliate links, which help to support this website.